Instagram:
@saeraart
Tumblr:
saera-art.tumblr.com
1. What's your story? Where are you from?
I was born and raised in South Korea. Since I was a child I wanted to become an artist..I loved to draw and paint. I loved Disney classic animation and had notebooks filled with drawings of Disney characters and other picture book illustrations. When I was 11 years old I had a chance to visit my Aunt in Pasadena. I was talking with her about my dreams wanting to become an artist in animation. She told me to write it in a notebook, telling me that dreams do come true. I did, and what seemed impossible for a long time eventually came true.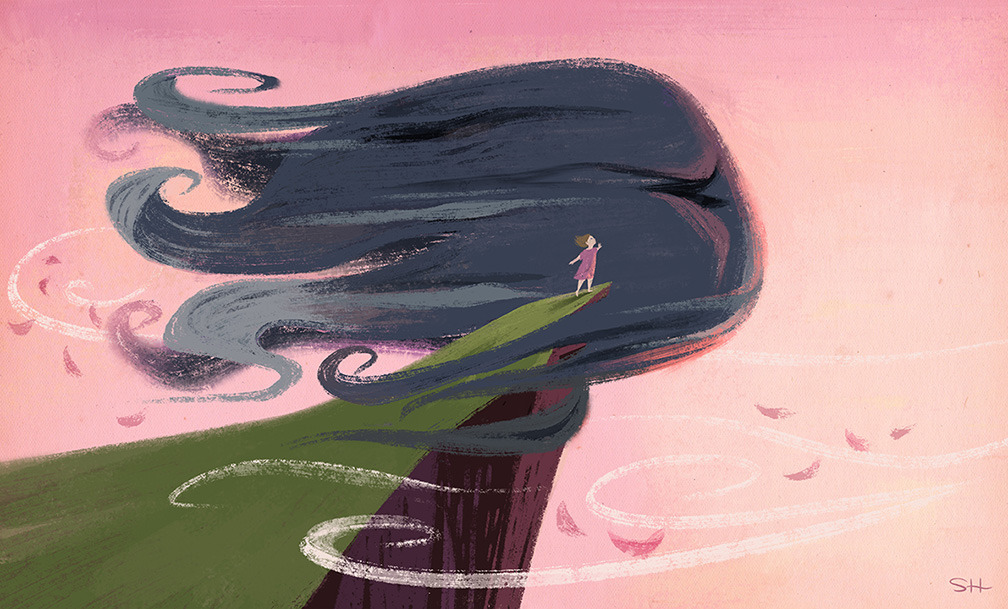 2. Tell us about your aesthetic.
For my personal work, I like to bring a painterly quality that would relate to a children's book illustration. And maybe because I come from an animation background I try to focus on having the style and tone of art support the story I want to tell.
3. What is your favourite medium and why?
I like to paint digitally with a painterly hand touch to it. I used to paint traditionally with gouache and sometimes scan them in to combine it with digital paint, but since digital brushes have become so advanced I find the process a lot easier.
4. What is your artistic process like?
I first like to do research on some of my favorite artists, also to look at photographs for references. Then I start designing with shapes, exploring until I like them and move into color and paint.
5. Who and/or what inspires your work?
The work of some of my favorite artists, for example, Eyvind Earle and Mary Blair, inspires me. The sense of design, color, and charm in their work never gets old to me. Looking at work of fellow artists, and seeing new places while I travel is very inspiring. I also love looking at photos of places I've never been to. It's interesting to find out how some of the real places could look more wild and artistic than a painting sometimes. For stories, a lot comes from my own experiences. I keep a journal to write down my thoughts and experiences as well as stories that come to mind.
6. What role does art play in your life? How does it change the way you view the world?
Everything around me is visually interesting because as an artist you see color, shape, and texture all over the place and realize how there's beauty everywhere. There's always something visually interesting going on when you look around. It also makes a trip to nature, for example, national park hiking can be very exciting.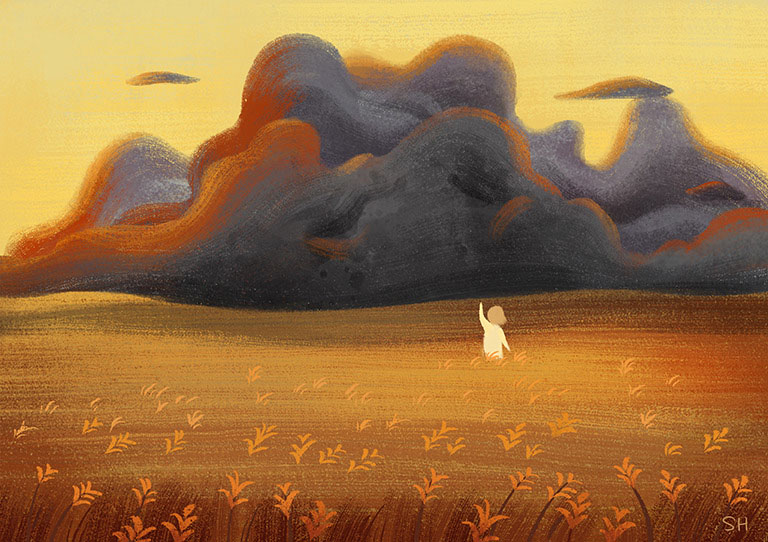 7. Where did you study?
I studied in Art Center College of Design, an art school in Pasadena, U.S., majored in illustration and later focused on Entertainment Arts.
8. Where do you see yourself in five years?
I think I'd be working in Animation industry with team members that I love and have worked with before maybe. For a personal goal as an artist, I'd like to tell my own story possibly in a form of a picture book.
9. What about in ten?
I hope to have my own particular style of art and be known for that kind of art and the story I tell. I'd have travelled more, seen more and experienced more by then, which hopefully would add up to a richer story and art.
10. What do you hope to achieve with your art?
I'm always so fascinated for storytelling in art form because there's no limit to what you can express. You can show a child's wildest imagination in the most beautiful visuals. As an artist, I love seeing beautiful visuals whether it's an animation or any other art form, at the same time when I see art and animation bringing a positive influence I support that so much. I wish to become an artist that could carry a message of hope in my art, whether it's a personal project or becoming a part of a project.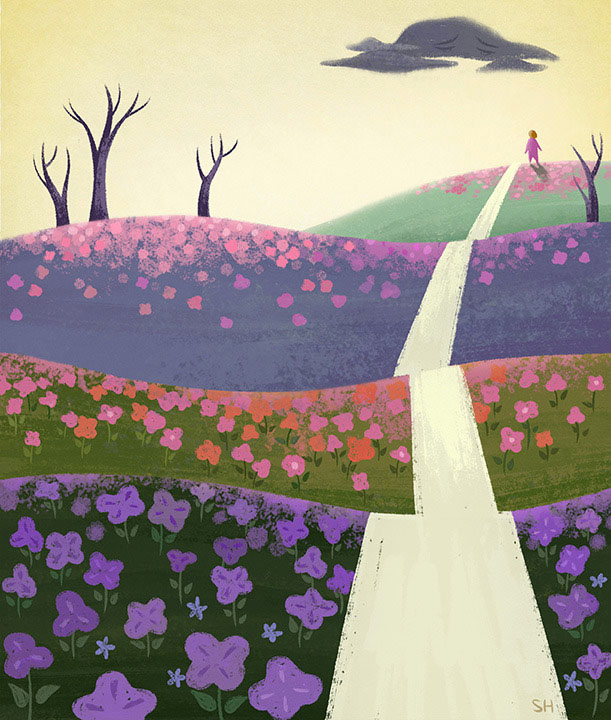 11. Now, tell us a little more about you as a person: what is your favourite food?
My favorite food now is hot pot and milk tea after a long day at work, or after working out with a friend.
12. Favourite book?
For a long time, it's been 'By the River Piedra I Sat Down and Wept', by Paulo Coelho. The most recent book I liked was 'The sun and her flowers', and 'The Last Arrow'.
13. Favourite genre of music?
I like listening to acoustic music. I also listen to original soundtracks ongoing after watching a movie I liked.
14. What are your hobbies?
I love to travel whenever I get a chance. Just to be in nature and do new activities is always so much fun. Also making plans weeks before and doing research gives me something to look forward to.
15. If you weren't an artist, what would you be?
A travel agent, if I had more experiences travelling than I have so far.