Instagram:
@sagabergebo
Tictail:
sagabergebo.tictail.com
Website:
www.sagabergebo.se
1. What's your story? Where are you from?
My name is Saga Bergebo and I'm an illustrator from Stockholm, Sweden. I loved drawing as a child, hated it as a teenager and started loving it again in my 20's when I realized it was mine to do anything I wanted with. I studied to become a graphic designer when I discovered illustration actually was something you could do for a living, and since then there has not been any looking back.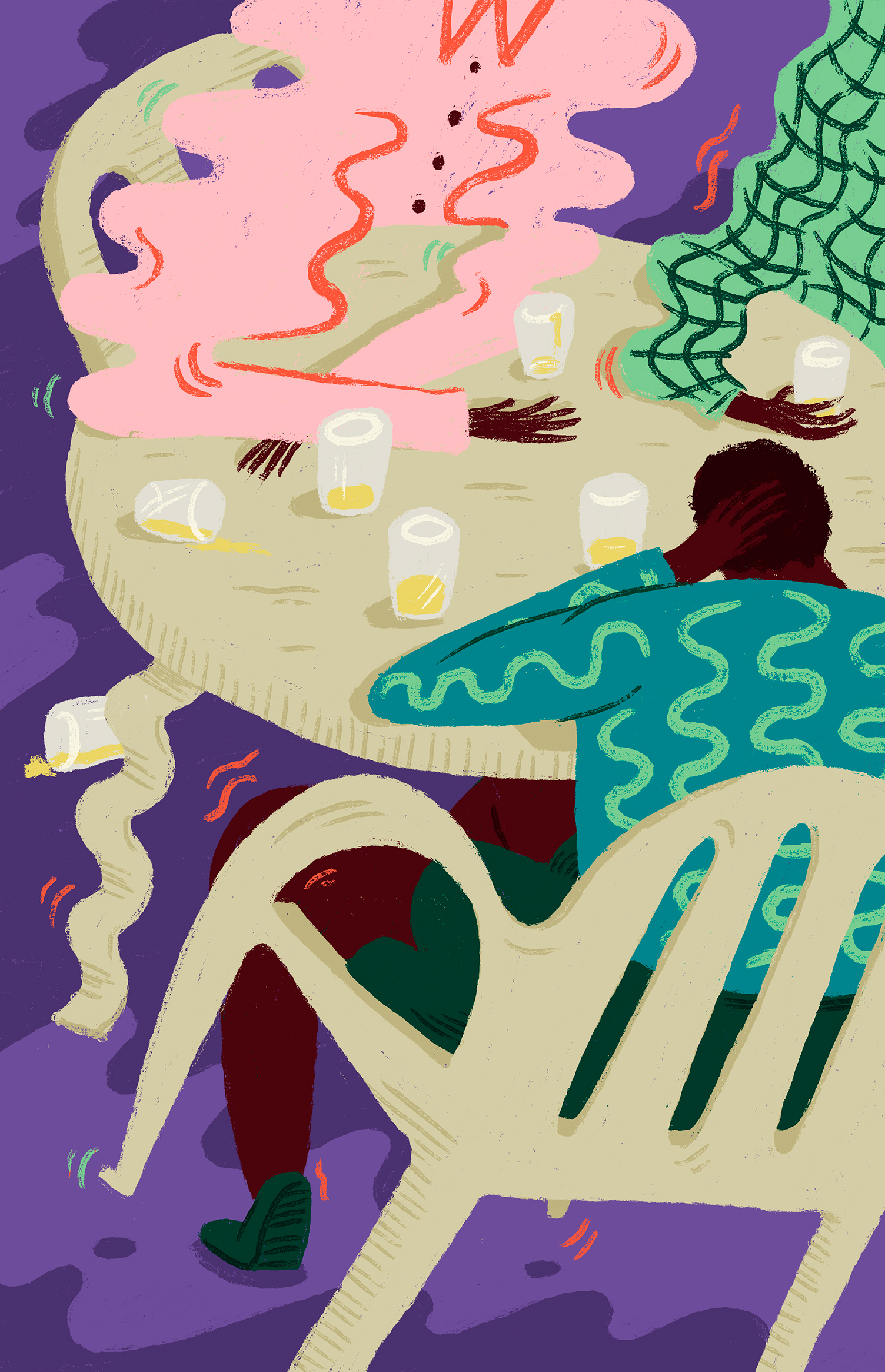 2. Tell us about your aesthetic.
It is very colourful and quite playful. I think humour and warmth are really important tools even when working with darker subjects, making them more accessible and easier to deal with.
3. What is your favourite medium and why?
Gouache. It is forgiving, yet not too predictable. The past months I've mostly been working digitally, and I really miss mixing colours manually.
4. What is your artistic process like?
It really depends on what I'm working on! If it's a job I read the brief, write down my thoughts and first rough ideas, if needed I do some more research and then make a sketch to present to the client. After the feedback I sometimes make a tidy sketch, take my brushes out and look for the right colours before painting the whole picture, scanning and just doing some minor tidying up in Photoshop. Sometimes I make all the different parts in black ink, scan them and colour plus compose the illustration in PS. Other times I work from scratch on my Cintiq. And when working on personal projects the research part takes much more time, and I let myself do lots of experiments along the way.
5. Who and/or what inspires your work?
Colour is key! The magic of certain combinations just makes me buzz. Other than that just everyday life I guess. It's hard to pinpoint where the inspiration comes from.
6. What role does art play in your life? How does it change the way you view the world?
I think it makes me look at things more closely. I'm easily intrigued by seemingly simple details, and always on the hunt for new colour combinations. Plus it's a great source of comfort, strength, questioning and sometimes just joy.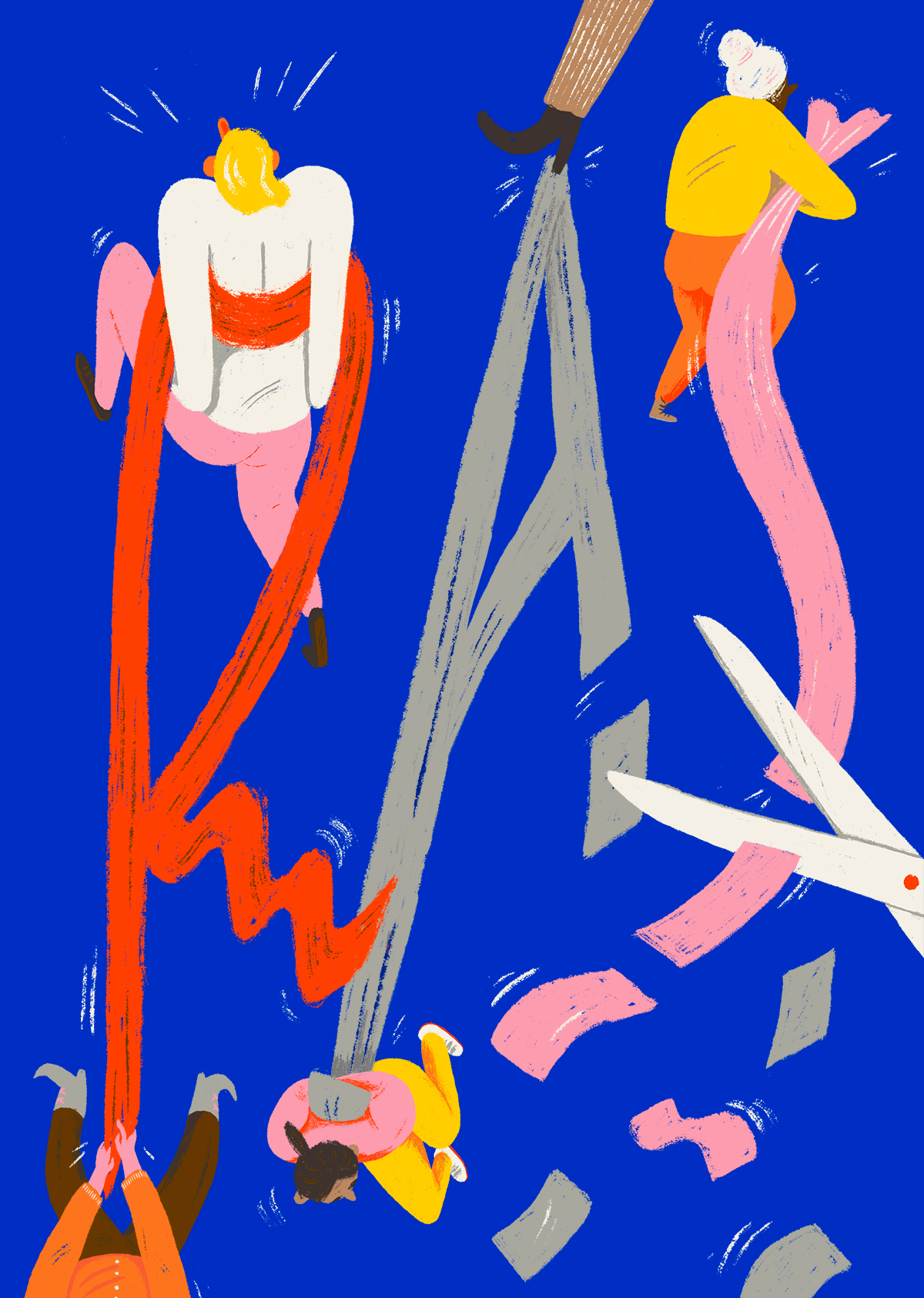 7. Where did you study?
Konstfack University College of Arts, Craft and Design in Stockholm. I graduated in 2015.
8. Where do you see yourself in five years? Working in an agency?
Working on lots of fun illustration jobs, maybe a bigger animation, and I've most definitely quit my part time day job! Hopefully, I live closer to nature as well. I wouldn't say no to the right agency, but it's not a top priority.
9. What about in ten?
Oh, probably not that different from five, but hopefully even more stable. Drawing for great clients, hanging out in nature, doing some traveling and having more time for personal projects.
10. What do you hope to achieve with your art?
To make people smile, and think! I love that you can make people feel so strongly through some lines and colours on a paper. And I also want to contribute to a more inclusive and less stereotypical world of images.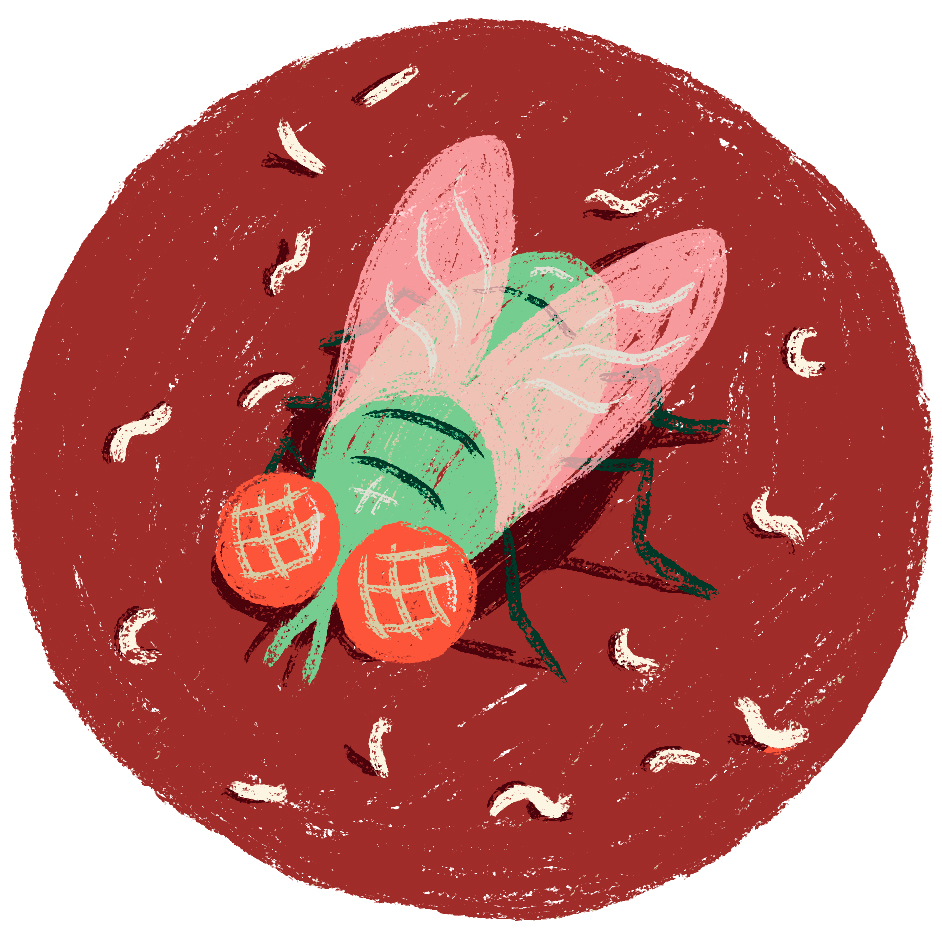 11. Now, tell us a little more about you as a person: what is your favourite food?
A lasagna with zucchini, eggplant and feta cheese.
12. Favourite book?
Oh, I have so many. Right now I'm reading The Girls by Emma Cline which I really enjoy. And I'm also a great fan of Kaisa och Christoffer Leka's comics about their bicycling adventures across the world.
13. Favourite genre of music?
I think I'll have to go with the boring and vague answer indie. I've been kind of stuck music wise lately, and am mostly listening to podcasts. Recommendations are much appreciated!
14. What are your hobbies?
Hanging around in nature. Drinking coffee in a snowdrift, swimming in the lake and hiking the mountains.
15. If you weren't an artist, what would you be?
Is animator too close? Maybe a bookkeeper then. I'm pretty good with numbers, and I find it extremely satisfying when they match up.