Instagram:
@saitosuzu
Website:
www.saitosuzu.tokyo
1. What's your story? Where are you from?
Hi, I'm Suzu Saito from Tokyo, Japan. I'm working as a web designer for one IT company. There are many opportunities to touch illustration during my work, so I became interested in drawing a picture. I love creating and designing something since I was a child. So it is natural that I want to be an artist! 初めまして、東京在住のさいとうすずです。 私は普段webデザイナーとしてIT企業で働いています。 仕事柄イラストレーションに触れる機会が多く、私も絵を描いてみたいと思うようになりました。子供の頃からものづくりやデザインに興味を持っていたので、イラストレーションに自然と興味を持ちました。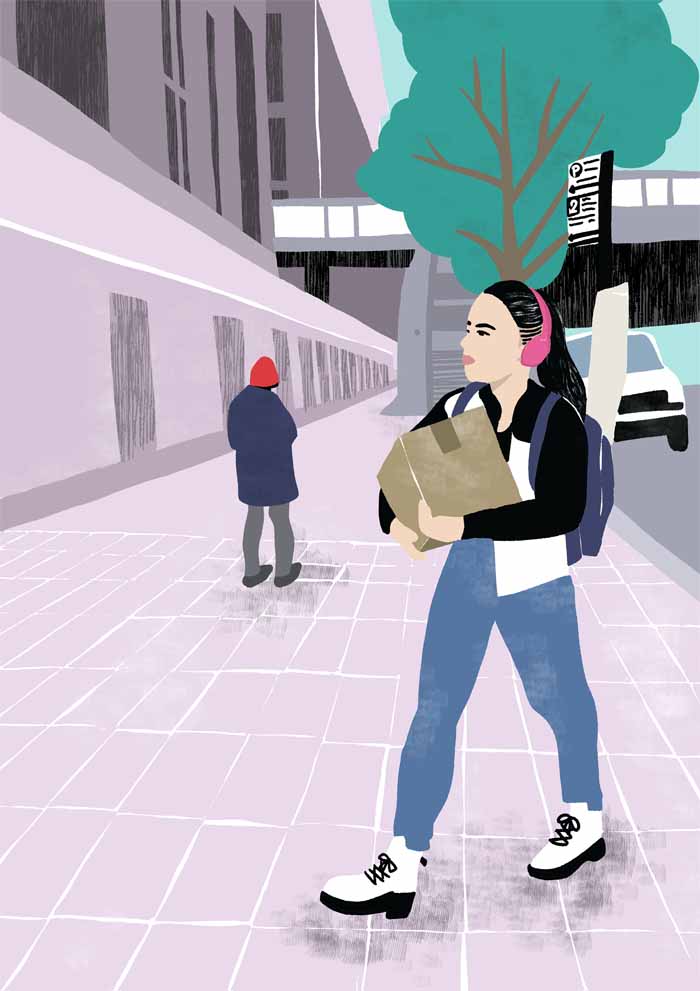 2. Tell us about your aesthetic.
When I draw a picture, color arrangement is the most important. I like a combination of pink and turquoise blue, so I often use it. Also I'm always taking care of the composition and the situation of the people in my works. 私はイラストを描く上で、配色を一番大事にしています。 ピンクとターコイズブルーの組みわせがとても好きでよく使用します。 また作品の構図や人々の状況について常に気にかけて制作しています。
3. What is your favourite medium and why?
Recently I like drawing by iPad. Because I can draw a picture whenever I'm on a train or in a cafe. 電車の中やカフェ等どこでも絵を描くことができるので、最近はiPadでイラストを描くことが好きです。
4. What is your artistic process like?
Firstly, draw lines by iPad. Then paint colors by application software. まず、iPadで線画を描きます。そしてアプリケーションソフトを使い、色を塗ります。
5. Who and/or what inspires your work?
Various things give me a nice inspiration. For example, photograph, Illustration, architecture, fashion,etc. I can find them in Instagram and store them in my collection. 様々なものが私に素敵なインスピレーションを与えてくれます。例えば、写真やイラストレーション、建築、ファッションなど… インスタグラムでそれらを発見し、コレクションに保存しています。
6. What role does art play in your life? How does it change the way you view the world?
Art makes me happy everyday. It is amazing because I can communicate with many people around the world without words. I hope my work creates something good and someone will be inspired by touching my illustration. アートはわたしの日常をハッピーにしてくれます。言葉がなくても世界中の人とアートを通じて交流をすることができるので、素晴らしいものだと思います。私の作品が何かいいものを生み出し、見た人に触発されることを願っています。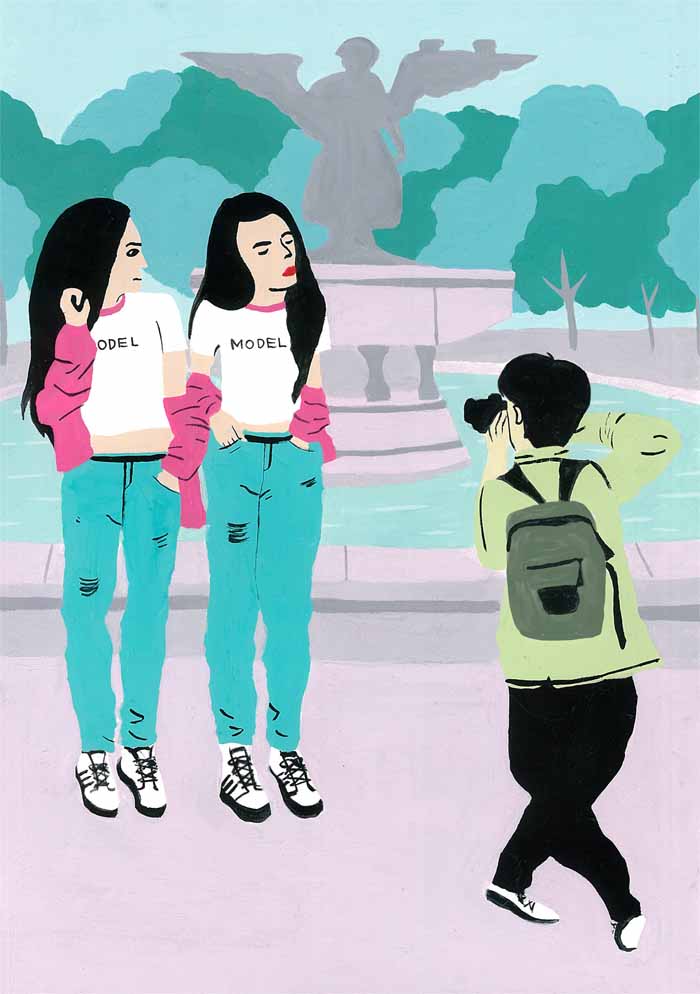 7. Where did you study?
I am studying how to express illustrations at Aoyama-juku in Tokyo for two years. I love to study. My major was architecture at the university and I also went to school of Hanko making, likeness and web design. 私は2年間青山塾でイラストレーションの表現の仕方を学んでいます。学ぶことが好きで、大学では建築を専攻していましたし、webデザインや消しゴムはんこ、似顔絵教室に通っていたこともあります。
8. Where do you see yourself in five years?
I want to maximize the originality. I also want to create a lot of illustrations and improve my expressiveness. オリジナルティを極めたいです。またたくさん絵を描いて、表現力を高めていきたいです。
9. What about in ten?
I want to increase my fans in Japan and around the world. 日本や世界中にファンを増やしたいです。
10. What do you hope to achieve with your art?
Make someone happy! 誰かをハッピーにしたい。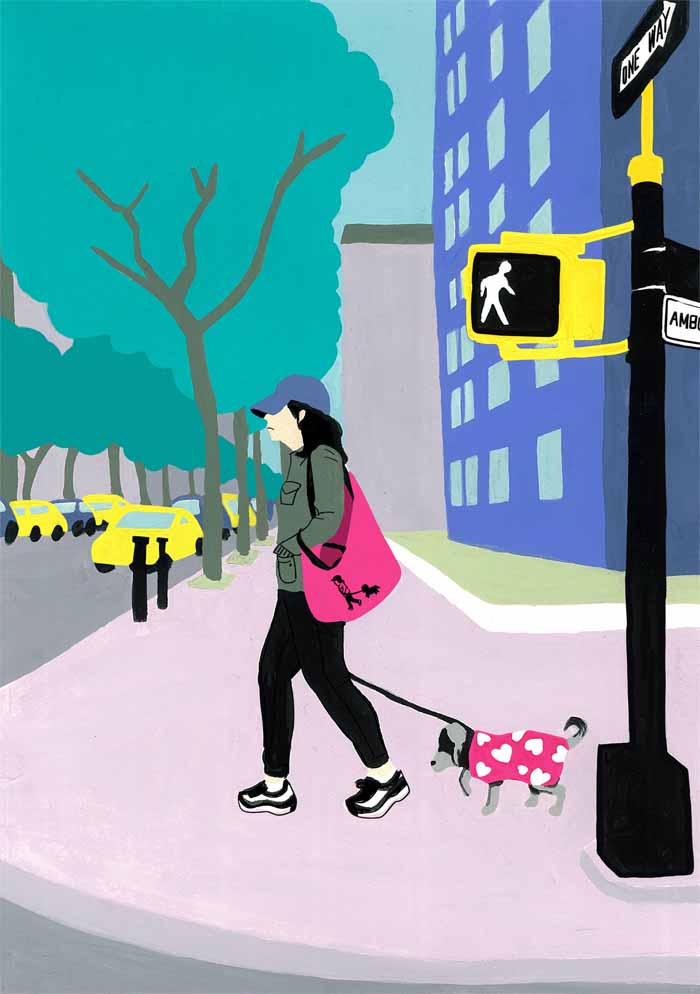 11. Now, tell us a little more about you as a person: what is your favourite food?
Japanese food! I'm crazy about Shabu-shabu and Ramen! 日本食が大好きです。しゃぶしゃぶやラーメンが最高に好き。
12. Favourite book?
Nothing special. But I often read books about recipes and designs. 特にないですが、レシピ本やデザイン本をよく読みます。
13. Favourite genre of music?
Pop music! I especially love Glee cast's song! ポップミュージックが好きです。特にグリーキャストの曲が好きです。
14. What are your hobbies?
My hobby is watching American TV drama:Game of Thrones,glee,Breaking Bad,etc 海外ドラマを見るのが私の趣味です。ゲームオブスローンズ、glee、ブレイキングバットなど…
15. If you weren't an artist, what would you be?
I would be an architect. 建築士になりたいです。