Instagram: @sakuyahiguchi
Website: www.coronehome.web.fc2.com
1. What's your story? Where are you from?
Hello, I'm Sakuya Higuchi. After working as a stationery designer, I became a freelance painter from Japan.

こんにちは。樋口咲耶です。 バラエティー雑貨の企画デザイナーとして勤務後、 フリーランスになりました。日本の画家です。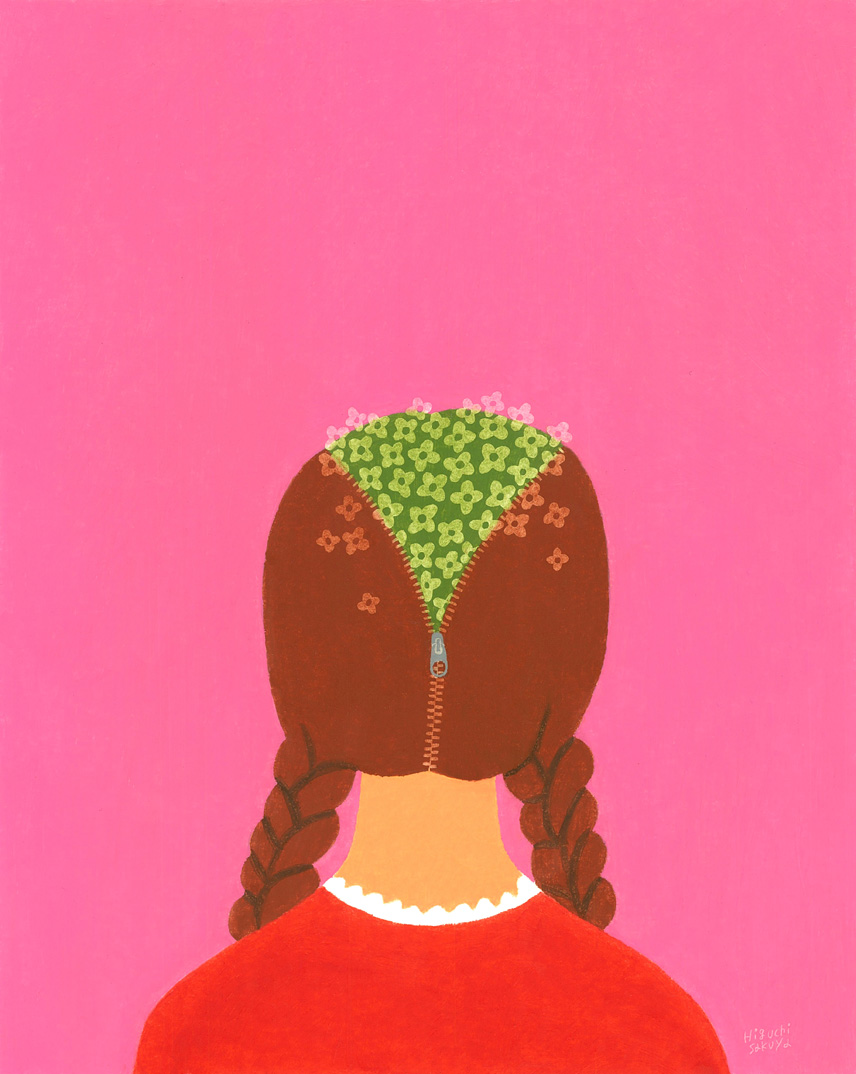 2. Tell us about your aesthetic.
I express my work simply with a few colors but I put my heart into drawing. Sometimes, I add abit of humor.

少ない色を使ってでシンプルに表現するけれど、心を込めて描く。 時々ユーモアを入れる。
3. What is your favourite medium and why?
I like to draw digitally but especially also with pencils, pens and cray-pas (it's similar to oil pastel). I like to use painting materials such as. It makes my heart is happy.

デジタルで描くことも好きですが、特に鉛筆やペン、クレパスなどの画材を使うことが好きです。 理由は、心が喜ぶからです。
4. What is your artistic process like?
I mainly draw using a painting material called Cray-pas (it's similar to oil pastel.) and I also use a computer.

主にクレパスという画材を使用して描いています。 パソコンを使用することもあります。
5. Who and/or what inspires your work?
I am influenced by various people and things but most of my ideas are influenced mainly by my daily life. For example, when I'm eating or taking a strolling, after watching TV or a movie, etc.

様々な人や物に影響を受けていますが、主に日常生活の中から影響を受けることが多いです。 食事や散歩をしている時、テレビや映画を見た後など。
6. What role does art play in your life? How does it change the way you view the world?
It's a communication tool to relax my mind and to interact with the world.

自分の内側にあるものを表現することで心がほぐされます、 そして世の中と関わる為に必要なコミュニケーションツールです。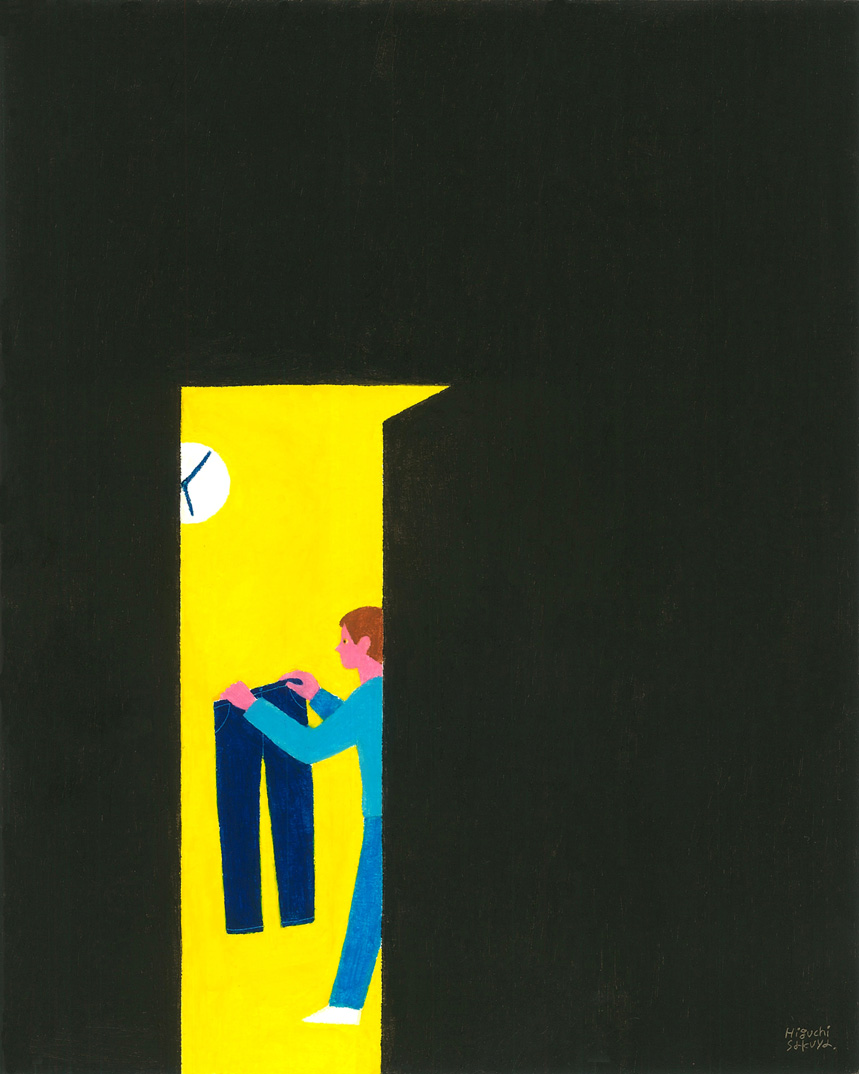 7. Where did you study?
I studied at a vocational school and even when I was a designer, I learnt a lot.

専門学校で少しだけ勉強しましたが、デザイナーの時にも学ぶことがありました。
8. Where do you see yourself in five years?
I don't know but I always have the feeling that "You never know what life has in store for you" .

未来のことはわかりません。人生いつどうなるかわからないという気持ちが常にあります。
9. What about in ten?
I want to continue drawing happily.

楽しく絵を描き続けていたい。
10. What do you hope to achieve with your art?
I want to be able to draw more fascinating paintings.

もっと面白い絵が描けるようになりたいです。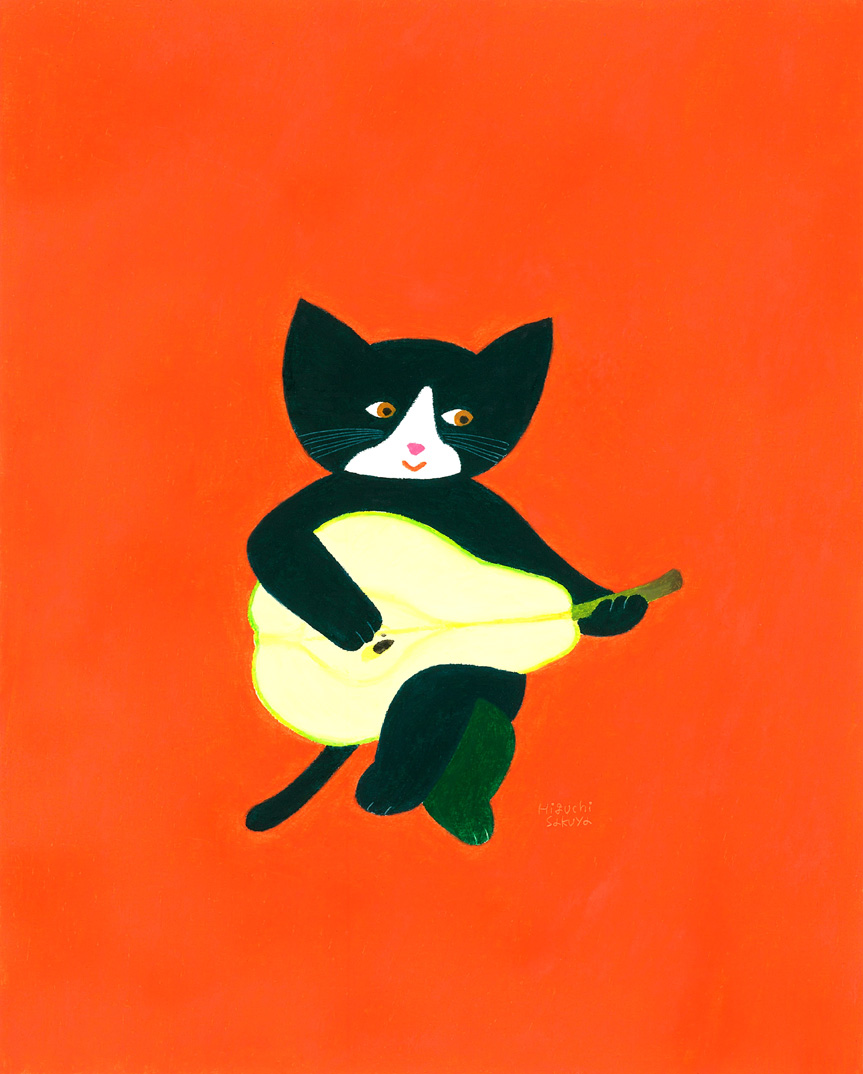 11. Now, tell us a little more about you as a person: what is your favourite food?
I have a lot of favorite food but I would be happy if I had Japanese mixed rice, miso soup, Japanese fried chicken and Japanese style croquettes.

好きな食べものは沢山ありますが、炊き込み御飯、味噌汁、唐揚げ、コロッケがあったら嬉しいです。
12. Favourite book?
Yube no karē, Ashita no pan (last night's curry, tomorrow's bread) by Izumi Kizara and Tengoku wa mada tōku (heaven is still far away) by Maiko Seo.
木皿泉著の「昨夜のカレー、明日のパン」と瀬尾まいこ著の「天国はまだ遠く」。
13. Favourite genre of music?
I listen to various music depending on my mood and situation. Especially soundtracks that are uplifting.

気分と状況によって様々な音楽を聴きます。 特にサウンドトラックは高揚します。
14. What are your hobbies?
Eating and strolling.
食べること、散策。
15. If you weren't an artist, what would you be?
I can't think of anything.

思い浮かびませんでした。