Instagram: @sam.chivers
1. What's your story? Where are you from?
I grew up in Portsmouth on the south coast of England. When I was a kid, the master plan was to make trippy surreal comics just like Moebius. And for a while, that's what I attempted to do.
That dream stumbled along until at least a few years after graduating from university, when finally I had to accept the hard fact that I was not going to be able to support myself making trippy surreal comics (like Moebius)
By that time, I was sharing a studio space with some college friends who were starting to get illustration commissions, so I decided to follow their example and develop a portfolio that was aimed at getting actual proper work.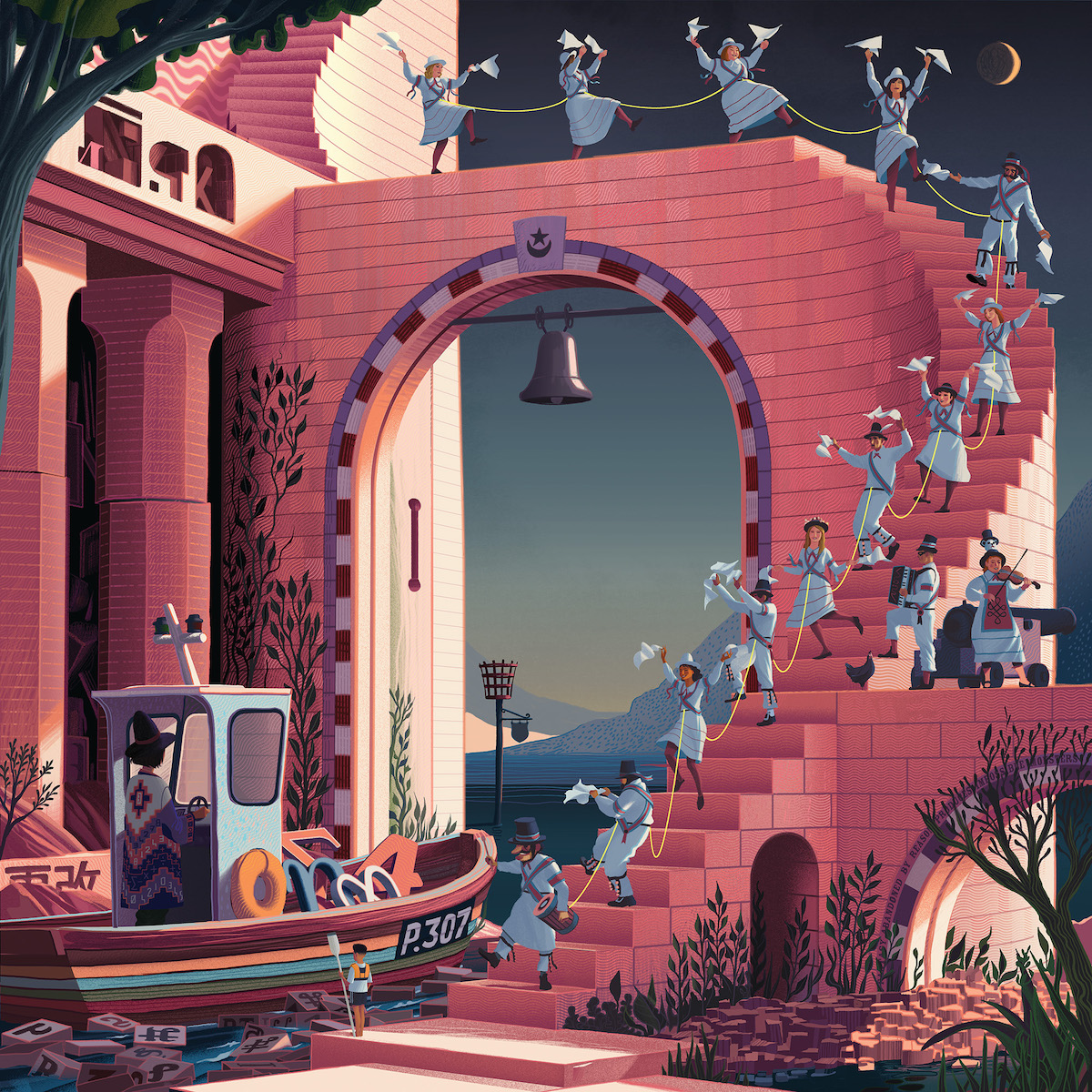 2. Tell us about your aesthetic.
My work has been through various iterations over the years. At the moment I think it's fair to say I generally make retro-futuristic illustrations that serve as a distractive balm. I attempt to convey a sense of balance and stillness. I love working with colour to try and create a sense of warmth and depth.
3. What is your favourite medium and why?
I like water-soluble pencils, but I'd have to say digital is my favourite just because of the versatility.
4. What is your artistic process like?
I make these little thumbnail drawings in a sketchbook. Then I'll scan them and start working on them in Photoshop, flipping them around, scaling elements up and down to dial in the composition. I always keep them monochrome until getting the composition signed off with the client.
If the image has architectural elements usually I'll use that as an excuse to start recreating them in 3D, and lighting them. Then eventually I'll draw and paint over that in Photoshop. I still use a Wacom Intuitos 4 and an iMac, which is fairly old school but still has considerably more versatility than my iPad Pro.
5. Who and/or what inspires your work?
I'm mostly inspired by the landscape around me, which is the Southdowns. I live on the edge of the Southdowns National Park so I tend to shoehorn rolling hills into my work as much as possible. I work at home at the moment so do commute up there and back most mornings.
As for people who have inspired me I actually have a long list that I keep on file, but to boil it down I'd say people like Lorenzo Mattotti, Moebius, Syd Mead, Enki Bilal, Geoff Darrow. And reading books.
6. What role does art play in your life? How does it change the way you view the world?
It's something I always think about, I've always been busy with it in some form or other so it has come to define me somewhat for better or worse. I think When it's going well making images can act as a kind of buffer between the harsh reality of the present moment that exists outside, and the self.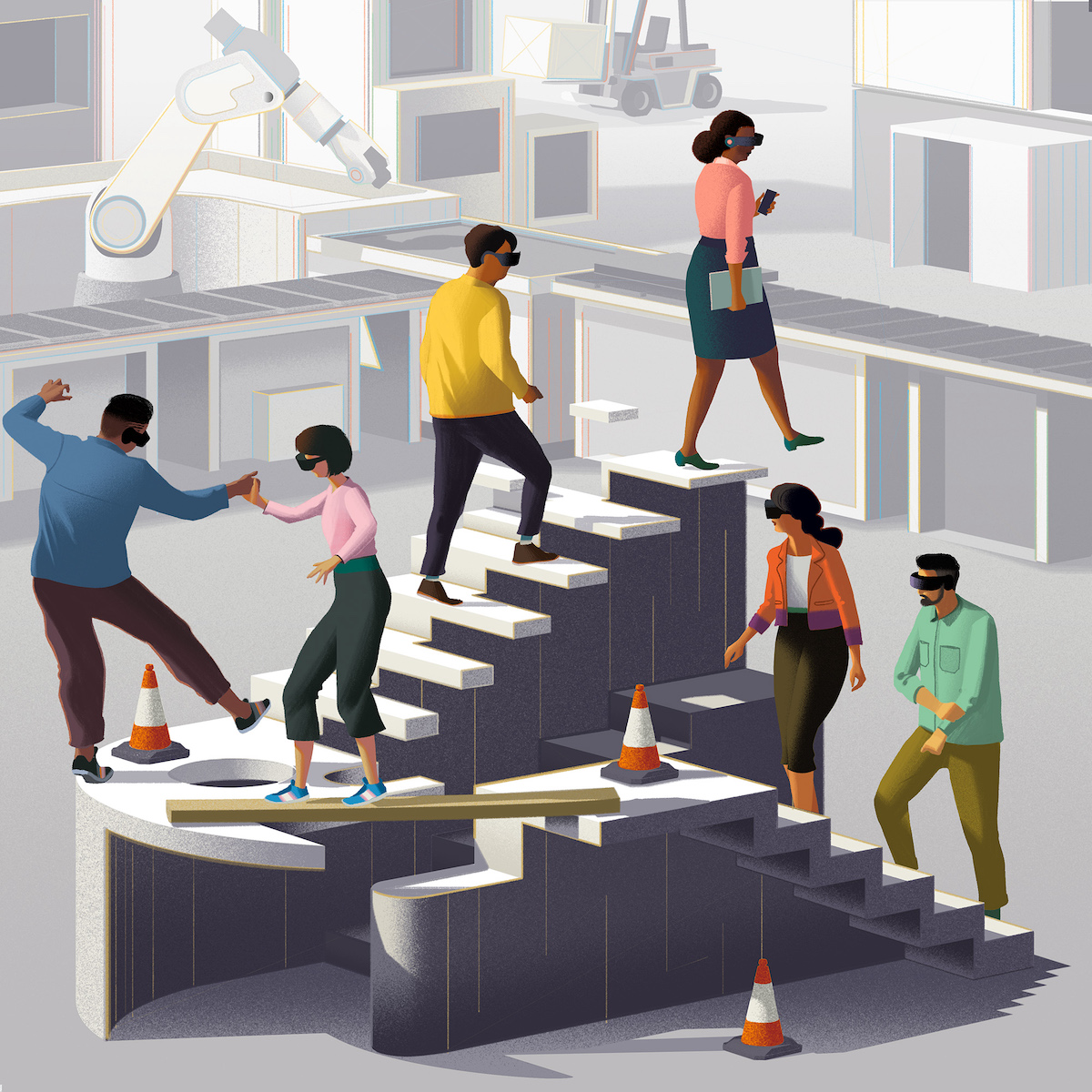 7. Where did you study?
Portsmouth University
8. Where do you see yourself in five years?
I have absolutely no idea. I hope that I will still be in a position to make my living doing what I do now.
Making illustrations for a living has always been a super privileged position to be in, so if that pays the rent in five years I'll be happy.
9. What about in ten?
Let's talk about this in five years!
10. What do you hope to achieve with your art?
I think the best I can hope for is that it acts as a momentary distraction, a bit of escapism, and I'm ok with this.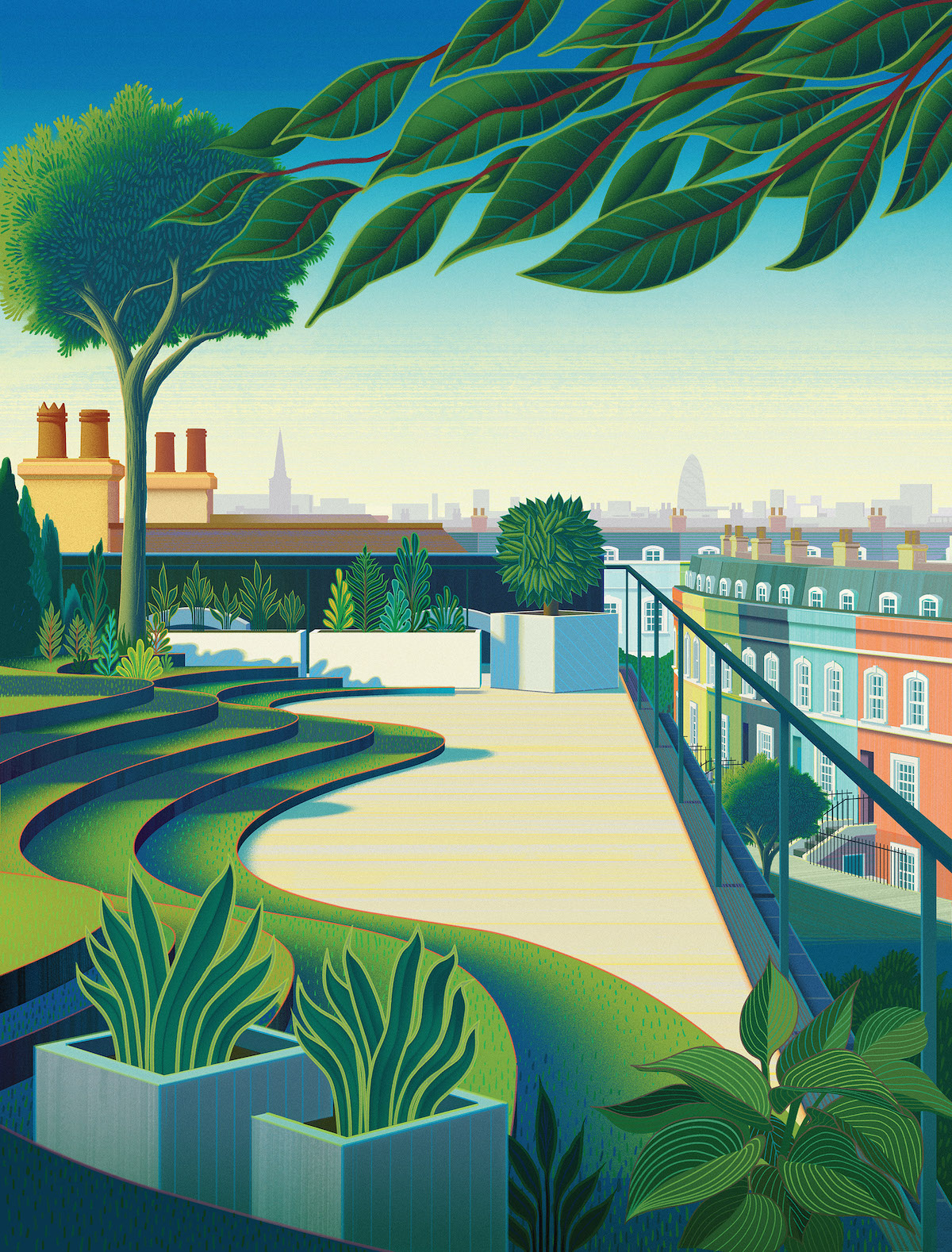 11. Now, tell us a little more about you as a person: what is your favourite food?
It's not my favourite food but porridge is important. A good breakfast is essential to creative working (for me anyway) So I ritualistically have porridge and a smoothy every morning. Even on Christmas Day.
12. Favourite book?
I haven't got a favourite as such, but over the last year or so I've gone through most of Ursula K Le Guin's work.
I like Haruki Murakami, David Mitchell, Alan Moore, Philip Pullman, Margaret Atwood.
13. Favourite genre of music?
It depends on what I'm doing. At work, I keep it fairly background in a Brian Eno kind of way. Although I have found listening to a bit of Ty Seagall or Fat White Family full blast can sometimes get me out of a creative rut.
14. What are your hobbies?
Making illustrations, walking.
15. If you weren't an artist, what would you be?
Either a delivery driver or a therapist.