Instagram:
@samlilenfield
Facebook:
www.facebook.com/stitchedbysamantha
1. What's your story? Where are you from?
I'm a fiber artist from Canton, Ohio. I have always jumped from medium to medium but in the last year or so I have really found that contemporary embroidery is my passion. I am constantly inspired and trying to move out of my comfort zone, making my journey into fiber art an amazing challenge.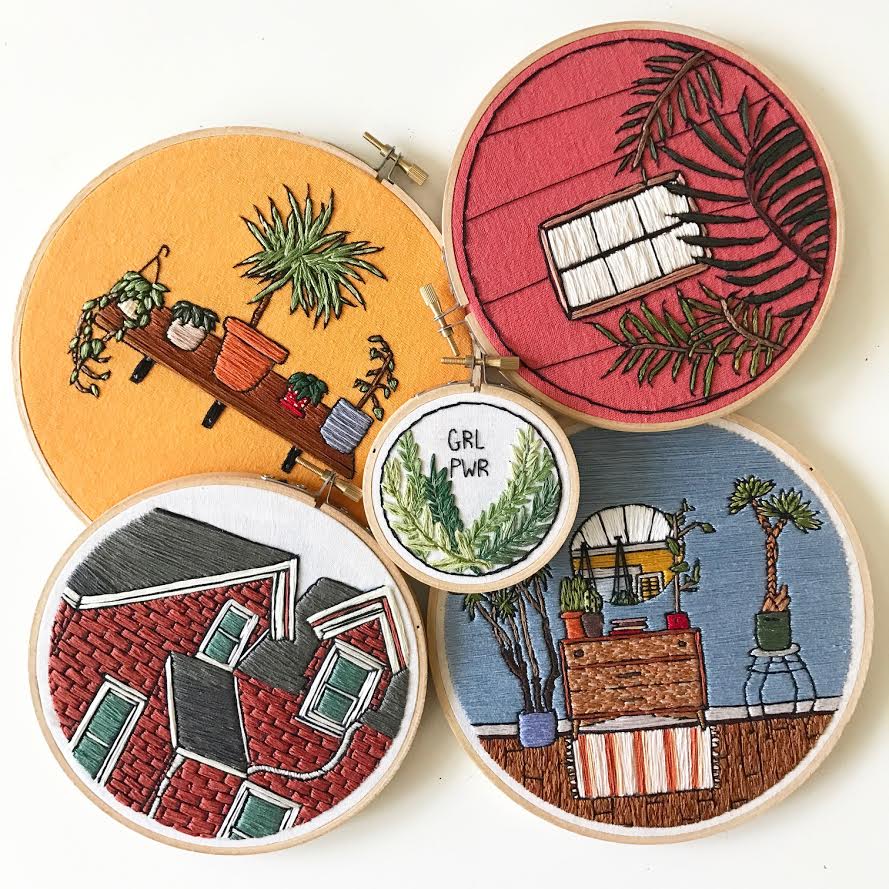 2. Tell us about your aesthetic.
I'd describe it as light and airy with bold pops of color.
3. What is your favourite medium and why?
I have yet to find a medium I enjoy more than embroidery. Although it is incredibly time consuming, the outcome is always well worth it. Working with thread gives you the opportunity to easily add texture to anything.
4. What is your artistic process like?
I start out with a very very rough sketch, straight onto the fabric I am stitching on. I then start to stitch a black outline to cover the mess of ink I just made. When the outline is finished I slowly (emphasis on slowly) fill in the piece with color. Changing colors and adding little details is the most time consuming part. After that, I glue the remaining fabric to the inside of the hoop and it is ready to be displayed or sold.
5. Who and/or what inspires your work?
I mainly find inspiration in strong women, whimsical architecture, and scenes of beautiful plants. I also find myself constantly inspired by the amazing community of embroidery artists online.
6. What role does art play in your life? How does it change the way you view the world?
Art has been a HUGE part of my life for as long as I can remember. It helps me to see the world around me in such a beautiful way. It's a challenge for me to go outside and not be inspired by what's around me.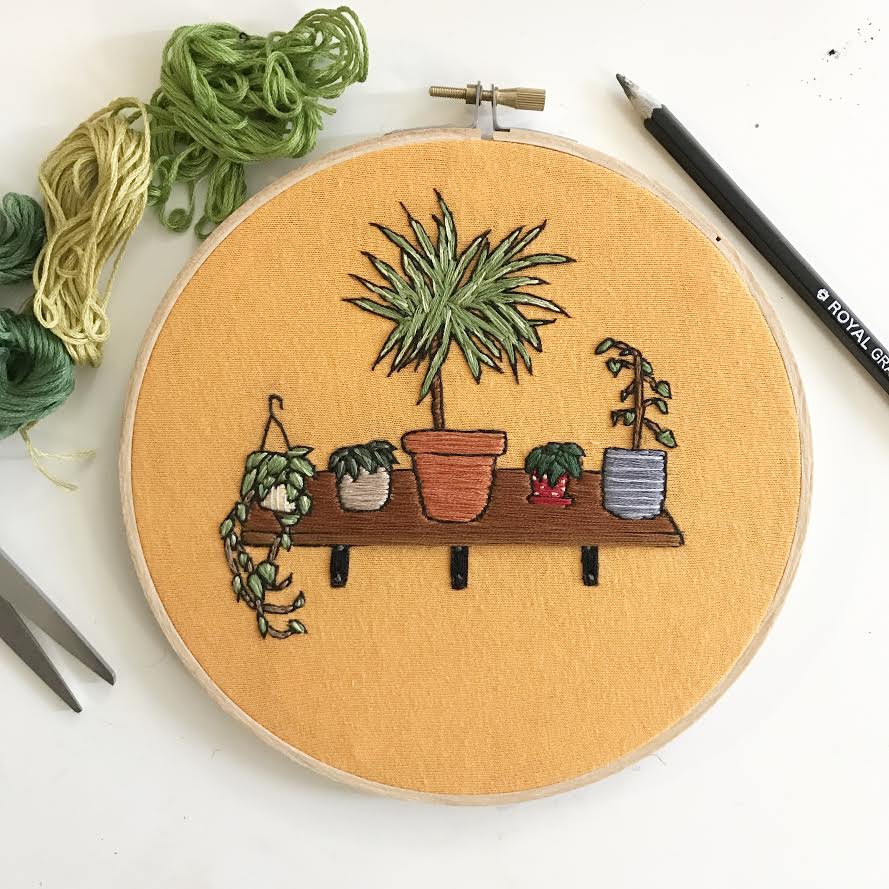 7. Where did you study?
I am self taught, but if the time was right I'd consider taking a few courses at an art school to get a better idea of concepts or techniques I struggle with.
8. Where do you see yourself in five years? Working in an agency?
Continuing to grow as an artist and possibly teaching workshops down the line. I'd love to be able to live comfortably off of my artwork (who doesn't) and travel.
9. What about in ten?
Hopefully the same as above.
10. What do you hope to achieve with your art?
I want to inspire others to dive into the world of fiber arts, or any other medium for that matter. Art has always kept me feeling sane when things get crazy, and I want others to have that as well.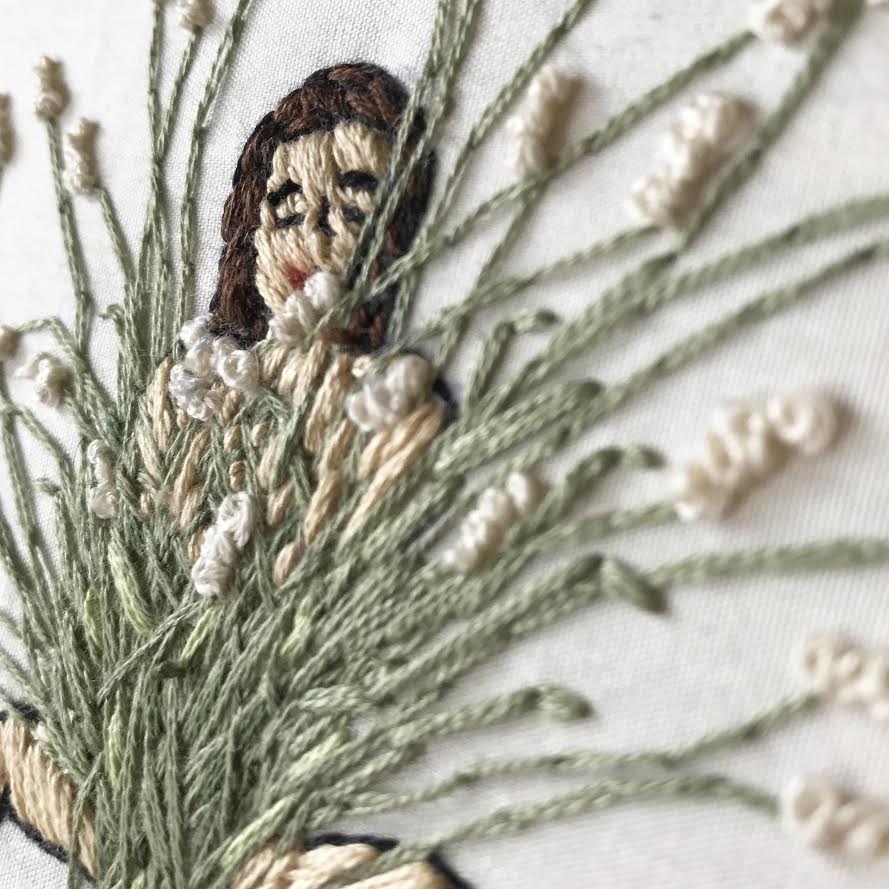 11. Now, tell us a little more about you as a person: what is your favourite food?
Definitely Chinese food, I could literally live off of it.
12. Favourite book?
I've never been too much of a reader, mainly because I'm not ever sure of what to read. So if anyone has any book suggestions feel free to DM me.
13. Favourite genre of music?
Currently indie/ anything chill with a female vocalist, but that changes so frequently.
14. What are your hobbies?
Photography, camping, and spending countless hours watching true crime documentaries.
15. If you weren't an artist, what would you be?
This was tough question, everything that came to mind was still in the creative world. I'd probably want to do something that allows me to be outside or travel often.