Instagram: @sandra___mu
Website: www.sandramuller.fr
1. What's your story? Where are you from?
My name is Sandra. I am French and I live in Paris. I grew up and studied art here. I worked for several years as art director in a Parisian digital agency before setting up on my own. I enjoyed my former job a lot, but I wanted to focus on illustration.
Je m'appelle Sandra. Je suis française et je vis à Paris. J'ai grandit et fais mes études d'art ici. J'ai travaillé pendant plusieurs années dans une agence de communication digitale parisienne comme directrice artistique avant de me mettre à mon compte. J'ai beaucoup aimé cette partie de ma carrière mais je souhaitais me recentrer sur l'illustration, que ça devienne mon activité principale.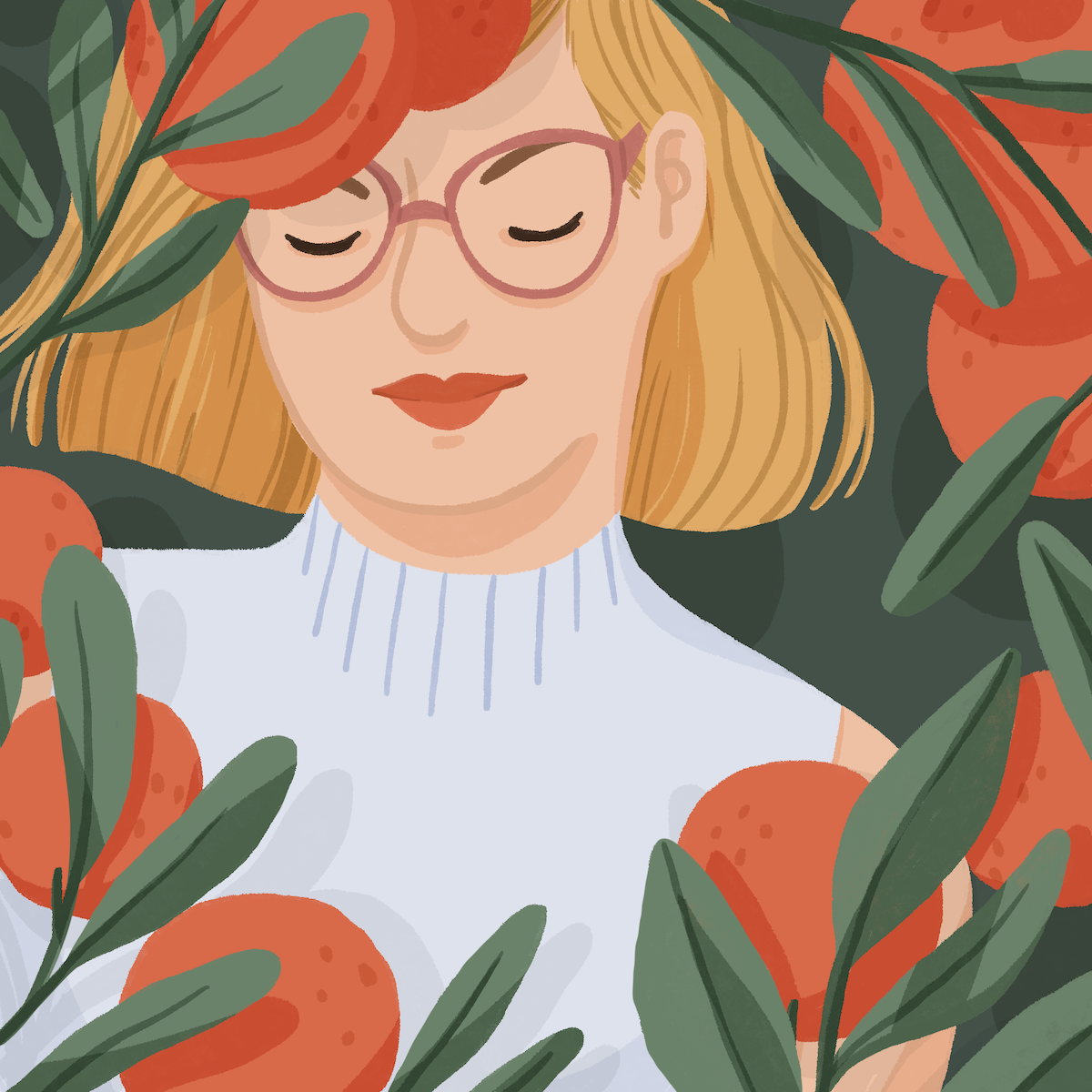 2. Tell us about your aesthetic.
I would say my style is rather colorful and curvy. Colour is very important to me, I think it's the best way for rendering emotions. My most current themes are nature, women and moments of everyday life.
Je dirais que mon style est plutôt coloré et dans la rondeur. La couleur est très importante pour moi, je trouve que c'est par la couleur que les émotions se jouent. Mes thématique les plus récurrentes sont la nature, la femme et des scènes de la vie quotidienne.
3. What is your favourite medium and why?
I worked a lot on Illustrator and Photoshop, until I discovered Procreate on iPad. But these are my tools for working, otherwise my favorite medium is linocut. It is important to me to have a moment in my week to practice engraving: it's more manual, it engages my body, which pushes me to take my time and accept alterity and imperfections in my art. And it helps me to keep my eyes away from screens and it's something precious today in our jobs. For me, it is very important to change the medium both to get out of your comfort zone and to experiment.
J'ai longuement travaillé sur illustrator et Photoshop, jusqu'à ce que je découvre Procreate sur iPad. Mais je considère ces logiciels comme des outils de travail. Mais mon medium favoris c'est la linogravure. C'est important pour moi j'avoir un moment dans ma semaine pour pratiquer la gravure : c'est une pratique plus manuel, qui engage mon corps, qui me pousse a prendre mon temps et accepter l'alterité et les imperfections dans mon travail créatif. Et puis il me permet de tenir mes yeux loin des écrans et c'est quelques choses qui devient rare aujourd'hui dans nos métiers. Pour moi c'est très important de changer de médium à la fois pour sortir de sa zone de confort et expérimenter.
4. What is your artistic process like?
I always start by sketching in one of the 10,000 notebooks lost in my studio. It may seem old school but I think it's an important step in my process. The tools we use influence our way of creating, and the pencil's step is a privileged moment : we can miss, erase, scribble, annotate without being yet in the problem of performing well and being productive. I feel like there's a direct path from my brain to the blank page, and that path is the pencil. Then often I work on a moodboard to bring together my ideas and my sources of inspiration. I prepare a sketch and finally I make the final illustration in Procreate, Photoshop or Illustrator.
Je commence toujours par faire des croquis au crayon dans un de mes 10 000 carnets qui peuplent mon atelier. ça peut paraitre vieille école mais je trouve que c'est une étape importante de mon processus créatif. Les outils que nous utilisons nous influence dans notre manière de créer, et l'étape du crayon est un moment privilégier où l'on se permet de rater, raturer, gribouiller, annoter sans être encore dans la problématique de bien faire et d'être productif. J'ai l'impression qu'il y a un chemin direct entre mon cerveau et la page blanche, et ce chemin c'est le crayon. Ensuite très souvent je travail un moodboard pour regrouper à la fois mes idées et mes sources d'inspiration. Je prépare un croquis et enfin je réalise l'illustration finale sur Procreate, photshop ou illustrator.
5. Who and/or what inspires your work?
I take a lot of inspiration from nature and landscapes I see. I often try to photograph some details that I would like to use in illustrations: the detail of some bark, a type of leaf, the way hair falls over someone's shoulders. I am absolutely convinced that we digest 3000 visual or sensorial informations everyday and all this information is source of conscious or unconscious inspiration: the flavor of the last dish you ate, the light that persists through the curtains from the window, the smell of that new shampoo or some words you heard on the radio.
Je m'inspire beaucoup de la nature et des paysages que je vois. J'essaye souvent de prendre en photographie certains détails que j'aimerais utiliser dans des illustrations : le détail d'une écorce de bouleau, un type de feuille, la façon dont tombe les cheveux sur les épaules de quelqu'un. Je suis absolument persuadé que nous digérons tout les jours 3000 informations visuels ou sensoriel dans une journée et que toutes ces informations sont une source d'inspiration consciente ou inconsciente : la saveur du dernier plat que vous avez mangé, la lumière qui perse par les rideaux de la fenêtre, l'odeur de ce nouveau shampoing ou une phrase que vous avez entendu à la radio.
6. What role does art play in your life? How does it change the way you view the world?
I believe a lot of artists like me were rather shy and not very talkative children and that art was a way of expression which allowed to share a few things. Being dyslexic, it was always painful for me to express myself in writing, so drawing was also my safest and most liberating medium. I realized over time that drawing put me in a meditative state. Of course this is not always the case, sometimes doing creative work, or even creating for yourself, is full of frustration, failure and despair. But this is also what makes art a powerful medium of expression, because the path to inspiration is often difficult.
Je crois que beaucoup d'artiste était comme moi des enfants plutôt timide et peu bavard et que l'art était un moyen d'expression qui permettait de partager quelques choses. étant dyslexique, ça a toujours été très douloureux pour moi de m'exprimer par écrit, donc le dessin était aussi mon moyen d'expression le plus safe et le plus libérateur. Je me suis rendu compte avec le temps que dessiner me mettait dans un état méditatif. Bien sur ce n'est pas toujours le cas, parfois faire un travail créatif, ou même créer pour soi, c'est plein de frustration, d'echec et de désespoir. Mais c'est ça aussi qui fait que l'art est un moyen d'expression puissant, c'est parce que le chemin vers l'inspiration est souvent pavé d'emmerde.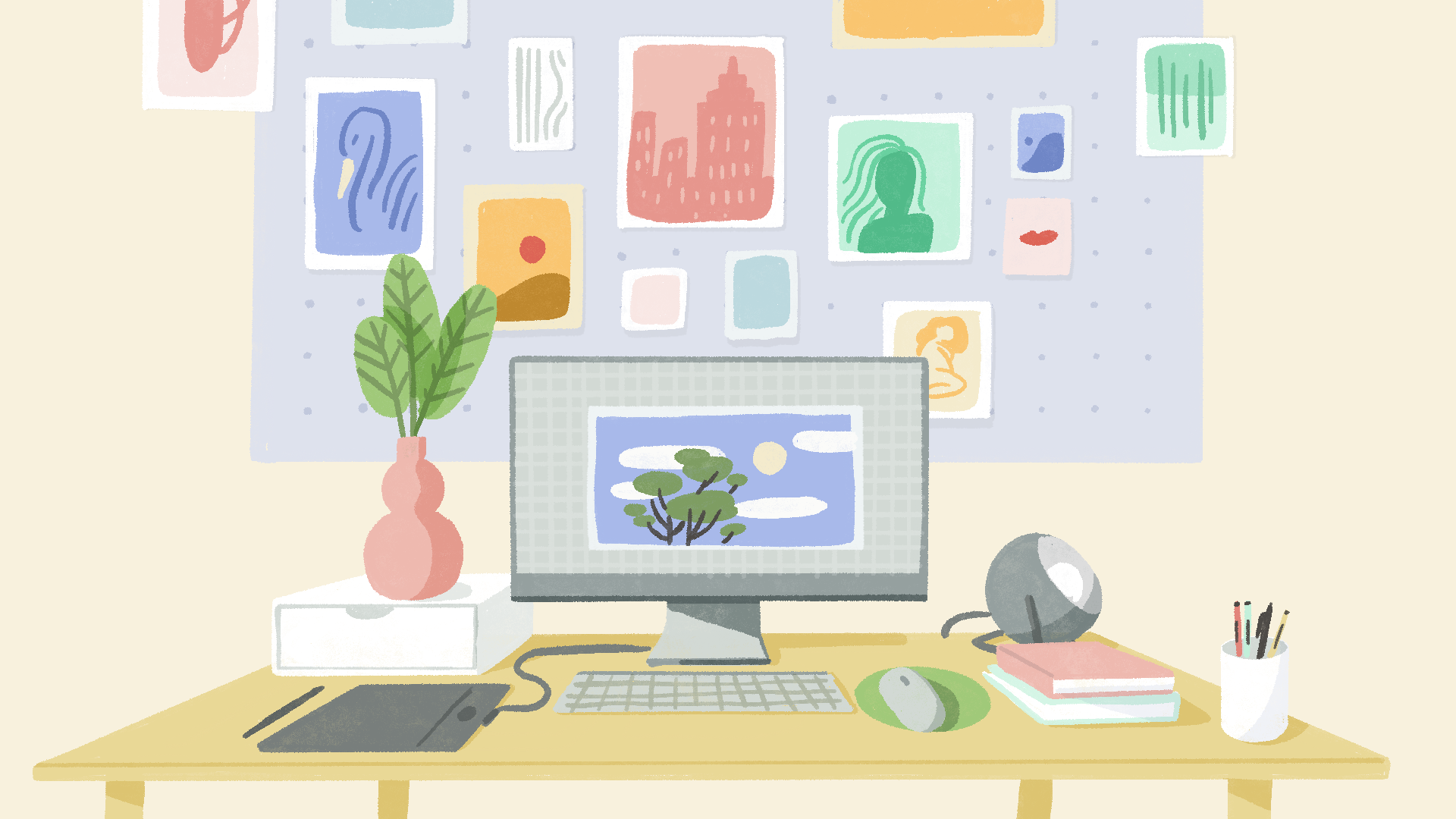 7. Where did you study?
After making an express year at art university, I did 2 years of preparatory school and finally I studied at EPSAA, a school of graphic design in Paris. There I studied visual communication, illustration, typography, motion design, packaging and advertising. And I graduated with a master's degree in art direction 7 years ago.
Après avoir faire un passage express par la fac d'art, j'ai ensuite fait 2 ans de cours préparatoire pour rentrée en école d'arts graphique à l'EPSAA, à Paris, en France. J'y ai étudié la communication visuelle, l'illustration, la typographie, le motion design, le packaging et la publicité. Et j'ai été diplomé d'un master en direction artistique il y a 7 ans.
8. Where do you see yourself in five years?
I hope to live off my illustration's work, on full time. I really like art direction, but I don't think I could do it for my whole my life. I want to tell my own stories and the stories of others too.
J'espère vivre à tant plein de l'illustration. J'aime beaucoup la direction artistique mais je ne pense pas pouvoir faire ça toute ma vie. J'ai envie de raconter mes propres histoires, les histoire des autres aussi et raconter l'actualité en image.
9. What about in ten?
In 10 years? This is a dizzying question! I hope I will have a studio in my home, large enough to have a printing press for printmaking. And I hope I will have chickens. I would love to have chickens in a garden, with a big fig tree.
Dans 10 ans ? mais c'est si loin ! J'espère que j'aurais un ateliers suffisamment grand chez moi pour avoir une presse pour faire de la gravure. Et j'espère que j'aurais des poules. J'aimerais beaucoup avoir des poules dans un jardin, avec un grand figuier.
10. What do you hope to achieve with your art?
Oh I don't have high ambitions. I'm just happy to live by doing what I love and if my illustrations can help bring a little colour in people's life, well so much the better.
Oh je n'ai pas de grosse ambition. Je suis juste contente de vivre en faisant ce qui me plait et si mes illustrations peuvent participer à mettre un peu de couleurs dans la vie des gens qui tombent dessus tant mieux.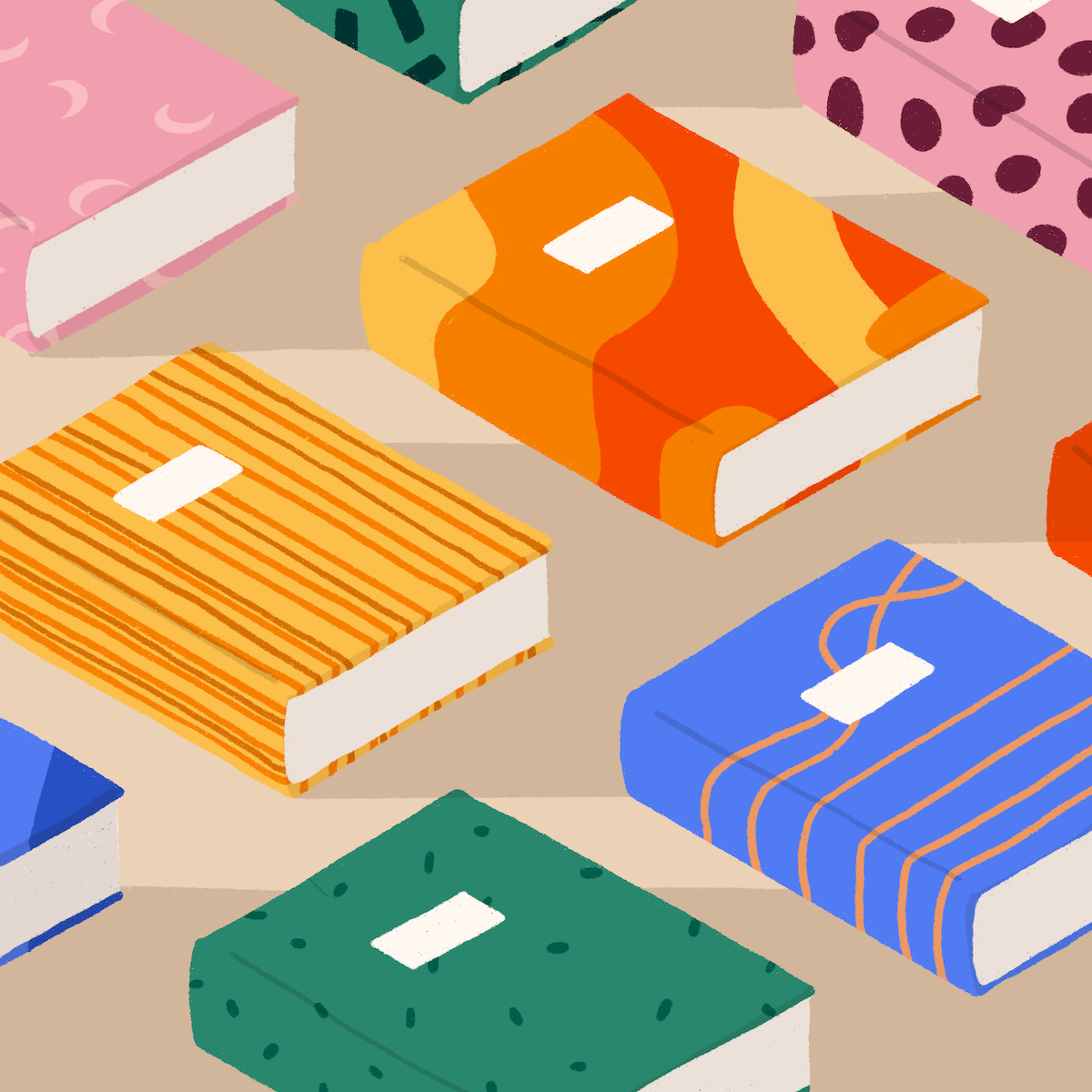 11. Now, tell us a little more about you as a person: what is your favourite food?
Terrible question for a Frenchwoman, because we live in the kingdom of croissant and good wine. But I must admit, I betrayed my homeland: I fell in love with Japanese cuisine. I think my trip to Japan was memorable in large part because of the food. And despite my love for French cuisine, my stomach was in a state of depression when I came back home. I have tasted the best sushi in my life in Osaka, and the best ramen ever in Tokyo. My palate still remembers it.
Terrible question pour une française, parce qu'on est quand même le royaume du croissant et du bon vin. Mais voilà je dois avouer, j'ai trahis ma patrie : Je suis tombé amoureuse de la cuisine japonaise. Je pense que mon voyage au japon a été mémorable en grande partie grâce à la bouffe. Et malgré mon amour pour la cuisine française, mon estomac à fait une dépression lorsque je suis revenu. J'ai mangé les meilleurs sushi de ma vie à Osaka, et le meilleur ramen de l'univers à Tokyo. Mon palais s'en souvient encore.
12. Favourite book?
I read a lot of feminist essays and since those are not very funny, I also read heroic fantasy. So I advise those who are looking for an epic story among the Celts to read "Même pas mort" by Jaworski and to those who wish to understand feminism to start with "Beauté fatale" and "Sorcières" by Mona Chollet.
Je lis beaucoup d'essais féministes et comme c'est pas très rigolo je lis de l'heroic fantasy a côté. Je conseille donc à qui souhaite vivre une histoire épique parmis les Celtes de lire Même pas mort de Jaworski et à qui souhaite comprendre le féminisme de commencer par Beauté fatale et Sorcières de Mona Chollet.
13. Favourite genre of music?
I mostly listen to French indie, electro and funk but recently I discovered Ethiopian jazz and it's "de la bombe" like we said in french.
J'écoute essentiellement de l'indie, de l'electro et de la funk mais j'ai récemment découvert le jazz ethiopian et c'est vraiment de la bombe.
14. What are your hobbies?
I eat a lot of chocolate in front of TV shows, do a lot of yoga and I practice tarot.
Je mange énormement de chocolat devant des séries, je fais beaucoup de yoga et je tire les tarots.
15. If you weren't an artist, what would you be?
A yoga teacher. Besides, I recommend that you all try yoga, if you do illustration or graphic design. These are very sedentary activities who cause a lot of pains on our backs and at the end of our lives we end up like little dry plums.
Prof de yoga. D'ailleurs je vous conseille à tou•te·s de faire du yoga, si vous faites de l'illustration ou du graphisme. Ce sont des activités très sédentaire qui font qu'on a mal au dos et on finit notre vie tassé comme des petits pruneaux.