Instagram:
@sannyvanloon
Facebook:
www.facebook.com/sannyvanloon
Website:
www.sannyvanloon.com
Shop:
www.sannyvanloon.tictail.com
1. What's your story? Where are you from?
I was born and raised in Amsterdam, The Netherlands. For as long as I can remember I liked to draw and make things. Now I work full time as a freelance illustrator.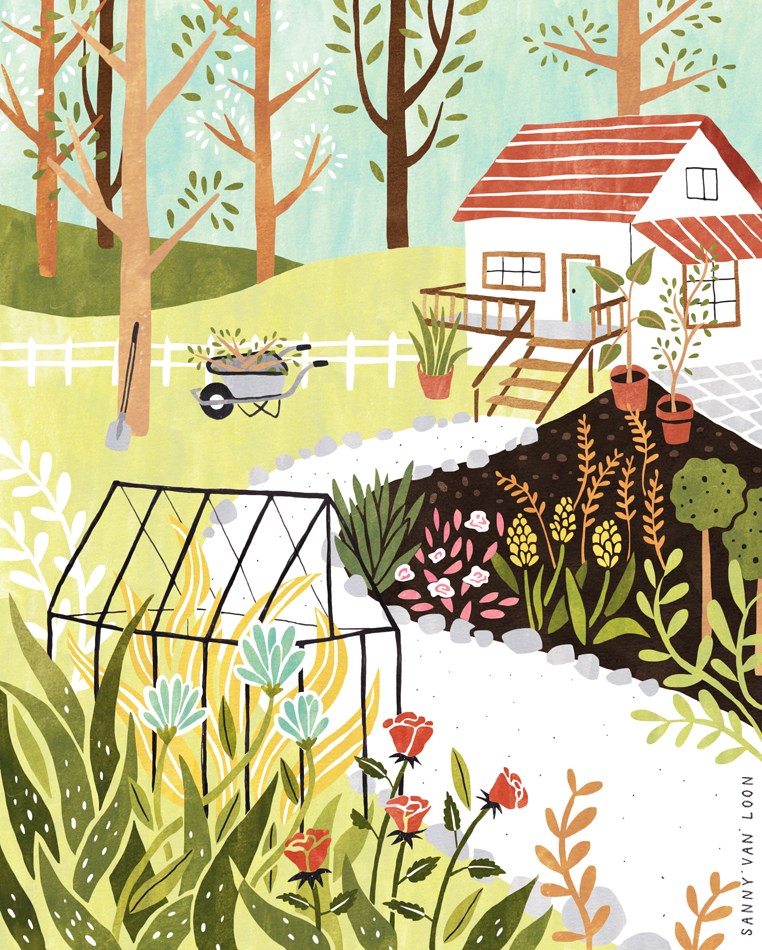 2. Tell us about your aesthetic.
I would describe my work as colourful and cheerful. I mostly work by hand and I sometimes edit my illustrations digitally but I always try to give them a handmade feel.
3. What is your favourite medium and why?
Gouache, watercolour and ink. I love how they turn out on different kinds of paper and how you can mix the colours endlessly to create your own.
4. What is your artistic process like?
First, I need a nice and healthy breakfast and some good music. For me it's also important to feel comfortable in the place where I work. I'm really lucky to have a shared studio space with friends which almost feels like a living room. Usually I start painting right away but sometimes I have no idea where to start. Then I collect some inspirational images and make some sketches with pencil first. I like to make colour schemes in advance to decide what feel the illustration will get, but in the end I never really stick to it and just improvise. After the colouring comes my favourite part: adding details until I'm completely satisfied!
5. Who and/or what inspires your work?
Vintage books, objects and packaging, daily life, nature, the festivals where I work, the work of other artists, museums, Pinterest, flea markets and many other things.
6. What role does art play in your life? How does it change the way you view the world?
I've been drawing ever since I can remember so it's hard for me to imagine my life without it. I think being an artist really makes you look at the world differently. For example, when I'm traveling I see so many details, colour combinations, textures and stories that it almost drives me crazy: I just HAVE to pick up my pencil and draw!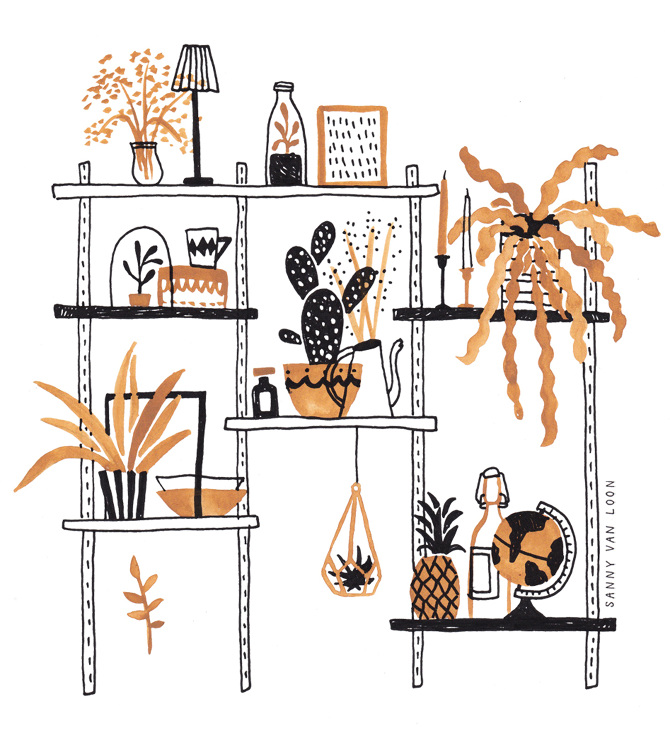 7. Where did you study?
I've studied Graphic Design in Amsterdam and Illustration at the HKU University of the Arts in Utrecht.
8. Where do you see yourself in five years? Working in an agency?
At the moment it all goes very well with my work and I just hope to continue like this. Hopefully with even more nice clients to work with and lots of fun commissions. Also I would love to do more personal projects and make more of my own products like prints, stationary, ceramics and other things.
9. What about in ten?
I usually don't look too far ahead but I just hope that in ten years I will live a happy life and still will be able to create nice things.
10. What do you hope to achieve with your art?
I hope I can inspire other people and brighten up the world a little bit.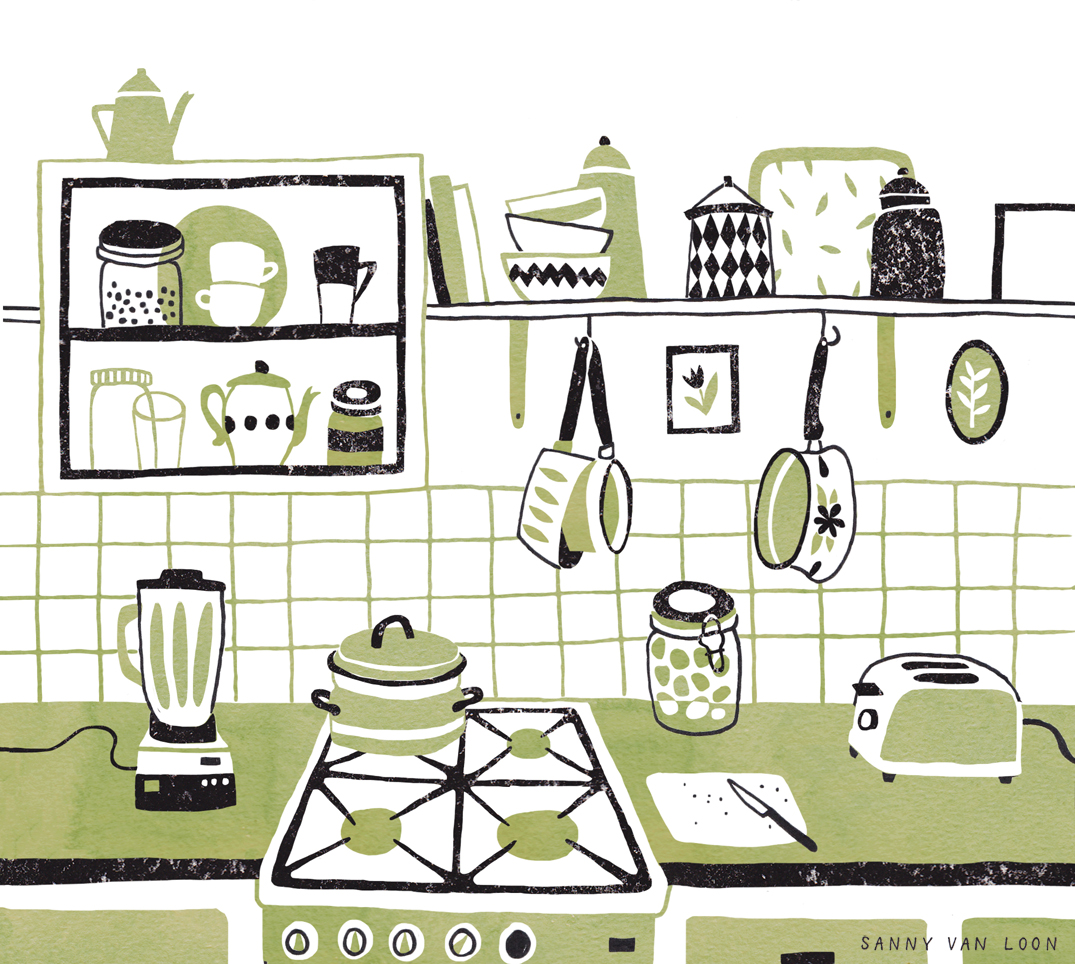 11. Now, tell us a little more about you as a person: what is your favourite food?
I'm not really a good cook (fortunately my boyfriend is) but I always try to eat healthy, with lots of fruits and vegetables. I think my favourite dish is sushi. And my guilty pleasure is definitely chocolate.
12. Favourite book?
I find it hard to choose just one but it's definitely an art book. For example 'Botanicum' by Katie Scott, a Dutch book called 'Het Wonder van Jou', illustrated by Floor Rieder, 'The Wrong Place' by Brecht Evens and I also love old illustrated encyclopaedia and vintage children's books.
13. Favourite genre of music?
I listen to all sorts of music and it depends on how I feel or what I am working on, but at the moment mostly house and other electronic music.
14. What are your hobbies?
Besides drawing I love dancing, traveling, working at festivals, watching movies, going to museums, hanging out with friends, making photographs with my analogue camera and sometimes making my own clothes as well.
15. If you weren't an artist, what would you be?
A mermaid.