Instagram:
@sasha.ignatiadou
1. What's your story? Where are you from?
Originally, I am from Russia, North Caucasus. I was born in a small town in Kislovodsk surrounded by mountains on all sides. They say that in this town the sun shines 300 days a year. I have a very creative family and since childhood, I've loved drawing and dancing. At the age of 25, I moved to Germany with my husband and here I started to illustrate.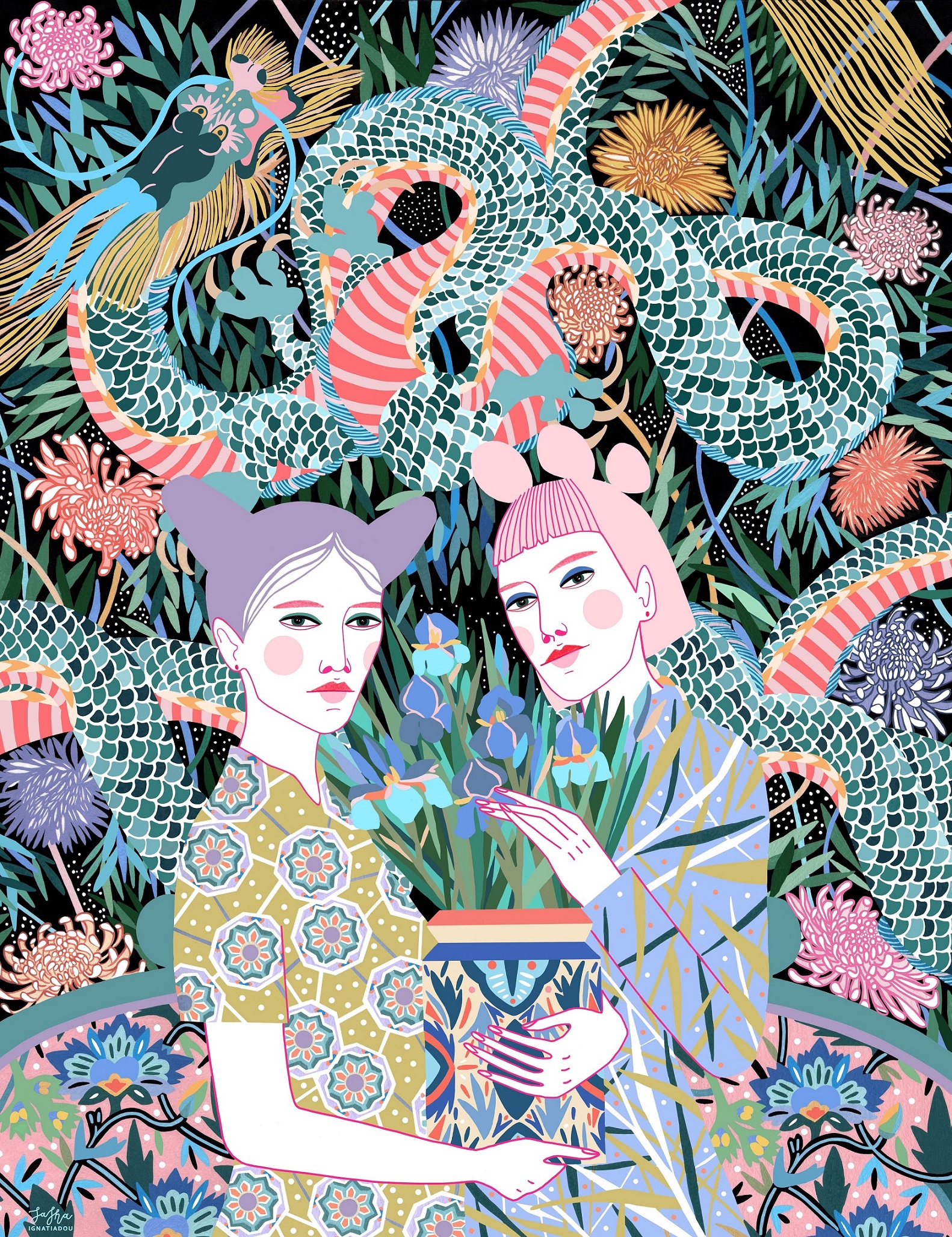 2. Tell us about your aesthetic.
He believes in beauty - as Bjork sings. I find beauty everywhere around me, you just need to be quiet enough inside yourself.
3. What is your favourite medium and why?
I really love Pinterest, there's an incredible number of inspirational photos, and you can find some interesting object, a plant that you want to use in your work. Instagram. I spend less time on Instagram, but I really like it for interactivity. Here you can really find your people with similar interests and tastes, and also share my art and they will see it.
4. What is your artistic process like?
At the moment I'm working intuitively and all the illustrations that I create are rather an emotion that I try to show. I like to work in a calm, relaxed state, so I do not hurry to release one work per day. It usually takes quite a long time to develop a sketch and to choose the color scheme. Creating an illustration is like meditation - the process is more important than the result. It takes a long time to create an illustration. First, I thoroughly think about the sketch, carefully plan the composition, and then draw it in the original size, and then transfer it to a blank sheet. In colour, I work already in the original version of the illustration.
5. Who and/or what inspires your work?
Inspiration literally accompanies me everywhere. I love my work so much that it's enough for me to wake up early in the morning, to make coffee, to turn on the music and off you go... There are no special attributes of my inspiration, ideas are born from what I see around me, in nature, books, movies or magazines...
6. What role does art play in your life? How does it change the way you view the world?
You can say that the main role. I no longer share myself with what I do. Art definitely affects my view of the world. I'm always unconsciously searching for the beauty around me, and of course, I find it everywhere.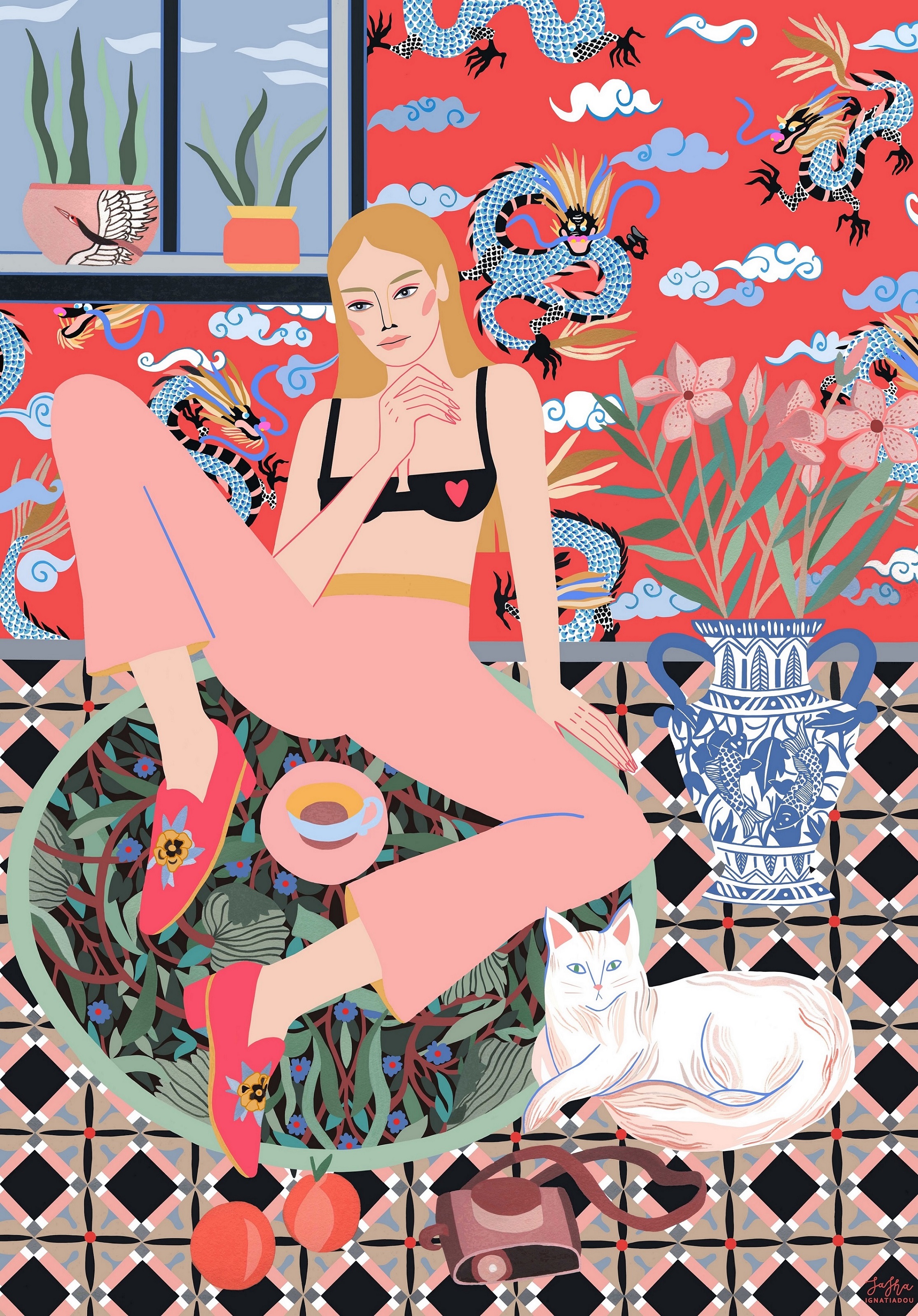 7. Where did you study?
I graduated from art school, took private drawing lessons and then entered the art university. I graduated from the "Rostov Academy of Architecture and Art" in 2011 and after 6 years of study, received a diploma of "Artist of Arts and Crafts." In the university I learned to make ceramics, batik, I wove carpets and tapestries, made hot enamel.
8. Where do you see yourself in five years?
In Greece, living in a small house with a studio near the sea. I would like to have more space because I plan on drawing oil on large canvases. And, after a couple of years in Germany, I just need more sun.
9.What about in ten?
Honestly, I did not look so far.
10. What do you hope to achieve with your art?
I would like to continue to work and create more interesting works, improve my technique. The process of creation itself plays a key role for me.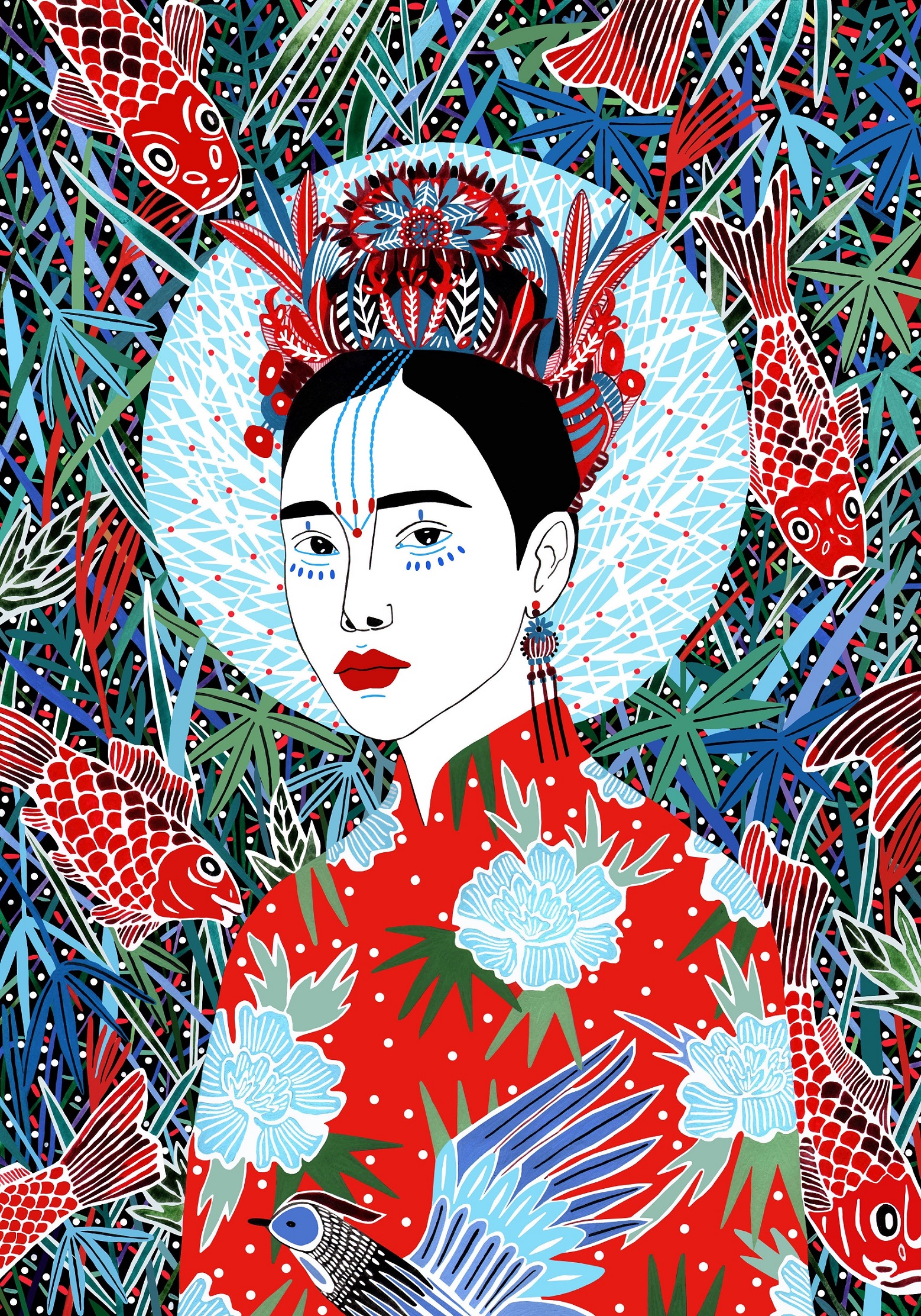 11. Now, tell us a little more about you as a person: what is your favourite food?
I am a typical representative of a lion. Impulsive and emotional as hell. For me, the most important thing in the world is - if I do something, I do it well, very well. Otherwise, it makes no sense. As for my favourite food, most of all I adore Russian herring with boiled potatoes. I do not need anything else.
12. Favourite book?
Anton Pavlovich Chekhov, short stories. "Kappa" by Ryunosuke Akutagawa and so on and so forth ad infinitum. To my shame in this period of my life, I watch more movies than I read and this definitely needs to be corrected.
13. Favourite genre of music?
Well, how can you select just one single genre of music? Rock, jazz, blues, alternative rock and so on. Ok, Pink Floyd, Rolling Stones, Beatles, Queen, Led Zeppelin, Yes, Nina Simon, Tom Waits, Air, Underworld, Cypress Hill … Lord, I will continue this list endlessly!
14. What are your hobbies?
I would really like to say - sports, but it's in the nearest future ... Honestly!
15. If you weren't an artist, what would you be?
Dancing. I would be engaged in professional dancing.