Instagram:
@sebiksoagresti
Website:
www.sebiksoagresti.com
1. What's your story? Where are you from?
My name is Seb and I work as an illustrator and artist, I have been living and working in Rotterdam, The Netherlands since 2008. Growing up I was interested in Skateboarding, Movies, Videogames and Graphic Design. I studied at a Graphic school for four years but decided to study illustration when I applied for the Willem de Kooning Academy. I have a cat named Frank, meditate every day and put Moroccan spices on almost any dish.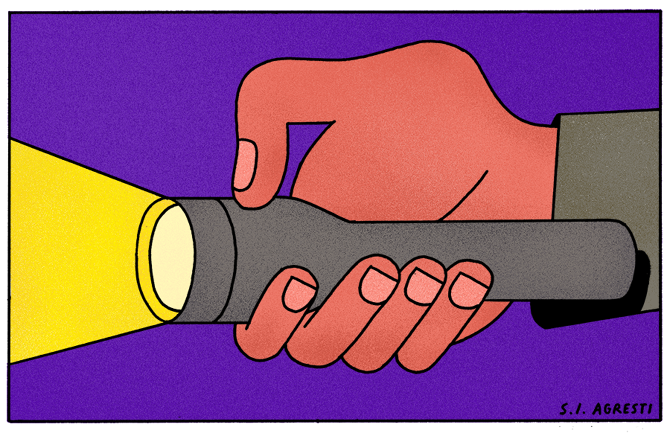 2. Tell us about your aesthetic.
It developed over time, I am not the most virtuous draughtsman in the world so I tend to look for simple images. Comic books have been a big influence style-wise, but as far as ideas and concepts I picked up more from fine artists such as the surrealists. My illustrations almost always have a border around it as I see my compositions like a stage where I place objects.
3. What is your favourite medium and why?
Coloured inks, they are very vibrant and not having complete control over them makes it exciting to work with.
4. What is your artistic process like?
For illustrations, I usually start out with writing down words and associations and then start sketching and combining elements until I find a visual solution that I like. I then draw everything out in pencil before I work it out in clean pen lines on a light table. I like my images to be very simple and clear so I avoid any kind of shading or unwanted details. Depending on the assignment I color my work either by coloured inks or digital color, but try to make those two mediums look the same.
5. Who and/or what inspires your work?
I have hundreds of books stacked around my studio, I can get pretty much interested in any topic I can get my hands on. Looking at works by outsiders artists like H.C. Westermann or Morris Hirshfield always fire me up. I live next to a big photo museum which is great to go to when I feel like I'm stuck.
6. What role does art play in your life? How does it change the way you view the world?
Art showed me that you can view the world from any angle that you'd like and none of them really make sense.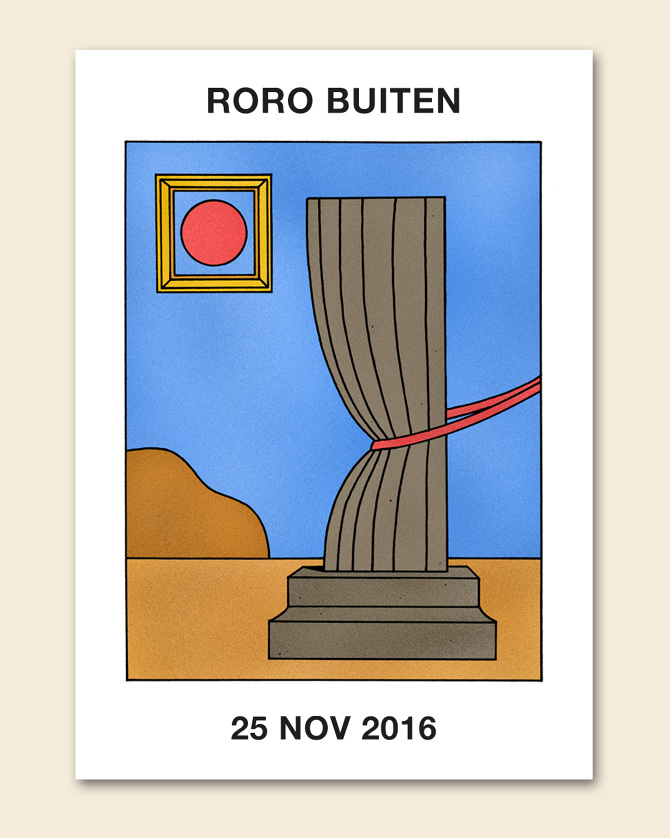 7. Where did you study?
I studied Illustration at the Willem de Kooning Academy and painting at Rotterdam-based painter Solko Schalm.
8. Where do you see yourself in five years? Working in an agency?
Life is much more enjoyable once you stop looking into the future.
9. What about in ten?
Regretting that I never thought about my future.
10. What do you hope to achieve with your art?
I just want people to enjoy my work and support me enough to keep doing it.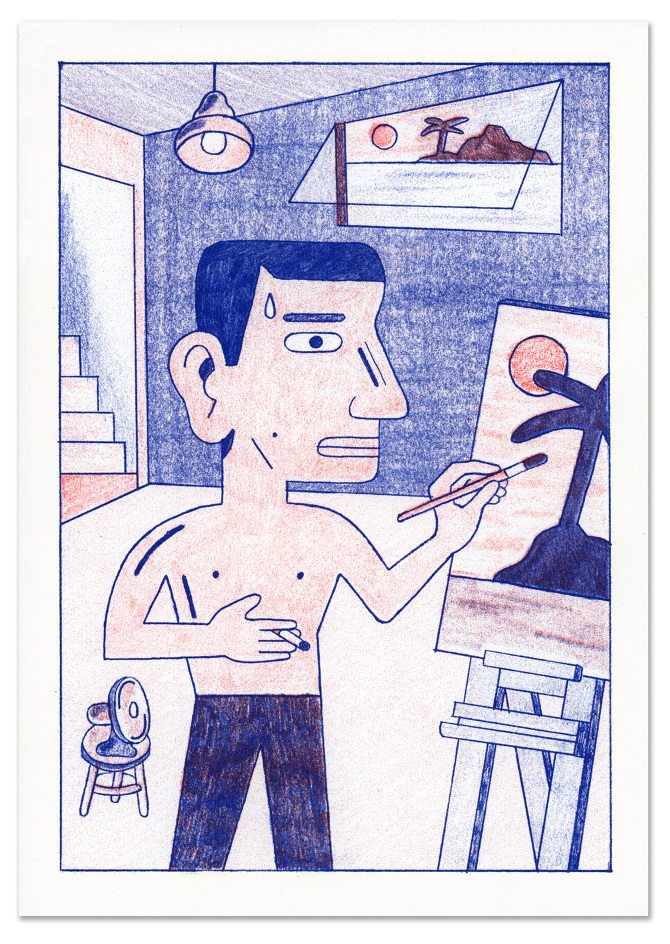 11. Now, tell us a little more about you as a person: what is your favourite food?
I had an amazing Panzerotti last week, it's a deep-fried Calzone and it almost made me cry.
12. Favourite book?
Hear the Wind Sing by Haruki Murakami. I illustrated a book cover for it during the 2016 Illustration Biënnale in Haarlem.
13. Favourite genre of music?
I get confused in all the genre labels, Lately, I have been listening to a lot of Mac Demarco, Steve Lacey and Haruomi Hosono.
14. What are your hobbies?
Procrastinating and finding out about rare artists and musicians, which go hand in hand quite well.
15. If you weren't an artist, what would you be?
Someone who can pay for dinner once in a while.