Instagram:
@seungboy87
1. What's your story? Where are you from?
My name is Seung Bo Yoo, I make drawings and music. I live in Seoul, South Korea, and run my own picture bookstore near my house called 'Veronica Effect' (instagram.com/veronicaeffect). 그림을 그리고, 음악을 만드는 유승보입니다. 서울에 집이 있고 집 근처에 그림책 서점 'Veronica Effect'(instagram.com/veronicaeffect)를 운영하고 있습니다.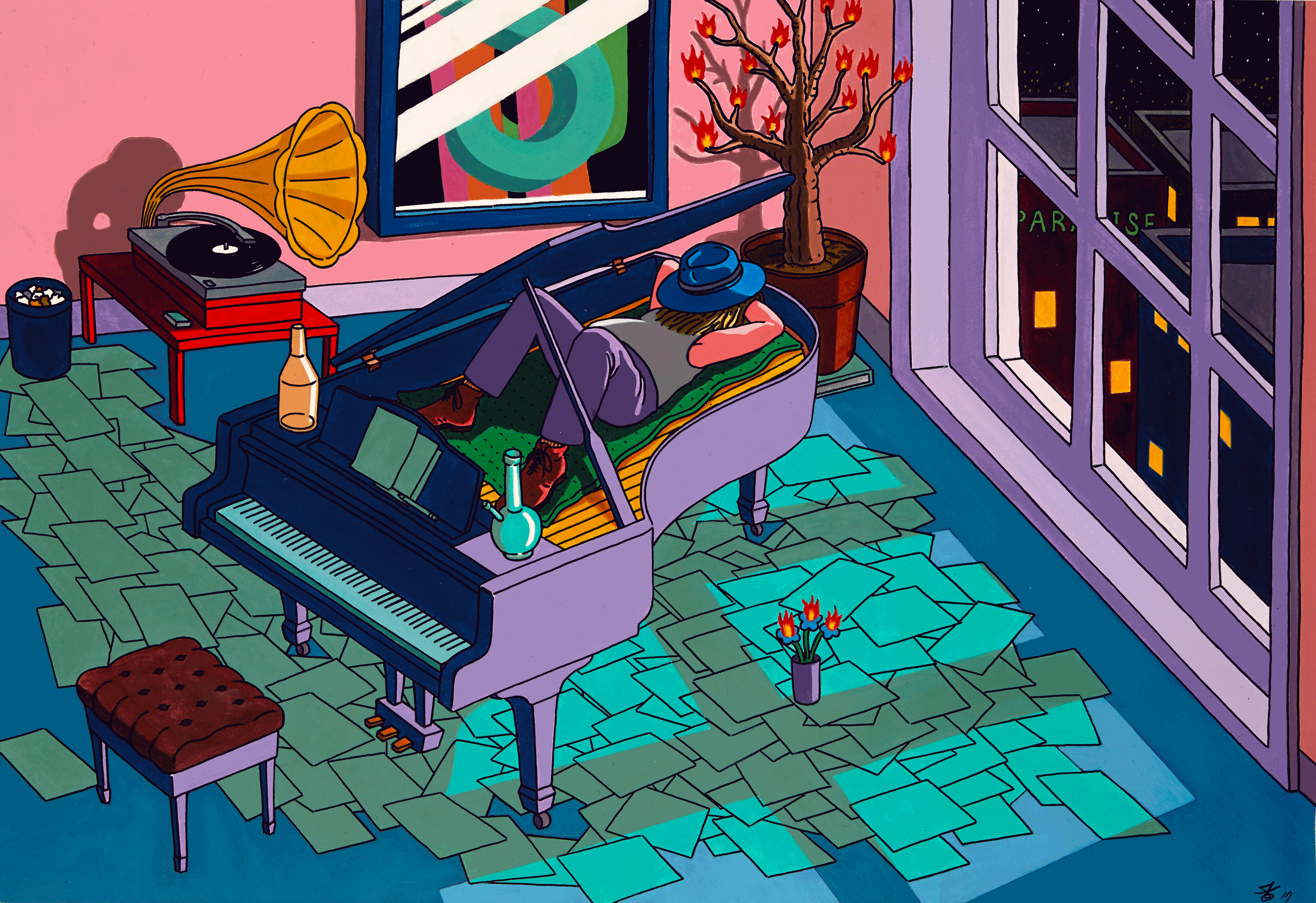 2. Tell us about your aesthetic.
Violence. 폭력.
3. What is your favourite medium and why?
Firstly there's Youtube, and secondly, there's graphic novel. I believe that we can learn anything via Youtube in this modern society. I keep Youtube on for 23 hours a day. I feel that graphic novel is such a mesmerizing genre amongst auteur-orientated publications. I've never hesitated to pay for graphic novels and either have I ever regretted for the contents. It also helps since I am preparing for my own graphic novel. 첫 번째로 Youtube, 그리고 두 번째로는 그래픽 노블이 있습니다. 일단 현대사회에서는 유튜브를 통해 모든 학습이 가능하다고 생각해요. 저 역시 24시간 중 23시간은 유튜브를 켜놓습니다. 작가주의 성향의 출판물 중 그래픽 노블이라는 장르가 가장 매력적이라고 봅니다. 그래픽 노블을 사기 위해 돈을 지불할 때 가장 아깝지 않고 후회가 없었기 때문입니다. 저 역시 저의 그래픽 노블을 만들기 위해 준비 중이고요.
4. What is your artistic process like?
It begins with taking memos. When it gets piled up, there are many words that get me thinking. By re-assembling these words for some time, an interesting sentence is made up. After several sentences are made, I re-arrange the orders and try to come up with more dramatic situations that could reflect on the contemporary lives, which then becomes my work. 메모부터 시작됩니다. 하루의 일기 속에는 수많은 단어들이 존재합니다. 이 단어들을 나열하고 재조합하는 일들을 반복하다 보면 재미있는 문장들이 완성되죠. 이런 문장들을 더 극단적인 상황으로 만들어 시대를 반영할 수 있는 그림을 그리려고 노력 중입니다.
5. Who and/or what inspires your work?
Conversations with others, classic movies, and myself. 타인과의 대화. 고전영화. 그리고 나 자신.
6. What role does art play in your life? How does it change the way you view the world?
To me, art is a way of exploring myself. I guess it's about being honest with your preferences. There are no particular answers though. 저에게 있어 예술이란 나 자신을 탐구하는 방법 중 한 가지입니다. 예술은 정답이 없고, 적어도 자신의 취향에 솔직해져야 하는 부분이니까요.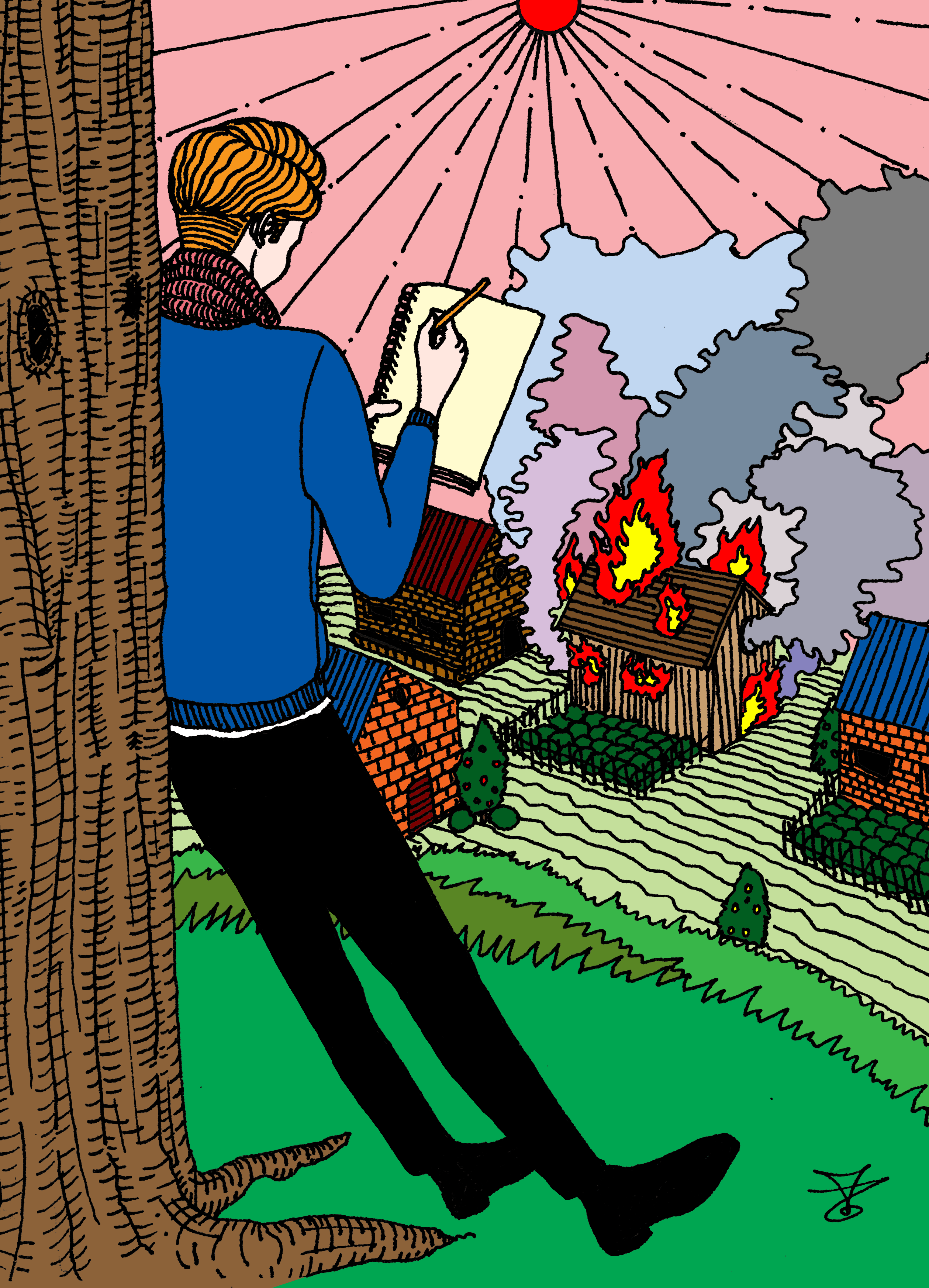 7. Where did you study?
I never left this country, and didn't study as a student. I always hung around. I majored in music and sound at University. 줄곧 한국에서만 살아왔고, 공부를 한 적은 없습니다. 맨날 놀았거든요. 굳이 졸업한 대학교의 전공을 말하자면 음악과 음향을 전공했습니다.
8. Where do you see yourself in five years?
My book store will get a bit bigger, and I will be balding in a rapid pace. 운영 중인 서점은 조금 더 커져있을 것이고, 머리카락이 다 빠져있을 것 같습니다.
9. What about in ten?
I will be signing my autographs, internationally, with my private jet. 팬사인 하러 돌아다녀야죠. 전용기 타고 다니면서.
10. What do you hope to achieve with your art?
I want to step up as an artist and want corresponding amount of fame. 나 스스로의 레벨업과 그에 따른 정당한 인기를 얻고 싶습니다.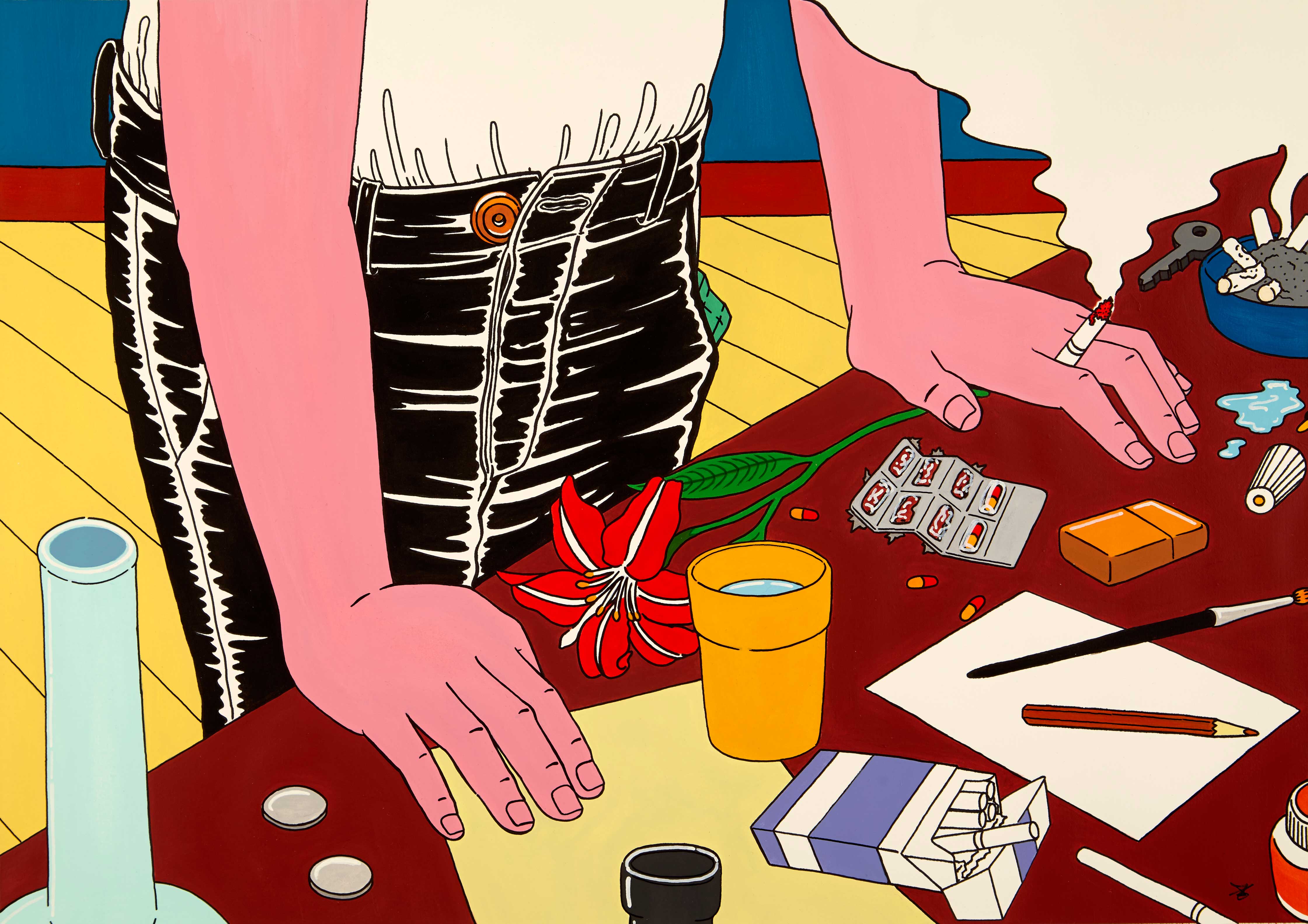 11. Now, tell us a little more about you as a person: what is your favourite food?
Coffee it is. Every morning I wake up just to fancy for a cup of hot coffee. It never gets old. 커피. 매일 아침 눈뜨면 늘 하는 생각은 따듯한 커피부터 마셔야지! 입니다. 몇 년째인데도 질리지 않는 생각이에요.
12. Favourite book?
Favorite literatures are 'Catcher in the rye' by Jerome David Salinger, and 'El coloquio de los perros ' by Miguel de Servantes. Favorite graphic novels are 'Map of Days' by Robert Hunter, and 'White Cube' by Brecht Vandenbroucks. 문학으로는 J.D 샐린저 의 [호밀밭의 파수꾼] / 세르반테스 의 [개들이 본 세상]. 그래픽노블은 Robert Hunter 의 [Map of Days] / Brecht Vandenbroucks 의 [WHITE CUBE]
13. Favourite genre of music?
Lo-Fi, Afro, Motown, Soul, Jazz and everything. I am quite open to many different music genres. I recently listened to Rex Orange County and liked it very much. If I get to listen to one last song before I die, I would like to close my eyes with 'This guy's in love with you' by the Reels. Lo-Fi / AFRO / Motown / Soul / Jazz 웬만해선 가리지 않고 듣는 편이고요. 최근에 듣고 좋았던 뮤지션은 'REX ORANGE COUNTY'였습니다. 늘 듣는 앨범은 'Grant Green'이고요. 죽기 전 딱 한 노래를 들어야만 한다면 The Reels 의 'This Guys in love with you'를 들으면서 눈 감고 싶습니다.
14. What are your hobbies?
I make music in a band. I played bass guitar in a band called Pony (soundcloud.com/ponyofficial) until 2 years ago. The band had been very active, but each member became too busy with their own schedules, so it paused. Lately, I started out a band named 'Vacation Life' (soundcloud.com/Vacationlife), and I am having fun writing songs and jamming with the new band. 밴드 활동이오. 2년 전까지만 해도 'PONY' (soundcloud.com/ponyofficial)라는 밴드에서 베이시스트로써 원활하게 활동했었어요. 지금은 멤버 각자가 스케줄들이 많아지면서 소홀해지게 되었습니다. 최근에는 새로운 프로젝트 밴드 'Vacation Life' (soundcloud.com/Vacationlife)를 만들어 합주를 하고 곡을 쓰며 놀고 있습니다.
15. If you weren't an artist, what would you be?
A Villain. 악당