Instagram:
@shealexago
1. What's your story? Where are you from?
I've lived in the great state of Virginia my whole life, and I love it! I currently live in Northern Virginia, right outside our nation's Capitol, where I work as an elementary school art teacher. It's one of the craziest, funniest, and most inspiring jobs you could have. When I'm not teaching, I'm stitching away, creating colorful abstract embroidery pieces.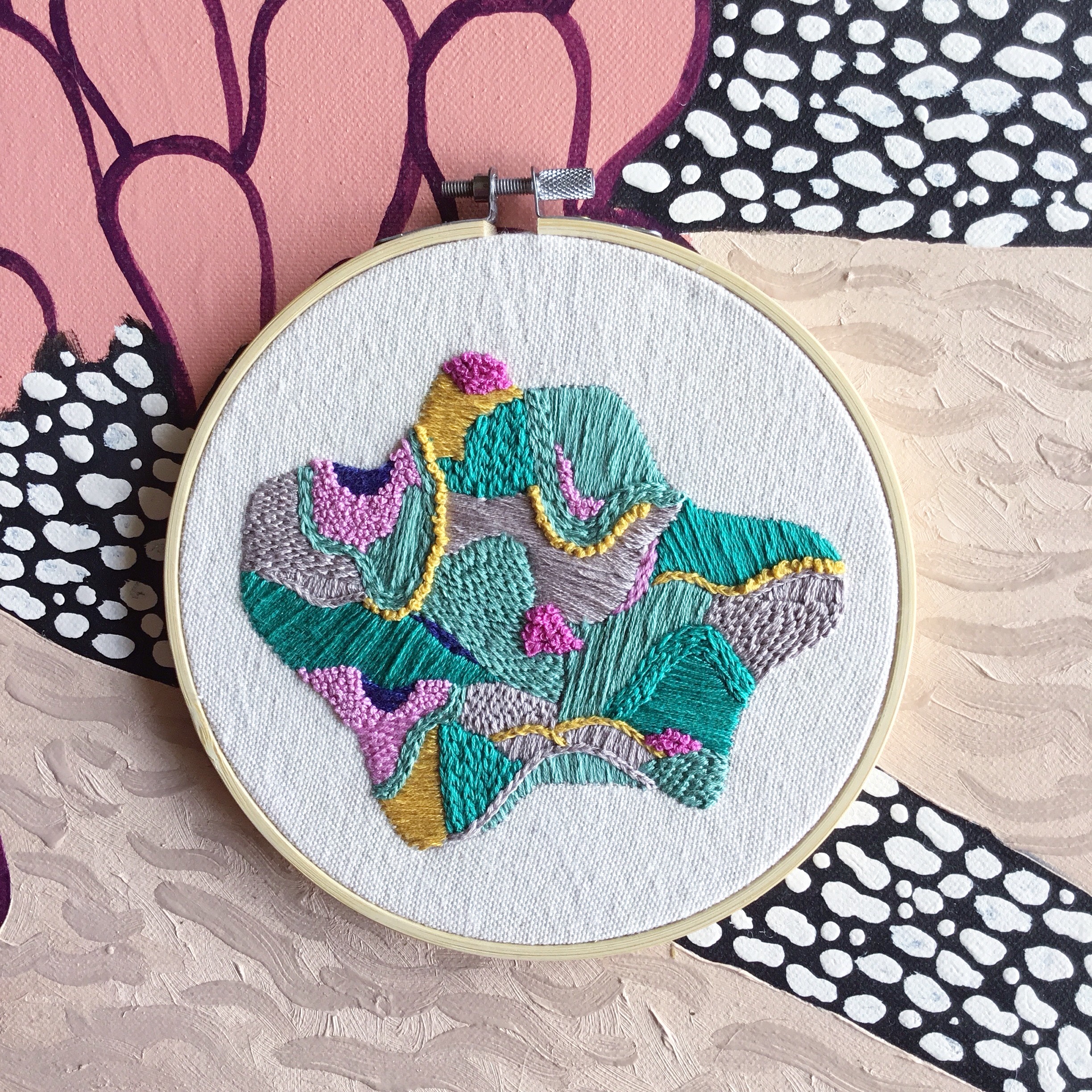 2. Tell us about your aesthetic.
I've always been drawn to art that has a meticulous nature to it. I love working on things that require repetition of small details over and over until they come together to create a final product, where you can see the thousands of repeated elements forming something complete. I'm a person that has a tendency to hyper focus on things, and I think it's helped me to become a stronger and more patient artist. In my embroidery work, my focus is color and texture- when working with other media, I've always struggled with going abstract because I consider myself a rule follower and I like to be in control. So with embroidery, I feel like I can isolate and control those two elements by carefully choosing a color palette and balancing out the textures while creating something abstract, and focusing on the thousands of stitches that comprise a single piece.
3. What is your favourite medium and why?
It's actually just plain old pen and ink drawing. Give me some black Micron pens and a sketchbook, and I'm good to go!
4. What is your artistic process like?
It all starts with the colors. I'll see an inspiring grouping of colors, or one will just float into my head, and then I usually can't stop thinking abut it! To start my pieces, all I do is draw the outline shape on the hoop, and then start filling it in as I go. I don't usually plan out which textures are going to be where before I start, I just let it happen naturally.
5. Who and/or what inspires your work?
Ever since I can remember, I've always been inspired by coral reefs- the colors, the shapes and textures, and the energy and excitement of the fish swimming around in great colorful schools! There was a period of time where I was very scared of snorkeling, so there was also a sense of the unknown and mystery surrounding coral reefs that intrigued me. I also really admire the work of Peter Max, Nick Cave, Anna Bond, and Henri Matisse.
6. What role does art play in your life? How does it change the way you view the world?
Art is so ingrained in me as a person that it affects everything I do. It calls me to draw inspiration from anything I see, and to turn that into something tangible. As a Christian, I believe I've been given a heart for creativity and the skills to make art so that I can glorify my Creator and share that joy with others along the way, no matter what they believe. Art has been a constant through everything in my life; something that I can turn to in moments of solitude and learn more about myself through it.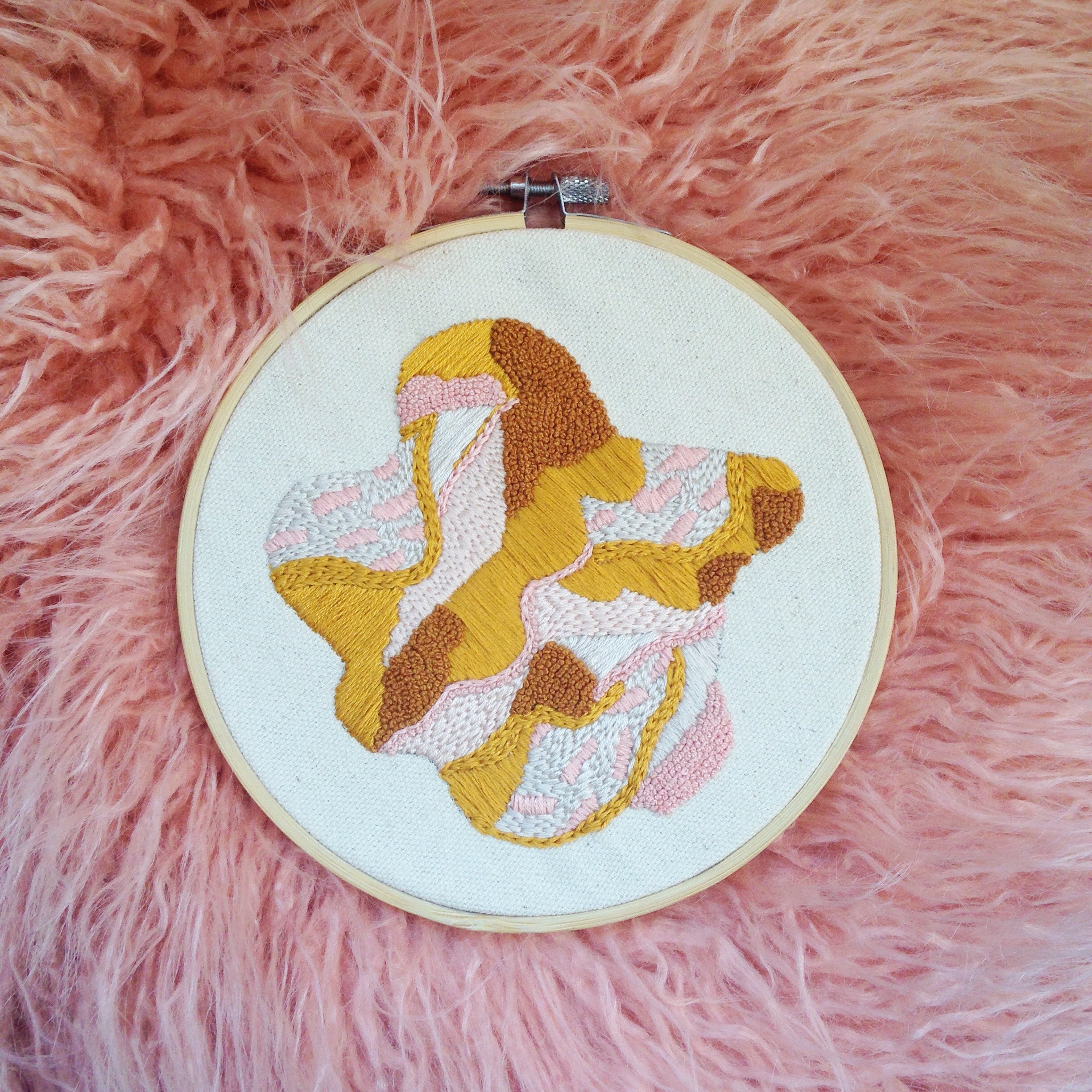 7. Where did you study?
I have a BFA from James Madison University, with concentrations in Art Education and Fiber Art.
8. Where do you see yourself in five years?
Embroidering and teaching, selling my work, and hopefully displaying it in a gallery somewhere!
9. What about in ten?
Still embroidering and teaching, with an expanded home studio that has space for my art crush-- screenprinting. And preferably with a wiener dog (or two) snoozing by my side as I work.
10. What do you hope to achieve with your art?
If I can bring warmth to someone's heart through my work, then that's all I can ask for.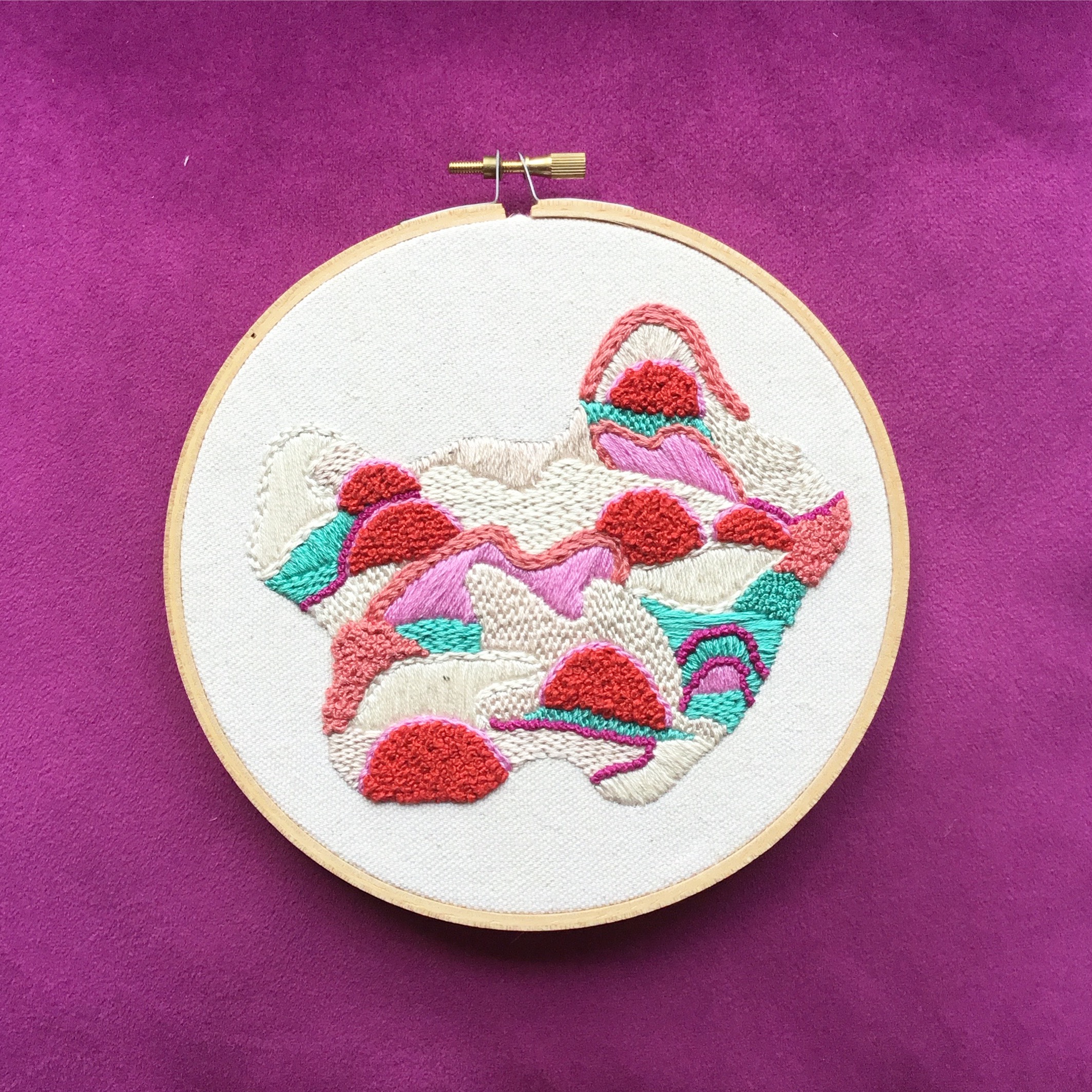 11. Now, tell us a little more about you as a person: what is your favourite food?
It's ice cream. Definitely ice cream.
12. Favourite book?
It is and will always be the Harry Potter series...(see what I did there?!)
13. Favourite genre of music?
I'm really into indie rock/pop, 80's music, and I have a soft spot for Motown. Current favorites include Tennis, Alvvays, and Wolf Alice.
14. What are your hobbies?
Baking, running, singing really loudly in the car, and anything related to wiener dogs.
15. If you weren't a creative, what would you be?
I'd be a cake decorator, for sure!