Instagram:
@shreyaillustrations
Twitter:
@shreyaillos
Facebook:
www.facebook.com/shreya.illustrations
1. What's your story? Where are you from?
My artistic journey began when I was told that I was "too young" to carry around a camera. So because I could not take pictures, I started drawing the places and things that I wanted to remember. Eventually I got very interested in drawing but never thought it could be considered a career choice. In India, art as a profession is not encouraged. So fast forward few years, I finished my undergraduate degree in Computer Science Engineering and got an IT job at a major company in India. However, after working there for around three years I got very frustrated and realized that I needed to make a change. So I looked up online different creative fields and found Illustration. I spent a year in making a portfolio and applied to three art schools and got selected in the MFA program of School of Visual Arts. Being a student in the Illustration as Visual Essay program and having the most illustrious illustrators and designers in the field mentor me along with very talented and supportive peers was the best I could have asked to prepare myself for the illustration field.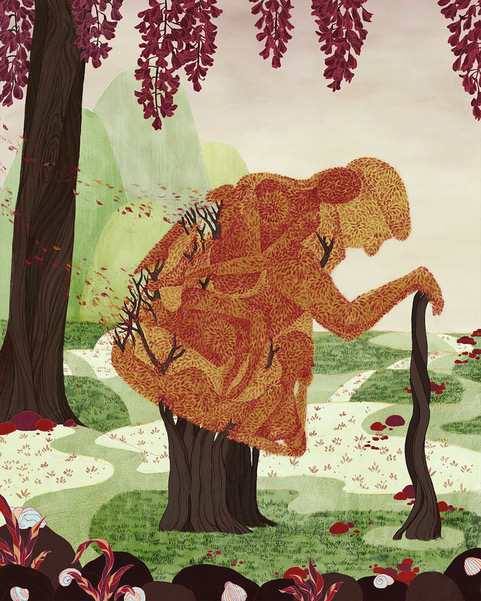 2. Tell us about your aesthetic.
My work, generally rendered with textures, patterns and line work, always tells a story. It is often whimsical and sometimes unsettling.
3. What is your favourite medium and why?
I like to work with pencils. They can give beautiful textures to the artwork.
4. What is your artistic process like?
When I get an article, I first read it to get its mood. Then I read it two or three times more and underline words that give me some ideas. I usually make notes of possible sketch options after that. Then I thumbnail to try different compositions. After I decide the ones I like, I draw a sketch in grayscale and add values to it. I usually send three or more sketch solutions to a client. I always send sketches that I like because the client can pick any one. After a sketch is selected, I draw the final sketch on paper using graphite and ink. The color is always done on Photoshop.
5. Who and/or what inspires your work?
For my commissioned work, ideas are inspired by the briefs or articles that I work on. For my personal work, as cliched as it may sound, everyday life experiences are the inspiration. It could be news, movies, books or even random conversations with a friend. My inspiration also comes from fictions that I read which always are visually rich.
6. What role does art play in your life? How does it change the way you view the world?
Art has made me more observant. Because when an artwork is created, things that people notice or feel unconsciously on seeing it, those factors have to be taken into consideration consciously by me. So now I notice things like lighting of a place, colors and even people's expressions more than before.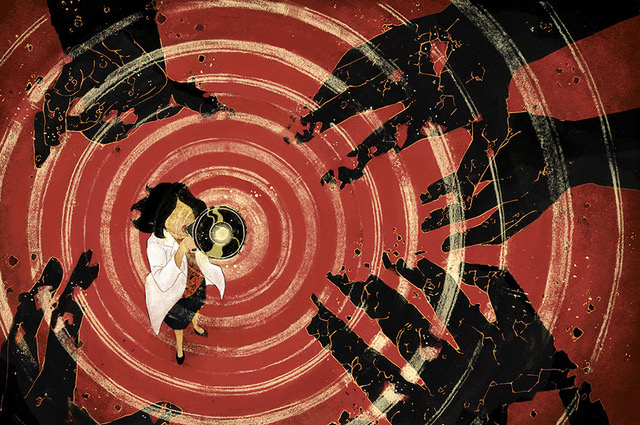 7. Where did you study?
I studied at School of Visual Arts, New York.
8. Where do you see yourself in five years?
I would like to be involved in designing and illustrating book jackets. After doing the Google project I would love to be involved more in projects where both illustration and lettering is needed and book jackets have good opportunity for that. Definitely would like to collaborate with brands in apparel industry and products such as those of ceramics to make artwork for them. I want to see my work on things other than print and websites.
9. What about in ten?
That is really far ahead, but definitely happy and excited to be doing work I am involved in.
10. What do you hope to achieve with your art?
I love illustrations that tell story in a single image. So I make narrative art, which hopefully others can also connect to. I find it interesting how others interpret some metaphors or symbols to find hidden meaning sometimes. I also make work related to current events that is meaningful to me and perhaps others too. Like when the hurricane caused destruction in Puerto Rico, I created a piece called Sharing Compassion because I felt that was what was, and still is, needed at the time.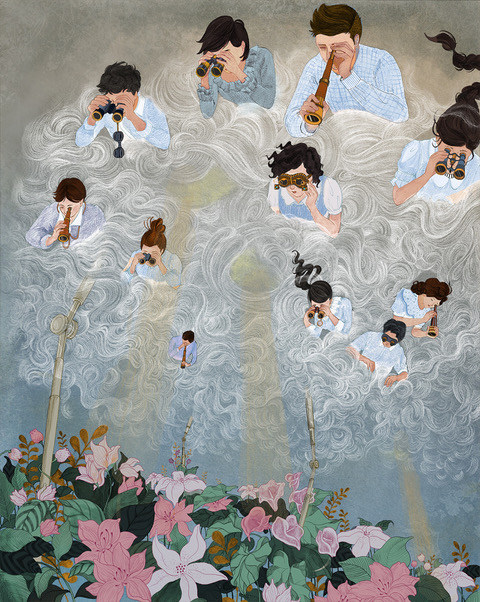 11. Now, tell us a little more about you as a person: what is your favourite food?
Favorite cuisine is Lebanese.
12. Favourite book?
Tough to choose between Harry Potter and Lord of the Rings series.
13. Favourite genre of music?
I listen to many genres but favorite artists/ band are Adele and Coldplay.
14. What are your hobbies?
Checking out new vegetarian places to eat in New York.
15. If you weren't an artist, what would you be?
I have already tried another option so being an artist is great.