Instagram: @sibelbalac_
Website: www.sibelbalac.com
1. What's your story? Where are you from?
Hi everyone! My name is Sibel Balac and I am a professional illustrator. Together with my husband (who is also an illustrator) and a few other creative friends I work in a studio in Stuttgart, Germany.
But before that, I studied communication design (although with a heavy emphasis on illustration), which is why I am also still working as a part-time graphic designer.
Hi zusammen! Mein Name ist Sibel Balac und ich bin freischaffende Illustratorin. Gemeinsam mit meinem Mann (ebenfalls Illustrator) und ein paar Freunden aus dem kreativ Bereich arbeite ich in einem Studio in Stuttgart.
Bevor ich mich entschied als Illustratorin zu arbeiten habe ich Kommunikationsdesign studiert, weshalb ich auch heute noch neben dem illustrieren teilweise als Grafik-Designerin tätig bin.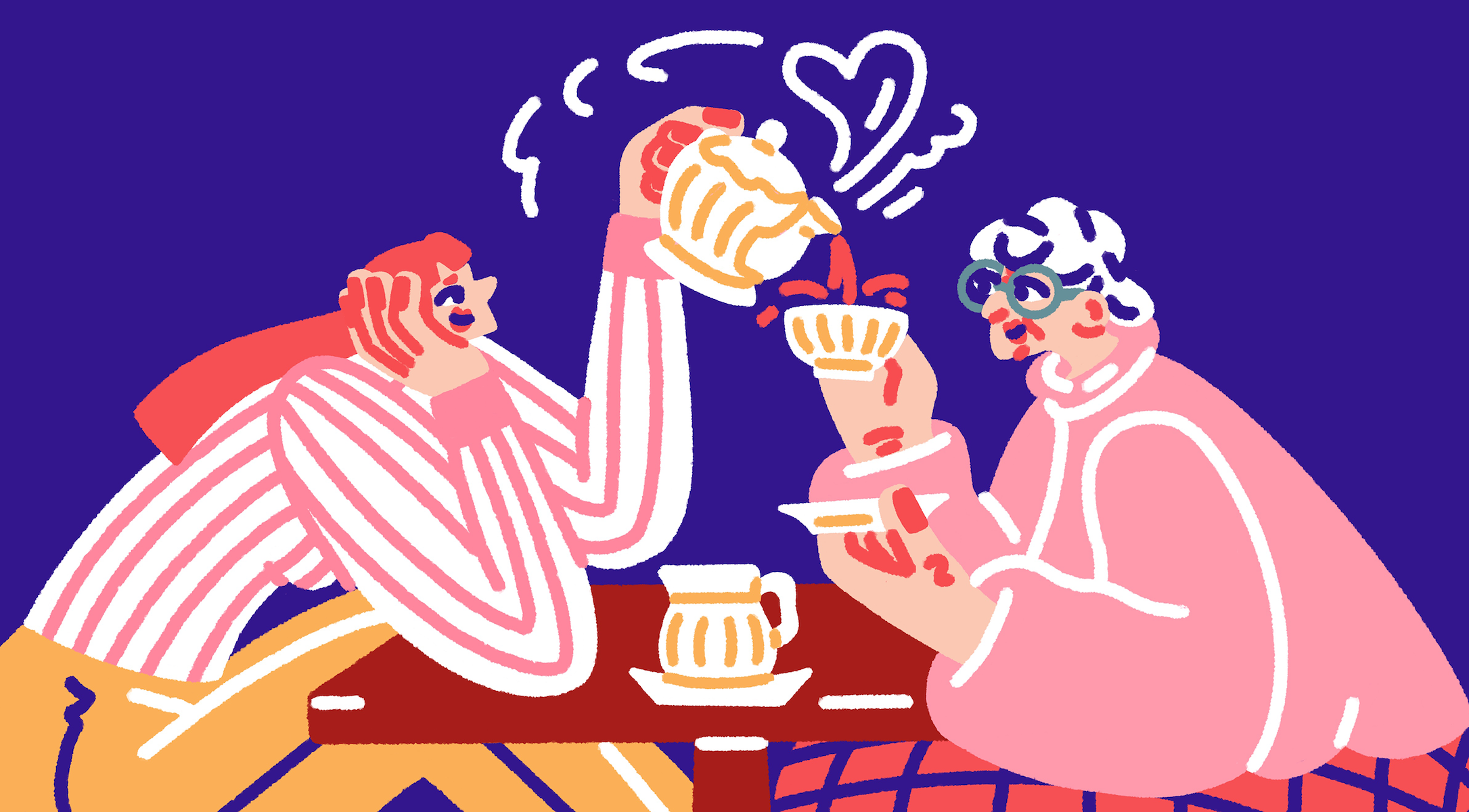 2. Tell us about your aesthetic.
With my illustration style, I try to create a mix of playful characters, bold lines and bright colours.
I love to focus on shapes and proportions, especially with female characters, as I particularly enjoy drawing women anatomy.
Mein Stil ist eine Mischung aus verspielten Charakteren, bolden Linien und knalligen Farben.
Ich liebe es mich stark auf Formen und Proportionen zu beziehen, insbesondere bei weiblichen Abbildungen. Frauen zeichne ich besonders gerne.

3. What is your favourite medium and why?
In the past, I loved to have a huge canvas in front of me, and draw with old used brushes and paint buckets; but now it is definitely the iPad Pro and Procreate. Procreate is super easy to use and you can just open the tablet like a piece of paper in no time and get started. Even if it's just for a quick idea that's floating in your head.
Früher habe ich es geliebt auf großen Papierbögen mit Pinsel und Farbeimern zu arbeiten; Momentan ist es aber definitiv das iPad Pro und Procreate. Procreate ist super bedienungsfreundlich und du kannst das Tablett einfach wie ein Stück Papier in kürzester Zeit aufschlagen und loslegen. Sei es auch nur für eine kurze Idee die dir gerade im Kopf umherschwirrt.
4. What is your artistic process like?
I always start by writing down key points, then I come up with a very rough sketch that defines the structure/composition of the illustration. Once that is done, I sometimes start looking for mood images and create a mood board. If I need specific pose references I also like to use myself or my friends as photo models for my characters. I could fill a whole gallery with fun pictures I've already taken for these purposes. (haha) Last but not least I think about a fitting colour palette.
Ich beginne immer zuerst mir Stichpunkte aufzuschreiben, dann überlege ich mir eine sehr grobe Skizze, die den Aufbau der Illustration festlegt. Sobald ich die Aufteilung bestimmt habe, beginne ich mir Stimmungsbilder zu suchen und erstelle eine Art Moodboard. Wenn ich bestimmte Referenzen brauche, verwende ich auch gerne mich selbst oder Freunde als Fotomodelle für meine Charaktere. Ich könnte eine ganze Galerie füllen mit lustigen Bildern die ich für diese Zwecke schon geschossen habe. (haha) Nachdem das alles geschafft ist, überlege ich mir noch eine harmonische Farbpalette.
5. Who and/or what inspires your work?
I would say that my inspiration comes from many different sources. Contemporary artists, illustrators and designers inspire me with their art but also travelling and observing the world around us. Good films, documentaries and fashion, but sometimes also nature or people in my life.
Meine Inspiration ziehe ich aus ziemlich vielen Aspekten. Viele zeitgenössische Künstler, Illustratoren und Designer inspirieren mich, aber auch das Reisen und die Welt zu erkunden. Gute Filme, Dokumentationen und Mode, manchmal aber auch einfach die Natur oder Menschen in meinem Leben.
6. What role does art play in your life? How does it change the way you view the world?
A major role and not only professionally. Art in general actually never lets you rest, every object can be inspiring.
Who doesn't know it? You are sitting in a restaurant and while your eyes are looking over the dishes you are subconsciously analyzing the design of the menu.
As a creative, my mind rarely finds the opportunity to not look at everything from a design/artist perspective, so I would say my life is a creative bubble.
Kunst spielt eine große Rolle in meinem Leben, nicht nur beruflich gesehen. Das Interesse an Design im allgemeinen lässt einen eigentlich niemals ruhen, jeder Gegenstand kann inspiration sein. Wer kennt es nicht? Du sitzt in einem Restaurant und während deine Augen über die Gerichte blickt analysierst du unterbewusst das Design der Speisekarte.
Als kreative findet mein Kopf nur selten die Möglichkeit nicht direkt alles aus dem Design Aspekt zu betrachten, also würde ich behaupten mein Leben ist eine kreative Bubble.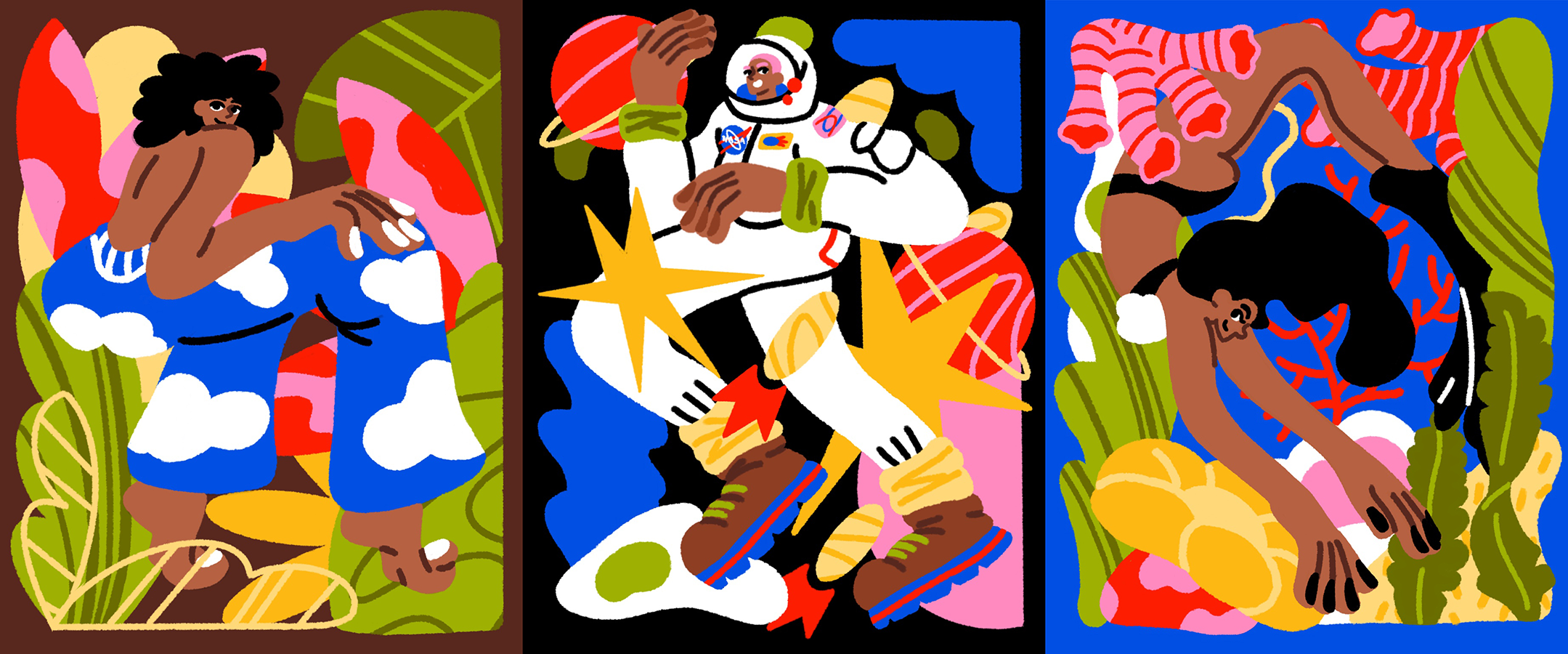 7. Where did you study?
I first completed my Bachelor of Arts at the University in Pforzheim, Germany and then applied to the State Academy of Fine Arts in Stuttgart, where I graduated with a diploma degree in communication design at the end of 2020.
Zuerst habe ich meinen Bachelor of Arts an der Hochschule für Gestaltung in Pforzheim absolviert und mich im Anschluss an der Staatlichen Akademie der bildenden Künste in Stuttgart beworben, wo ich Ende 2020 meinen Abschluss als Diplom Kommunikationsdesignerin gemacht habe.
8. Where do you see yourself in five years?
I love what I'm doing right now, so hopefully, I will still illustrate and be happy with it, while I grow and expand my skills.
Ich liebe das was ich tue, also werde ich weiterhin illustrieren und mich dabei wohl fühlen. Natürlich hoffe ich auch bis dahin meine Fähigkeiten als Illustratorin noch weiter verfeinert und ausgebaut zu haben.
9. What about in ten?
Still an illustrator, with more experience in other creative fields like animation or 3d. Maybe also a part-time lecturer at a university, I would find it nice to be able to pass on my knowledge and at some point have colleagues again, or in this case students with whom I could exchange creative topics on a weekly basis.
In 10 Jahren arbeite ich hoffentlich immer noch als Illustratorin, mit mehr Erfahrungen in Animation oder 3D. Ich könnte mir auch gut vorstellen in Teilzeit als Lehrkraft an einer Universität oder einer ähnlichen Einrichtung zu unterrichten. Ich denke es wäre eine schöne Sache irgendwann wieder Kollegen zu haben oder in diesem Fall auch Studenten mit denen du dich wöchentlich kreativ austauschst.
10. What do you hope to achieve with your art?
I want to tell stories and inspire people with my illustrations. But it also helps me to process current topics on a daily basis and gives me a voice.

Ich möchte mit meinen Illustrationen Geschichten erzählen und die Menschen inspirieren. Sie hilft aber auch mir tagtäglich aktuelle Themen zu verarbeiten und gibt mir eine Stimme.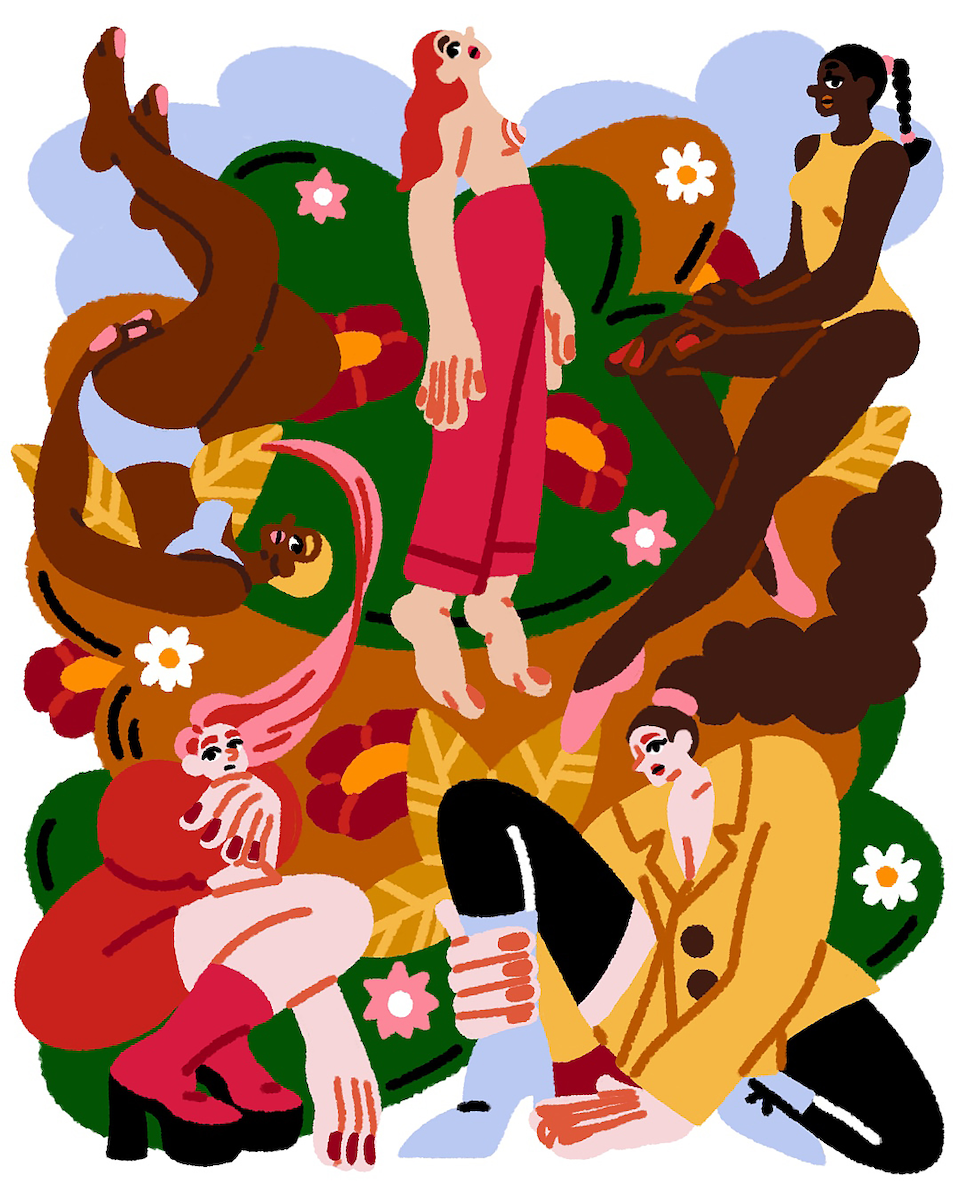 11. Now, tell us a little more about you as a person: what is your favourite food?
I am a huge food enthusiast. I appreciate all the cuisines of the world, but I'm particularly fond of Asian cuisine.

At the moment, I would say my favourite dish is Vietnamese glass noodle salad.
Ich bin ein großer food Enthusiast. Ich schätze alle Küchen dieser Welt, aber die asiatische Küche hat es mir besonders angetan.
Momentan würde ich sagen, meine liebste Speise ist der vietnamesische Glasnudelsalat.
12. Favourite book?
Definitely and unbeaten since my childhood; Harry Potter! But The Medicus is also pretty much stuck in my head.
Definitiv und ungeschlagen seit meiner Kindheit; Harry Potter! Der Medicus ist mir aber auch ziemlich im Kopf geblieben.
13. Favourite genre of music?
Depending on my state of mind it changes, so it could be everything.
Je nach Gemütszustand könnte es alles sein. Ich finde fast jedes Genre hat tolles zu bieten.
14. What are your hobbies?
Besides the whole illustration, art and design spectrum, definitely travelling, cooking, gaming.
Neben dem ganzen Design und Kunst Spektrum, auf jeden Fall das Reisen, kochen oder gamen.
15. If you weren't an artist, what would you be?
An adventurous archaeologist like Indy.
Eine abenteuerliche Archäologin wie Indiana Jones.