Instagram: @silvia__rossana
Website: www.silviarossana.com
1. What's your story? Where are you from?
Hi! I'm Silvia, a freelance graphic designer and Illustrator from Italy. I grew up in a very small town in the countryside near Milan surrounded by nature. Being an only child I used to spend most of my time drawing and creating things with my hands. Even if illustration has always been one of my biggest passion it took me years to realize I wanted to make a career out of it. When I graduated from high-school I was very discouraged and thought I couldn't make a living as an illustrator, so I took a degree in Economics -yes, you got it right!- but soon after I realized that it wasn't the right path for me. After a few years working as graphic designer for a company based in Milan, I took all the courage I had and made the jump to freelance life. It was the best decision I ever made.
Ciao! Mi chiamo Silvia e sono una graphic designer e illustratrice italiana. Sono cresciuta in un piccolo paesino di campagna fuori Milano, circondato dalla natura e poco più. Essendo figlia unica da bambina molto del mio tempo lo passavo da sola, a disegnare o creare cose con le mani. Ho sempre amato disegnare ma mi ci sono voluti anni per capire che era quello che volevo fare davvero nella vita. Finito il liceo mi sentivo davvero spaesata e, non credendo che quello dell'illustratrice potesse essere una professione, mi sono iscritta all'università dove tre anni dopo ho conseguito la laurea in Economia Aziendale - già, hai letto bene. Mi ci è voluto poco per capire che quella non sarebbe stata la mia strada. Dopo aver lavorato per alcuni anni come graphic designer in un'azienda di Milano, due anni fa ho finalmente trovato il coraggio di fare il grande salto verso la vita da freelance, ed è stata la migliore decisione che abbia mai preso.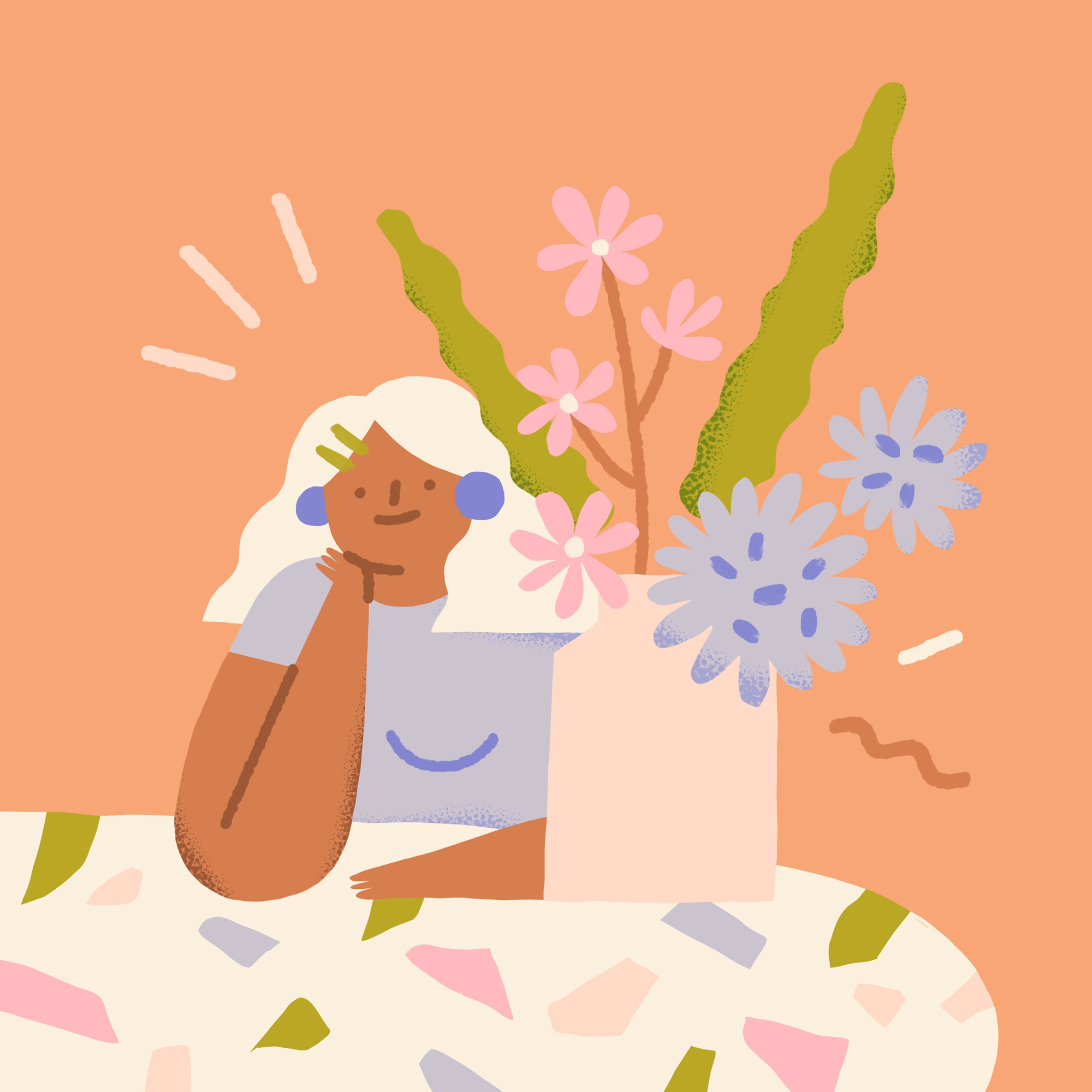 2. Tell us about your aesthetic.
I feel like my aesthetic is still evolving but there are definitely some elements that recur throughout my work, first of all color. I love to play with soft, pastel color palettes: I'm the very proud owner of a Pinterest folder named 'color crush', where I collect all the images that inspire me with their colors. I like to keep my style simple with very stylized shapes, almost cartoonish. My favorite subjects are women - at first I was very scared of drawing people and their bodies but now I love to!
Credo che il mio stile si stia ancora evolvendo ma di sicuro ci sono alcuni elementi che ricorrono nelle mie illustrazioni, prima di tutto il colore. Adoro le palette tenui e pastello: ho una cartella Pinterest di cui vado molto fiera che si chiama 'color crush', dove colleziono immagini di ogni tipo che ho salvato per i loro colori. Il mio stile è molto semplice, con forme stilizzate e un po' naif. Amo disegnare donne, sono sicuramente i miei soggetti preferiti. Pensare che all'inizio disegnare persone/figure mi terrorizzava, mentre ora è la cosa che preferisco fare!
3. What is your favourite medium and why?
I really enjoy working digitally because I find it more practical. I can move things and change colors an infinite amount of times. I love drawing with my iPad pro, is the best gift I made to myself, I can bring it everywhere and work from the couch or at the park! Nevertheless I love to use paper and sketchbooks to make my rough sketches.
Preferisco lavorare in digitale perché lo trovo molto pratico. Posso muovere elementi e cambiare colori all'infinito. Adoro disegnate con il mio iPad pro, è il migliore auto-regalo che mi sia mai fatta, lo posso portare praticamente ovunque e lavorare dal divano o al parco! Tuttavia per la fase di schizzo iniziale mi piace utilizzare la carta vera.
4. What is your artistic process like?
When I have an idea -most of the time while i'm falling asleep- I tried to write it down immediately so I don't forget. If I don't feel inspired I like to do some scrolling on Pinterest or going through an 'inspiration' folder I made on my phone, where I collect images of all types I found while casually navigating and this usually helps me a lot to find an idea. If that doesn't work either I took some time off the screen and go for a walk or do something completely different from drawing.
As I said when it comes to work I like to start with rough sketches on paper. In this phase, I like to experiment with different concepts and ideas, so I don't really care if my sketches are not pretty. Then I like to refine the chosen sketch with my Ipad (I use Procreate for this) and play with different color palettes. Once I have the right color combination it's finally time to work on the finals.
Quando ho un'idea -il più delle volte accade mentre mi sto addormentando- cerco di appuntarla subito per evitare di dimenticarla. Se, invece, non mi sento ispirata, cerco ispirazione su Pinterest oppure in una cartella del mio telefono in cui raccolgo le immagini che mi colpiscono, e questo di solito mi aiuta a trovare l'idea giusta. Se anche questo metodo non funziona mi prendo del tempo lontano dagli schermi e faccio una passeggiata o comunque qualunque cosa che non sia disegnare.
Quando lavoro a un'illustrazione mi piace prima buttare giù degli schizzi veloci su carta. In questa fase cerco di sperimentare varie strade e idee e lo faccio senza preoccuparmi che i miei schizzi siano precisi. Una volta scelto quale concept portare avanti importo il mio disegno sul mio iPad e uso Procreate per rifinirlo e provare diverse palette colori. Una volta definiti i colori passo alla lavorazione dell'illustrazione finale.
5. Who and/or what inspires your work?
Actually it could be anything! Inspiration can come from anywhere and hit you when you don't expect it. Of course lots of inspiration can come from social media, especially from Instagram or Pinterest. Anyway I tried not to look too much at other artist's work because I find that for me it's very easy to be influenced by other's work. There are some topics that I particularly care about and lots of inspiration can come from them: for example women empowerment, gender equality and inclusivity which are themes I'm genuinely interest in. Also travel is a good source of inspiration: 3 years ago I went to Japan and fell immediately in love with their minimal and playful aesthetic!
In realtà l'ispirazione può venire in qualsiasi momento -specialmente quando non te l'aspetti- e da qualsiasi cosa! Sicuramente i social media come Instagram o Pinterest sono una fonte d'ispirazione continua. Tuttavia cerco di non guardare troppo al lavoro di altri artisti per paura di farmi influenzare. Ci sono poi alcune tematiche che ho particolarmente a cuore e sicuramente ispirano buona parte del mio lavoro: ad esempio il femminismo, la parità di genere e l'inclusività, che sono tutti temi a cui tengo molto. Anche viaggiare è una buona fonte d'ispirazione: 3 anni fa sono stata in Giappone e mi sono innamorata della loro estetica minimal e giocosa!
6. What role does art play in your life? How does it change the way you view the world?
Making art is like a therapy for me. It helped me going going through the darkest moments of my life. I can't imagine my life without making art, I feel like it's a basic need for me. As a very introvert person, I often find myself struggle to connect with other people. So illustration for me has always been a way to express my feelings. I also use my art to motivate myself and remind me of being more positive and appreciative.
Disegnare per me è una forma di terapia. É una delle cose che mi ha 'tenuta insieme' nei periodi più bui. Non posso immaginare la mia vita senza disegnare, per me è come un bisogno primario. Essendo una persona molto introversa spesso ho difficoltà nell'aprirmi alle altre persone. L'illustrazione mi permette di esprimere una parte dei miei sentimenti ed è un modo per me di comunicare. Inoltre spesso le mie illustrazioni contengono frasi motivazionali o promemoria a pensare in modo positivo che rivolgo a me stessa.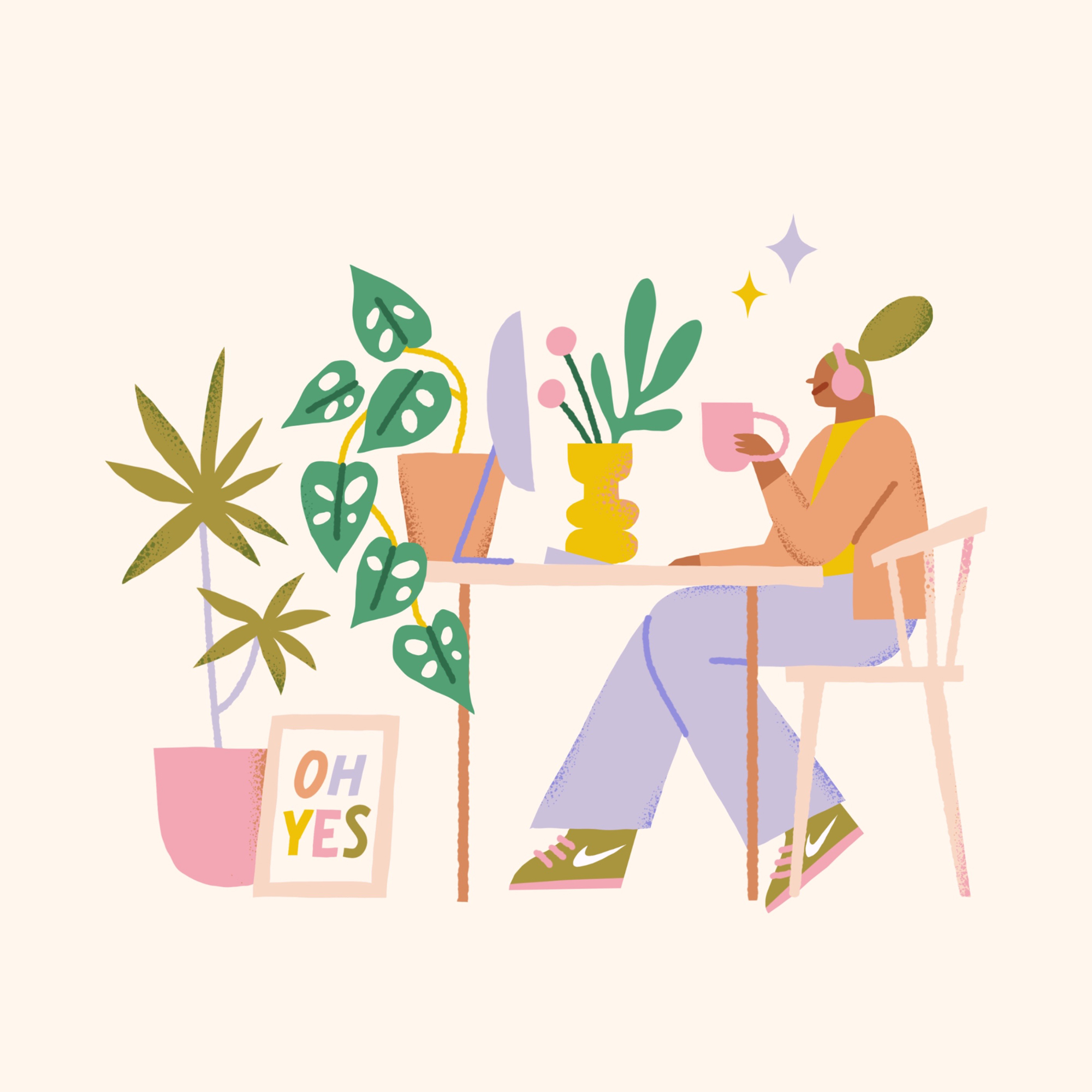 7. Where did you study?
After graduating in Economics I attended a MA in Communication Design at N.A.B.A. (Nuova Accademia di Belle Arti) in Milan, but I like to consider myself mostly as a self-taught illustrator. Most of the things I know I learned from Youtube tutorials or Skillshare classes (big fan of it!).
Dopo la laurea in Economia Aziendale ho frequentato il Biennio Specialistico in Design della Comunicazione alla N.A.B.A. (Nuova Accademia di Belle Arti) di Milano, ma per quanto riguarda l'illustrazione sono per lo più un'autodidatta. Quasi tutto quello che so l'ho imparato guardando tutorial su Youtube o seguendo corsi su Skillshare (di cui sono una grandissima fan!).
8. Where do you see yourself in five years?
I hope I'll have the chance to work on exciting projects and collaborations and grow as an illustrator and human being. I'd also love to open an online shop, this has been my dream for years!
Spero di prendere parte ad ancora tanti progetti e collaborazioni stimolanti e di crescere come illustratrice e come essere umano. Uno dei sogni nel cassetto è quello di aprire uno shop online dove vendere le mie illustrazioni.
9. What about in ten?
I don't know, ten years are a lot! Still drawing of course and sharing my life with my best-friend, my husband. With a dog maybe?
Non saprei, dieci anni sono tanti da immaginare! Mi immagino sempre a disegnare e a condividere la mia vita con il mio migliore amico, che poi è mio marito. Magari con un cane?
10. What do you hope to achieve with your art?
I don't want to sound selfish but I mostly make art for me, because it's like a therapy. But obviously it's also my way to communicate some feelings or messages and I'd be so happy to know that my art had a positive impact on other people.
Spero di non sembrare egocentrica dicendo questo, ma disegno soprattutto per me stessa, come terapia. Ovviamente disegnare è anche il mezzo che utilizzo per comunicare determinati sentimenti o messaggi, perciò sarei davvero molto felice di sapere che le mie illustrazioni hanno avuto un impatto positivo sulle altre persone.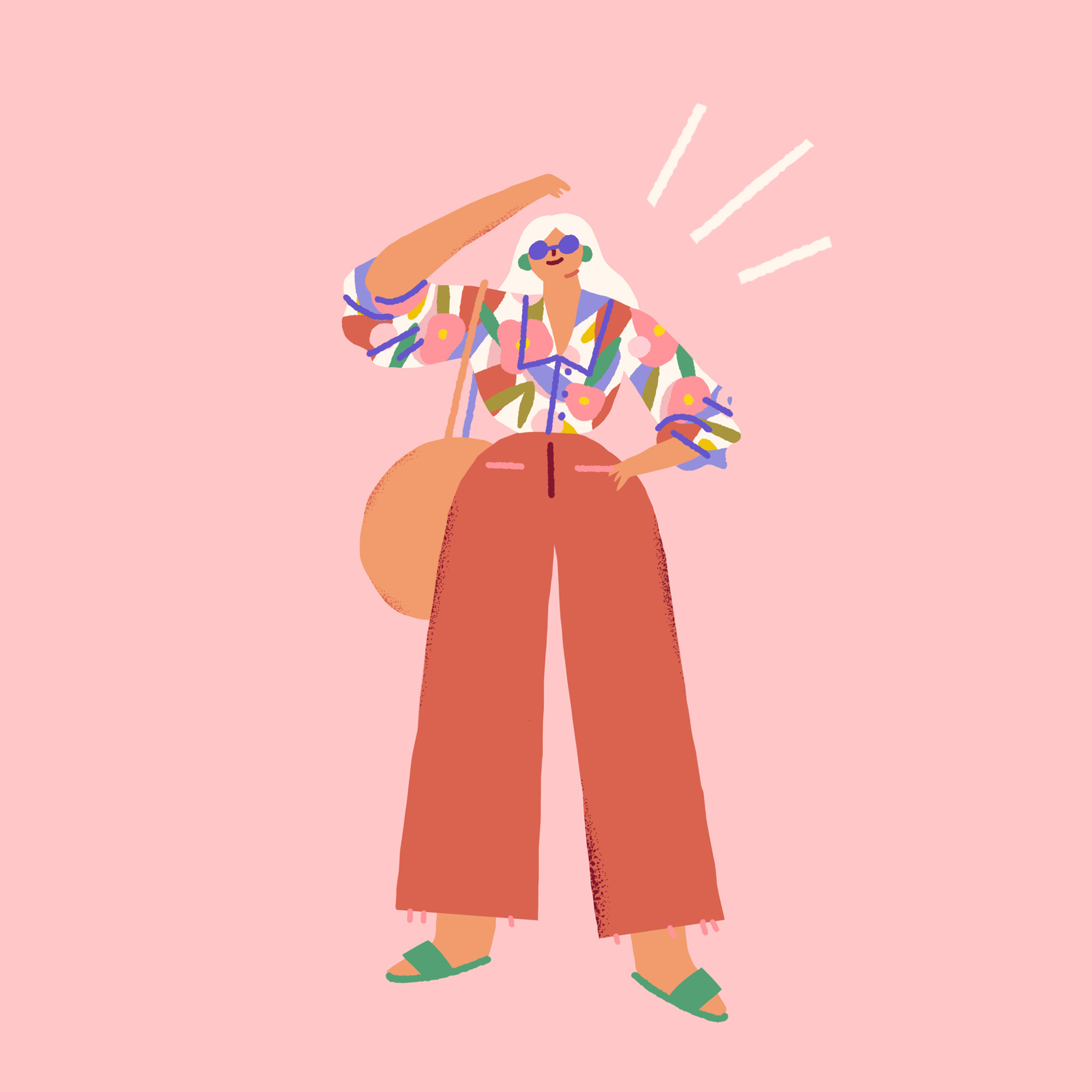 11. Now, tell us a little more about you as a person: what is your favourite food?
It may sound as a cliché but…italian pizza, of course!
Suonerà un po' come un cliché ma…pizza, ovviamente!
12. Favourite book?
'And Then There Were None' by Agatha Christie, I love her books and I've read most of them.
'Dieci Piccoli Indiani' di Agatha Christie, adoro i suoi libri e li ho letti quasi tutti.
13. Favourite genre of music?
I don't have just one favorite genre. I love classic rock from the 70s and 80s as well as indie rock music from these days.
Non direi che ho un genere musicale preferito. Mi piacciono i classici del rock degli anni 70 e 80, così come il rock indie contemporaneo.
14. What are your hobbies?
I'm now a very proud plant parent, former plant killer. Plants are never too many for me! I also enjoy riding my bike, making pottery and crocheting.
Da ex 'plant killer', posso dire oggi che sono molto fiera delle mie piante. Adoro prendermi cura di loro, non sono mai troppe per me! Altri hobby sono la bicicletta, la ceramica e l'uncinetto.
15. If you weren't an artist, what would you be?
A potter or maybe a florist. I'm so fascinated by plants and flowers, their beauty always leaves me speechless. I also love working with clay, it's a very calm process and allows me to unplug and focus only on what I'm creating with my hands.
Se non fossi un'illustratrice sarei una ceramista, o forse una fiorista. Rimango sempre affascinata da piante e fiori, la loro bellezza mi lascia senza parole. Altra cosa che mi piace moltissimo fare è lavorare l'argilla, è un procedimento davvero molto rilassante che mi permette di disconnettermi da tutto e focalizzarmi solo su quello che sto creando con le mie mani.