Instagram:
@siminascribbles
Twitter:
@siminascribbles
Tumblr:
lilyscribbles.tumblr.com
Taptastic:
www.tapastic.com/series/interritus
1. What's your story? Where are you from?
I started drawing quite late, when I was around 14 years old. I'm from Romania, and after 3 years of Fine Arts high school there, I moved alone to London for my senior year of high school when I was 18 and I was looking for a shift in perspective, so I carried on to a Graphic Design BA in college.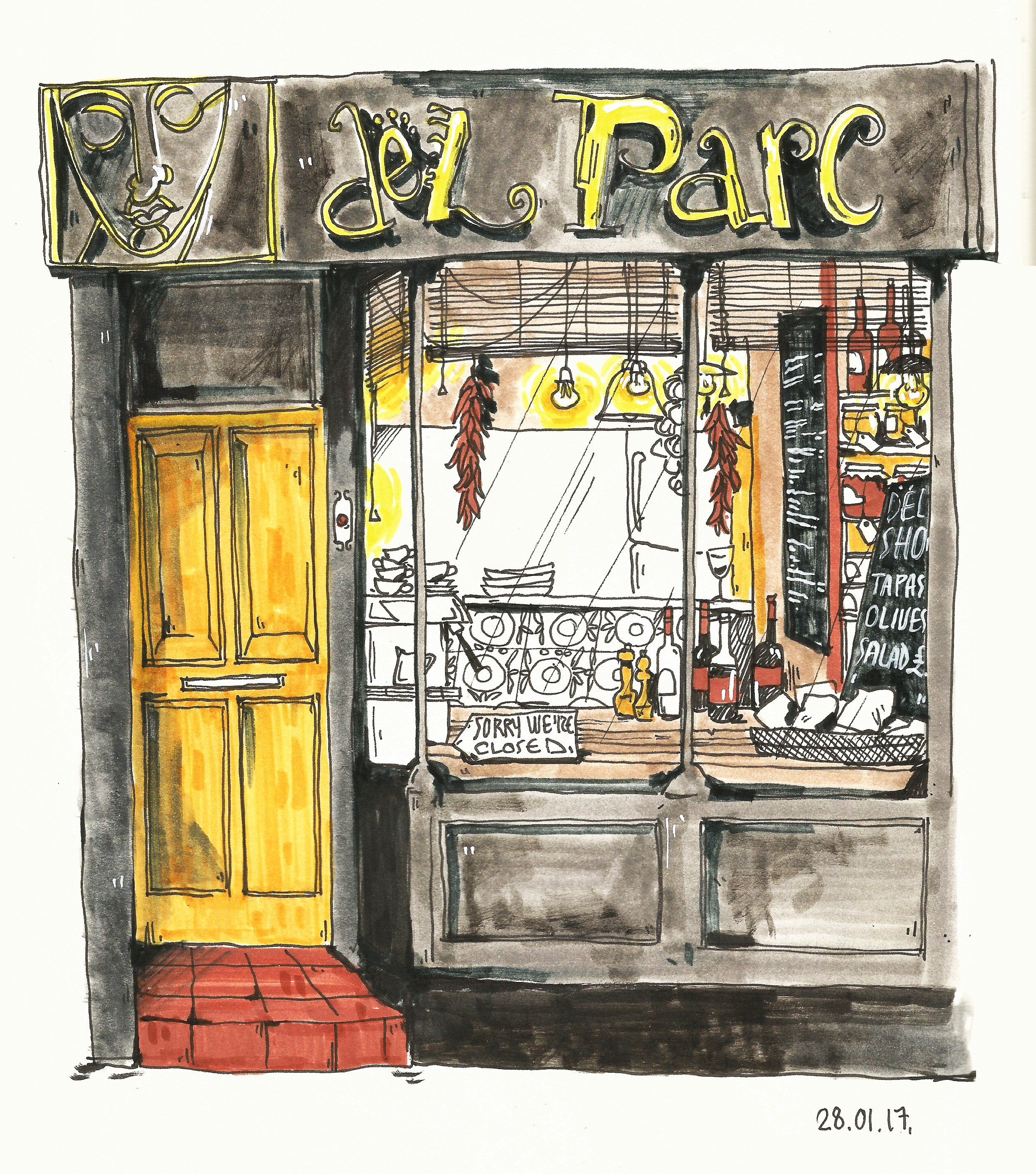 2. Tell us about your aesthetic.
I'm fond of quirky, small hidden places (basement cocktail bars, cozy cafes, souvenir shop facades in villages in the middle of nowhere) and eccentric, uniquely-dressed people you get a glimpse of in train stations once and they stay in your head. My work is primarily linear, that is a constant whatever my choice topic is.
3. What is your favourite medium and why?
I'm an old-fashioned ink and paper girl! It's versatile and no-fuss, I'm always on the go and I carry my sketchbook at all times. If I'm feeling fancy, I'll toss in an accent-color marker or a bit of watercolor washes. However, I've had the chance to experience with film photography as a storytelling medium recently and it was an eye-opener; I began carrying my little Soviet analogue camera and cheap film with me all the time, for documentation.
4. What is your artistic process like?
A little disorganised and all over the place, as of late! I draw directly in ink more often than not, to save time, and I tend to scan in and colour my illustrations digitally. I get the rush and spontaneity of drawing on-location, and the mindless, relaxed hours of coloring my work in while listening to music or TED talks, best of both worlds!
5. Who and/or what inspires your work?
I suck out every last bit of inspiration from everything around me - I've been in an art school environment for five years now, so I've been blessed with an entourage of incredibly talented and interesting people that fuelled my creative spark. I took intensive Art History classes and I travel a lot, so I always try to integrate what I see in my illustrations. People are endlessly fascinating to me, whether it's a matter of reading anthropology and sociology essays or observational drawing in coffeeshops. I wish I were more of a comics nerd than I actually am, but independent comics and illustrations festivals/conventions always make my fingers itch to draw!
6. What role does art play in your life? How does it change the way you view the world?
Art - mine and that of those around me - is the only prism through which I see the world, as cheesy as that sounds. It's a constant change of point of views, from medium to medium and period to period; in particular, activist contemporary art and illustration have educated me and led me to become more open-minded and tolerant. I used to think my work is only meant for escapism, but now I'm thinking of ways to use illustrations to speak up and make a change.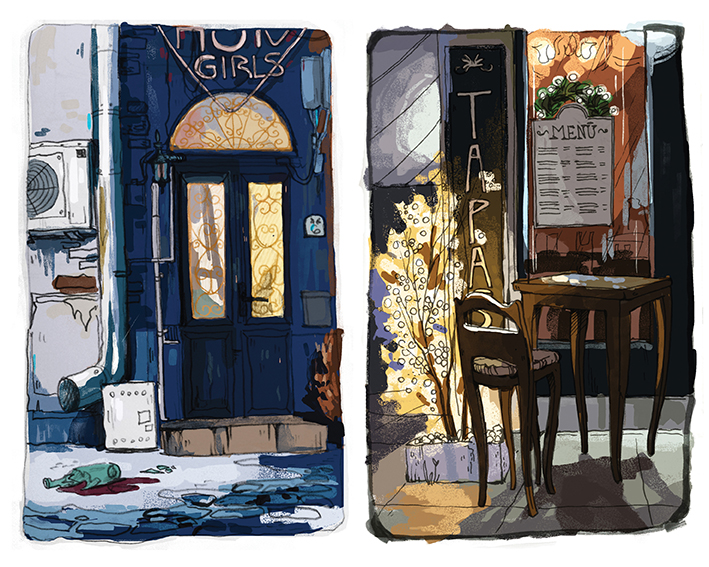 7. Where did you study?
'Nicolae Tonitza' high school of fine arts in Romania, followed by Lansdowne college in London and I am currently in my first year of a Graphic Communication Design BA at Central Saint Martins, in London.
8. Where do you see yourself in five years? Working in an agency?
I tend to plan ahead a lot, but when it comes to this topic, I try to go with the flow. In five years' time I would be 24, and will have graduated from my BA, but I'm quite tempted to carry on with an MA in character animation. Otherwise, I would love to work as a children's book illustrator, or in an editorial design context; perhaps art director?
9. What about in ten?
If all works out, I'd like to be an established children's book illustrator by then. Who knows what will happen, though? I've yet to discover my true path, I am still very passionate about so many divergent branches of the arts, and this depends so much on circumstances I have no control of, as well. One thing that I am 100% sure is that it would be an art-related profession.
10. What do you hope to achieve with your art?
I still want to offer a chance of escapism with fictive narratives, because there are plenty of awful things going on in the world at the moment, but I also want to use my work to empower people, and educate them about existing, untold narratives. I used to stay away from everything even remotely political or controversial, but I realised, even with such a playful medium like illustration, I can metaphorically roll up my work into a megaphone and use it to shout out my message to the world.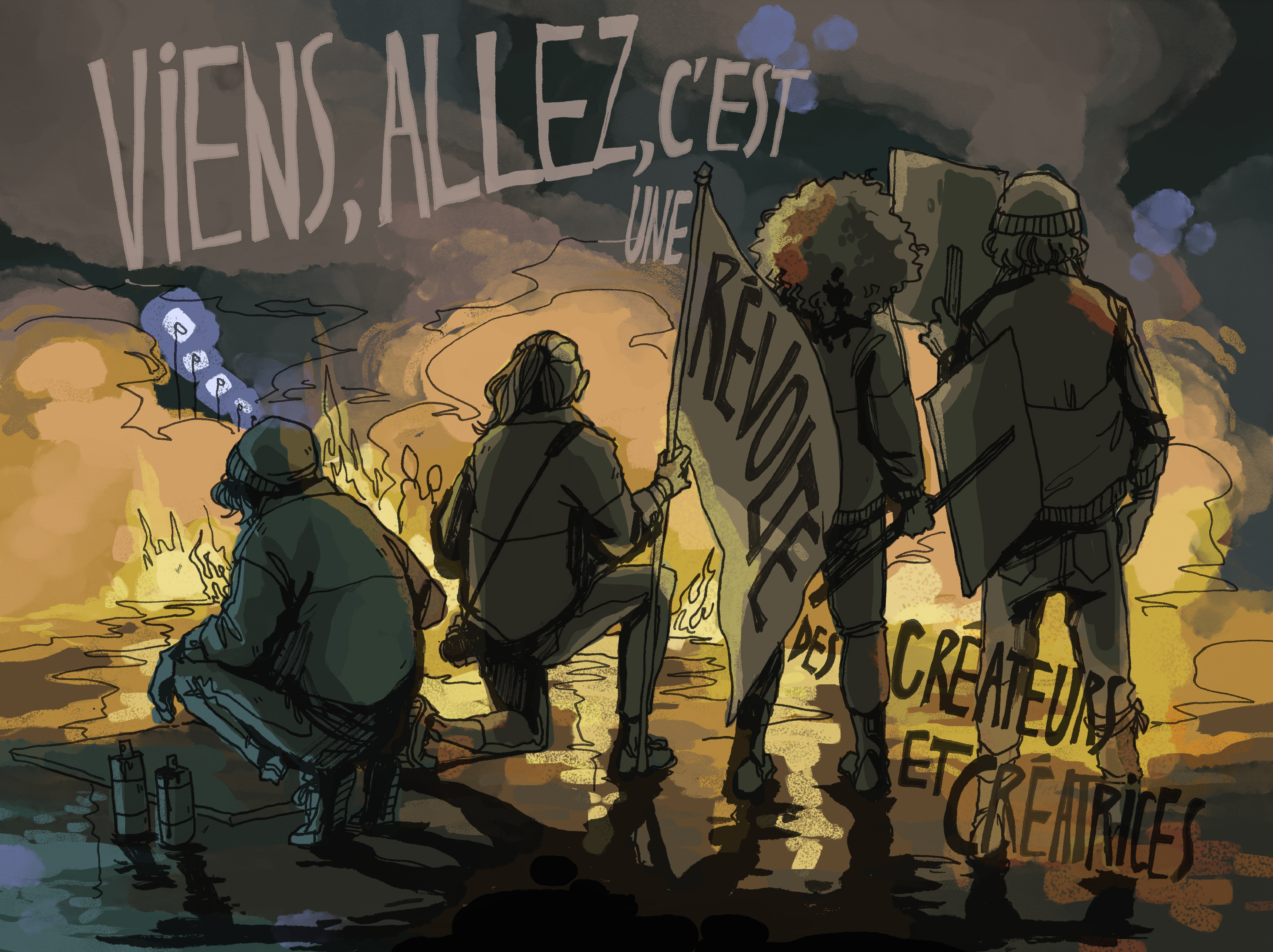 11. Now, tell us a little more about you as a person: what is your favourite food?
Oh boy, that's the toughest question so far. My mom's a chef so I've always been pretty spoiled about food, but my true love stays her famous chestnut puree cheesecake.
12. Favourite book?
The Little Prince by Antoine de Saint-Exupery, I sob like a baby every time I read it, no matter the language I read it in (and I've tried with Romanian, English, French and German).
13. Favourite genre of music?
I listen to lots of stuff, it's hard to take a pick; indie and alternative, jazz and blues, uplifting commercial pop songs.
14. What are your hobbies?
Yoga, travelling, drawing, photography, social-complaining, thrift-shop-hunting, drinking cheap wine at indie art show openings.
15. If you weren't an artist, what would you be?
An aimlessly wandering soul, hahahaha! It's hard to say, because there is hardly anything else unrelated to the arts that I could imagine myself doing, and my expertise is pretty limited because I specialized in visual arts so early (I haven't had a single math class in just about 6 years!). A gallery curator, perhaps, which would still get me hands-on with lots of art, or a yoga teacher. I would love to take the time and become a certified yoga instructor once I graduate, it is my means of balancing myself and my work in the world.