Instagram:
@sini_noni
1. What's your story? Where are you from?
Hello, I am SININONI working as an illustrator in South Korea, 33 in Korean age. I am an ordinary wife and also a mom of a beautiful daughter. Before I became a mother, I was an interior designer and graphics designer but, after having a baby, I've quit my job and then started drawing as a hobby for about a year. I only drew on digital platforms for a while, then I started drawing using several other tools as I gained confidence. I fell in love with the charm of handicrafts and came up with the current illustrations.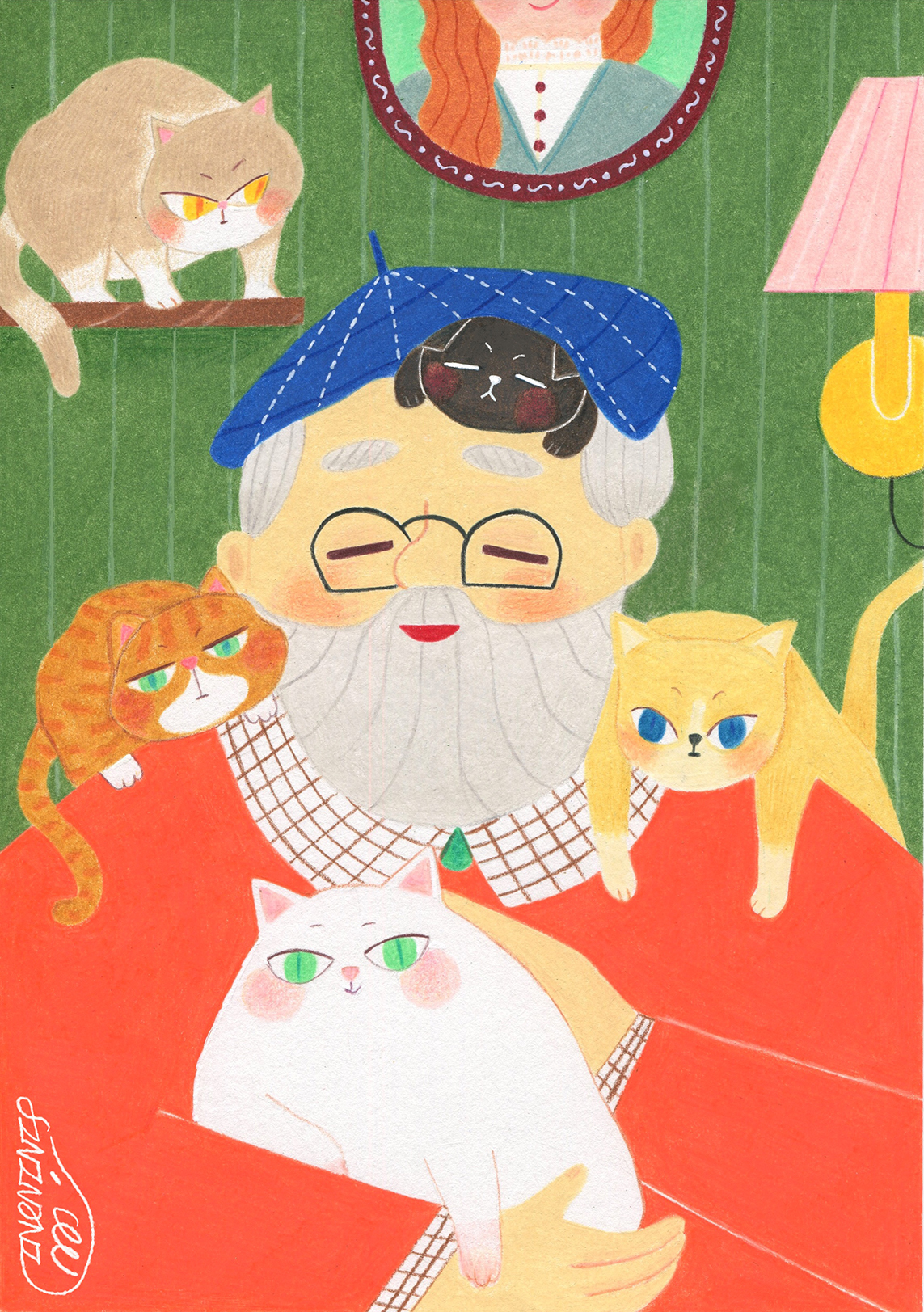 2. Tell us about your aesthetic.
I like simple but interesting paintings and prefer dynamic things than static ones, so my drawings have a lot of curves. I enjoy expressing a story using facial expressions and movements. I pour happiness into the drawing and receive double the happiness when the painting is done. And I believe that this feeling is passed on to people.
3. What is your favourite medium and why?
I enjoy using colored pencils, especially, Prisma colored pencils. As mentioned above, I don't like complexity. When I draw, all I need is a paper, colored pencil and my hand. I also draw on my iPad. However, it can mimic the texture of colored pencils, it does not come out exactly the same. There is also the charm of digital, but I think the charm of manual work is greater for me. The sound and texture that colored pencils and paper create is one of the reasons I love and continue to use them.
4. What is your artistic process like?
I write my ideas and good thoughts on notes and use it when I draw. I sketch with a sharp pencil and erase them when coloring. I tend to be very careful in this step since perfect coloring is largely dependent on the sketching. I put lots of effort into coloring. I choose 2 colors that appeal to me that day, and I tend to choose the rest by looking at the balance of the colors. It's really fun to use different colors to harmonize them. I paint meticulously with no margins. This is the happiest time for me.
5. Who and/or what inspires your work?
I tend to think too much and cause a headache. As my thoughts flow endlessly with my thoughts, I suddenly come up with pictures them seem to be interesting. When I can't think of what to draw for a few days, I think about how I would've drawn while looking at pictures drawn by other artists, then I draw the thoughts that come to mind. And I think the most important thing for me is having peaceful and happy mindset. This is the time that like the most to draw. Sometimes, when I am wholehearted, inspiration for these and other interesting pictures suddenly spring up. In that case, I immediately write them down.
6. What role does art play in your life? How does it change the way you view the world?
Before I started drawing, I wasn't interested in everything around me. I think the term "achromatic person" suited me. I was just one of those people who lived the day like that. Since I started painting, my life has completely changed. My self-esteem increased, and I started observing everything which I would've missed before. The people on TV that I used to watch without thinking, the flowers I passed by, and all the things that were only seen as household items are now elements in my paintings. I want people to feel happy when they see my paintings. I think those moments tell the reason why I need to keep drawing.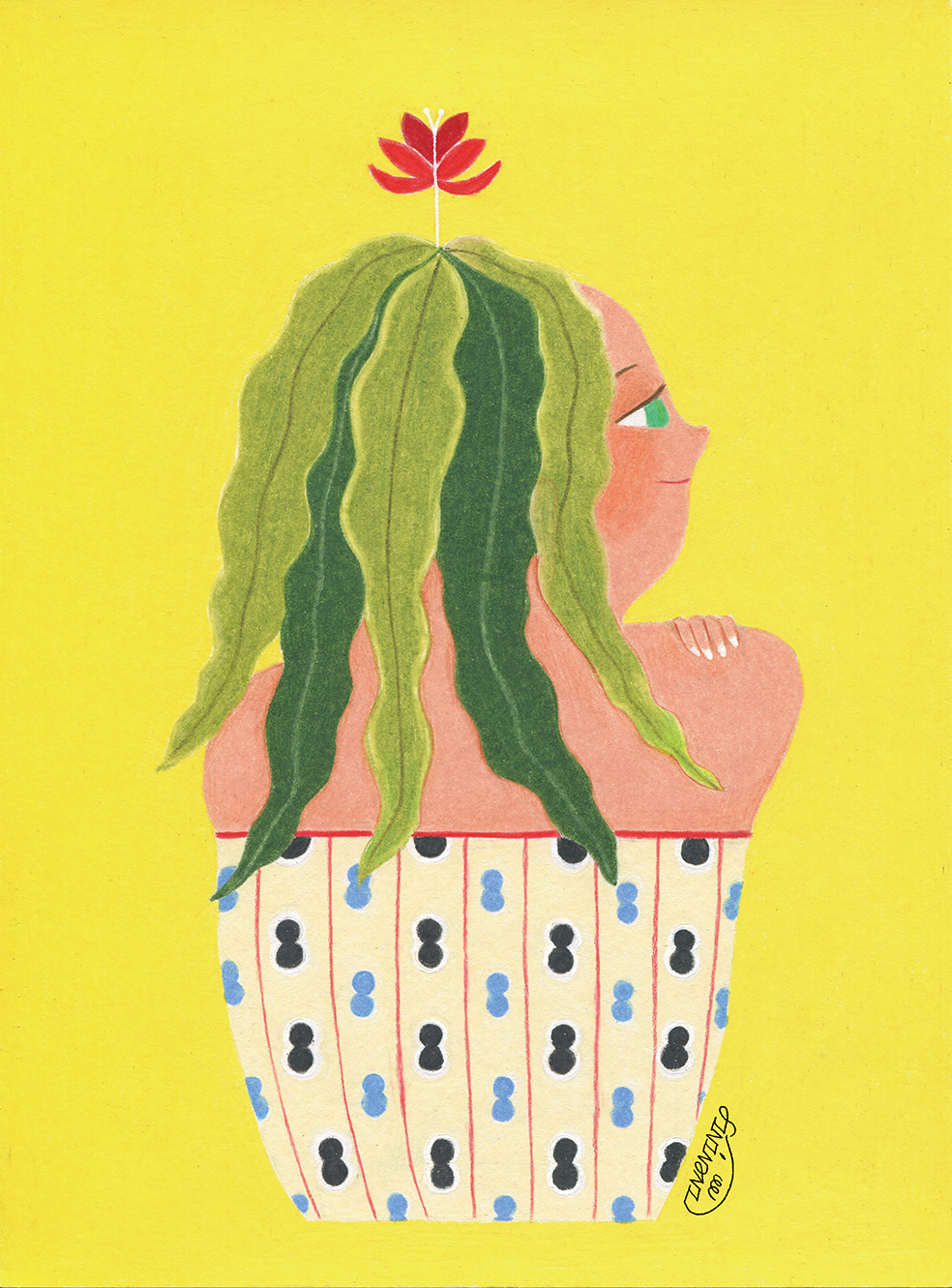 7. Where did you study?
I am not an art major. So, I keep sketching over and over until the picture in my head is exactly the same on paper. I am self-studying or taking online classes for areas I lack or want to learn more while drawing.
8. Where do you see yourself in five years?
In 5 years, I want to become an illustrator loved not only in Korea but also around the world. To that end, I am studying English hard. (These questionnaires were translated by my husband's brother. I hope to be able to translate them myself in 5 years!) For now, I am planning some things to make my name known. This year's plan is to publish a picture book on 'Amazon' and an emoticon on 'Line'.
9. What about in ten?
I will create a brand under my author's name, 'SININONI'. I plan to sell goods with my paintings, and I hope that I can communicate with the world, not just in Korea. When the brand grows and I can't handle it on my own, I want to hire mothers who have lost their careers. I want to create synergy with the same people who started painting in the first place.
10. What do you hope to achieve with your art?
If people looked at my paintings and smiled even for a moment, that alone would have achieved what I wanted, but realistically, it is difficult to maintain this job without income. Now I am drawing commercial paintings, and I am thinking about what kind of paintings people like. Ultimately, I want to become an illustrator who raises the value of drawings in my own way.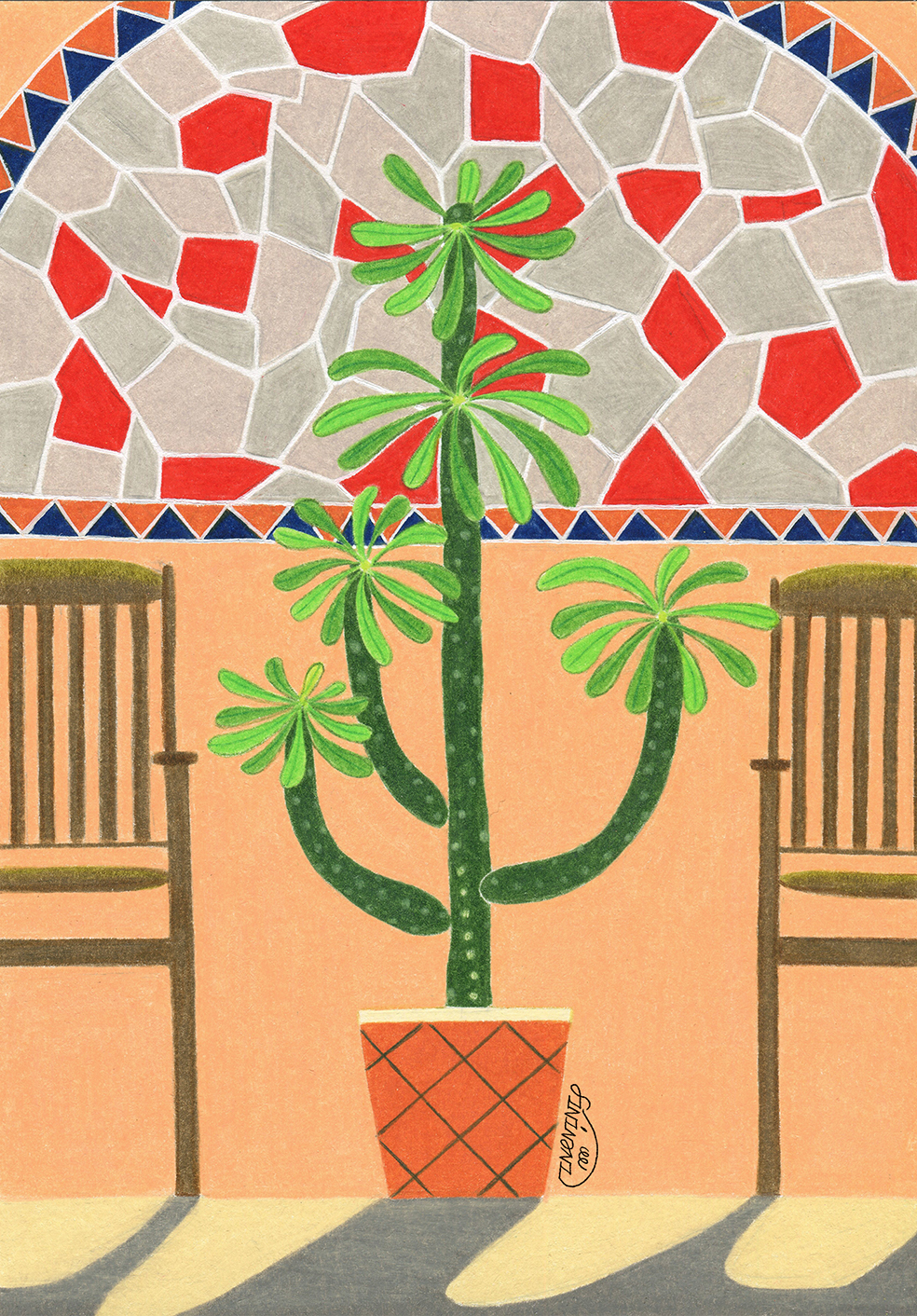 11. Now, tell us a little more about you as a person: what is your favourite food?
I like everything except mushy foods and foods with strong spices. So, if I stick to one, I tend to eat it until I get sick of it. Not a long ago, it was Tteokbokki (Korean traditional snack) and matcha latte. My favourite lunch menu these days is salad, croissant and cappuccino.
12. Favourite book?
I love mystery novels so much. Among them, mystery thrillers that deal with psychology are my favourites. It would be perfect if the background descriptions and characters were lovely. All of these are included in books of 'Ryan Moriarty'. I've read every single book of this author. I would say any book of his is my favourite.
13. Favourite genre of music?
Any kind of music is fine, as long as it's not too slow enough to make me yawn. I usually listen to hip-hop, but recently, I also like jazz-style songs. Even my playlist contains the OST for 'Toy Story'.
14. What are your hobbies?
Originally, it was only drawing, but this time I have a new hobby. It is to buy a flower that catches your eyes then to look up the meaning of it. Just like fortune cookie, I feel euphoric when it fits perfectly with my current feelings. If you are depressed and unable to go out due to COVID-19, I really want to recommend this hobby.
15. If you weren't an artist, what would you be?
I'll probably ended up being a helicopter mom. I can't stand still by nature, so I'll do this and that, but in the end, I think I'll give up and live a boring life. I can't tell how I am lucky to be able to draw even now!