Instagram:
@skratchceramics
Facebook:
www.facebook.com/skratchceramics
Website:
www.skratchceramics.com
1. What's your story? Where are you from?
I'm a potter, who's fairly new to the game. I was born and raised in Cumbria in the North of England. After a few years living in London and Amsterdam, my husband, two young kids and I moved to Wales three years ago. I make hand-built, decorative ceramics in my home studio. I can't seem to help changing designs constantly, so every piece is unique.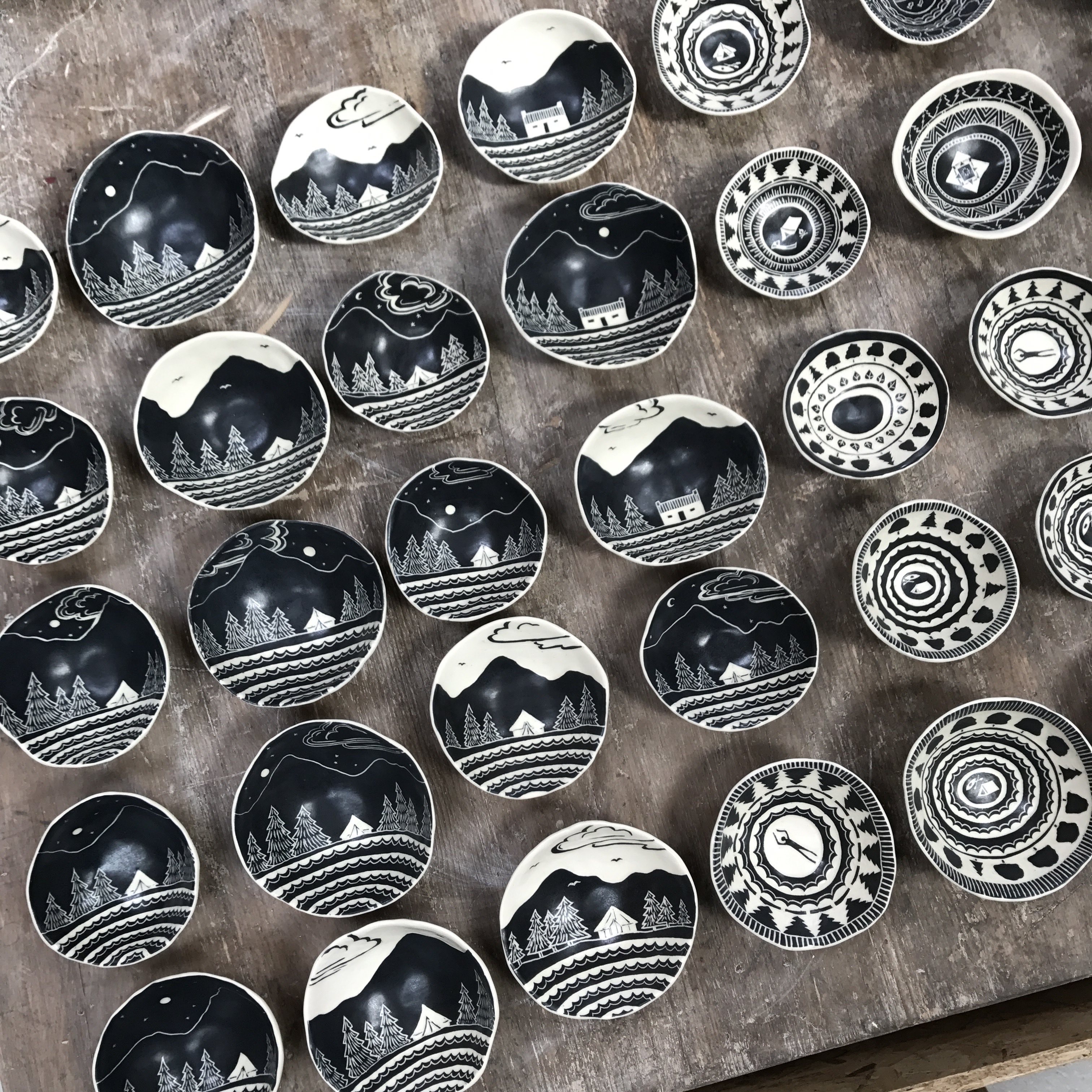 2. Tell us about your aesthetic.
Folksy with a contemporary edge? It's quite graphic and stylised. I mix up-to-date geometrics with traditional folk-art themes. The palette of the white clay together with bold coloured underglazes gives the traditional subject matter of the decoration (landscapes, welsh ladies, floral patterns, sea-scapes) a fresh vibe.
3. What is your favourite medium and why?
Clay! I decorate all of my work using a particular technique called sgraffito. That means that you paint a coloured slip or underglaze over the semi-dry clay. Then you scratch through that top layer exposing the clay underneath and creating patterns, hence the name Skratch Ceramics (with the K for Kate, corny I know!). There's something about the feel of that process that really grabs me. I use a silky glaze on my pieces that makes them super tactile and tempts people to caress them - I love that about ceramics.
4. What is your artistic process like?
I don't spend much time sketching unless I'm trying something in a totally new direction. I stick with simple hand-building techniques - pinch-pots, coiling building and slab building, most of my time is spent on the decorating phase. Unless I'm working on a specific commission, I tend to make the clay object and then see what sort of decorative design I think will suit it. I scratch the designs straight onto the pots without drawing it out. I love the spontaneity of that and, because I can't really undo mistakes with sgraffito, it's totally committing to the line, however wonky, for a true handmade look.
5. Who and/or what inspires your work?
Mountainous landscapes seem to be creeping into my work quite a lot. That might come from my childhood sandwiched between the Lake District and the Pennines, but I'm also in love with the Scottish Highlands and we're not short on hills in Wales either. Folk-art is another love of mine, especially beautiful floral or geometric patterns. We have lots of welsh folk-art in our home - slate carvings, naive paintings, antique oak furniture, welsh blankets - plus ceramics and other art collected on our travels. In terms of other artists, Vicky Lindo and Bill Brookes, working together under 'The Pigeon Club', are creating really amazing sgraffito ceramics. This year their work has been showcased at the V&A and they won 'Best in Ceramics' in the Elle Decoration British Design Awards 2017. I try not to spend too much time admiring their work in case I inadvertently copy!
6. What role does art play in your life? How does it change the way you view the world?
Starting to forge an art career has made me a happier person. I find sgraffito an almost meditative experience and selling my work has boosted my self-confidence. Being a maker also gives me a better understanding of the value of things - the work that goes into making something by hand.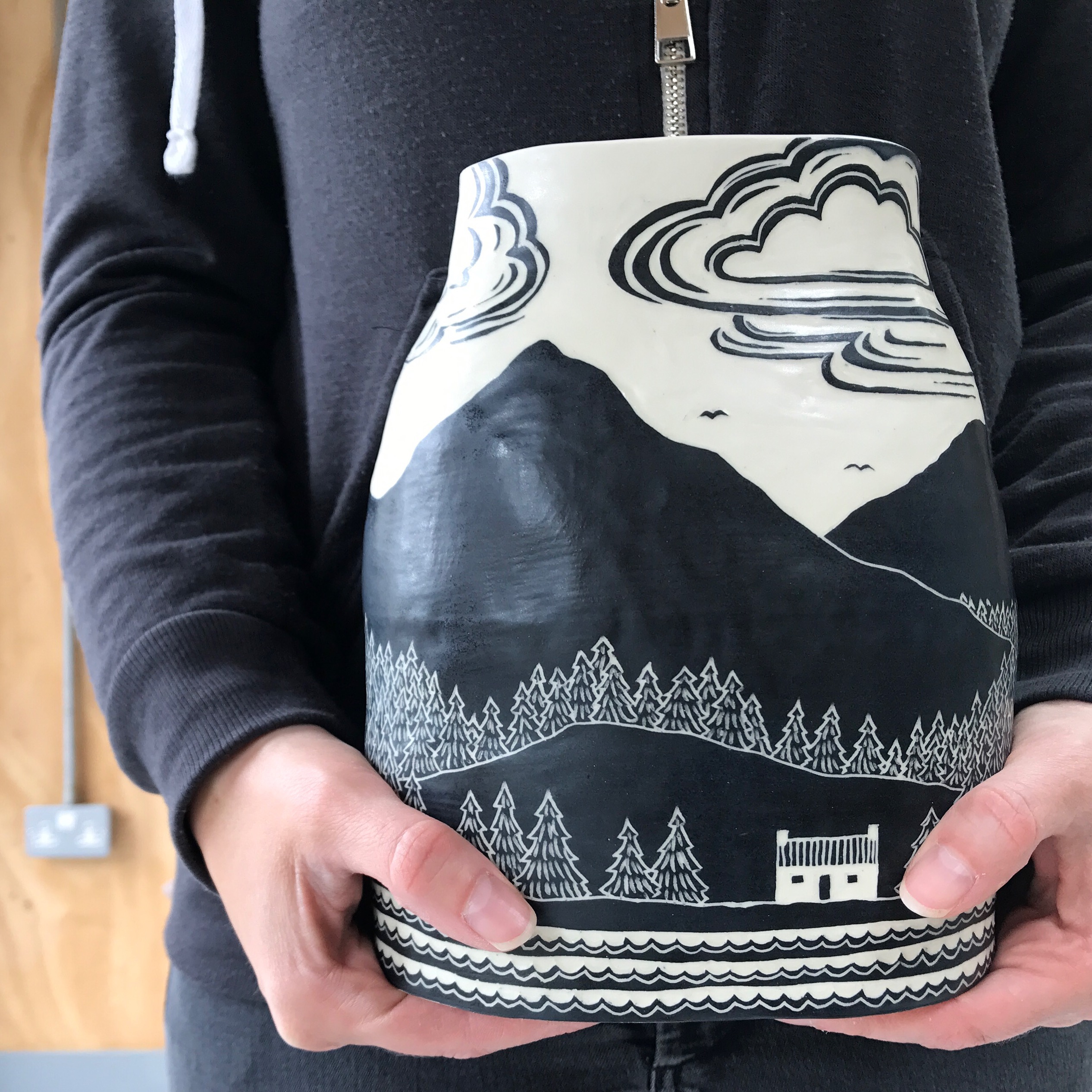 7. Where did you study?
I have a Bachelors degree in History of Art from the University of Warwick, but I don't have any formal qualifications in ceramics. I took some classes at the local community college, started trying things out at home and went from there.
8. Where do you see yourself in five years?
Hopefully pretty much where I am now, just more comfortable in my skin as a potter and with a nicely established business. I might be slip-casting or throwing on the wheel, but I'm certain there'll still be sgraffito.
9. What about in ten?
Who knows?! I can't quite get my head round that. Perhaps working on fewer, but larger or more detailed pieces.
10. What do you hope to achieve with your art?
I'd just like to create things that bring a little joy to people's homes.
11. Now, tell us a little more about you as a person: what is your favourite food?
I have a massively sweet tooth, especially for chocolate….though recently we went on holiday to the North of Spain and I was over-dosing on frozen yoghurt…admittedly with fruit and chocolate chips on top.
12. Favourite book?
I have a terrible memory, so although I was an avid reader in life-before-kids, even attending a book club, I struggle to recall any…When I was living in London I loved visiting Persephone Books in Bloomsbury. They publish beautiful out-of-print books, mostly written by women in the mid-20th century. Reading them is like wrapping yourself in a blanket of nostalgia, though some are surprisingly edgy. Dorothy Whipple's books are brilliant.
13. Favourite genre of music?
I'm pretty rubbish at music to be honest. I don't really download music or use Spotify etc., though I do keep meaning to get set up. If I have music on in the studio, then it's the radio and BBC Radio 6 Music is my go to station, which is fairly alternative/Indie/world music. The rest of the time I'm listening to podcasts.
14. What are your hobbies?
Ha, pottery?! I also really like to knit, but I don't seem to get much time these days as I'm often working in the evenings when the kids are in bed. If we get some spare time in the schedule, we usually head out for a walk by the sea to blow out the cobwebs - working at home is great, but it can get a bit claustrophobic.
15. If you weren't an artist, what would you be?
I honestly don't know. Before I found ceramics, I spent several years trying to work that out without success, so I'll stick with potter please!