Instagram:
@slaughterhigh
Website:
www.meredithbardo.com
Shop:
slaughterhigh.bigcartel.com
1. What's your story? Where are you from?
I'm originally from the Chicago-suburbs and go to school in Portland, OR.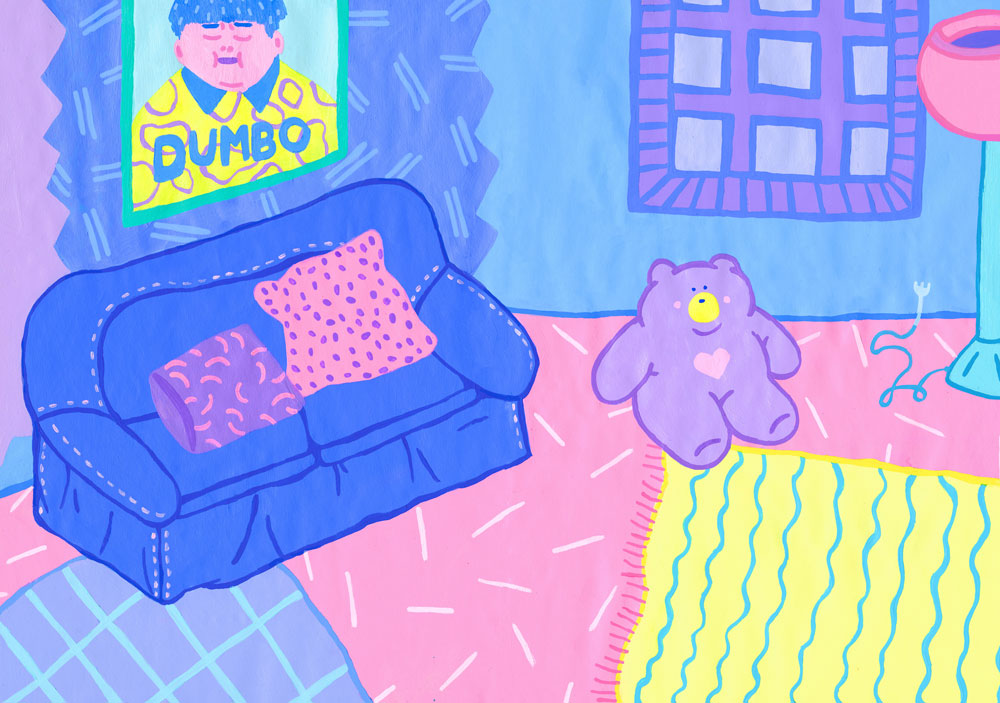 2. Tell us about your aesthetic.
It's basically just fun 'n cute! I use a pretty strict cotton-candy color palette and love making wacky patterns. My work also incorporates a lot of symbols, such as the classic smiley face, clown, hearts, stars, etc. Basically anything a first grader would think is cool.
3. What is your favourite medium and why?
I don't really have a favorite medium because I love having the ability to incorporate my style into a lot of different mediums. Sometimes I'll go all digital and just make everything super shiny and candy-coated. Other times I make sculptures and installations. I also screen print and collage and just make paintings on canvas. Even though I make work in a variety of mediums, my aesthetic is always consistent.
4. What is your artistic process like?
I just make a lot of stuff. I never frickin stop! I do a lot of self-initiated projects and will just do gifs or phone drawings when I'm bored. I'm always looking to add to my portfolio or try different things.
5. Who and/or what inspires your work?
Dollar store birthday party supplies, 80s graphic design, children's toys and objects, Memphis Milano, really cute brown toy poodles, trash I find on the street, bad 80's horror movies, clipart, Krazy straws, Scooby Doo.
6. What role does art play in your life? How does it change the way you view the world?
I buy a lot of things I don't need mainly because I like the aesthetics or design of the packaging! I also pretty much embody my art aesthetic, I love to wear fun pastels and cute keychains.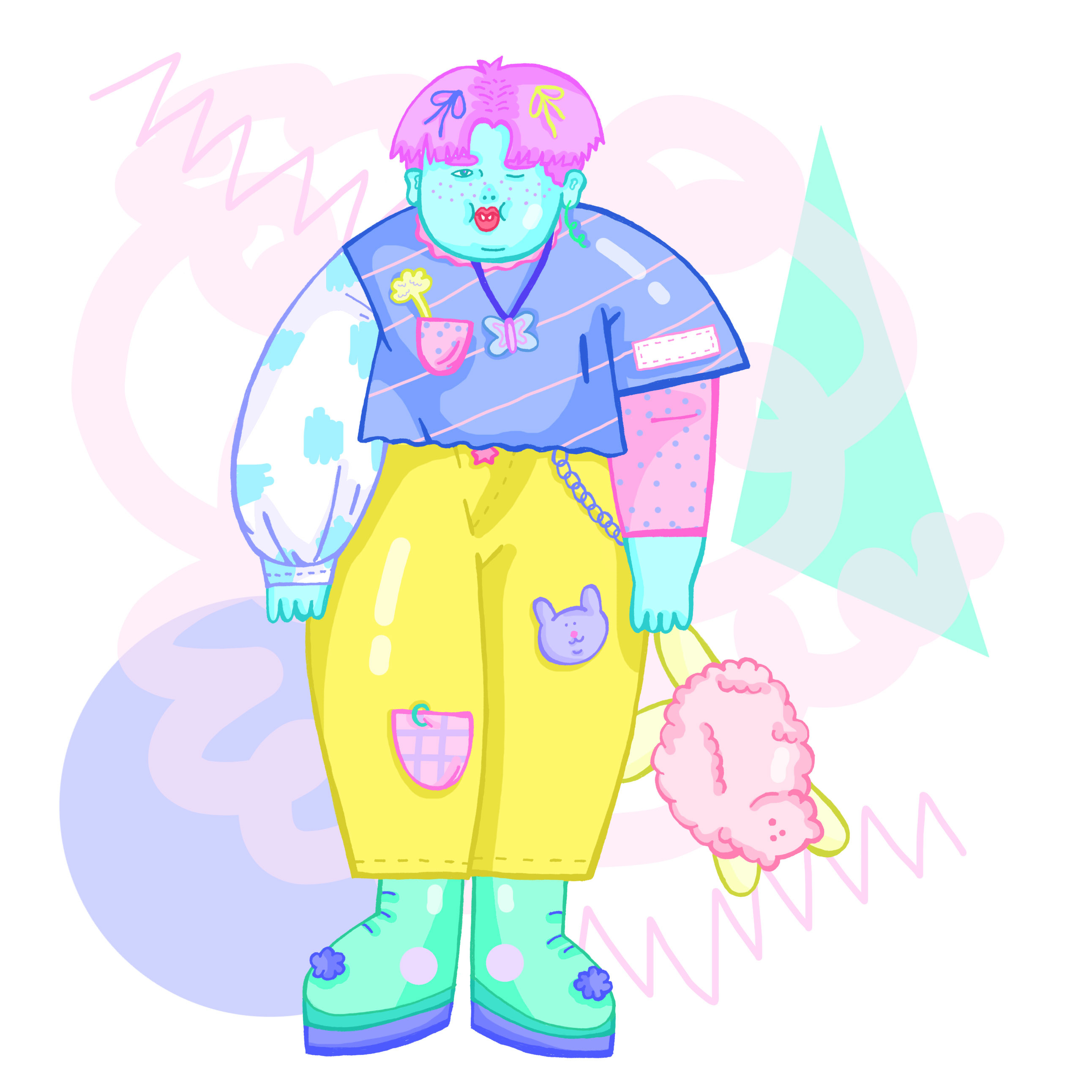 7. Where did you study?
I'm in my last semester at PNCA.
8. Where do you see yourself in five years? Working in an agency?
At this time in my life, I just really want a job that will allow me to support myself and be at least somewhat art related. I also want to be continually making products to sell at that point. I also hope I have a cute fluffers dog as well.
9. What about in ten?
Have two cute fluffers dogs.
10. What do you hope to achieve with your art?
Basically make people laugh and realize things can still be fun even though adulthood is horrific...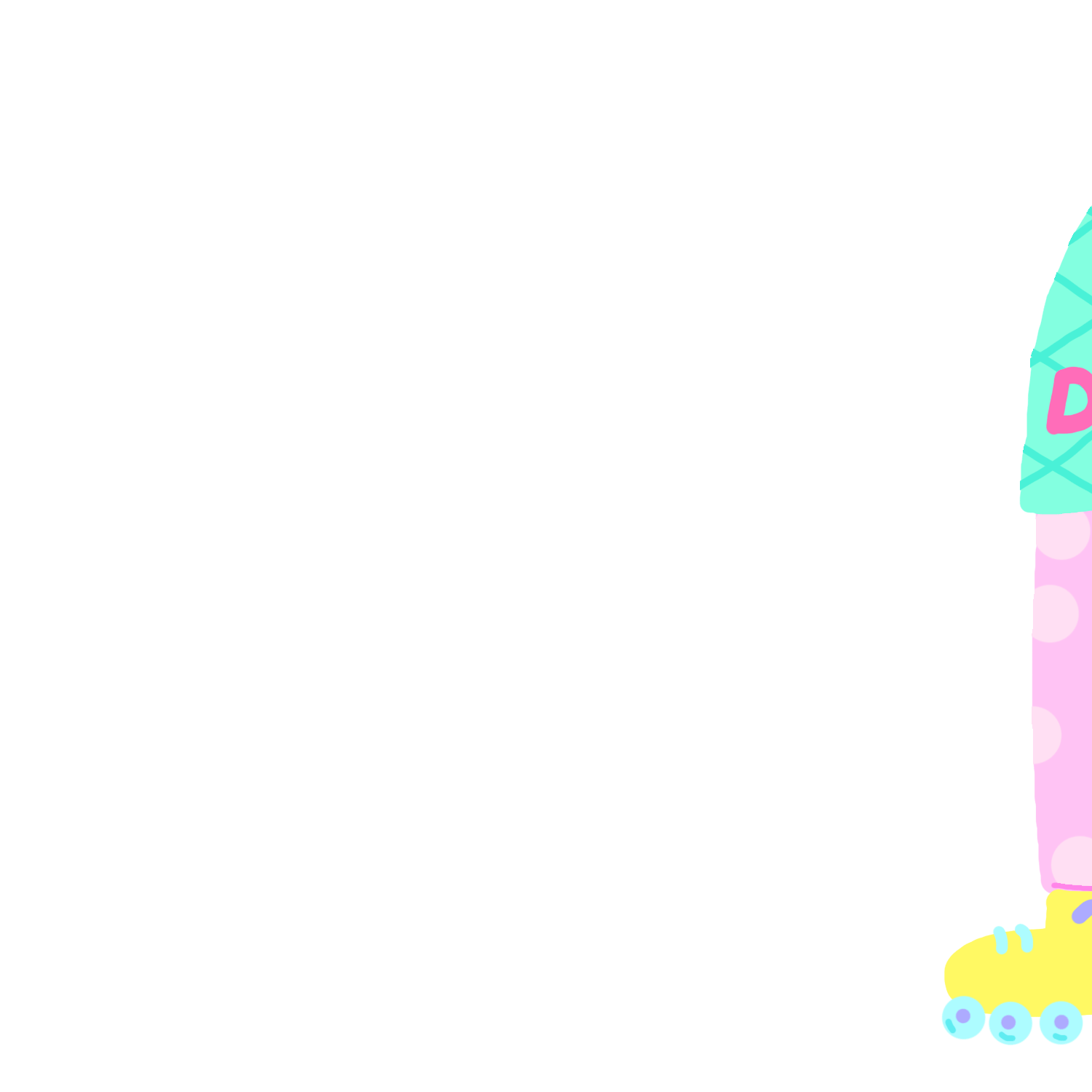 11. Now, tell us a little more about you as a person: what is your favourite food?
Potato, in any form. It is the perfect tuber.
12. Favourite book?
Piercing By Ryu Murakami, Thirst for Love by Yukio Mishima, Do Androids Dream of Electric Sheep by Philip K. Dick, anything by Kobo Abe.
13. Favourite genre of music?
Nightcore!! Also fun 90s techno/rave, kpop, cheesy 80s music that uses the synthesizer noise that sounds like a fake trumpet, italo disco.
14. What are your hobbies?
Drink chocolate milkshakes with xtra whip cream, collect alpacassos and other cute stuffed animals, watch hella anime, eat jelly beans, watch Scooby Doo 2: Monsters Unleashed at least once a month, lay in a fuzzy blanket, read in a fuzzy blanket, practice sweet dance moves.
15. If you weren't an artist, what would you be?
Have the hugest smiley face memorabilia store in North America