Instagram:
@sloppyjohansson
Website:
www.nadahayek.com
1. What's your story? Where are you from?
Born in Vancouver, BC. Currently live in Vancouve­­­r, BC. Will probably die in Vancouver, BC.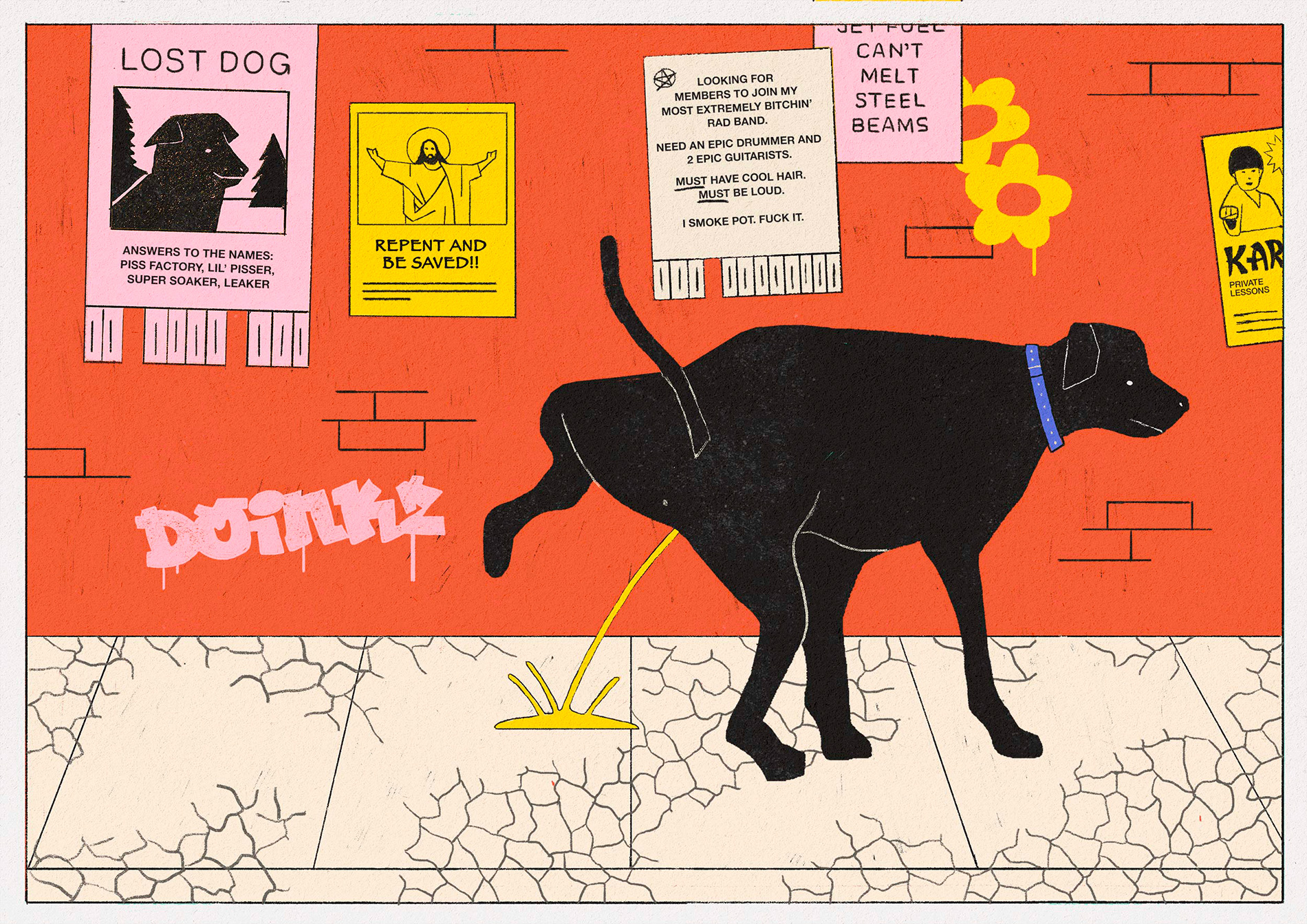 2. Tell us about your aesthetic.
My work has been described as playfully creepy and weird-suburban, which I like to think is an apt description. I've been drawing for a long time, and I'm still trying to pin-point my aesthetic and accurately portray what's in my head. Sometimes it feels like I'm missing the mark, so it's nice to hear that other people get that feeling from my work. It's fair to say though, that I lean toward bright colours and retro imagery.
3. What is your favourite medium and why?
Digital, I guess, because it's what I use the most. I do love gouache and acrylics though. I just don't have a proper set up to explore it and working traditionally for commissions would take forever.
4. What is your artistic process like?
I always sketch on paper first. I find it really hard to do this digitally. Plus, sketching is so much faster. Then I just take photos with my phone, send them over to my computer, and trace over them. I work in Photoshop so it's easy to tweak composition and play with colour.
5. Who and/or what inspires your work?
I follow so many illustrators on Instagram and they're all inspiring to me, although Daniel Clowes and Raymond Pettibon have been favourites for a long time. Apart from people, I'm inspired by retro knick-knacks, dark humour and the banality of everyday life. Music also helps me out too, especially when the lyrics evoke imagery.
6. What role does art play in your life? How does it change the way you view the world?
Instagram can be toxic in so many ways, but I'm happy the platform exists because it has exposed me to so many talented artists. Because of it, I'm continually seeing work that's better than mine which pushes me to keep going and continue honing my skills. I'll go to the art gallery every so often, but I find myself much more satisfied and inspired by going to a book store and browsing graphic novels and art books.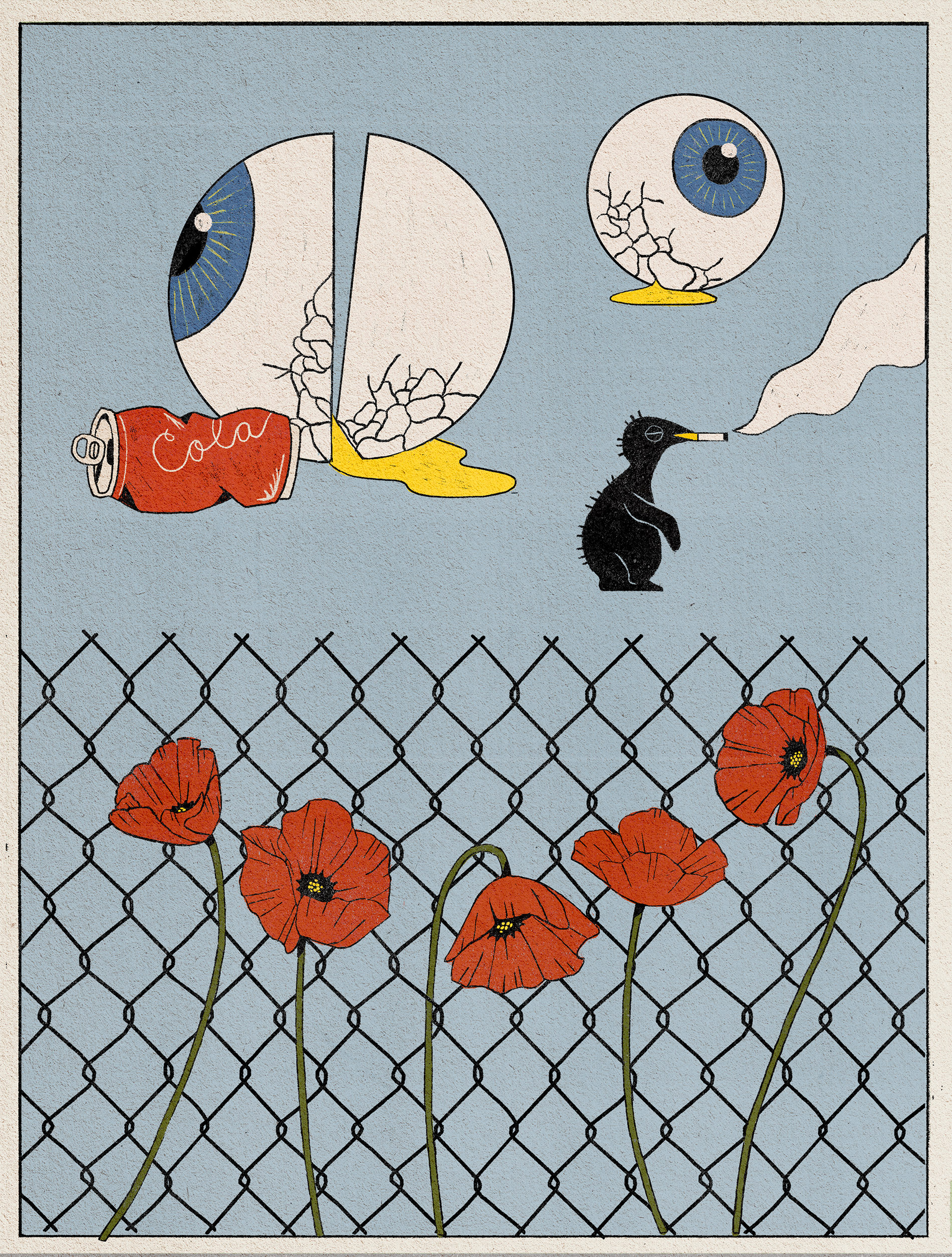 7. Where did you study?
I'm currently in my last year of a graphic design and illustration degree here in Vancouver.
8. Where do you see yourself in five years?
I'd love to pursue both illustration and graphic design as a career. Because freelance work is always in flux, I see myself working in a design studio as a day job and working on illustration after-hours.
9. What about in ten?
Hmm well, I don't know that AI will be good enough to take over creative careers just yet, so I'll hopefully still have a job. I have a great nighttime skin routine that involves jojoba oil and rose water so I'll also still look the same age.
10. What do you hope to achieve with your art?
I'd like to inspire someone the way my favourite artists have inspired me. It would be really cool to get to work with people or businesses that I admire too.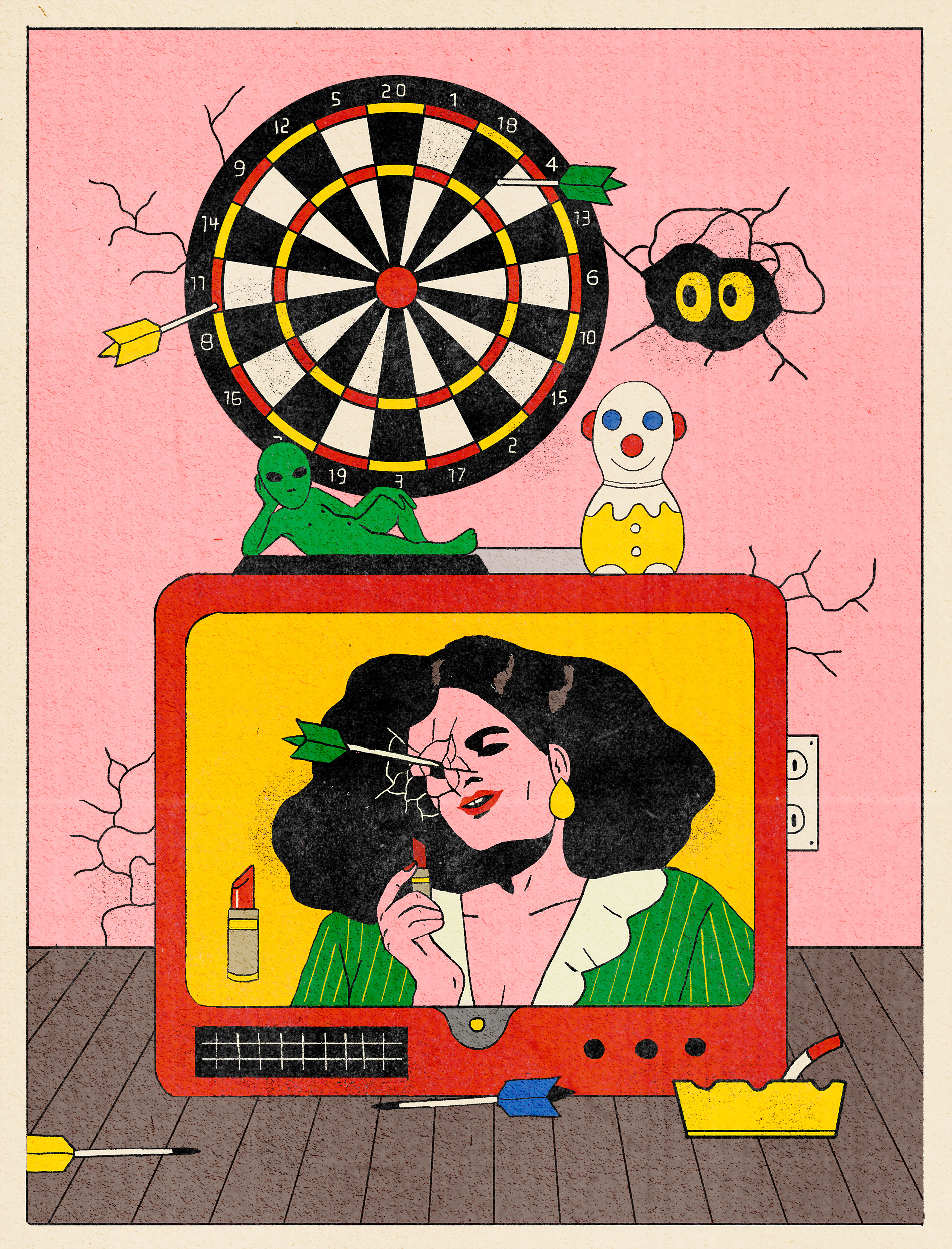 11. Now, tell us a little more about you as a person: what is your favourite food?
I like bowl food. By that, I mean really anything that involves a bed of rice or noodles and some vegetables. I could also probably eat ramen and sushi forever. One thing I will not eat is shellfish. I tried a clam for the first time the other day and it only confirmed my preconceived dislike of it.
12. Favourite book?
Daniel Clowes' "Eightball" series. I hope graphic novels count.
13. Favourite genre of music?
Anything under the punk umbrella— punk rock, post-punk, etc. Also new wave. Most of my favourites had their prime between the 1970s and 1990s.
14. What are your hobbies?
I play in a band with three very close friends. Between freelancing, school and music, there's not much time for anything else!
15. If you weren't an artist, what would you be?
Mmm, a salty art critic.