Instagram: @sofia.emm
Website: www.sofiaemmart.com
1. What's your story? Where are you from?
Hello Ballpit Magazine readers! My name is Sofia and I'm a Latina illustrator based by the Rocky Mountains, in Denver, Colorado. I was raised by incredibly strong women with even stronger voices and stories - this constantly inspires my work. Growing up, the arts always provided me with an escape from real life issues like poverty, racism, and domestic violence that are so prevalent in the lives of many first generation Latinx Americans. A career in illustration became real and tangible to me by accident. One day, I started sharing work I did for my own fulfilment, and many women felt identified and connected with my pieces. Receiving that direct feedback just motivated me to keep creating and sharing.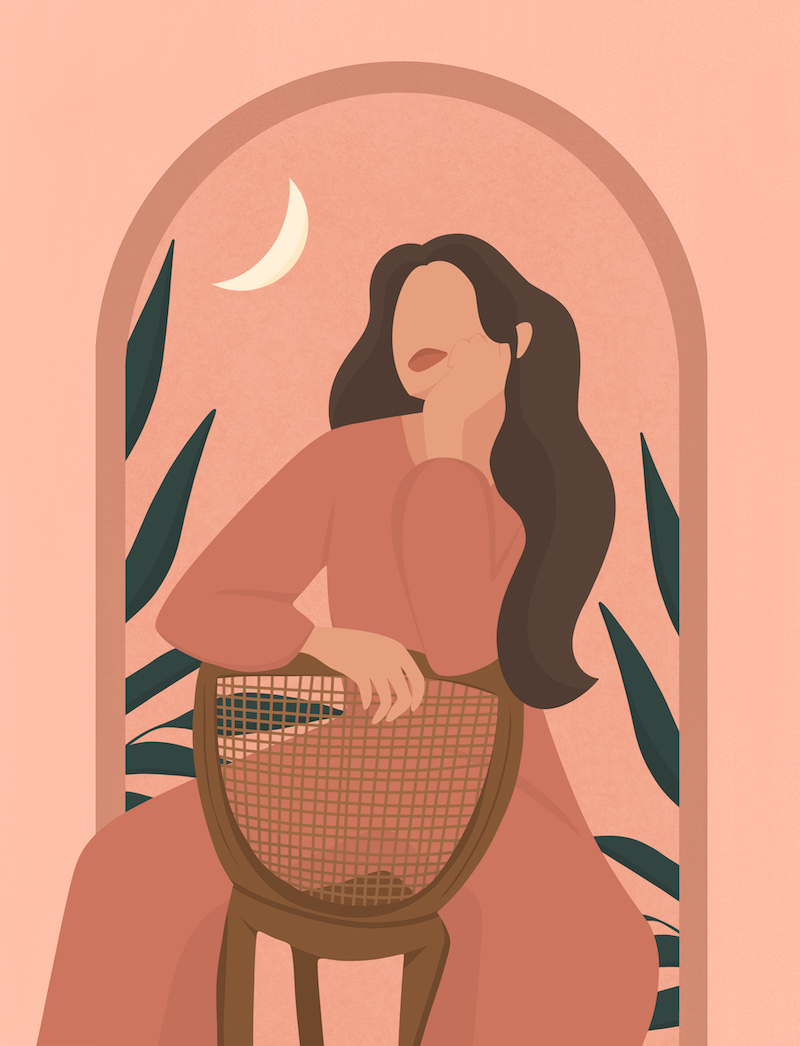 2. Tell us about your aesthetic.
I love experimenting with the female form, and creating calming and minimal settings for them. My palettes are typically warm and rosy; I'm inspired by very delicate colors. Creating relatable and relaxing scenes that are inspiring is something I'm constantly going for.
3. What is your favourite medium and why?
Digital is for sure my main medium. I tend to be very insecure and go back and edit a lot; and the flexibility I get with digital is just something that helps me create my best work. That undo function on my tablet reigns supreme! I do love creating traditionally as well, mostly in gouache or watercolor and then digitalising to tweak further.
4. What is your artistic process like?
I don't have a fixed process, really. Some of my pieces can come to me in a dream (I wake up in the middle of the night to verbally describe what I saw, writing it down in my idea notebook I keep by my bed), or can flow organically while I sketch freely in my sketchbook. With client work, I'm a bit more organized, taking in many more reference photos and making sure every spec of the deliverables are exactly what the client envisioned. Either way, a sketchbook is always involved and, as soon as an idea is shaped I start playing with colors creating a few thumbnails and then further developing the piece. I am constantly learning and studying new techniques and researching fresh color schemes as well.
5. Who and/or what inspires your work?
I'm very inspired by women and the way they interact with the world and their unique environments. Women have such rich stories to tell that are nestled in their everyday life; it's a topic I really enjoy exploring. I do draw a lot of inspiration from abstract, purism, and minimalist art movements, as well as modern architecture and interior design. Inspiration tends to hit me while exploring life and stories in some way, whether it is via a conversation with someone or out people watching in the city.
6. What role does art play in your life? How does it change the way you view the world?
Art, and creating, are an essential part of my being, I don't think I could be me if I could not create art in some form. It's the way I am able to connect and communicate with my surroundings.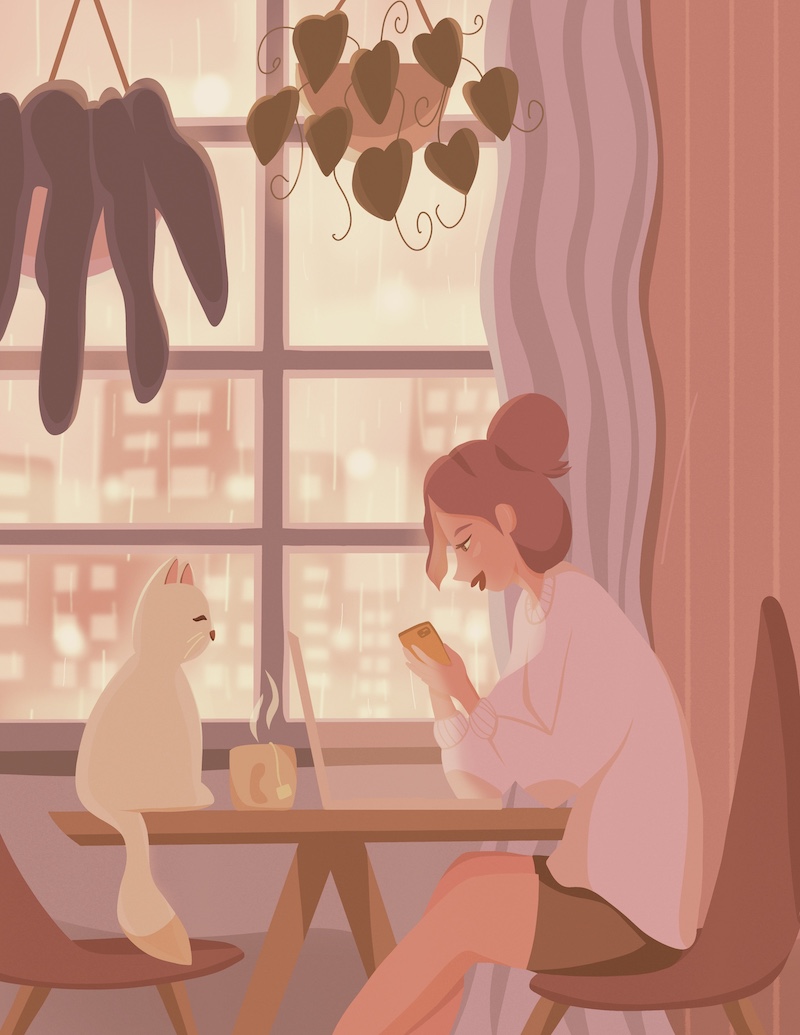 7. Where did you study?
As many other illustrators, I'm mostly self-taught. I don't have a BFA (yet) nor am I formally trained in art. My studies took part mostly independently or in artist workshops in digital and traditional mediums.
8. Where do you see yourself in five years?
My hope is that in five years, I'll be able to keep enjoying my work as much as I do now. I'd love to have perhaps a channel where I share tutorials, and be able to share my pieces with the world making a sustainable living alongside the people I hold dear. That is where I'd love to see myself.
9. What about in ten?
Ten Years is a bit far out to picture myself clearly, but I hope to still be as passionate about creating as I am today. Hopefully I'll be in a more mature space with my art and techniques, and have traveled the world a bit sharing my work. Living a calm life, perhaps somewhere secluded like a small town near the mountains or the ocean.
10. What do you hope to achieve with your art?
I want to inspire, connect, and provide a respite with my art. People that admire my work constantly share that my art feels calming, relaxing and relatable to them. And, in a world where we are constantly overwhelmed by visual imagery, being able to hear that fills me with joy and purpose.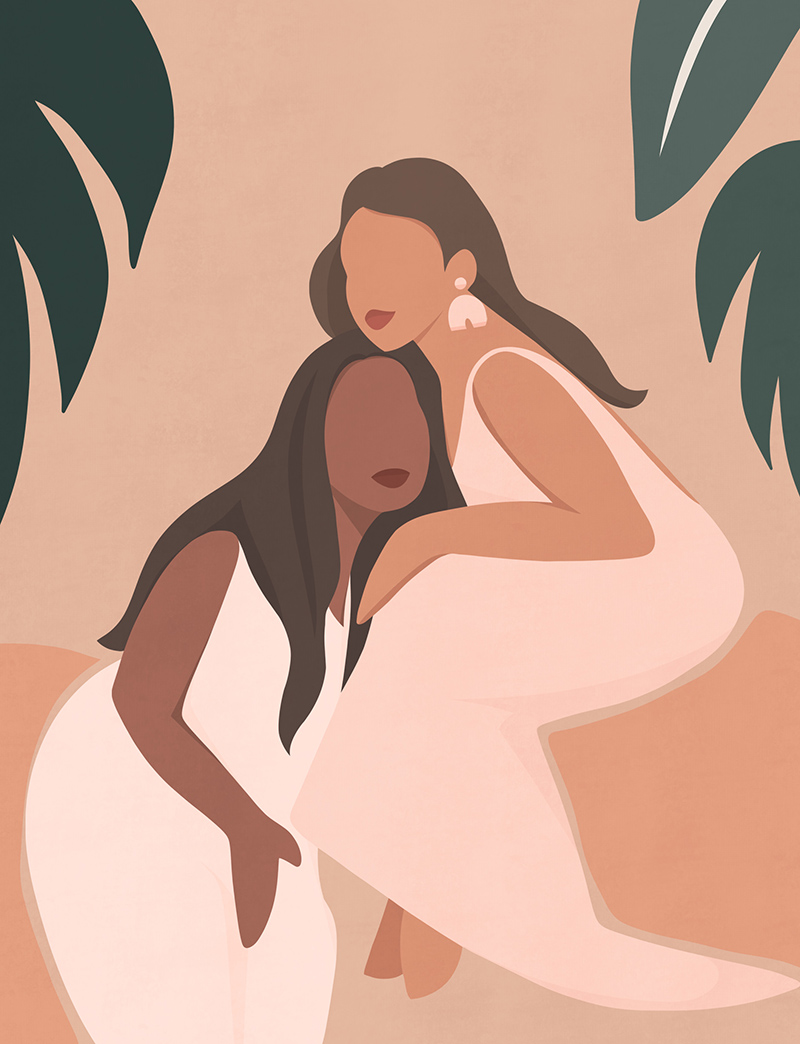 11. Now, tell us a little more about you as a person: what is your favourite food?
I. love. bread. Sourdough, baguettes, pastries, garlic bread, everything bread. Oh, and korean food. A hot bowl of bulgogi bibimbap or kimbap rolls make any day better.
12. Favourite book?
My favorite book of all time is The Guest Cat by Takashi Hiraide. It's sort of a contemplative book; I absolutely love works that showcase those little moments that life is composed of. Oh, and another fave book of mine is Drive Your Plow Over The Bones of The Dead by Olga Tokarczuk, which is a very vividly narrated book exploring women and gender experiences and nature. It's a bit of a murder mystery novel that's beautifully written.
13. Favourite genre of music?
Choosing just one music genre is just impossible! I love anything from musical theater tunes, to kpop, to EDM, to nu metal. I'm legitimately all over the place musically. I just feel that there are so many interesting and inspiring sounds in the world; I don't want to miss out on them.
14. What are your hobbies?
Whenever I have some downtime, I enjoy hiking and exploring new places, growing vegetables in containers (I have so many different varieties of lettuce sitting on my windowsill), taking photos, and reading everything from novels to nonfiction to webtoons.
15. If you weren't an artist, what would you be?
I'd be happy working around books, or plants!