Instagram:
@softwarming
1. What's your story? Where are you from?
My name is Kamila Bednarek and I'm a 23-year-old Polish collage artist currently living in Paris. I originally come from the city of Płock, in which I lived for the longer part of my life. That's where, as a teen, I entered the world of graphic design. In 2015 I moved to the capital of Poland, Warsaw to begin my higher education. Unfortunately, I started studying IT instead of Graphic Design, which in the long run made me very miserable. After struggling to write my thesis I decided to move to Paris to live with my boyfriend. A few months ago, after 4 long years, I finally returned to my passion, this time in the form of creating collages.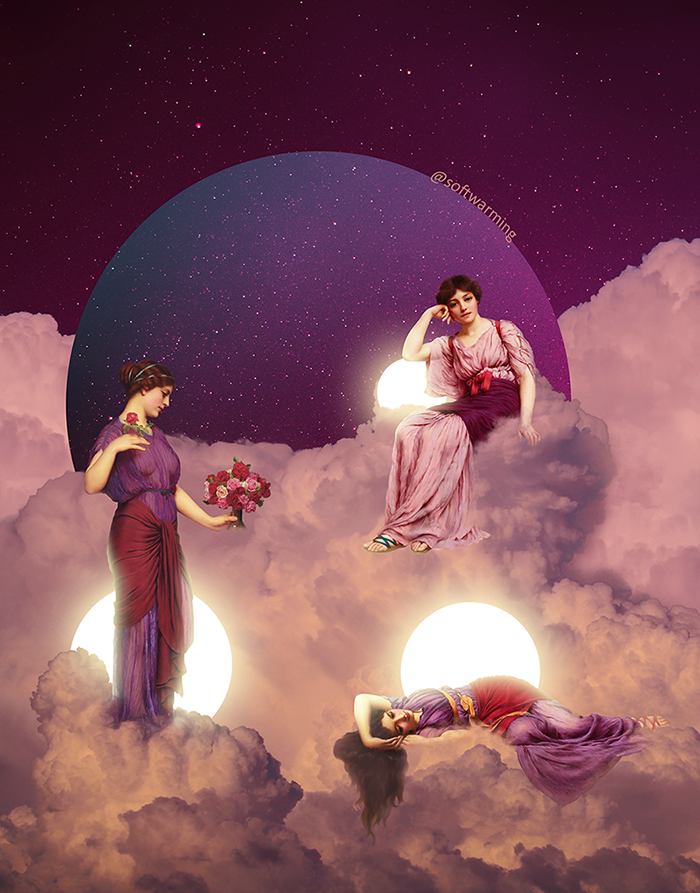 2. Tell us about your aesthetic.
To put it simply, my aesthetic is all the things I find the most beautiful. The sky, the clouds, the moon, and the sun. Paired with all the pinks, blues and purples it's a different scenery every single time. I've always dreamed of just being able to chill in the clouds (honestly who hasn't?) so all the ladies and men in my works are all the people that share my dream.
3. What is your favourite medium and why?
I've only ever worked digitally so that's what I'm the most comfortable with. My favorite program is and has always been Adobe Photoshop. I started playing around with it when I was about 13 years old. It was actually meant for my mom who wanted to do graphic design but I kind of took over it. I still remember my humble beginnings of making Michael Jackson edits/wallpapers. Recently though I started learning to use Blender. I thought it would be amazing to move my art into the world of 3D.
4. What is your artistic process like?
It really depends. Sometimes an idea strikes like a lightning, but then there are times when it doesn't at all. That's when I look at all the paintings I have collected and wait for an idea to form in my head. Unfortunately, there are also times when even that doesn't work. I used to feel embarrassed about going through an artist's block, but I've learnt that it's a completely normal thing and you can't really force the process.
5. Who and/or what inspires your work?
John William Godward's paintings have been definitely a huge inspiration. I'm also greatly inspired by all the amazing artists/photographers I have discovered on Instagram. Other than that I find that looking at the sky often fuels my ideas.
6. What role does art play in your life? How does it change the way you view the world?
Art is one of the best things we get to experience in our lives so it definitely plays a huge part in mine. Even during the time when I didn't create anything at all, which wasn't the best time for me in general, other people's art helped me cope with my struggles. When it comes to the way I view the world, I think art helps me forget a little of all the bad and makes me focus on the good things instead.
7. Where did you study?
I started studying IT in a private Warsaw school. Unfortunately, I still haven't finished as I couldn't get myself motivated enough to write my thesis. Hopefully this semester it'll all come to an end. This is quite a sensitive subject for me as I feel like I've wasted a few years of my life. I didn't follow my guts and instead followed the family's advice, when they said IT is way more practical in the long run than Graphic Design. Needless to say, I shouldn't have listened.
8. Where do you see yourself in five years?
Hopefully financially independent, still creating art, married and a mom.
9. What about in ten?
I feel pretty good about the 5-year scenario but in 10 years I'd like to have seen more of the beauty that is our planet, tried as many different things as I can and deal with some issues that I struggle with.
10. What do you hope to achieve with your art?
Do you know that feeling when you see a piece of art and it brings you back exactly to this one evening of December 2003? Or July 2005? I absolutely love it when this happens and I hope my art does the same thing to other people. Make them recall some random day or moment, in which they felt happy and which they normally wouldn't have thought about.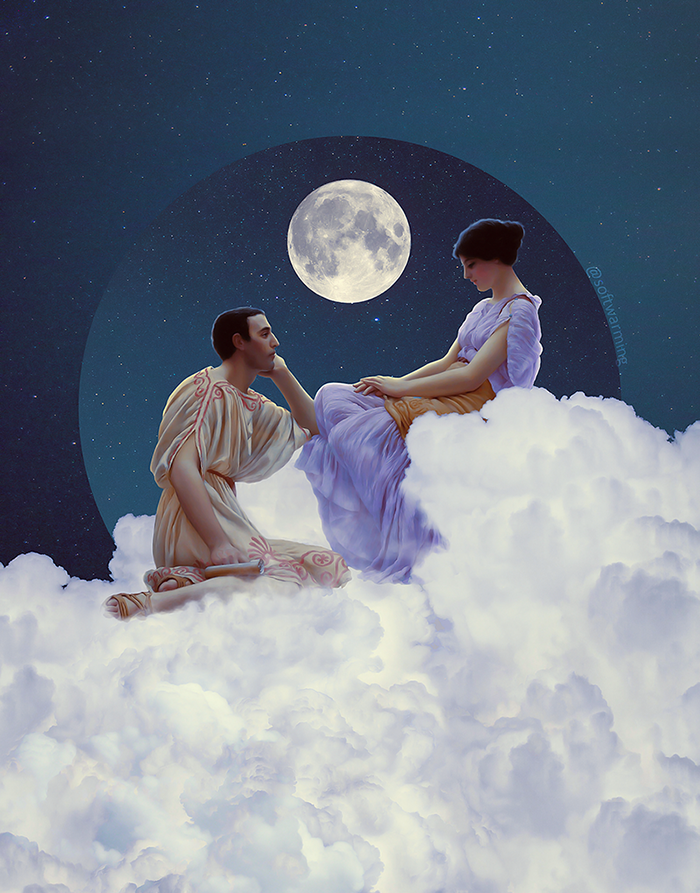 11. Now, tell us a little more about you as a person: what is your favourite food?
I really could be saying a lot on the subject but I think I'm the only one that cares, so I'll just go with sushi.
12. Favourite book?
My taste in books isn't very sophisticated. My book life revolves around the Harry Potter series. I probably read all the books at least once every year. I find reading HP to be exceptionally comforting and I'm completely in love with the atmosphere of the universe. If I really had to choose a favorite one, then I guess it would be Harry Potter and the Prisoner of Azkaban.
13. Favourite genre of music?
I mainly listen to indie rock and rap. Some of my favorite artists/bands include: Tyler, the Creator, Coldplay, Kanye West, Frank Ocean, King Krule, Tame Impala and Grizzly Bear.
14. What are your hobbies?
Apart from making art, of course, I don't have too many hobbies, to be honest. I love listening to music and watching movies like probably everyone else in this world. Other than that I'm really into photography but it's on a very amateur level. I'm not too much into sports but recently I rediscovered my love for rollerblading.
15. If you weren't an artist, what would you be?
My studies managed to completely silence the artistic side of me for a few long years so I came pretty close to never becoming an artist. I'd probably be working some miserable IT job and not even being good at it.