Instagram:
@sonaljadhav_
Shop:
www.vansonal.nl
Website:
www.sonaljadhav.com
1. What's your story? Where are you from?
I am a 3D illustrator based in the Netherlands. Born and bred in India, I moved from the bustling city of Mumbai to a cozy little town in the Netherlands a few years ago. I freelance from my home studio with a fluffy assistant- my cat :)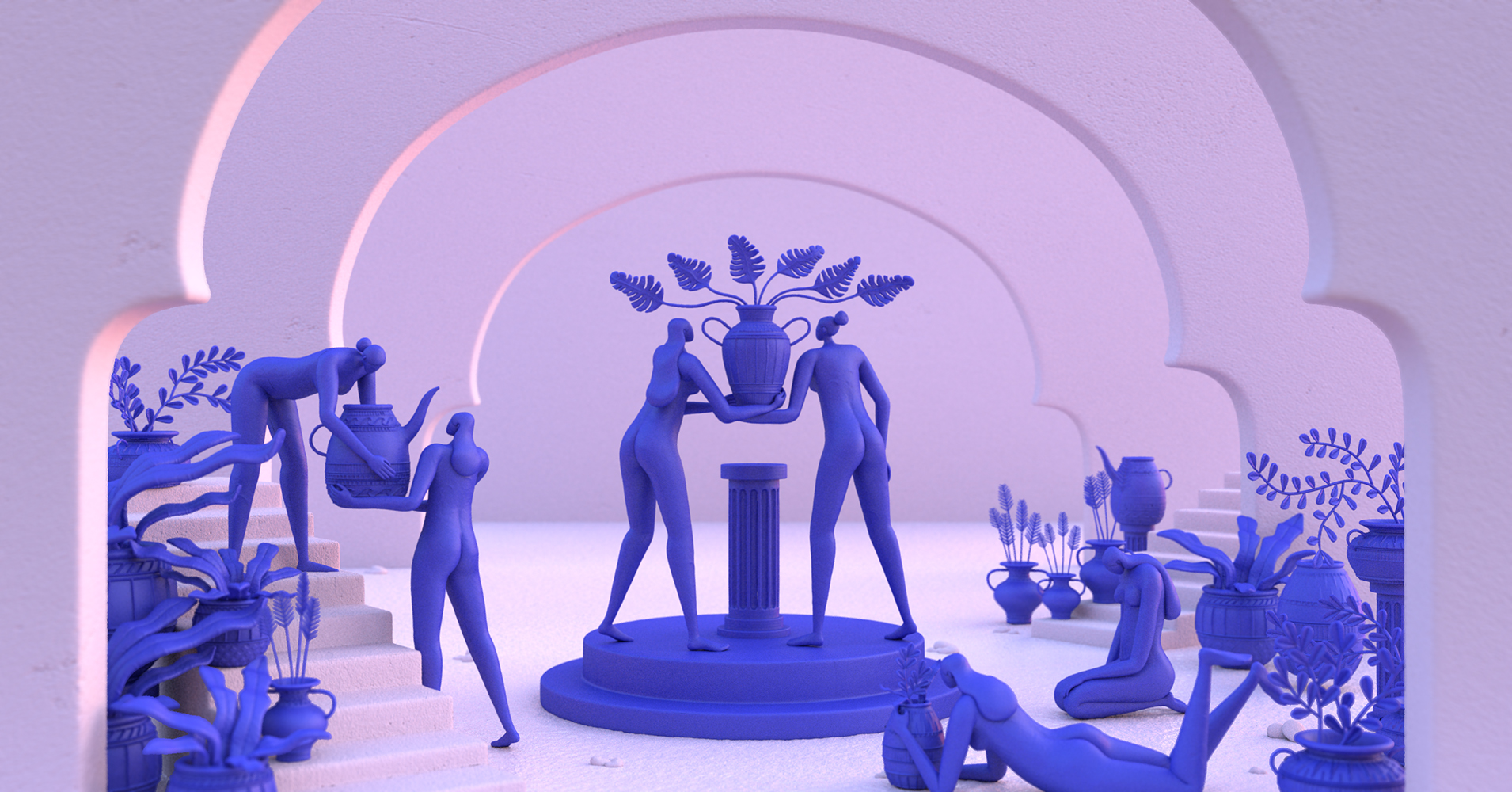 2. Tell us about your aesthetic.
After many years of playing around with different aesthetics, I have found that the best work I do is creating surreal spaces. I am passionate about creating 3D illustrations that are pleasing to the senses; by using characters, forms and textures that create a tactile quality.
3. What is your favourite medium and why?
Digital all the way! I have been working digitally for 8 years and I find this medium very forgiving. It gives me the freedom to experiment constantly.
4. What is your artistic process like?
When I am creating an illustration in 3D, I start by collecting a lot of real-life references. Once I visualize it in my head, I go straight to 3D and build basic shapes. I spend a good amount of time on creating compositions with those basic shapes. Composition is key! At this stage, I prefer lighting my scene as it helps me in composing and see how shapes react to light. Then I get into adding details to those 3D shapes, play with materials and render to bring my imagination to life. Shout out to my favourite software Autodesk Maya, Adobe Photoshop, Redshift3D!
5. Who and/or what inspires your work?
I take inspiration from photography, architecture, modern art and textiles. I look up to artists like Constantin Brâncuși (20th century modern sculptor), Peter Tarka and Cabeza Patata (both 21st century kickass artists). Creative collaborations with 2D Illustrators keep me motivated! Translating their designs into my interpretation in 3D is so enjoyable!
6. What role does art play in your life? How does it change the way you view the world?
You start to appreciate and see beauty in everything. You never know what could inspire you!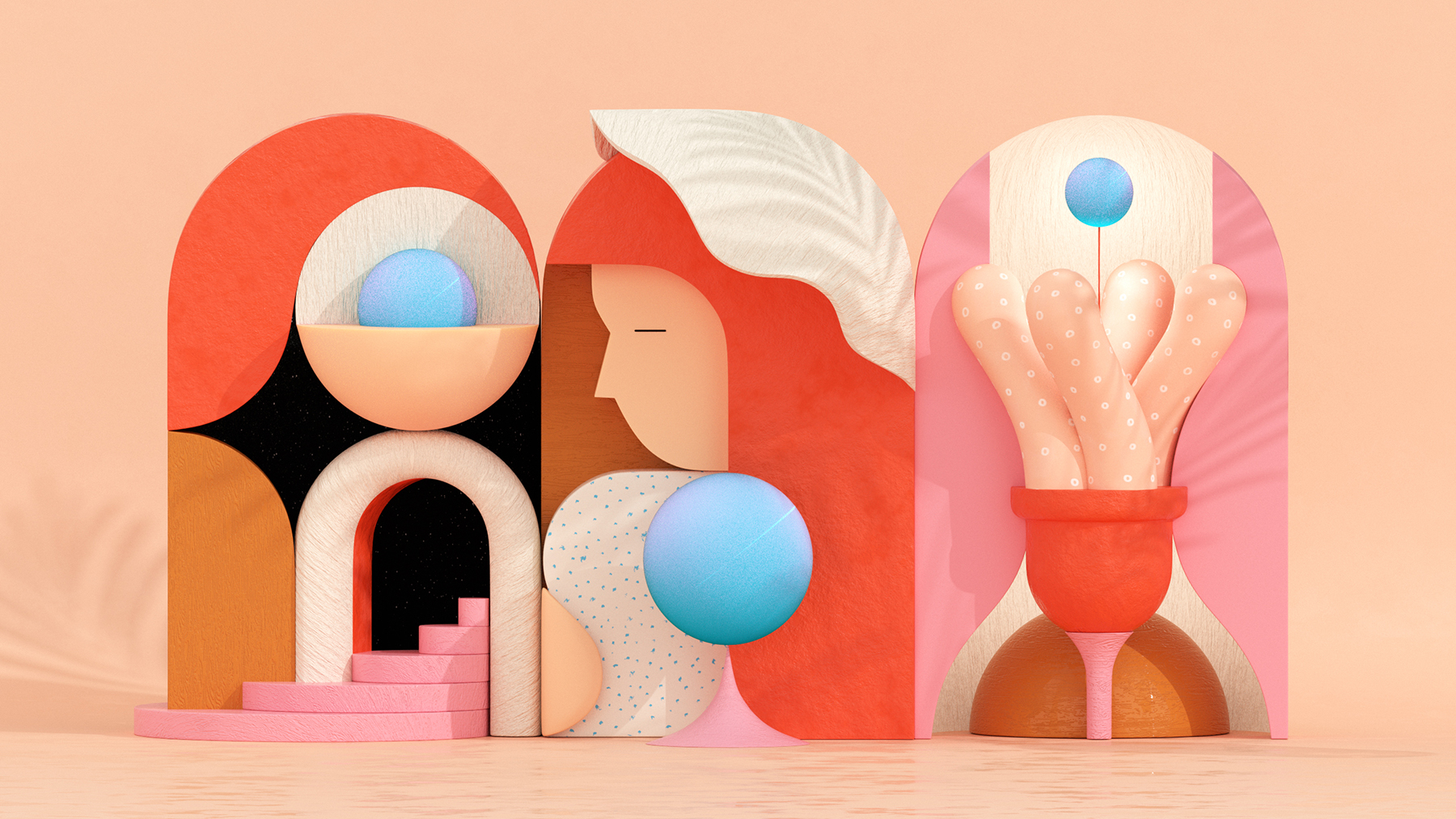 7. Where did you study?
I have an international Masters's degree in 3D Animation from Supinfocom, India. Before my masters, I studied Computer Engineering for my bachelor studies.
8. Where do you see yourself in five years?
I want my portfolio to be recognizable and get awesome projects to work on. I would also like to dig deeper into the tools I use and hopefully make online tutorials to help beginners who are starting fresh in this industry. More collaborations with other artists & art directors are something I am looking forward to as well.
9. What about in ten?
A creative director at an animation studio in Amsterdam.
10. What do you hope to achieve with your art?
A state of happiness and satisfaction for me and the viewer.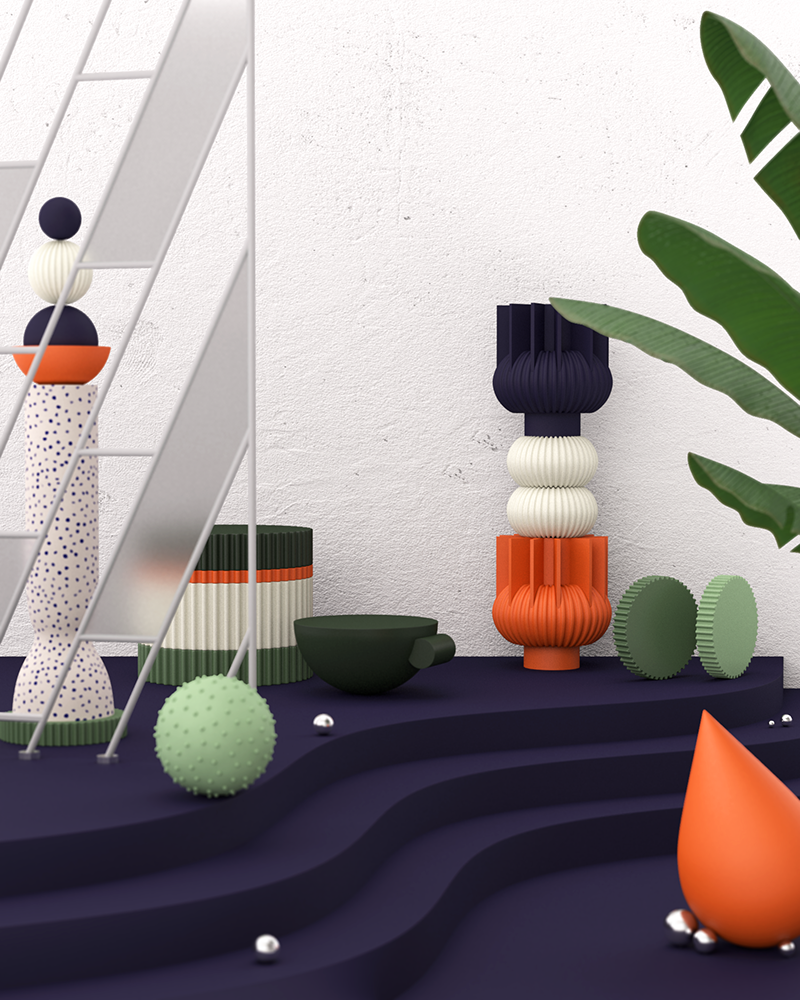 11. Now, tell us a little more about you as a person: what is your favourite food?
If you ask me now, I am craving for some home-made Indian food! Ask me later, I would say a neat pasta in pesto sauce. And I am a sucker for sweets.
12. Favourite book?
The Freelance Manifesto by Joey Korenman.
13. Favourite genre of music?
My playlists are a mix of all moods. I like to listen to a variation of songs while working. However, I am drawn towards indie rock the most.
14. What are your hobbies?
When I've had too much screen time, I take a fine liner and draw rural Japanese houses. Oh, and sometimes experimenting with a delicious recipe keeps my soul happy!
15. If you weren't an artist, what would you be?
Since I have a degree in Computer Science, I would be an excellent Computer Engineer who sat behind a desk and dreamt about being an artist, all day!