Instagram:
@sonnyrossillustration
Twitter:
@sonnyrossdraws
Website:
www.sonnyross.com
1. What's your story? Where are you from?
My name is Sonny Ross and I'm a full time freelance illustrator and I grew up in Cheshire, now living in Manchester, U.K..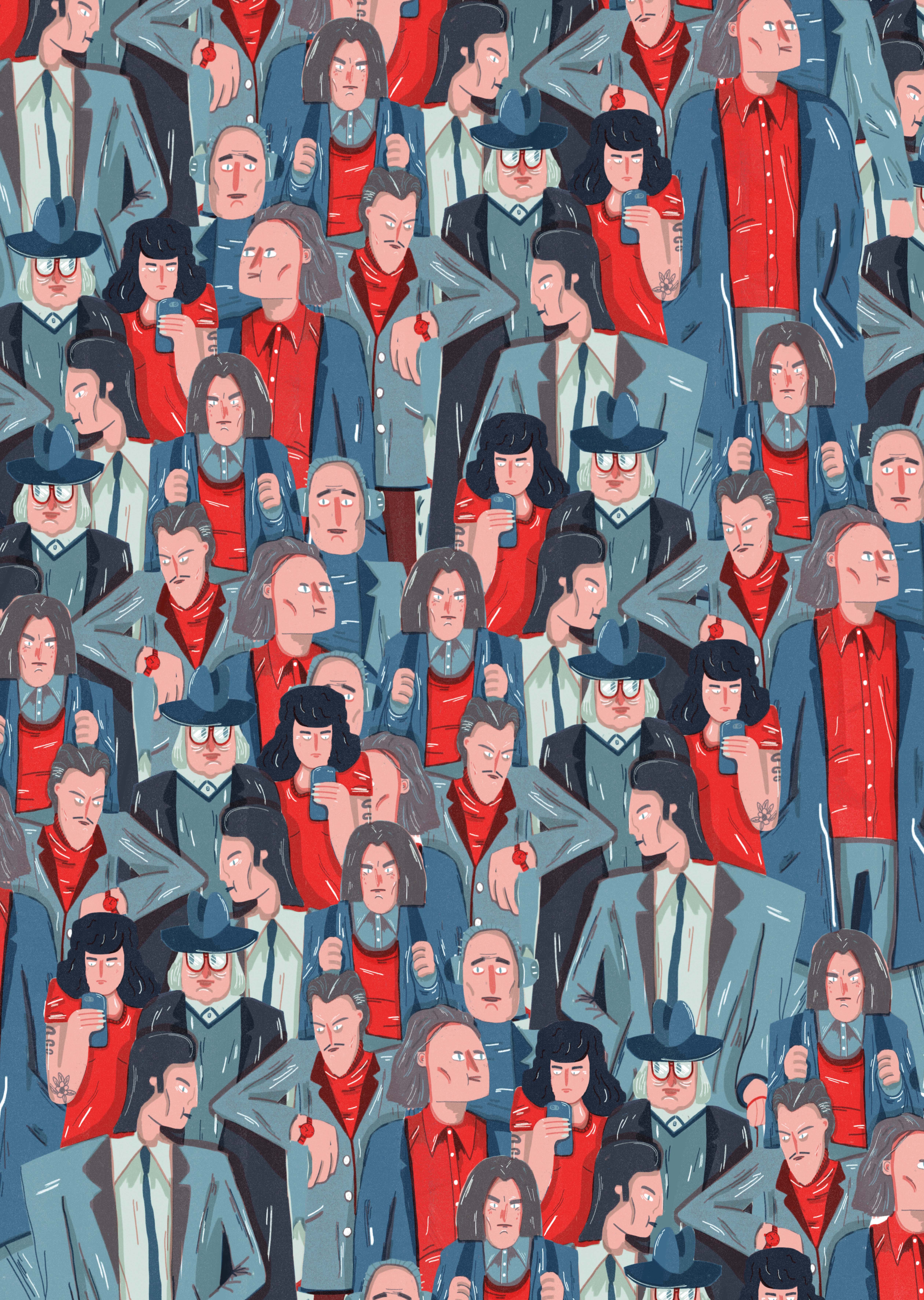 2. Tell us about your aesthetic.
It's weird I either go for super graphic and using only a couple of colours to over the top texture work, I like to think I'm striking a comfortable balance between the two most of the time.
3. What is your favourite medium and why?
I have used Procreate app on iPad for about 3 years now, I still draw everything by hand it's just more efficient to finish up on a tablet as it feel like drawing. Initially it was just to get quick roughs to clients but once I started making my own brushes I couldn't go back to Photoshop, even my book was completely done with that.
4. What is your artistic process like?
Roughs. The first 3 ideas I have all have something good and two things bad so I try not to waste time and I thumbnail like crazy. Once an idea fits, I start working it up, it's at this point I decide whether it should be clean and bold or heavily textured. A good trick I've learned is once I think it's done, before sending to the client I leave it for a bit and look at it later, if it's still good I send it off, it's easy to get tunnel vision on a project.
5. Who and/or what inspires your work?
I'm friends with a number of illustrators all with totally opposite styles and clients, having for example comic books inform how I approach an editorial illustration, a still life improving a food illustration. It inspires me to see people approach something in a way I wouldn't have, for better or worse.
6. What role does art play in your life? How does it change the way you view the world?
For a while I tried to pretend it was 'just a job' like any other but art has invaded how I see everything. I can't look at an illustration without trying to 'decode' it, mentally working backwards as to how they reached the final image. It's like a puzzle, and they're everywhere.

7. Where did you study?
I studied illustration at Birmingham City University, which was great. I've never had to mention my degree of course but the skills I developed there and the people I met provided a good place to start. Basically I sucked, but they pointed me in the right direction.
8. Where do you see yourself in five years? Working in an agency?
In 5 years I hope il be in the position where I'm not just 'getting by' on illustration, granted you don't do it to get rich, but I'd like to have a steady enough workload that I don't worry so much. As for agencies, I'm represented by United Agents but that's just for children's books, which is like a fun side thing. At the moment I am getting in touch with agencies for editorial illustration and design, so we'll see.
9. What about in ten?
In 10 years il probably be alright. Haha that's actually how I see it, generally, il be okay.
10. What do you hope to achieve with your art?
I like making things look good, I hope I'm doing that. Also getting to the point where I don't have to do 'cold call' emails, they always make me feel like a turd.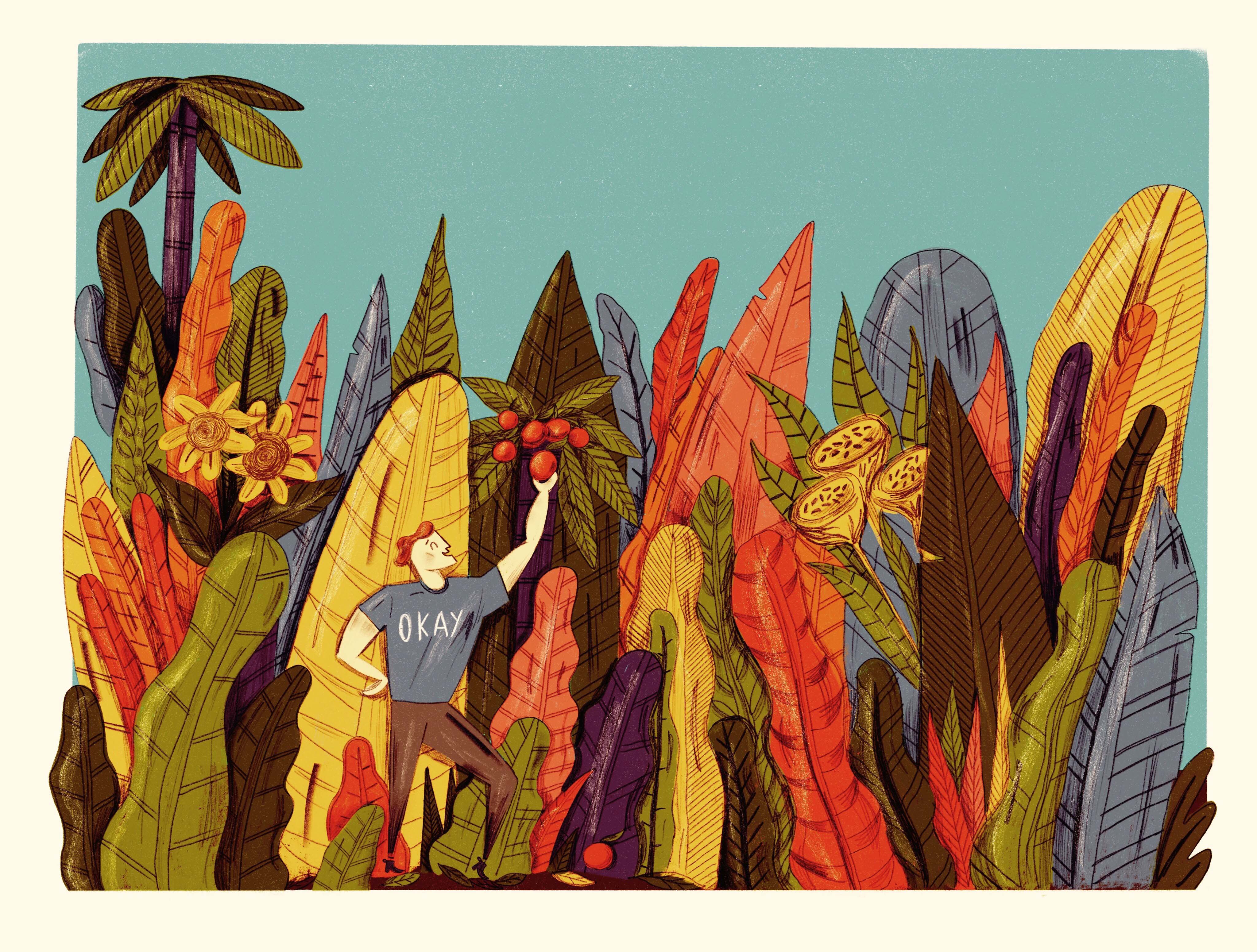 11. Now, tell us a little more about you as a person: what is your favourite food?
I cook a lot, so there are a lot of fancy meals that should be number one, but after a long day something nasty and greasy usually is the best.
12. Favourite book?
Stephen King: From a Buick 8. Love that book, really hope they don't turn it into a god awful prime original or something. Just leave it alone, it's fine.
13. Favourite genre of music?
I love music across the board but for me Soul music is unmatched.
14. What are your hobbies?
I play video games. I'm big into podcasts, especially when working. I dunno, is food a hobby? I love cooking it and eating it and it takes up a lot of time so it's probably best to call it a hobby.
15. If you weren't an artist, what would you be?
Bored.