Instagram: @soph.uy
Website: www.soph.uy
1. What's your story? Where are you from?
My name is Sofía. I'm a 24 years old graphic designer from Uruguay, who is currently working on advertising. Since childhood, I had very clear that art and design was what I wanted to do when I grew up.
Soy Sofía, uruguaya. A mis 24 años soy diseñadora gráfica, trabajando actualmente en publicidad. Desde que soy adolescente, tuve siempre claro que en el futuro me quería dedicar al arte y al diseño.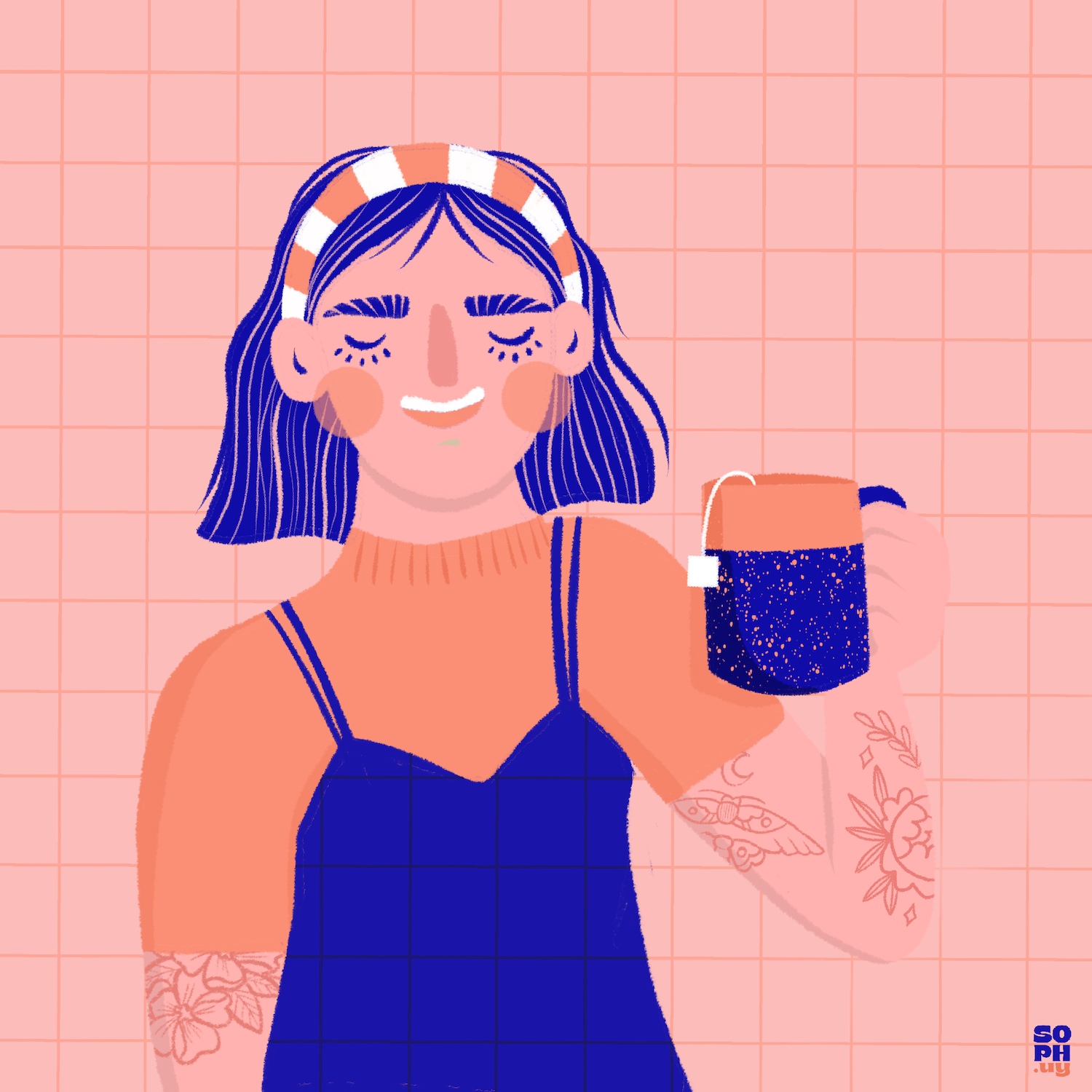 2. Tell us about your aesthetic.
I'm always looking to define my aesthetic, to improve it and evolve. Something that is very characteristic of my work, as an illustrator and also as a designer, is the attention I pay to every single detail in order to get balanced and nicely done pieces. Lately, the vibrant colors are very present in all my illustrations.
Siempre estoy en búsqueda de definir mi estilo, de mejorarlo, de evolucionar. Si algo me caracteriza tanto en la ilustración como en el diseño son los trabajos limpios, cuidados. Soy muy detallista y prolija. Últimamente los colores vibrantes siempre están presentes.
3. What is your favourite medium and why?
Probably digital. I made the same illustration but with different colors, until I found the best combination. Doing this in traditional medium would take me so much time. Anyway, I enjoy trying new things with watercolors. It's the best way to disconnect from the screens.
Diría que digital. Muchas de mis ilustraciones las hago con diferentes paletas cromáticas hasta que encuentro cuál es la que me gusta. En medios tradicionales hacer eso supondría mucho tiempo. De todas formas, disfruto mucho de las acuarelas para desconectar un poco de las pantallas.
4. What is your artistic process like?
All stars anywhere, the little things from everyday-life inspire me. I take a lot of pictures of things that I like for reference. When it comes illustration time I do many sketches (a lot of them) until I find the right one and everything flows there.
Empieza en cualquier lugar, las pequeñas cosas del día a día son las que me inspiran. Saco muchas fotos de cosas que me gustan para tener de referencia. A la hora de ejecutar hago muchas pruebas (demasiadas) hasta encontrar la adecuada y ahí todo fluye.
5. Who and/or what inspires your work?
Besides everyday life, I really like seeing other artists work. I could spend many hours looking for new artists and admiring the way that others express themselves.
Aparte de la inspiración de todos los días, me gusta mucho ver trabajos de otros artistas. Podría pasar horas y horas buscando nuevos artistas y admirando la forma en que cada uno se expresa.
6. What role does art play in your life? How does it change the way you view the world?
Art and design take a huge role in my life, it's my job and also my hobby. It's everything. It's my way to express myself and feel free.
Tanto el diseño como el arte tienen un rol muy importante en mi vida, son mi trabajo y también mi hobby. Lo son todo, son mi manera de expresarme y de liberarme.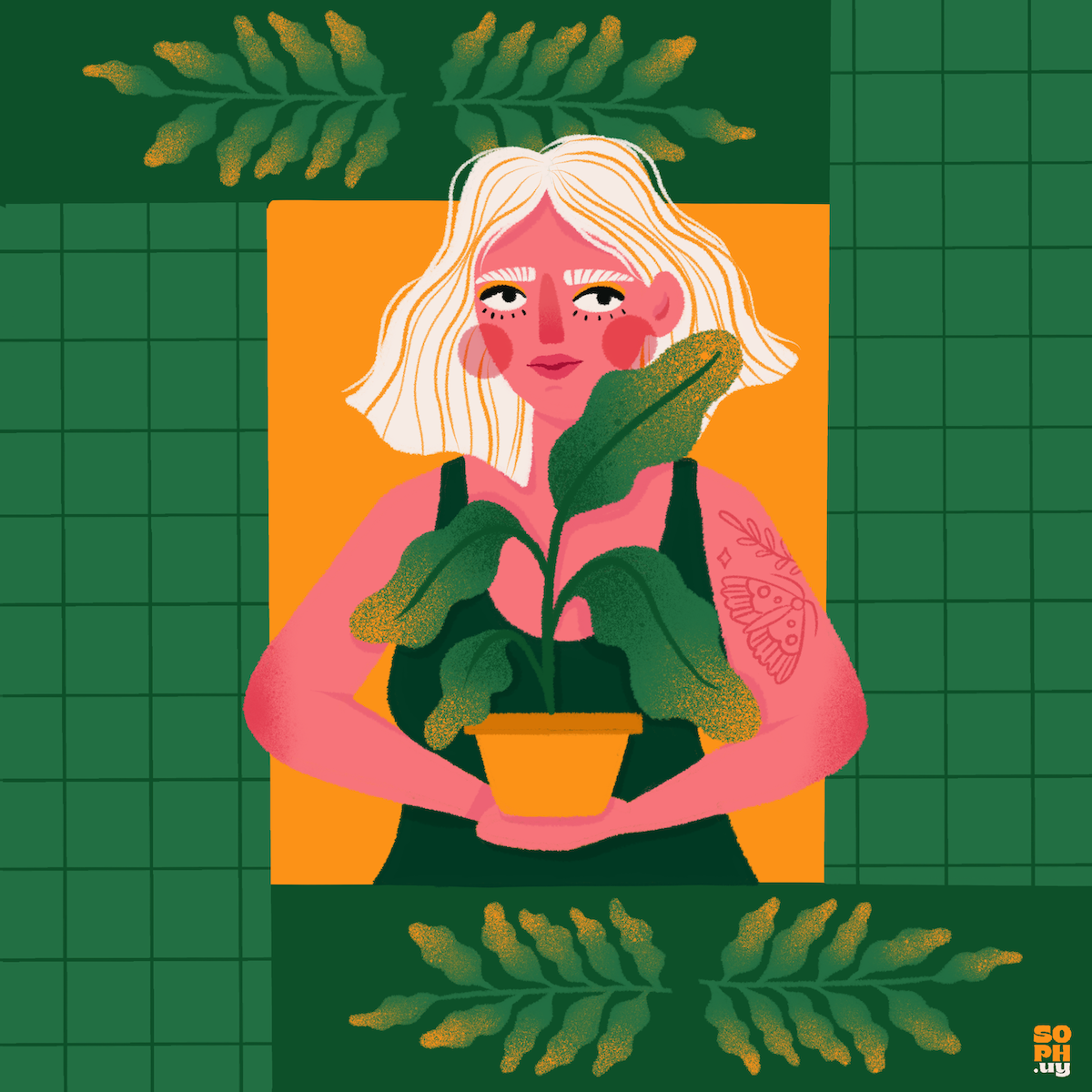 7. Where did you study?
I have a bachelor's degree in graphic design from Universidad ORT, Uruguay. Next month I will start a master's degree in Art Direction. I'm a self-taught illustrator, testing and experimenting.
Me recibí de Licenciada en Diseño Gráfico en la Universidad ORT, Uruguay. Además, el mes que viene voy a empezar un Máster en Dirección de Arte. Con la ilustración soy bastante autodidacta, haciendo pruebas y experimentando por mi cuenta.
8. Where do you see yourself in five years?
Traveling. I strongly believe that traveling and getting to know different places from around the world is essential to get inspiration. Being able to try new things and break the routine.
Viajando. Conocer diferentes lugares y culturas creo que es la mejor forma para mejorar la inspiración. Poder probar cosas nuevas y salir de la rutina.
9. What about in ten?
It would be great to be professionally independent, have my own design studio. One of my dreams is to illustrate a book, I hope I have done it by then.
Me encantaría ser independiente laboralmente, tener mi propio estudio de diseño. Un sueño que me encantaría tener cumplido es poder ilustrar algún libro.
10. What do you hope to achieve with your art?
I wish one day my work inspires somebody.
Espero que algún día mi trabajo sirva como inspiración para alguien.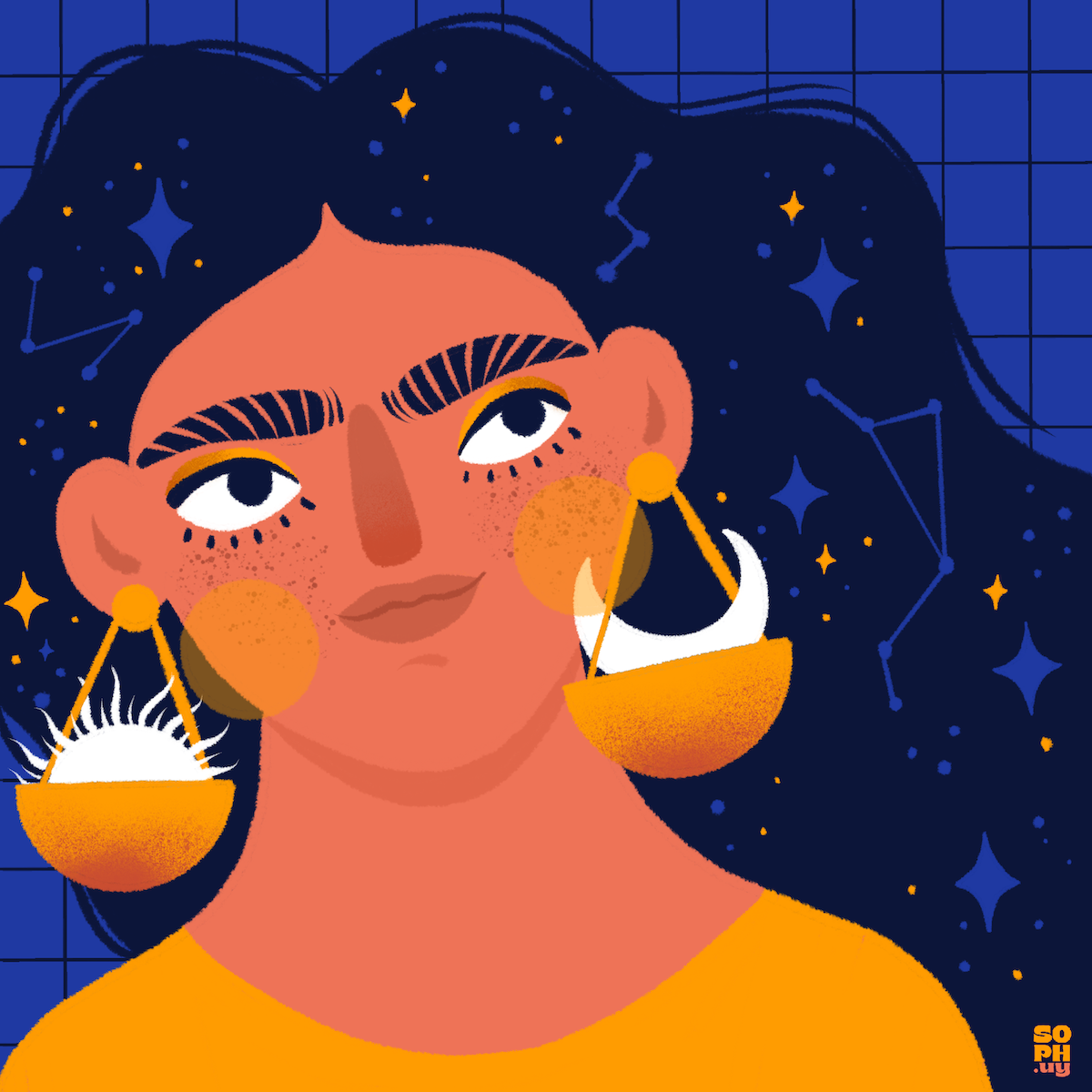 11. Now, tell us a little more about you as a person: what is your favourite food?
Although it sounds boring, any food with a lot of vegetables.
Aunque suene aburrido, cualquier comida con muchas verduras.
12. Favourite book?
I don't have an actual favorite but a book that I always read again and love like the first time is "All the Light We Cannot See" by Anthony Doerr.
Creo que no tengo favoritos pero un libro que siempre vuelvo a leer y me encanta como la primera vez es "La luz que no puedes ver" de Anthony Doerr
13. Favourite genre of music?
Any song that makes me dance.
Cualquiera que me haga bailar.
14. What are your hobbies?
Leaving aside illustration, a while ago I started pottery. I enjoy doing it a lot. The process is very slow and until the pieces come out from the oven you don't really know how they turned out or if they are broken. This made each piece much more special.
Dejando de lado la ilustración, hace poco descubrí el mundo de la cerámica. Disfruto mucho de hacer piezas. El proceso es mucho más lento que en la ilustración y hasta que las piezas no salen del horno no sabes realmente cómo quedaron o si se rompieron. Eso hace que cada una sea mucho más especial
15. If you weren't an artist, what would you be?
Maybe an architect or something related with communication, only if I were better with words.
Creo que sería arquitecta. Aunque si fuera mejor con las palabras seguramente hubiera estudiado algo relacionado con la comunicación.