Instagram:
@spencerafonso
Twitter:
@spencerafonso
Dribbble:
www.dribbble.com/spencerafonso
Website:
www.spencerafonso.com
1. What's your story? Where are you from?
My name is Spencer Afonso I'm an illustrator working out of Toronto. I grew up in a small lil town out in the greater Toronto area. Where I would spend days tracing comics, cartoon VHS covers or any of the cool artist's I wanted to grow up and be like. Eventually I made my way to the other side of the Toronto area and spent 5 years at Sheridan College where I finally grew into a (somewhat) real freelance illustrator.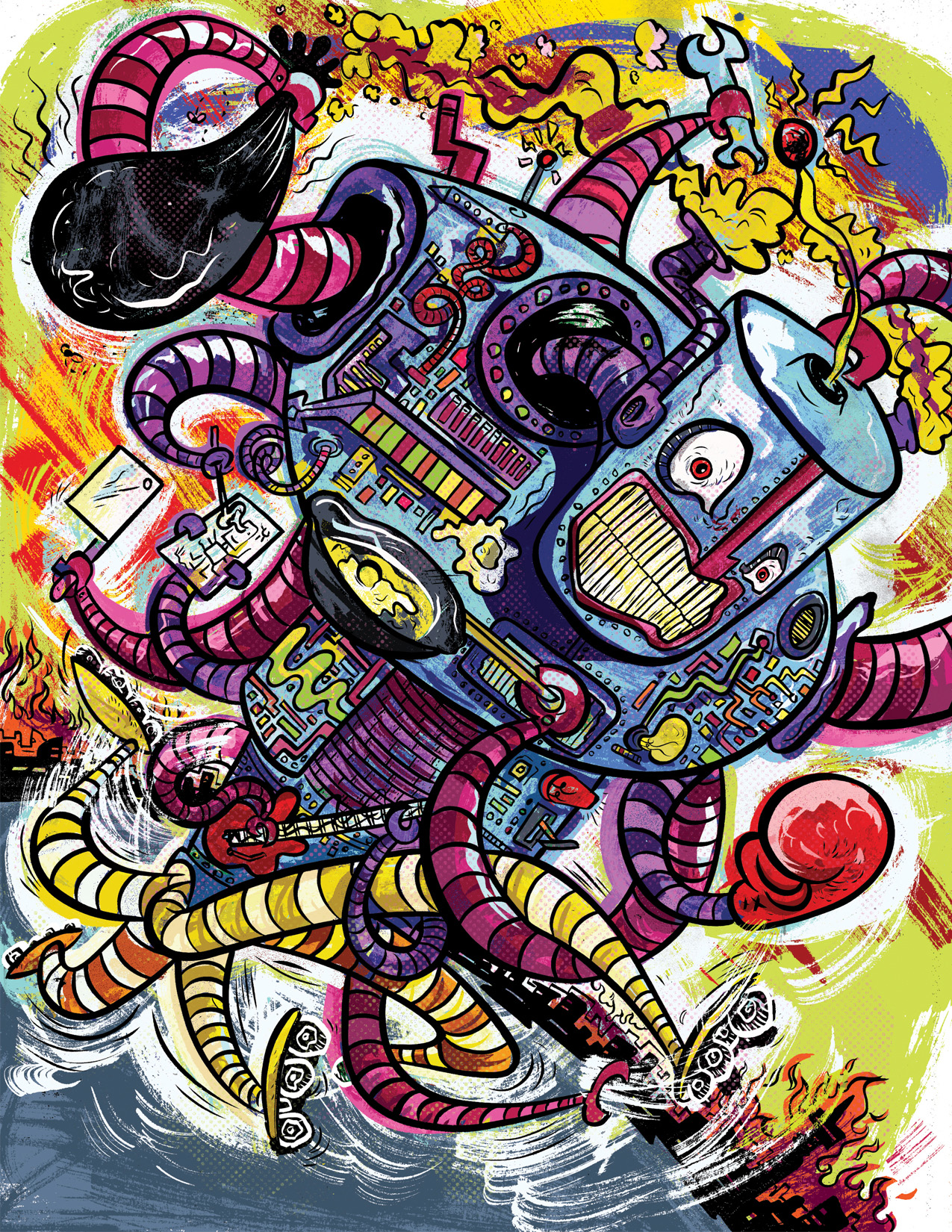 2. Tell us about your aesthetic.
I love creating crazy cool characters, a humorous subverse take on subject matter and bright bold visually orgasmic colours. I feel like I play around with these ingredients in every piece I do. Character and narrative have always been a favorite of mine and I always want to try and create something in a way only I could, looking at a subject though my twisted humorous lens and finding a path that people haven't explored or make them feel uncomfortable.
3. What is your favourite medium and why?
Brush and ink is my go to. I love thick bold line work and the feeling of inking with a nice brush and smooth ink is simply the best, something about the tactility of it just can't be recreated digitally for me. I create all of my linework traditionally with a brush and ink as well as any texture's and leave the assembly and color selection to the computer.
4. What is your artistic process like?
Whenever I get a new job in I start by finding an album or two that relates to whatever I'm working on maybe it's Brazilian jazz or nu-funk whatever fits with the piece and if I can find anything one of my favourite rap albums is the default. Then I start writing out all my thoughts/ideas about whatever the thing is and just create a long list-y mind map. I whip out a 18x24 pad of cheap crappy bond paper and cover with illegible notes and thumbnail sketches that are usually just shapes or simple composition short hands. Whenever I'm confident with what's going on or more likely the deadline is nearing and I have no more time to keep fussing over a rough I move onto drawing the final.
5. Who and/or what inspires your work?
Seasons 1-10 of the Simpsons, Looney Tunes, classic comics,Weirdo's who talk to you at the bus stop and give you that uneasy am I gonna be stabbed feeling, vintage advertising, old playboys and a bunch of really killer artists.
6. What role does art play in your life? How does it change the way you view the world?
Art has basically consumed my life. I'm always looking things, people and events as possible inspirations for weird background characters, sketchbook prompts or story ideas. As Well as constantly looking for potential job opportunities finding places that could use illustration I had never thought about.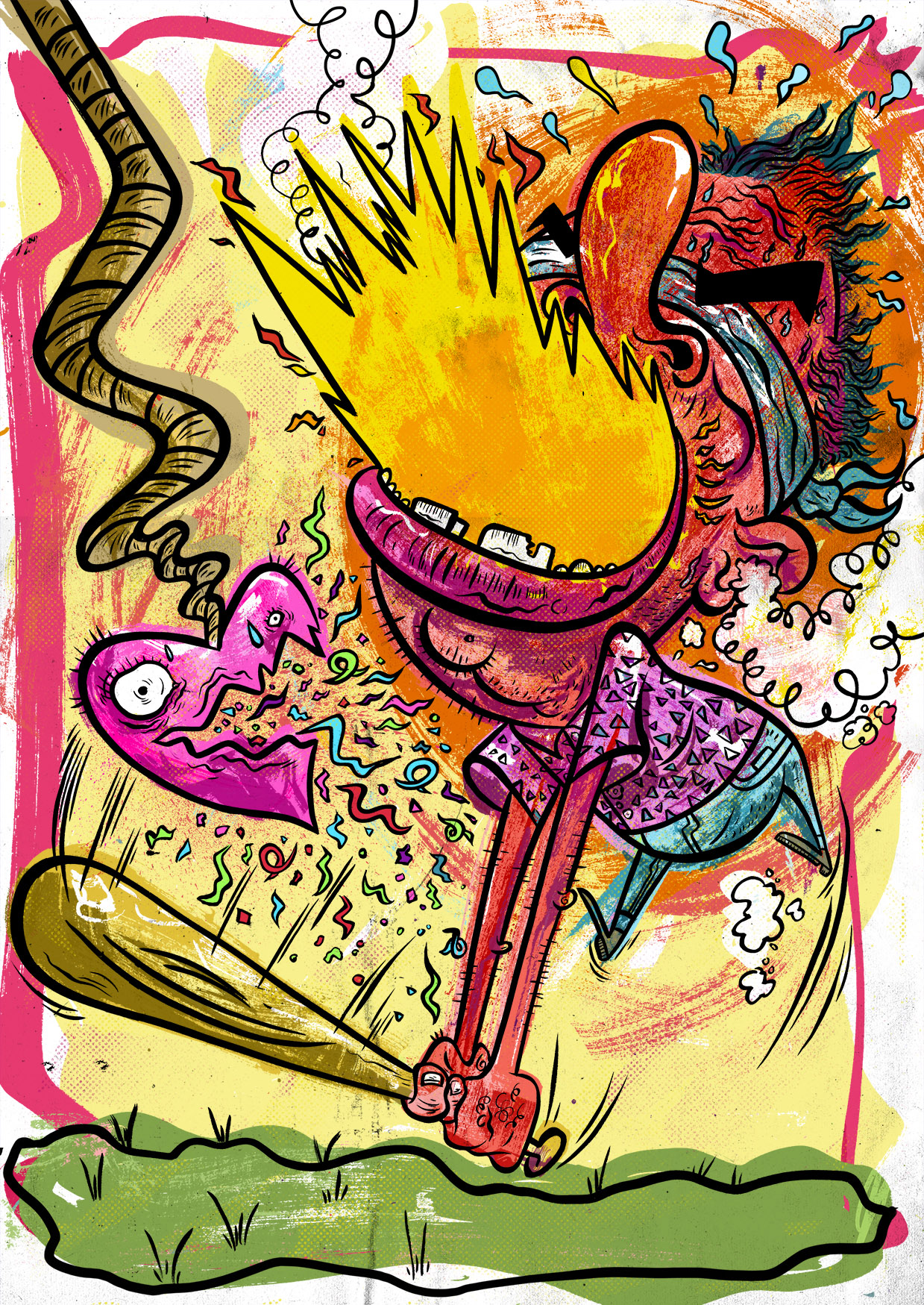 7. Where did you study?
I took a one year art fundamentals course at Sheridan College in Oakville then was thankfully (and luckily) accepted into their illustration BA program where I studied for four years and graduated best in show.
8. Where do you see yourself in five years? Working in an agency?
Basically doing what I'm doing now as a freelance artist but with more clients and maybe a slightly more money and itty bitty bit less debt? And maybe a cat.
9. What about in ten?
Even more clients. Still debt but not as much, maybe a not terrible apartment or dare I say house? Also hopefully the same cat from year 5 is still alive.
10. What do you hope to achieve with your art?
I love seeing people laugh at my work. Either in a "I can't believe you drew that" or "WTF am I looking at" or just a big smile from the blazing bright colours and kooky characters. Entertaining and making people slightly happy for the few seconds when they see a cool thing I drew is so enjoyable.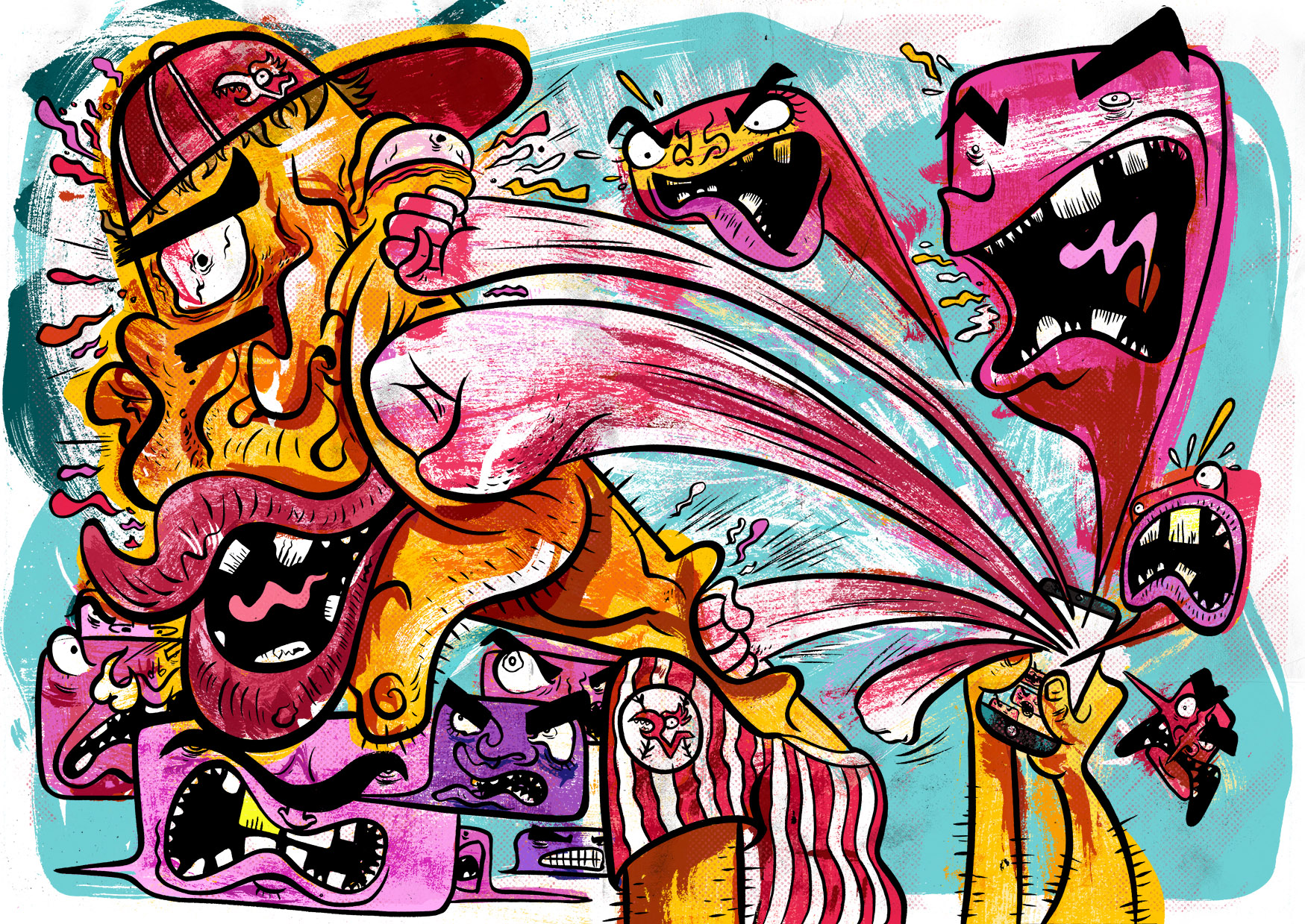 11. Now, tell us a little more about you as a person: what is your favourite food?
I'm always a fan of Fish & Chips probably because of all that British in my blood but right now I've been craving Brazilian barbecue all week.
12. Favourite book?
Kafka's The Trial is one I've gone back too recently.
13. Favourite genre of music?
Rap & Hip Hop are what's most often blaring while I work.
14. What are your hobbies?
Basically when I'm not doing art for someone else I'm doing art for "my hobby" but I've also gotten back into writing and poetry more lately.
15. If you weren't an artist, what would you be?
Olympic Gold medal rocket sled champ.