Instagram:
@spookydaikon
Website:
www.rachelxiang.com
1. What's your story? Where are you from?
Hello! My name is Rachel, and I currently live in San Francisco. I grew up in Michigan but my parents are from Wuhan, and my dad moved to Hong Kong when I started high school. Because of that, I spent a good amount of time visiting those cities while growing up too. When I was young, I wanted to be a veterinarian-artist (a new profession I tried to invent). My love of animals later led to using Neopets, which taught me some basic HTML and got me interested in coding. Later on, I majored in Computer Science and started working as a software engineer while creating art in my free time. Even though my path to being a freelance artist wasn't direct, I'm grateful for my path. It's allowed me to meet amazing people in a beautiful city, develop a high tolerance for staring at a screen (ha), and give myself time/resources to explore my creativity. I started to think more concretely about full-time freelancing after taking a few months to travel and volunteer in 2019. I spent a few weeks with a Taiwanese artist community which gave me a taste of creating art as a day job. When I returned to my engineering job, I used my free time to find a way to make that reality. Last winter, I took a class in Blender with my housemate and absolutely loved it. This spark, the supportive 3d community, and interesting job opportunities gave me the courage to make the leap into full time freelancing.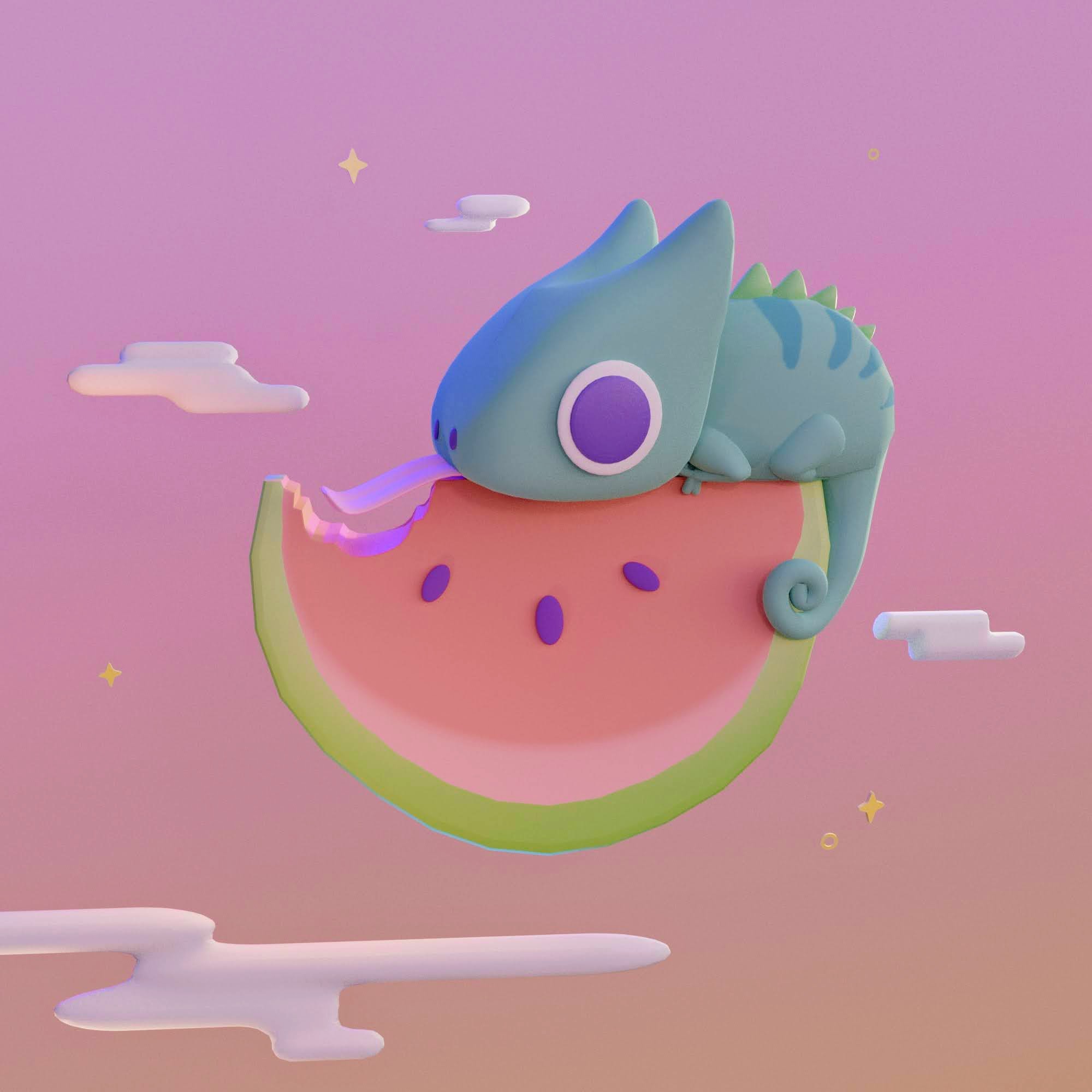 2. Tell us about your aesthetic.
Bright colors, cute critters, and soft textures. It took me a while to develop my aesthetic -both in my personal life and in my art. I had studied and worked in an environment that seemed to favor clean lines, neutral colors, and efficiency. There weren't that many women in my classes, and I didn't feel confident enough to stand out with bright feminine colors. After time and support, I became more confident in myself. Unlocking that part of me led me to find my current art style. That being said, I want to keep trying new styles! I know my aesthetic will change as I do.
3. What is your favourite medium and why?
Recently, 3d digital art, though bamboo and clay have a soft spot in my heart! For me, 3d thinking comes easier than 2d whether it's in a traditional or digital medium. Digital is more comfortable for me, but I think mediums are more therapeutic.
4. What is your artistic process like?
Usually, I'll start off with a sketch and a mood board on pinterest for inspiration. For animations, I'll try to play music that I think might go well with the movement while I work. Then, I'll block out basic shapes in Blender and add basic lighting to set the mood. I try to re-use old models if possible, especially when blocking the background. When I get stuck, I send a render to my ipad and sketch over the render in procreate since it's easier to try things out that way. Once I find an idea I like, I'll continue to model in Blender. With clients, there will be a few rounds of revisions where I'll come up with a couple of starter questions to make feedback more structured.
5. Who and/or what inspires your work?
Anything and everything! Long walks, movies, housemates goofing off, a great conversation, or a delicious meal. Other artists, anime, and video games also heavily influence my ideas and spark new ones. I started learning 3d Illustration when lockdown was strict in the US, and I was inspired by the places I wanted to but couldn't go.
6. What role does art play in your life? How does it change the way you view the world?
Art encourages me to take care of myself. I know I create most freely when I am feeling nourished, safe, and adventurous. For me, art encourages play and careful observation. I easily get lost in my own imagination and can find it hard to express myself with words. Creating art is important to me because it allows me to excavate daydreams by bringing them into reality. I love that it gives me balance between dreaming and being grounded.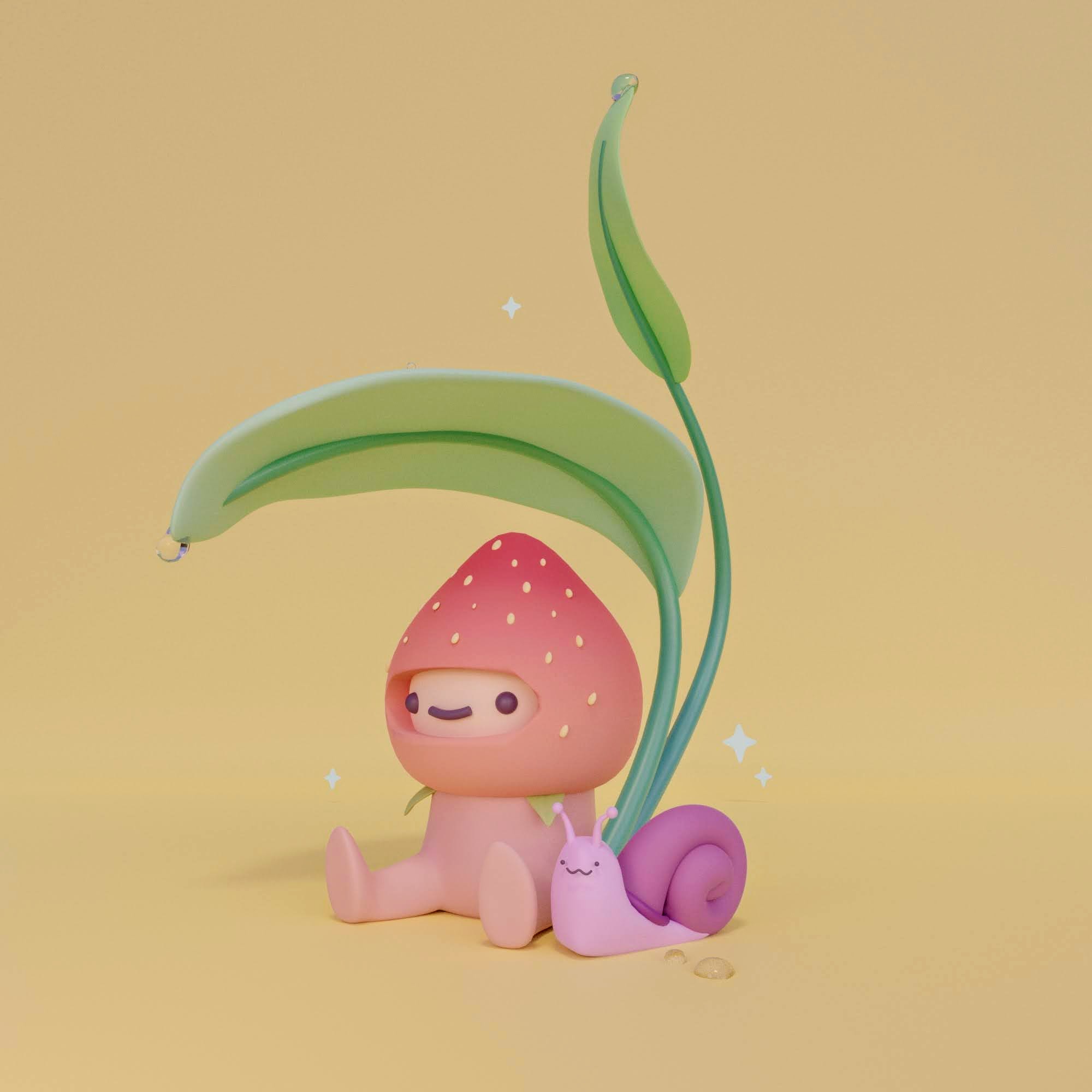 7. Where did you study?
As a kid, I took still life drawing classes in the basement of my mom's friend (haha did anyone else do this?). Later, I studied Computer Science at the University of Michigan. I never took an art class in college, but looking back I wish I did. I can't change my past but I can change my future (and luckily there are plenty of art online classes) :)
8. Where do you see yourself in five years?
I hope to have seen more parts of the world, and have found a studio space to create in together with friends. Would love to have put on an art show, maybe with projection art. Professionally, I would have hoped to build out my clients and found a base whose values align with my own.
9. What about in ten?
More of the above! (Ask me in 5 years? :) )
10. What do you hope to achieve with your art?
That's a great question, and one that I'm still learning the answer to. For some time, my goal has been to bring a sense of wonder to others. I want to make more space in the world for the cute and colorful when those sides of us can feel dismissed or devalued. I think that like most things, art is best experienced with the mind and body. That's why physical space and projection art appeal to me. I have a long way to go, but I'm excited for what the future holds.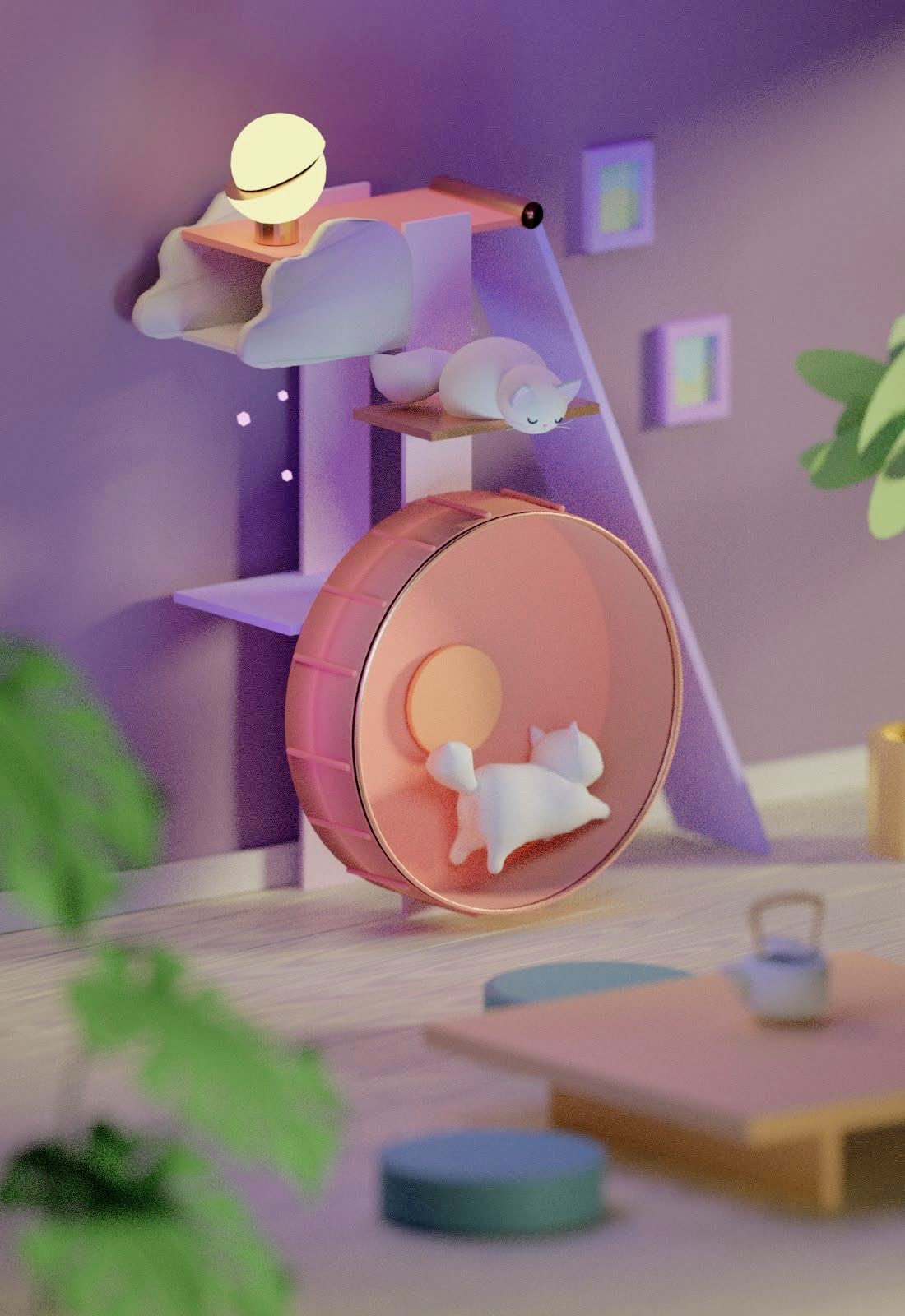 11. Now, tell us a little more about you as a person: what is your favourite food?
A hard question! One savory and one sweet - roast duck and coconut cream pie. :)
12. Favourite book?
One book I keep going back to is The Artist's Way by Julia Camereon. It's a 12 week workbook that has been helpful in keeping my creativity healthy. It's written in a gentle encouraging voice that empowers me to make changes in my life (and introspect on what is holding me back). I tend to return to it whenever I feel like I am in a personal or creative rut.
13. Favourite genre of music?
I love indie pop, r&b, and the soundtrack of whatever video game/movie I'm currently obsessed with. Depending on my mood I'll listen to anything from classical to electronica.
14. What are your hobbies?
Recently, I've been in love with inline and ice skating! It's so fun to groove to music while on skates - it takes me out of my head and into my body. I consider myself a clumsy dancer, but it feels more natural to know what to do with my body when I skate. (Maybe because it's impossible to worry about looking awkward when I am just happy to stay upright!) I also live by a skate park and the community there is so vibrant - it puts a smile on my face.
15. If you weren't an artist, what would you be?
Maybe, I would be a hairdresser.... I've been cutting and dyeing my own hair for a few years, and I've been known to try to convince my friends to let me do theirs.