Instagram: @sriyart
1. What's your story? Where are you from?
Hi. My name is Sriya Singh. I'm a self-taught illustrator. I'm from India. Born in Chhattisgarh, brought up in Kolkata and currently moved to Bangalore.
I'm not from an art background. So, being able to earn as an artist was never a part of my plan. I studied zoology Honours and after my first year during my semester break, I got to introduced to graphic designing, for the first time. After doing some research I was amazed by the endless possibilities. And decided to take a three-month course in graphic designing in a centre near my house.
Around this time, I recently joined Instagram and decided to share whatever I was learning. I guess through that process I discovered digital illustration. I was blown away!! I knew this is something I had to try. So, in my first month of graphic designing when I learnt about photoshop I quickly learned all the basic tools especially the brush tool!! and from that day I never stopped creating illustrations.
That's how my journey as an illustrator started. I completed my zoology Honours in 2019 and now I'm working as a full-time illustrator. I'm really happy.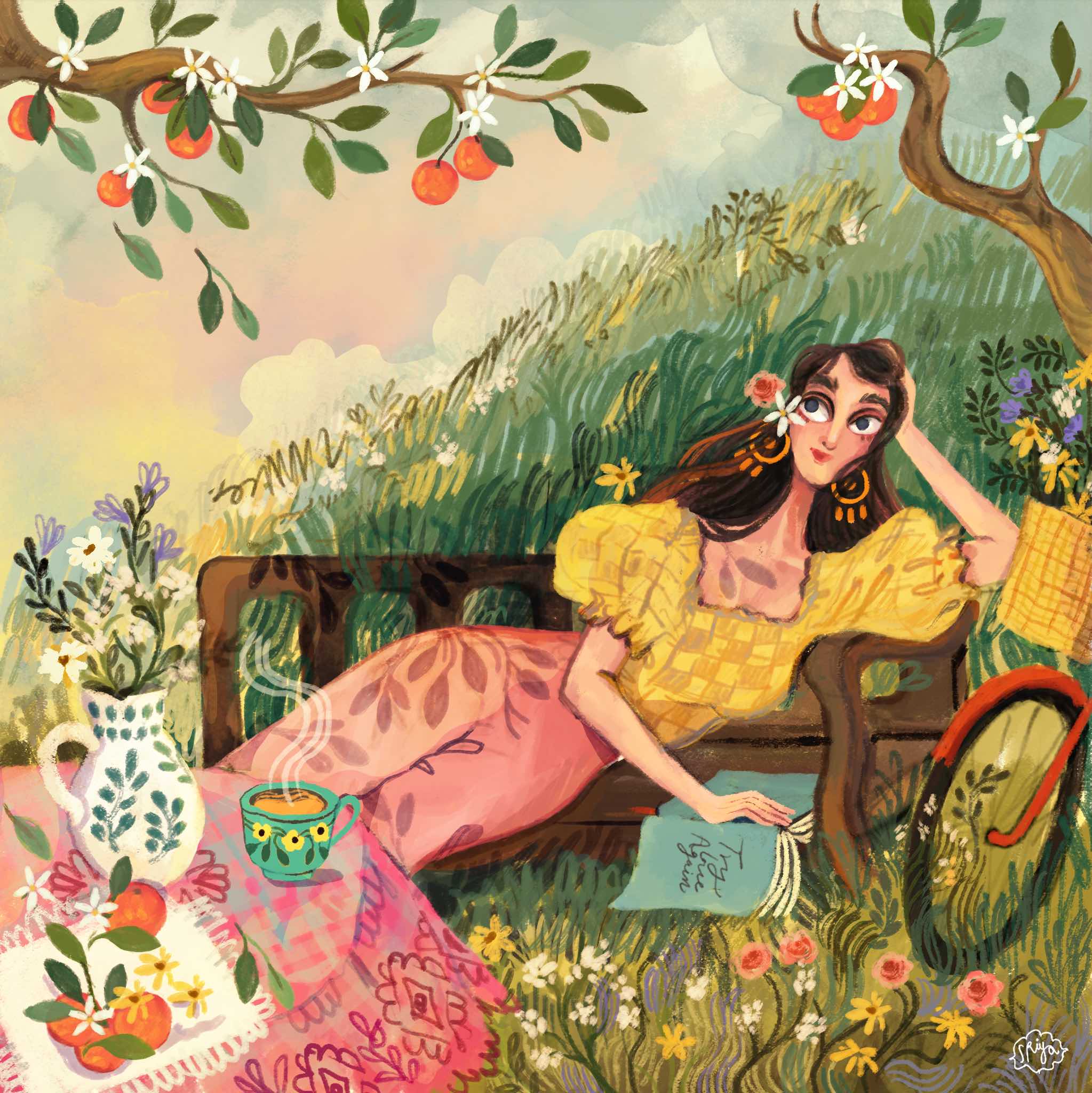 2. Tell us about your aesthetic.
My illustration style has changed a lot from the time I started. It has been a journey!!! I like to keep my process very organic and see what comes out of it. The kind of music I listen to has a major role when it comes to the mood of my aesthetics. I like to reflect a certain sense of calmness through my illustrations.
3. What is your favourite medium and why?
I am more of a digital medium person than a traditional one. I don't remember when was the last time I used a paintbrush or a pencil. I think I'm not very comfortable making mistakes when it comes to the traditional medium. Whereas, the digital medium is more forgiving. Plus it's easier to share the artwork as well. So, I have a comfort zone and I love creating artworks digitally. But I do have a soft corner for traditionally created artworks and wish to be good at it one day.
4. What is your artistic process like?
Initially, I start the process by spending some time doing research work and developing the concept with the details that the client provides. Then creating rough sketches on my iPad. Once the concept along with the sketch is finalised, I use photoshop for painting. When it comes to adding colours, If the client demands any specific colour palette then I try to incorporate those colours with my aesthetics. But if it all depends on me, I like to go with the flow.
5. Who and/or what inspires your work?
Sometimes it's my early morning walks, sometimes a good cup of coffee. I draw inspiration from my surroundings, nature, good conversation, dreams, people, music, other artists and creative people in general. Inspiration is everywhere. I believe you need the right energy and intentions to find it.
6. What role does art play in your life? How does it change the way you view the world?
Art is the biggest source of my contentment. This is what I do all day. And let's not forget it pays my bills. Hahaha...Hence, Art plays a major role in my life.
Art is like a voice that has a very strong influence on our day to day life. It has provided me with a very unique and beautiful perspective to look at the world that we live in.
7. Where did you study?
I am a self-taught Illustrator. Initially, When I was living in Kolkata, with my parents, I used to practise digital illustration at home and later, use to share it on my Instagram consistently. Around mid-2018 I was offered a job opportunity as an illustrator in a very famous media company in Delhi. But as I was in my second year, I decided to do an internship instead. That internship experience was a turning point in my life. I decided I want to work as a full-time illustrator in the coming future. I was studying Zoology side-by-side as well. By the end of my third (final) year of college, I was offered another opportunity for an internship by a very well-known smartphone company in China. Soon after I graduated, I shifted to Bangalore to join a full-time job as an illustrator.
Why did I mention all this? because all my learnings, and knowledge has come to me from these experiences. I have learned a lot from my job and the internships I did.
8. Where do you see yourself in five years?
Interesting! I'm not sure but sometime in my life, I would like to do a master course in this field. I'm not sure!! I definitely want to use my skills in any way that helps me become a more mature and independent artist.
9. What about in ten?
I would love to be able to travel around the world for my work. Ahh!! Even thinking about it gives me goosebumps...haha!!!
10. What do you hope to achieve with your art?
As my Instagram bio says "just trying to be happy.", that's exactly what I want to achieve in my life. I want to make people smile, make them feel content and happy through my art.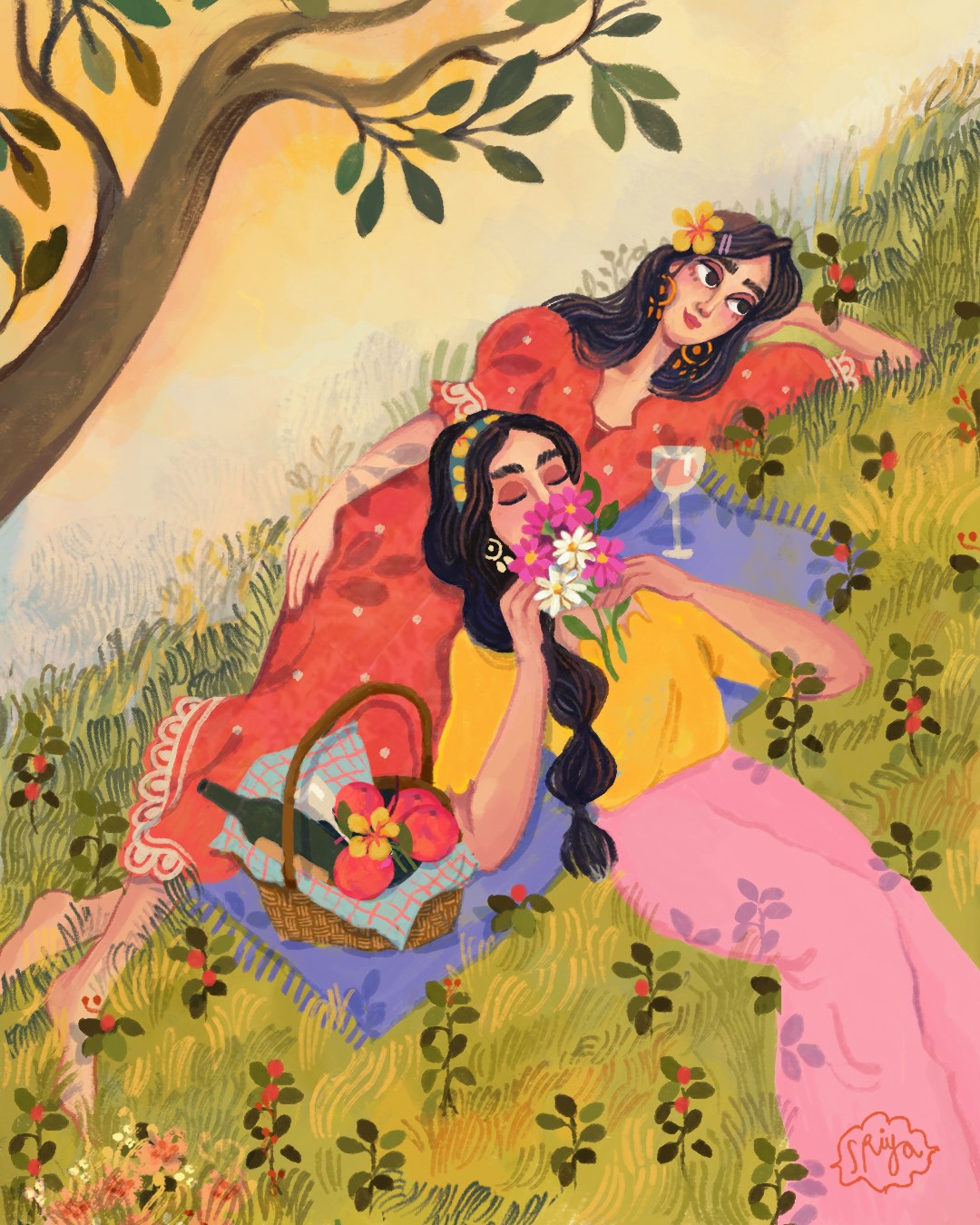 11. Now, tell us a little more about you as a person: what is your favourite food?
Ahh! I love eating salad. I have a special corner for broccoli. I can't imagine my life without pickles all kinds!! As I am vegetarian, Paneer/tofu is love.
12. Favourite book?
I'm not an avid book reader and I feel I should read more often. I have recently started reading my first book "Americanah" which I hope I finish by the end of 2020 as I am a slow reader and I get caught up with work.
13. Favourite genre of music?
Indie folk & Lo-fi hip-hop are my favourites genre.
14. What are your hobbies?
I like watching Detective movies & murder mysteries. This Genre is my favourite. Watching F.R.I.E.N.D.S on repeat is just LOVE. Apart from that, I love making a good bowl of salad and art journaling is also something that I like to do in my fun time!
15. If you weren't an artist, what would you be?
This is a tricky question. I love what I do already and I can't think of anything else. Not anything related to Zoology for sure!!! hahaha.