Instagram:
@srkart
Twitter:
@srkart
Shop:
www.shannonrknight.com/shop
Website:
www.shannonrknight.com
1. What's your story? Where are you from?
Hi! My name is Shannon Knight and I was born and raised in rural Massachusetts. I currently live in southern California with my rabbit and longtime studio companion, Ray. I've been making art since I could hold a crayon and I am currently a full-time illustrator and graphic designer.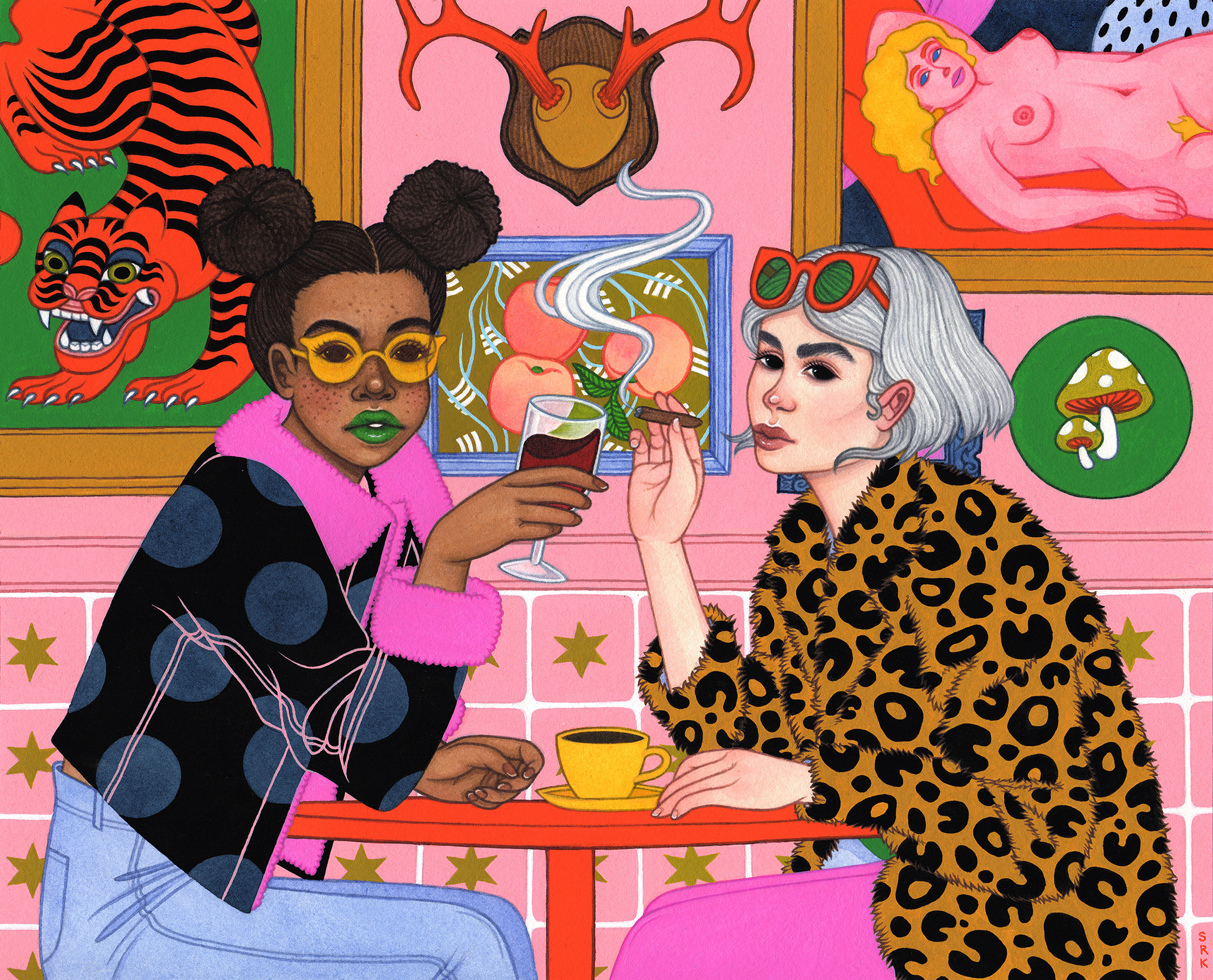 2. Tell us about your aesthetic.
Some of my earliest inspirations were Golden Age illustrators like Edmund Dulac, Aubrey Beardsley, and Harry Clarke. Their line quality and precise detail still informs my work, even though I rarely use pen and ink these days. I also draw from groovy flower power patterns and interior/industrial design from the 60's and 70's, vintage magician and circus posters, and occult and religious art, particularly those full of demons like the work of Hieronymus Bosch.
3. What is your favourite medium and why?
I work with a variety of media because I don't like to commit. I use watercolour because it allows for great depth and delicacy, particularly in skin, and I use acrylic gouache for vibrant punches of colour and sharp contrasts. My sketchbook is an experimental laboratory – paint, markers, pencils, pens, charcoal.
4. What is your artistic process like?
For a job, or any finished painting, I start with thumbnail sketches – small, loose, barely interpretable to anyone but me. From there, I gather any reference I need and start the final drawing. For a complex piece like "Hula Hell", the final drawing is composed of several elements that are drawn separately and then scanned in and arranged together in Photoshop. When I am happy with the final drawing, I do a colour study, also in Photoshop –I colour the whole thing in digitally to make sure the palette works before I start painting. Then, I print the final drawing and transfer it to watercolour paper with a light pad. It's very tedious and it really sucks. Once transferred, I clean up the drawing and finally I can paint!
5. Who and/or what inspires your work?
There are so many incredible artists and illustrators working right now that blow my mind every day. Instagram is where I keep tabs on artists who inspire me, and Pinterest is where I collect patterns, poster art, vintage kitsch, hand lettering, and other odds and ends that often inform my paintings.
6. What role does art play in your life? How does it change the way you view the world?
It is my life! I genuinely don't know any other mode of operation. I'm always on the lookout for something interesting to inspire my next piece – which means that unfortunately for my boyfriend, I am constantly pulling over to photograph a neon sign I like or pausing the movie to screenshot a particularly beautiful scene.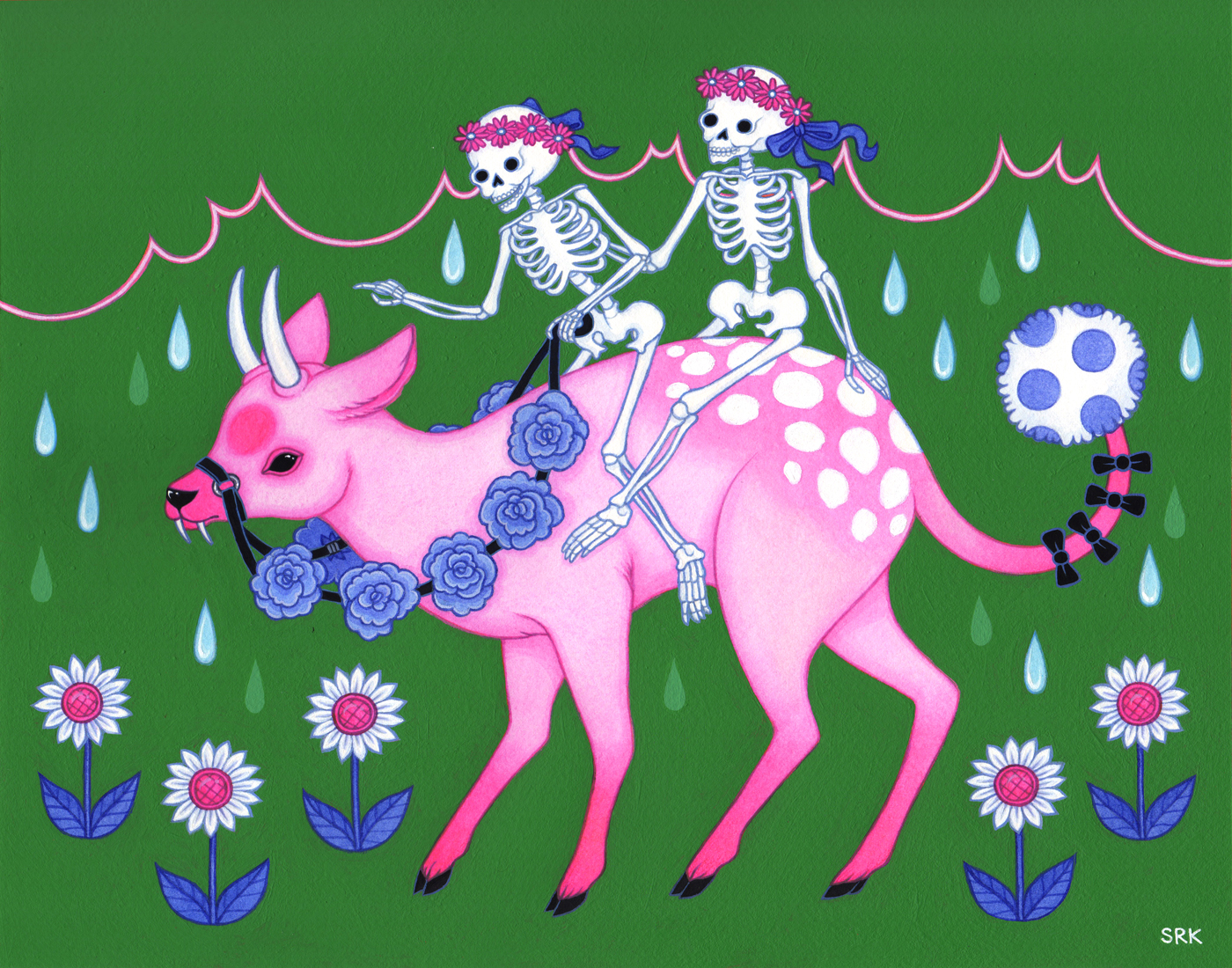 7. Where did you study?
I went to MassArt (Massachusetts College of Art and Design) - lucky for me, the only state art school in the country is in my home state!
8. Where do you see yourself in five years?
Continuing the grand hustle of freelancing! I'd love to work with some of the people on my collaboration "wish list", and there are so many avenues within illustration that interest me. I have a long-term goal of getting in to surface design, textiles, and apparel – shirts and bags and journals with my designs on them. I also want to put on a solo gallery show. I also want to paint a mural. I want to do everything.
9. What about in ten?
All of the above, plus a cozy cabin in the woods with goats and rabbits and chickens. Not sure how I'm going to pull off this contradictory lifestyle but I'm determined.
10. What do you hope to achieve with your art?
If I can make one person feel the way I feel when I look at great art that I love and that inspires me, then that is more than I could ever hope for. If I can put a smile on someone's face because they realize they're not the only one who loves disco and demons, that's terrific.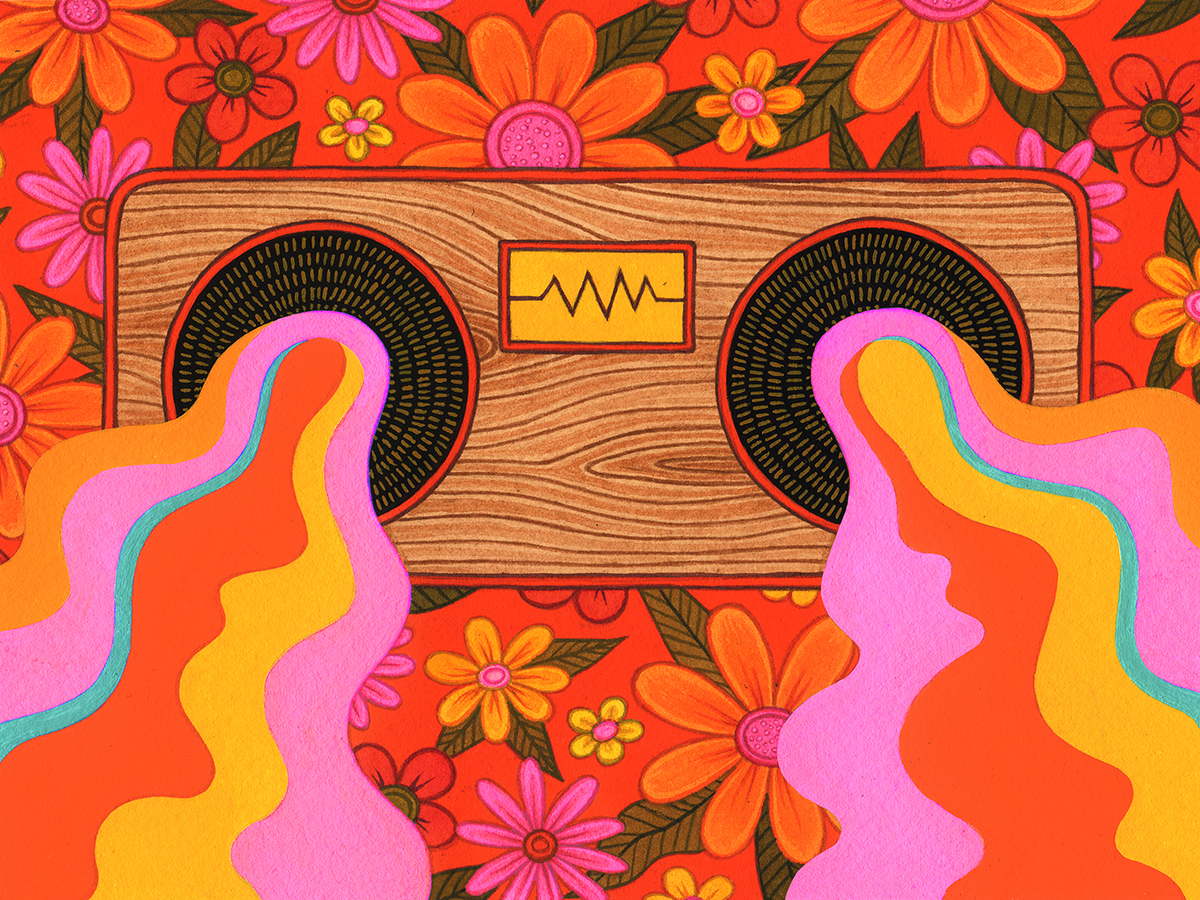 11. Now, tell us a little more about you as a person: what is your favourite food?
Sweet potatoes. I eat them every single day with few exceptions. I think my body is physically dependent on them.
12. Favourite book?
My favourite books that I own are my dad's copy of "The Island of the Blue Dolphins" which had a profound effect on me as a little girl – I was and am a sucker for a wilderness survival novel – and my copy of "The Amorous Drawings of the Marquis von Bayros", a collection of erotic illustrations from the turn of the century. Currently, I'm coming off an extensive John Steinbeck kick and reading a lot of commune/hippie memoirs.
13. Favourite genre of music?
I listen to just about everything, but largely I probably share your grandpa's taste in music. I am currently in a serious country phase – Buck Owens, Conway Twitty, Loretta Lynn. There are several Western shirts in my Amazon shopping cart right now. My go-to jams are usually 60's and 70's soul, rock, and pop, and disco. If I have to pull an all-nighter to finish a job, you know I'm blasting ABBA and ELO.
14. What are your hobbies?
My boyfriend and I get up at the crack of dawn every Saturday morning and drive out into the mountains with thermos flasks of coffee to hike. Southern California is beautiful but I am a woodswoman and I need a regular escape! I am also an avid flea marketer, forever on the hunt for treasure (i.e. vintage ceramics and bad taxidermy).
15. If you weren't an artist, what would you be?
Some other kind of artist? Maybe a writer? I would probably run a ramshackle antique shop and yell at anyone who tried to buy the stuff I hid in the back for myself.