Instagram:
@sssskylarrrrr
Behance:
www.behance.net/skylar5695d038
1. What's your story? Where are you from?
I am from Fujian, China. I studied advertising at university and I am interested in illustrations. 我来自中国福建,我在大学学习的是广告专业,对插画感兴趣。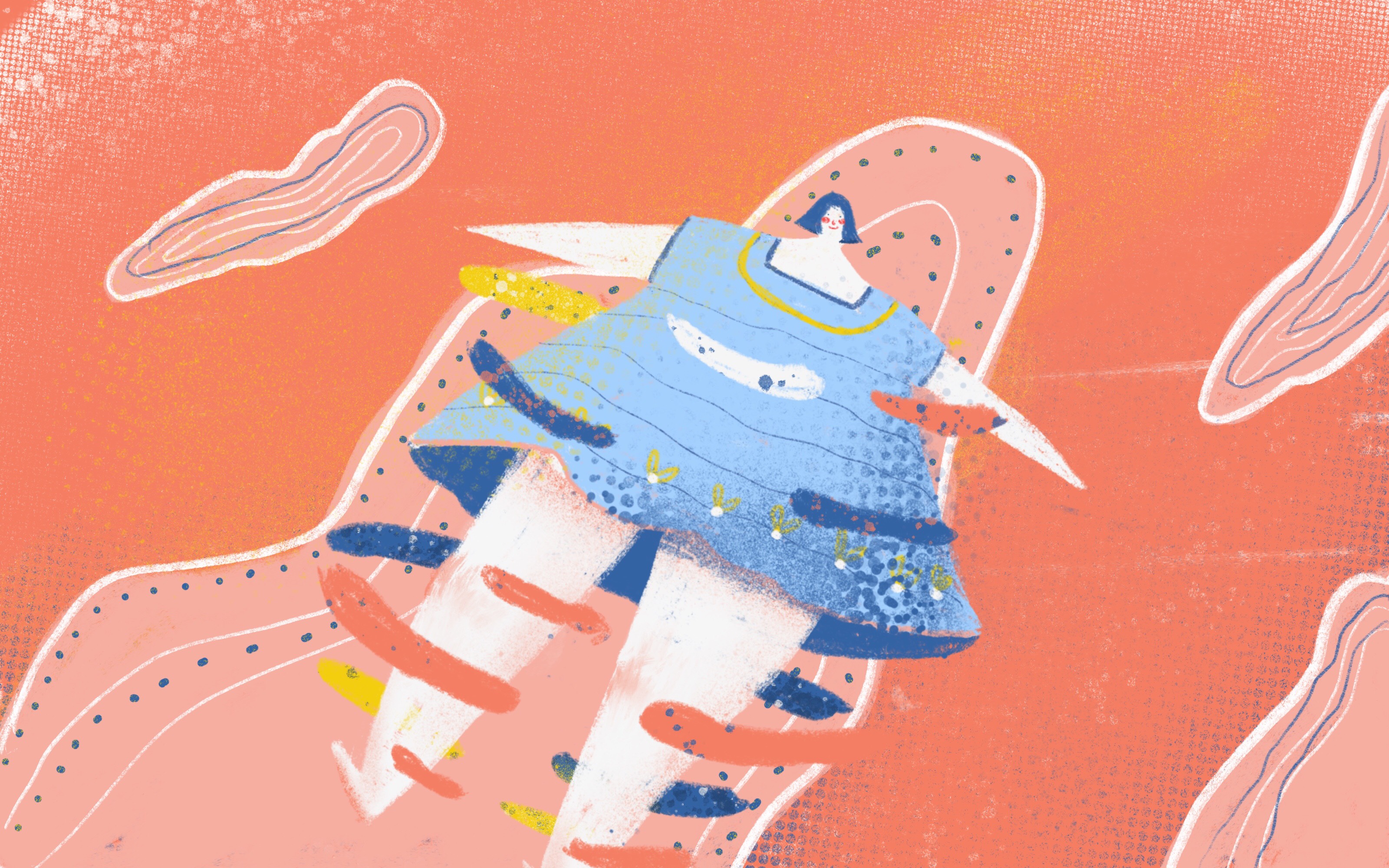 2. Tell us about your aesthetic.
I am used to using exaggerated character shapes and contrasting colors. 我习惯使用夸张的人物造型以及对比的颜色。
3. What is your favourite medium and why?
I usually do my paintings in a digital way because it is very convenient and efficient. But in daily life, I will record some ideas through sketches, such as watercolor, pencil, crayons, and scrapbooking. I am willing to try many new media. They create different textures. I think this is a very fascinating process. 我通常通过数位的方式来完成我的绘画,因为它十分的便捷和高效。但是在日常中我会通过草图的方式记录一些想法,例如水彩,铅笔,蜡笔,剪贴,我愿意尝试许多新的媒介。它们会创造不同的肌理。我认为这是非常迷人的过程。
4. What is your artistic process like?
Sometimes, I will find inspiration in books, film music and personal life. First of all, I will feel the picture in my brain. This is a more emotional process. Then when drawing the sketch, I will consider some rational questions and how to express my feelings. 一些时候,我会在书籍电影音乐和个人生活中寻找灵感。首先我会在大脑中形成画面的感觉,这是一个比较感性的过程。然后在草图的绘制时,则会考虑一些理性的问题,如何表达我的感受。
5. Who and/or what inspires your work?
My professional class teacher gave me a lot of opinions and he encouraged me to find my own direction. But if you are not sure if you should be on this path, the advice of the seniors may give you a lot of help. 我的专业课老师给了我许多意见,他鼓励我找到自己的方向。但你不确定自己是否应该在这条道路前行时,前辈的意见或许能给你许多帮助。
6. What role does art play in your life? How does it change the way you view the world?
It gave me a lot of fun. I believe that illustrations can make life interesting, and illustrations as a vehicle for information transmission can make the world more diverse and colorful. 它给了我许多的乐趣。我相信插画可以让生活变得有趣,插画作为信息传递的载体,可以令这个世界更加多元和多彩。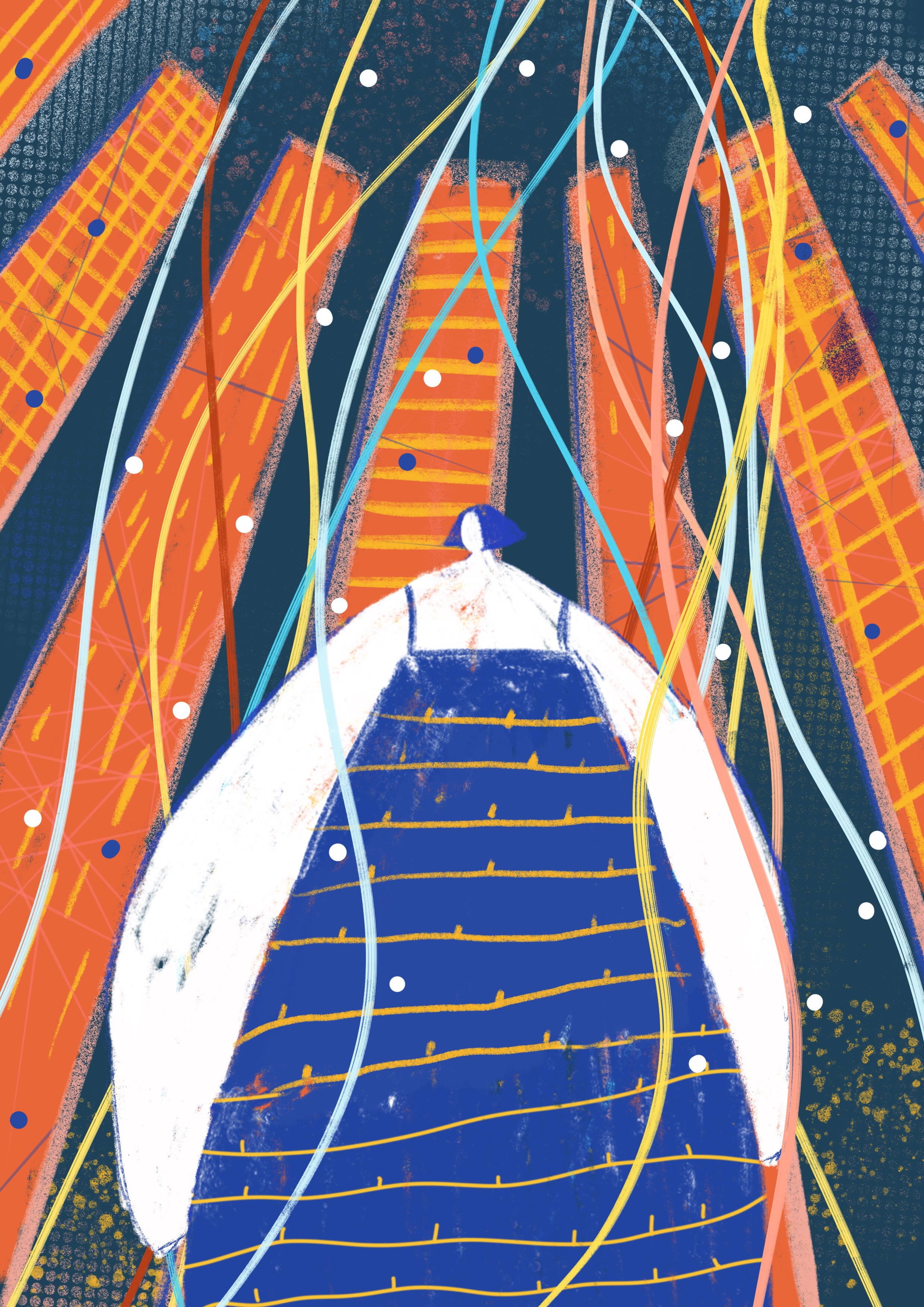 7. Where did you study?
Most of the time I study through the Internet, continue to pay attention to excellent work and try to express them in my own way. But I think that the important thing about creation is to feel life, maybe life experience is a good teacher. 大多数时间我通过互联网学习,持续的关注优秀的作品,并尝试通过自己的方式表达。但我认为创作很重要的一点是感受生活,也许生活经历是很好的老师。
8. Where do you see yourself in five years?
I hope that for 5 years, I will try more content, such as animation, picture books, and games. In fact, it is interesting to express the relatively boring science content in illustrations, etc. 我希望5年,我会尝试更多的内容,例如动画,绘本,游戏。事实上,把相对枯燥的科普内容用插画等方式表达是我感兴趣的。
9. What about in ten?
I hope to be more independent. Be able to meet more interesting friends and work together to complete some art activities. 我希望可以更加的独立。能够认识更多有趣的朋友,去共同完成一些关于艺术的活动。
10. What do you hope to achieve with your art?
First of all, the illustration itself can bring me happiness. Of course, I also hope that I can pass some useful information through the illustration. 首先,插画本身可以为我带来快乐。当然我也希望能过通过插画传递一些有益信息。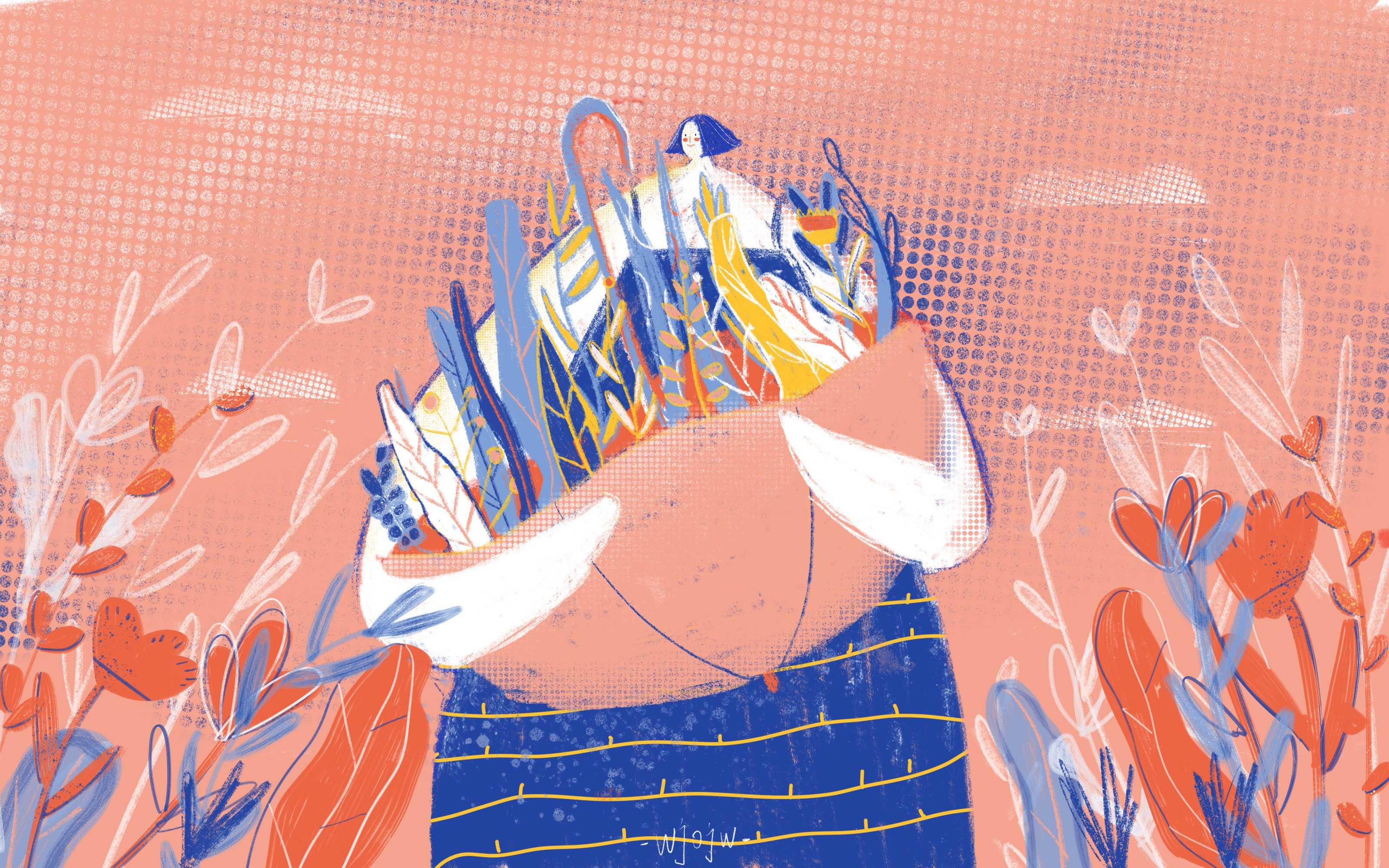 11. Now, tell us a little more about you as a person: what is your favourite food?
Clear soup noodles when you have a cold, chicken soup that goes home late at night, etc. 感冒时的清汤面条,深夜回家的鸡汤等等。
12. Favourite book?
I like many different types of books. I have recently watched Furukawa Juntaro's "Lonely for Two Billion Light Years". Poetry will give you a lot of imagination. 我喜欢许多不同类型的书,我最近在看古川俊太郎《二十亿光年的孤独》,诗歌会给人很多想象的画面。
13. Favourite genre of music?
I like Sakamoto Ryuichi and Mayday. 我喜欢坂本龙一和五月天。
14. What are your hobbies?
Everything fun. 一切好玩的事。
15. If you weren't an artist, what would you be?
I have never thought about this problem, but I very much hope that there will be a bookstore full of picture books. 我没想过这个问题,不过我很希望有一间放满绘本的书店。