Instagram:
@steffi.hofmann
Redbubble:
www.redbubble.com/people/stephaniehofman
Website:
www.stephaniehofmann.co.uk
1. What's your story? Where are you from?
I was born and raised in Bremen in the North of Germany. I moved to London 18 years ago and have been here ever since.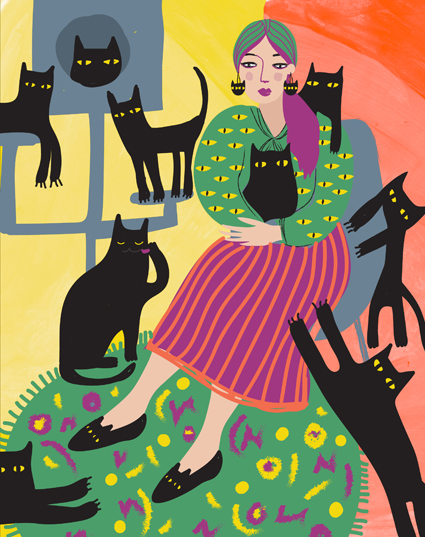 2. Tell us about your aesthetic.
Gothic surreal victorian, quite dark but bold and humorous too
3. What is your favourite medium and why?
I mainly work digitally, as I am quite impatient, and it seems to be the most efficient way of working for me. I often make textures manually which I scan in and apply to my work at the end. Saying that I do love a hand drawn aesthetic and it's something I'd like to explore more. I have recently got into making animated gifs, which I hugely enjoy, it's amazing to see a drawing come to life!
4. What is your artistic process like?
If it's client work I do a ton of research, I love to immerse myself in a subject, that's part of the fun of being an illustrator, then I make sketches, straight into a document on the computer from which I'll produce the final piece. If it's personal work I like to be freer and just start on a piece without planning and over thinking it and see where it takes me.
5. Who and/or what inspires your work?
Everything and anything really, something or someone I come across on the street, a song lyric, something I read, my cats, listening to really old people. I am interested in dark subjects and have a fascination with death and rituals. I like documentaries with Werner Herzog being a favourite, in art I love the surrealists, Max Ernst and Leonora Carrington, outsider art, I love Hieronymus Bosch.
6. What role does art play in your life? How does it change the way you view the world?
I dedicate most of my time to making art, it never feels like work and I love it so much, I feel very privileged and grateful to have this way of life. As in seeing other people's art, it can really make me feel, move me, unlock parts of my unconscious and make me feel happy to be alive!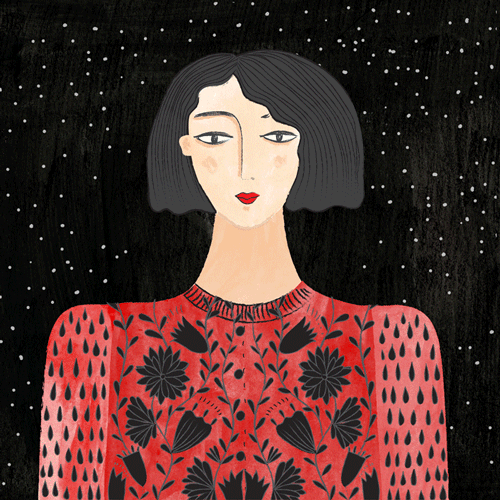 7. Where did you study?
I studied graphic design in Hamburg at the Kunstschule Alsterdamm. I am a self-taught illustrator.
8. Where do you see yourself in five years? Working in an agency?
I want to evolve and to continue to get interesting jobs and to be able to support myself with the illustration work. I would love to explore and get work in different and new areas.
9. What about in ten?
see above...
10. What do you hope to achieve with your art?
If what I do makes people feel something then that would be lovely.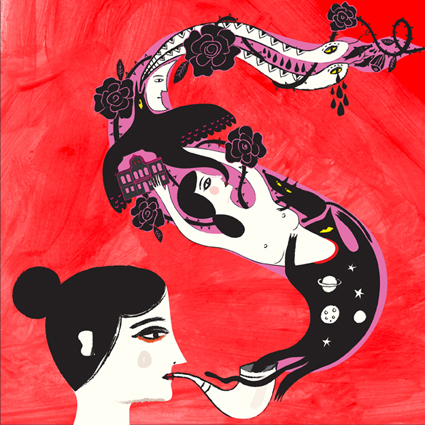 11. Now, tell us a little more about you as a person: what is your favourite food?
My boyfriend is a brilliant cook, I am very lucky, so anything that he makes for me and my mum's Beef Stroganoff.
12. Favourite book?
Anything by Herrmann Hesse, The Master and Margarita by Bulgakov, The Nausea by Sartre, Just Kids by Patti Smith
13. Favourite genre of music?
I like anything with a krautrock feel, Neu, Sonic Youth, Deerhunter, garage rock type stuff, Billy Childish and PJ Harvey and Nick Cave are all time favourites, but I like modern classical stuff too, Max Richter and Johann Johannson for example.
14. What are your hobbies?
I am running with an athletics club, I like cycling, going to gigs. I did a taxidermy course a while ago, but realised after stuffing a pigeon badly that I'd need to dedicate a lot of time to it to get good at it, and at the moment most of my time is taken up with drawing, but I may explore that further one day...
15. If you weren't an artist, what would you be?
A vet or a marine biologist.