Instagram:
@studio.zosara
1. What's your story? Where are you from?
Hi, I'm Sara, born and raised in Belgium. I have loved drawing ever since I was little. More recently, I really got into digital illustration on my iPad, and I post my work on Instagram.
2. Tell us about your aesthetic.
Cute, cosy and calm. With a limited colour palette. I combine about 5 colours of the palette to make the piece more consistent. I don't want my art to be too realistic, as I am often not patient enough to work on too many little details :-)
3. What is your favourite medium and why?
Definitely digital. I draw in Procreate on my iPad. I like being able to undo every mistake with a simple tap and try again endlessly!
4. What is your artistic process like?
First, I sketch out my idea in Procreate. For that, I use some reference pictures for poses or anatomy. I always redraw my sketch multiple times, each time perfecting it from very rough to the final clean sketch. Then, I play with colour combinations to see what works and what doesn't. Once I'm somewhat happy, I colour the final sketch with clean shapes and add shadows, highlights and textures (my favourite part!). At this stage of the process, I should be done, but nah... Being a perfectionist, I change the colours about twenty more times (decisions, decisions) and adjust the last details.
5. Who and/or what inspires your work?
I get inspired by travelling, nature, artists I follow on Instagram and Pinterest. I try to fully appreciate and enjoy the little things in life, and I also like to reflect that in my work.
6. What role does art play in your life? How does it change the way you view the world?
I have always loved drawing (or being creative in general) as a kid, as it simply made me happy and felt liberating. The older I got, the more drawing was an escape. After a long or stressful day, drawing is my kind of therapy to unwind and forget the world around me. Having a background in graphic design, I notice how I tend to look for the aesthetic everywhere I go, from good branding, to colour combinations or pretty interiors.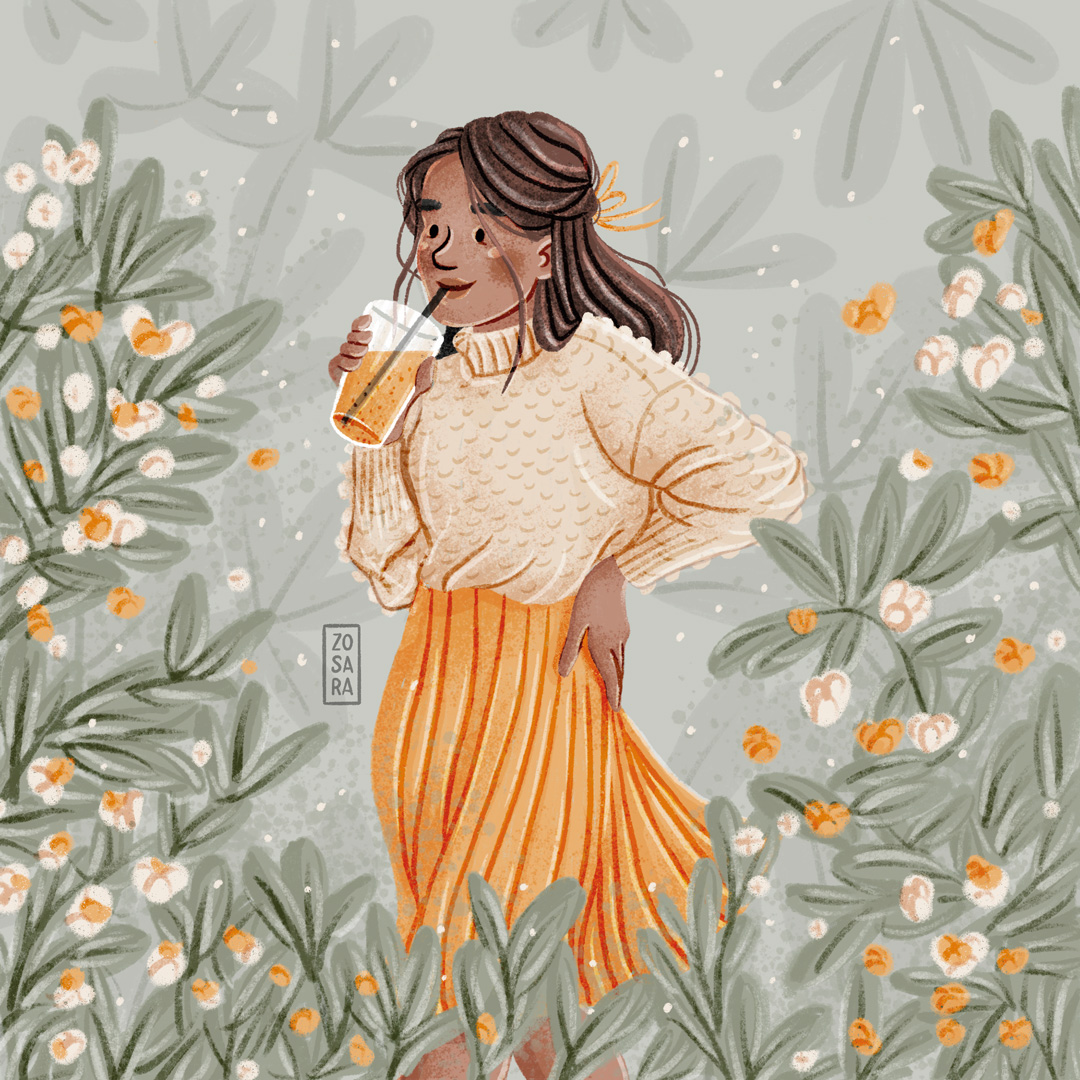 7. Where did you study?
I studied Graphic and Digital Media in Ghent.
8. Where do you see yourself in five years?
I'd still be drawing as a creative outlet in a little home studio or hobby room, where I'd also paint, sew, knit, make ceramics... I'd love to sell illustrated prints or cards one day.
9. What about in ten?
Whoah, that's a tough one! Doing whatever makes me happy.
10. What do you hope to achieve with your art?
I hope to inspire other people, put a smile on their face or even motivate them to draw more.
11. Now, tell us a little more about you as a person: what is your favourite food?
Pasta, no doubt. And I always have room for dessert, I love anything sweet!
12. Favourite book?
I'm not the biggest reader, so I don't think I have one?
13. Favourite genre of music?
When I draw, I love listening to cinematic film music or peaceful piano songs. But I also like catchy pop and indie acoustic songs.
14. What are your hobbies?
Well, drawing! And being creative in all kinds of ways. I also play the piano, take zumba classes and love to go shopping.
15. If you weren't an artist, what would you be?
Another tough question! Maybe I'd have an interior shop where I'd sell boho home decor.