Instagram: @studioskysi⁠
1. What's your story? Where are you from?
Hello! My name is Zeina, I'm an artist from the Maldives. I've loved to draw as far back as I can remember, but never really thought it could be a legitimate career option growing up. I ended up doing my undergraduate degree in Architecture – while I enjoyed it, I found myself making lots of illustrations & graphics in my spare time and enjoyed that a whole lot more. So, I decided to pursue it, and went on to do my Masters in Graphic Design & Art Direction. I finished my studies in the UK and moved back home in 2015, where I started working full-time as a Designer & Illustrator. My favourite types of projects are visual identity & branding, and most especially illustration.
2. Tell us about your aesthetic.
I'm drawn to magical realism and try to bring across a sense of whimsy in all my paintings. I also enjoy experimenting with colour and using calming and colourful palettes. Since I work digitally, I love adding in layers of paper textures & watercolour textures to make the paintings feel warmer and more traditional.
3. What is your favourite medium and why?
I love the convenience of digital art. Being able to draw anywhere, having loads of different brushes, colours, and textures available to you on a screen without having to invest in supplies continuously – amazing! I do want to experiment more with traditional mediums like gouache & ceramics though – they have a sense of tactility that I would love to indulge in.
4. What is your artistic process like?
I usually have a conceptual idea in my head, and I start out by finding reference pictures which help to solidify the idea. I typically start painting in colour right away, making blocky shapes and adding in detail as I go. Lately I've been trying to start with a rough sketch first as I've found that this speeds up the process a lot. I've also been trying to use the undo button less and be more intentional while drawing. With digital art, it's easy to become very dependent on the undo button and that sometimes ends up blocking creativity.

I also love doing a little pre-painting ritual to set up the right mood, so I'll usually sit down at my desk, reference photos open, music playing, and a mug of tea at hand.
5. Who and/or what inspires your work?
Growing up in the Maldives, a lot of my creative inspiration comes from our tropical greenery, beaches, and beautiful marine wildlife. Living in the capital city, I don't have access to that every day, so when I do get the opportunity to visit other islands, I love to really immerse myself in it and am so appreciative of it.

I also get a lot of ideas from travelling & seeing new places. Also, watching animated movies always makes me feel as though I have stars in my eyes – I especially love background art. Fellow artists and photographers with really individualistic styles inspire me loads as well.
6. What role does art play in your life? How does it change the way you view the world?
Making art inspired by the living world has made me feel more connected to nature and made me more aware of how important nature appreciation is in the field of nature conservation – you are much more likely to want to preserve something that you have a love for. Since a key part of making art involves being observant, it's changed my perception of mundane everyday things – for example, walking through a crowded city can be really unpleasant, but if I focus on the things which I'd like to draw like some dappled sunlight on a wall, or a maybe a building with a really nice doorway – it helps with being more mindful and appreciative of the little things.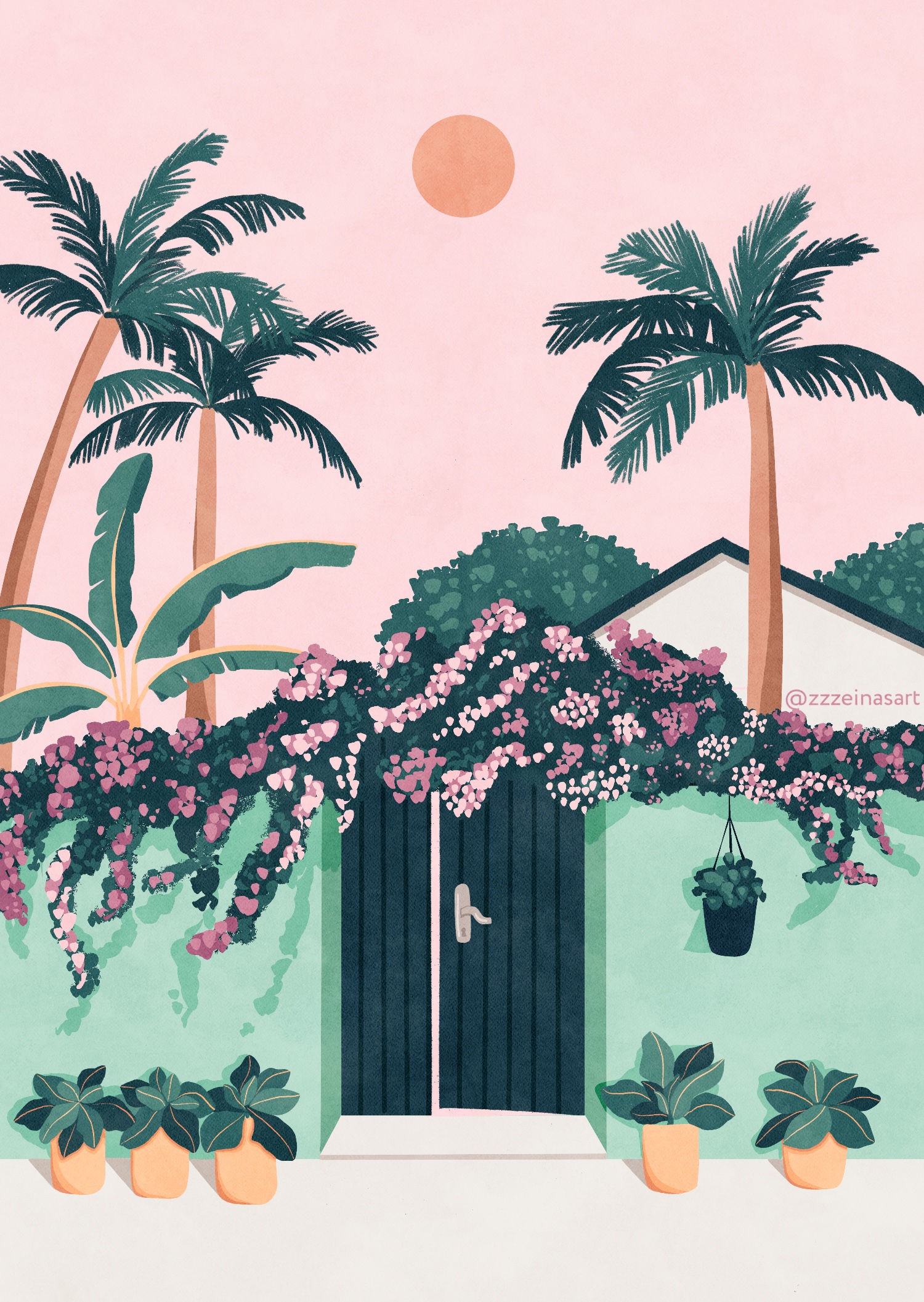 7. Where did you study?
I studied at the University of Manchester & Manchester Metropolitan University in the UK.
8. Where do you see yourself in five years?
I would love to be living somewhere with more everyday access to nature, be financially secure in my career, and to feel like I had found a good balance between working, spending time with loved ones, and doing other things that I enjoy. In terms of specific career plans, I try not to plan further than a year ahead as I've found that I'm much more likely to achieve my goals this way. Overall, I hope to be continuously growing and creating art that impacts people and the world in a positive way.
9. What about in ten?
Healthy, content, creating.
10. What do you hope to achieve with your art?
People often comment that my illustrations are calming – although that's not something I initially intended, I try to incorporate that consciously into my paintings now as I think that's a really lovely thing for people to feel when looking at art. So, I hope that my art makes people feel a little bit calmer in their day, and more appreciative of the beauty in the world.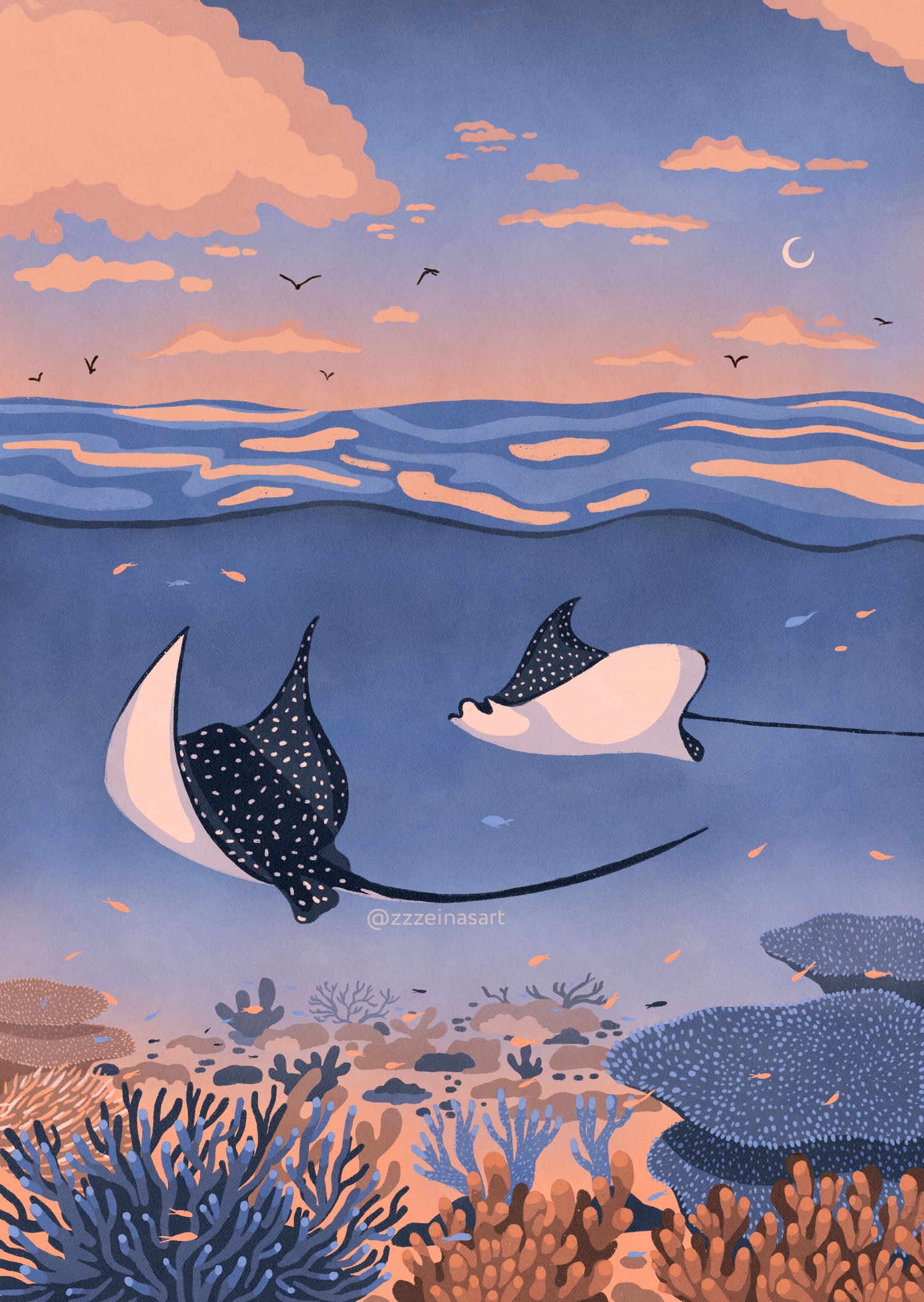 11. Now, tell us a little more about you as a person: what is your favourite food?
The chicken curry & beetroot salad combo my mum makes (there's something especially delicious about home-cooked food!), breakfast food – particularly traditional Maldivian breakfast food, and Thai cuisine.
12. Favourite book?
I love reading so it's hard to pick one! In terms of genres, I love fantasy, especially fantasy based on folklore. These stories are often rich in culture, nature, and magic, all of which I love. I also look for diversity in authors and characters in the books I read as I think it really helps you to be more compassionate and understanding of people from all different walks of life.
13. Favourite genre of music?
This varies depending on what I'm in the mood for, but generally I love indie/folk music and pop. When I draw, I love listening to really calming lo-fi hip-hop, or other instrumental music with a similar vibe.
14. What are your hobbies?
Reading and outdoorsy activities like hiking and snorkeling are some of my favourite things to do, as well as travelling in general. I also love to cook – when I'm doing it for fun because I want to, and not when I have to!
15. If you weren't an artist, what would you be?
I don't know if this counts since it's still in the design field – my original plan when I went to Uni was to study Architecture and specialize in Interior Design, so that's probably what I would be doing.