Instagram:
@summerkid_works
Facebook:
www.facebook.com/andreea.dobrin.90
Tumblr:
summerkidworks.tumblr.com
Studio Website:
www.summerkidworks.com
Artist Website:
www.andreeadobrin.com
1. What's your story? Where are you from?
I'm Andreea Dobrin Dinu, graphic designer, illustrator and artist. As you see, the labels I used next to my name go from the applied arts towards the non-applied and this gradient can also be read as going from very comfortable to uncomfortable, as I think the latter is a lot more difficult to define and for me, more recent. I was born in the last decade of communist Romania, witnessed its passage through a mesmerizing proto-capitalism, fascinated by the sudden abundance of TV commercials which for me as a kid were a stand-alone show and resulted in hours of play, drawing logos and silly slogans for deodorants, soap and cigarettes. The dawn of internet caught me as a studious but not convinced Business Management student. I had always wanted to pursue a path that involved drawing, but being that I was an obedient child, I followed the general inertia which seemed to offer a safer future and a good night sleep for my parents. Oddly enough it was from that economic school that my career as a self-taught graphic designer started and once I rebelled I never looked back at my never to be corporate self. It was the golden age of Flash websites that had with them such an anything is possible attitude and aesthetic that it almost makes me feel nostalgic. Several periods of alternative freelancing and digital advertising agencies employment followed and although my financial comfort seemed to grow, my graphic design felt like it hit some limits. So, I made the really huge decision to give up my financially comfortable graphic designer day job to prepare and hope to be admitted to the Fine Arts University in Bucharest, the Graphic Arts department. All I wanted when I was admitted was to be a graphic designer who also knew how to draw. What happened in those years in the art school was such a particular transforming experience that I can now conclude It was important not because one learns how to draw but because one learns how to think when producing an image. The end of art school was surprisingly overwhelming with a couple of graphic awards, exhibitions and my first solo-show which brings us to the uncomfortable artist label part, as I didn't know exactly how to respond to this question that someone asked me: "How does it feel to have your name on the door?". Since the end of 2015 I live in Hamburg, Germany, with my 10 years love and now husband, Andrei, who is also a designer. I founded my one-woman graphic studio SUMMERKID in 2016 and continue to be involved in projects in these three main fields: graphic design, illustration and art. So, I guess my story is a bit backwards.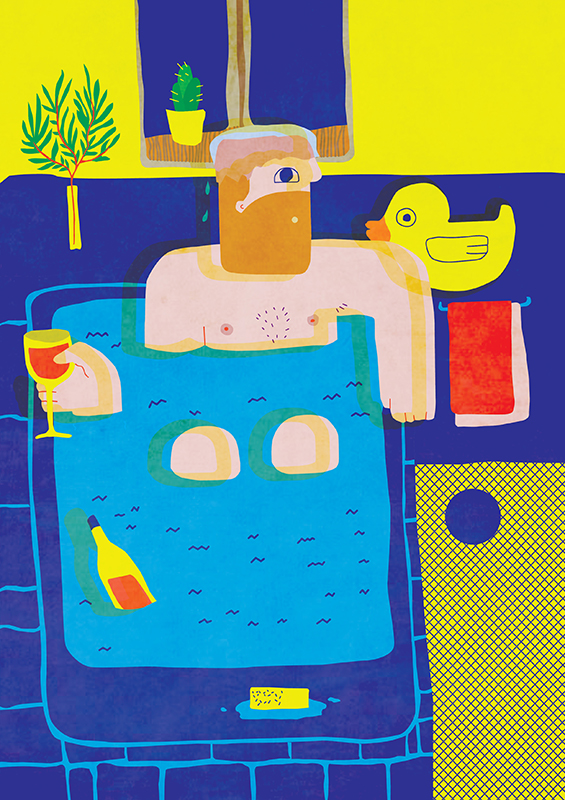 2. Tell us about your aesthetic.
What I enjoy the most is inventing visual languages. It's surprising to see how that's a mix of discovery, development, learning and then, hopefully, "poetry" making. Since June 2016, when I decided to stir my studio's direction towards illustration I invented this new one ( currently still in it) of which you can see some examples here. It uses vibrant, sometimes primal colours and strives for a powerful graphic impression. If I were to remove some visual figurative hints from the images they could almost be categorized as abstract. I use a visual language until I get bored with it, sort of like eating a food that you really like until you just discover something else. I don't see myself as drawing only in one way, I don't think that's honest. My past projects are in a different key and can be seen on my artist website andreeadobrin.com.
3. What is your favourite medium and why?
Pen and paper to start with. Why? Because it's the fastest and most free way of generating ideas. After that ,anything goes, there isn't and there shouldn't be any limit in terms of medium, all that matters is the final image.
4. What is your artistic process like?
It all starts with a few hours of compulsive sketching. A soft humour is part of my work, so in this sketching part I feel a bit like a comedian as well, is when I "work on my jokes". Sometimes they are not jokes, they are just metaphors for more serious subjects. That's the beauty of visual languages, you can say something funny, but also something more disturbing with the same tools. In the next step I refine my drawings so they look final just as they are, hand drawn on paper. In my latest invented visual language I enjoy a lot taking the drawings to the computer and further play with the colours and textures in a way that I couldn't analogue, or at least not as fast.
5. Who and/or what inspires your work?
Given my geographical and historical origin I am greatly influenced by my childhood books which I always carry with me, all of them produced in the pre-computer era and by the eastern-european graphical heritage (romanian, bulgarian, polish and others). Lately I am inspired by my domestic life in terms of subject, but also by the more general world turmoil. Sometimes it's just the title of a song that can trigger a drawing.
6. What role does art play in your life? How does it change the way you view the world?
Sometimes, art plays a dangerously large part in my life. I try to balance things, but it's a bit difficult because it's always in the background of my mind, always writing down ideas and thinking of projects. It has always given some sense and something to look forward to, it's because of this I never felt bored or empty. I see art as a preoccupation to construct as opposed to a preoccupation to consume or destroy and that's why I think all professions are equally important as long as they follow this growth mentality.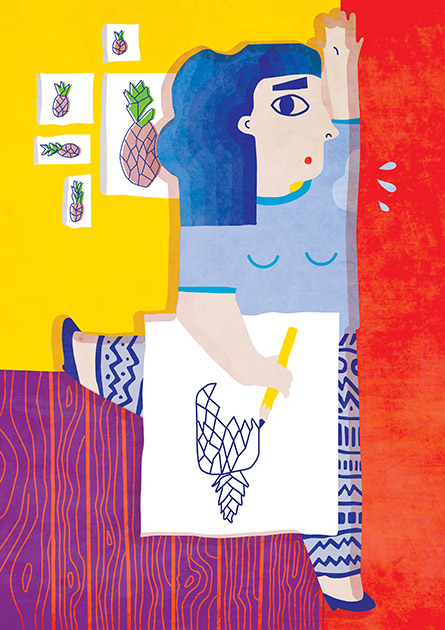 7. Where did you study?
I studied Graphic Arts at UNArte Bucharest, Romania and also Typography and Illustration at the Hochschule für Grafik und Buchkunst in Leipzig, Germany in an exchange program.
8. Where do you see yourself in five years? Working in an agency?
I see myself running my current graphic studio with somewhat more success.
9. What about in ten?
Running the same graphic studio with slightly more success than in the first 5 :)
10. What do you hope to achieve with your art?
The first honest answer would be: attention. Sometimes it feels like there is no difference between the 5 year old me showing a drawing to my parents and the current me posting something on Instagram. I am still looking for a more honourable purpose, at least one that doesn't involve just me.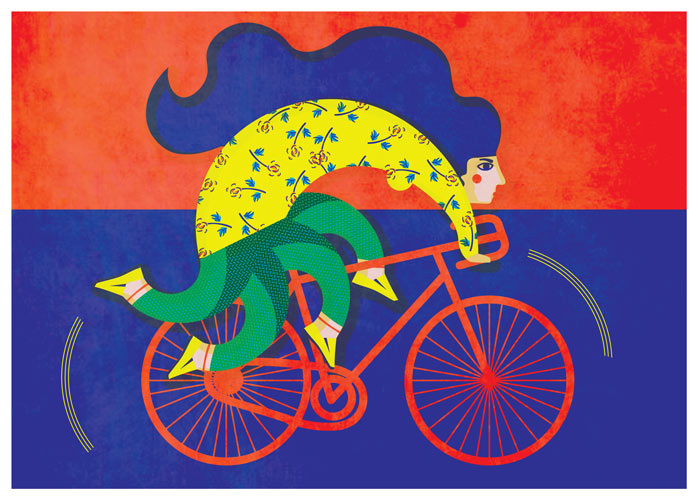 11. Now, tell us a little more about you as a person: what is your favourite food?
I am a not fully grown adult, quite serious and persevering when it comes to work objectives, but sadly procrastinating when it comes to cleaning my desk. I don't smoke or drink coffee but I exaggerate with sugar and sometimes teenage series for which I am no longer in the target audience for a very long time.
12. Favourite book?
The Neverending Story by Michael Ende
13. Favourite genre of music?
In the current multitude and awareness of beautiful music it's difficult to stop to just one genre. I recently listen a lot to the artists invited by the show Colors Berlin.
14. What are your hobbies?
Hobbies are those things that you do besides your work, right? Well, my hobby became my work so what do I do now to relax is the following: experience consecutive days of not attending social media channels, ride my bike in this beautiful green city of Hamburg and improve my german which I knew zilch of 2 years ago and I now find extremely enjoyable and funny (for example daydreaming is kopfkino which literally translates to cinema-in-the-head...how sublime is that!?)
15. If you weren't an artist, what would you be?
My maternal grandparents were simple peasants in one of the most beautiful mountain area in Romania named Piatra Craiului. They grew animals, mostly sheep and cattle and made cheese all day in a Heidi like landscape which I was lucky enough to be part of in the summer vacations. My grandma also composed songs and sang beautifully without any kind of official education. There was so much peace in their nature synchronized lives that if I weren't an artist I would probably just go somewhere similarly remote and be a farmer.