Instagram:
@sunlee_art
Website:
www.sunleeart.com
1. What's your story? Where are you from?
Hi, I'm Sun Lee, a freelance illustrator. I was born in Seoul, Korea. When I was one, my family moved to Tokyo and lived there for about 7 years and then came back to Korea. I think living in Japan influenced me in some way. Since I watched a lot of Japanese cartoons and animation there, I started to love drawing girls in beautiful clothes and make stories. My parents were open and supported me in art, so I was able to go to art school since 7th grade. I never stopped drawing my whole life. After graduating from university, I worked as a shoe designer and an art teacher for a few years and now I just draw for myself and sometimes work with clients. I am living in Seoul with my husband and soon to be a newborn baby. He is from the US and enjoys living in Korea and coding in his free time. My husband made my website for me. Both of us are quiet and love alone time. So we made a sweet little workspace at home for us and spend most of the time there. 안녕하세요. 프리랜서 일러스트레이터 이선 입니다. 어린 시절 일본 도쿄에 7년 산 것을 제외하고는 한국에서 대부분의 학창 생활을 보냈어요. 어릴 때 일본에 살면서 일본 애니메이션을 많이 본 것이 그림 그리는 것을 좋아하게 된 이유 중에 한가지 같아요. 특히 예쁜 옷을 입은 여자들을 그리면서 이야기를 만드는 것을 좋아했어요. 부모님이 그림 그리는 것을 지지해주셔서 예술 중, 고등학교에서 미술 공부를 하고 미술 대학을 졸업했어요. 졸업 후에는 여성화 디자이너로 잠시 일했고, 미술 선생님으로도 일했어요. 지금은 개인 일러스트 작업을 주로 하면서 한국, 미국 등 여러 나라 클라이언트들과 콜라보 작업을 하고 있습니다. 현재 서울에서 한국을 사랑하는 미국인 남편과 뱃속에 곧 태어날 아이를 기다리면서 즐겁게 살고 있습니다. 남편이 휴식시간에 코딩과 웹사이트 제작을 좋아해서 제 웹사이트도 직접 만들어 주었어요 :) 대부분의 시간을 집에 있는 작업 공간에서 각자 할 일을 하면서 지냅니다.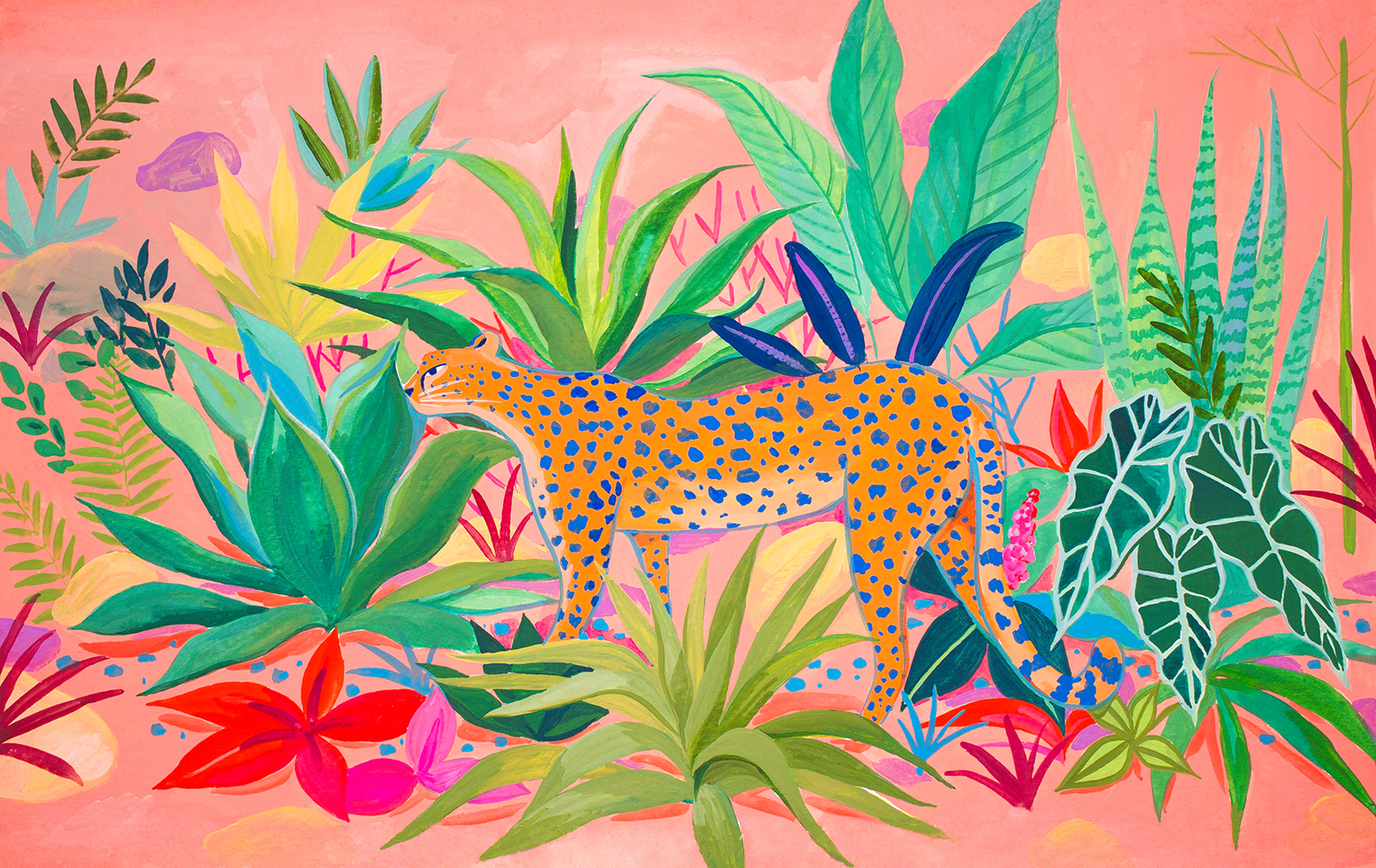 2. Tell us about your aesthetic
My work is feminine, positive and colorful. I love drawing a lot of things but especially girls, animals, plants, tropical and bohemian vibes with bright, vivid colors and contrast between the colors. Color is everything, and choosing the palette is my favorite part. I love letting myself flow and see what comes out. 여성스럽고 밝고 화사한 그림을 그립니다. 그림에는 여자, 동물, 식물이 주로 등장하고 트로피칼하고 보헤미안 느낌이 나는 작업을 하는 것을 좋아합니다. 작업에서 색이 큰 비중을 차지하고 색을 결정하고 칠하는 과정을 가장 좋아해요. 여러 가지 색을 사용하면서 색과의 조합과 결과를 보는 것이 큰 즐거움이에요.
3. What is your favorite medium and why?
Right now I love using watercolor, gouache, acrylic. These mediums allow me to achieve fast results, with the result being diverse. I prefer hand drawing to digital painting because it's way easier for me, but I started to try doing more digital drawings as well. 지금은 수채화 물감, 과슈, 아크릴을 주로 사용하고 있어요. 건재료 보다 빨리 그릴 수 있어서 좋아요. 손으로 그리는 것이 익숙해서 더 좋아하지만, 디지털 작업도 많이 하려고 시도하고 있어요.
4. What is your artistic process like?
I always love collecting inspirational images. When I see pictures or something that inspire me then I sketch them or save and take pictures. Before I start sketching, I look through all the inspirational images. Once an idea pops into my head, I start sketching it with a pencil roughly and make a loose composition. When I finish the sketch, I start to color it extemporally. 일상생활에서 항상 영감을 주는 자료를 수집해요. 작업을 시작하기 전에 모아둔 자료들을 검토하다 아이디어가 떠오르면 가볍게 구도를 잡으면서 스케치하고 채색해요
5. Who and/or what inspires your work?
I lived in San Francisco for a few months in my twenties and fell in love with the colorfully diverse city. The city inspired me a lot. I love to express those happy feelings with a lot of colors in my painting since then. And I am also inspired by women, fashion, interior magazine, films, nature, traveling, streets, artists…These days I get a lot of good ideas at Pinterest too. 대학 시절 샌프란시스코에서 몇 달을 지냈는데 알록달록하고 자유로운 도시를 보면서 많은 영감을 받은 거 같아요. 그때 느꼈던 행복함을 다양한 색으로 사용하기 시작했고 여행 후로는 계속 밝고 화사한 색감의 작업을 해왔어요. 여자, 패션 잡지, 인테리어 잡지, 영화, 자연, 여행, 길, 아티스트 등에서도 영감을 받아요. 요즘은 핀터레스트가 자료들을 수집하기에 편리해서 많이 사용해요.
6. What role does art play in your life? How does it change the way you view the world?
I think art is everything to me since I was little, I just can't imagine how my life would be without it. Art makes me excited, more curious, and communicate with the world. 어렸을 때부터 그림 그리는 게 일상이고 삶이었어요. 예술은 제게 호기심, 자극을 주고, 세상에 더 많은 관심을 갖게 해주고 여러 나라 사람들과 소통하게 하는 거 같아요.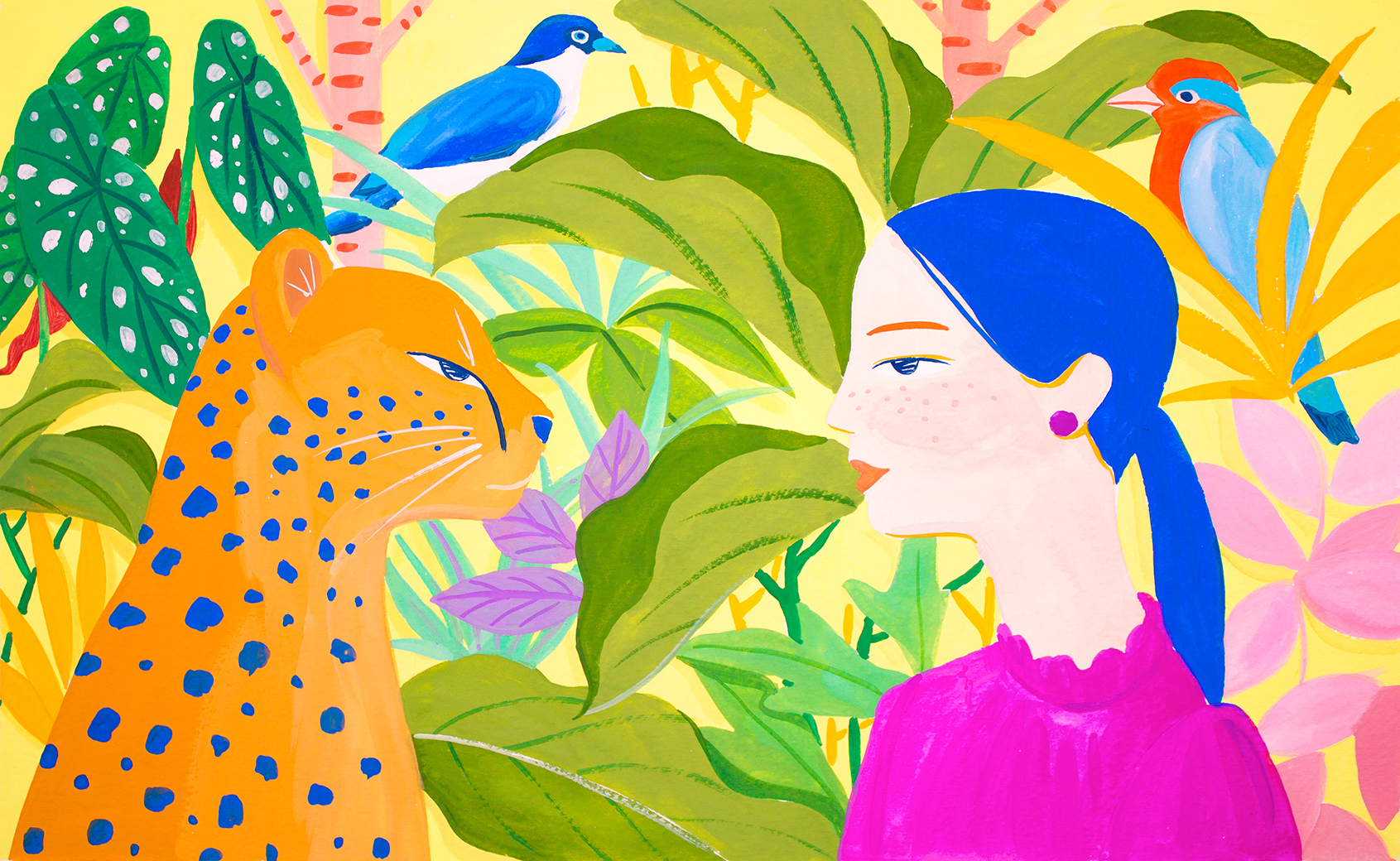 7. Where did you study?
I've received BA at Ewha women university in Fiber art and oriental painting in Seoul, Korea. 이화여자대학교에서 섬유예술전공, 동양화 부전공을 했어요.
8. Where do you see yourself in five years?
I hope I will be an established freelance illustrator, a good mother, and wife. Also, I hope I will be developing my style. I would love to collaborate with some interesting artists and working on fun projects. 작업을 꾸준히 하는 일러스트레이터이자 좋은 엄마, 좋은 아내가 되어 있었으면 좋겠네요. 제 작업이 좀 더 발전해 있기를 바라고, 재미있는 콜라보와 프로젝트들도 더 많이 하고 싶어요.
9. What about in ten?
I think it's similar to above. Keep doing my work, hope to have exhibitions of my artwork sometime and make a lot of goods with my painting. I also want to have my own work studio full of plants, ornaments that I like and artwork hanging. 8번과 비슷할 거 같은데 계속 작업하면서 전시도 하고, 다양한 굿즈를 제작하고 싶어요. 예쁘게 꾸민 식물들과 좋아하는 장신구들이 가득한 작업 공간도 갖고 싶네요.
10. What do you hope to achieve with your art?
I want my artwork to be easy to understand and friendly to people. So I started to share my paintings on Instagram and became an illustrator since 2017. I am just happy when people feel good vibes and enjoy seeing my work as much as I enjoy doing it. If my artwork can make people happy and inspire that would be more appreciated. Also, I hope to communicate with people from different countries. The most rewarding thing is getting to connect with people all around the world. When someone you don't even know sends you some love and appreciates what you are doing it is THE BEST feeling. 남녀노소 쉽게 접근할 수 있는 그림이었으면 좋겠어요. 그림 그리는 게 저를 행복하게 만드는 것처럼 다른 누군가도 저의 그림을 보고 행복해지고, 영감을 받는다면 정말 기쁠 거 같아요. 그림으로 여러 나라 사람들과도 소통도 하고 싶어요. 그림으로 전 세계의 사람들과 소통할 수 있다는 게 참 멋지고 매력적이라고 생각해요. 다양한 나라에서 제 그림을 보고 좋아해 주시는 분들을 만나거나 메시지를 받으면 정말 기쁘고, 감사해요.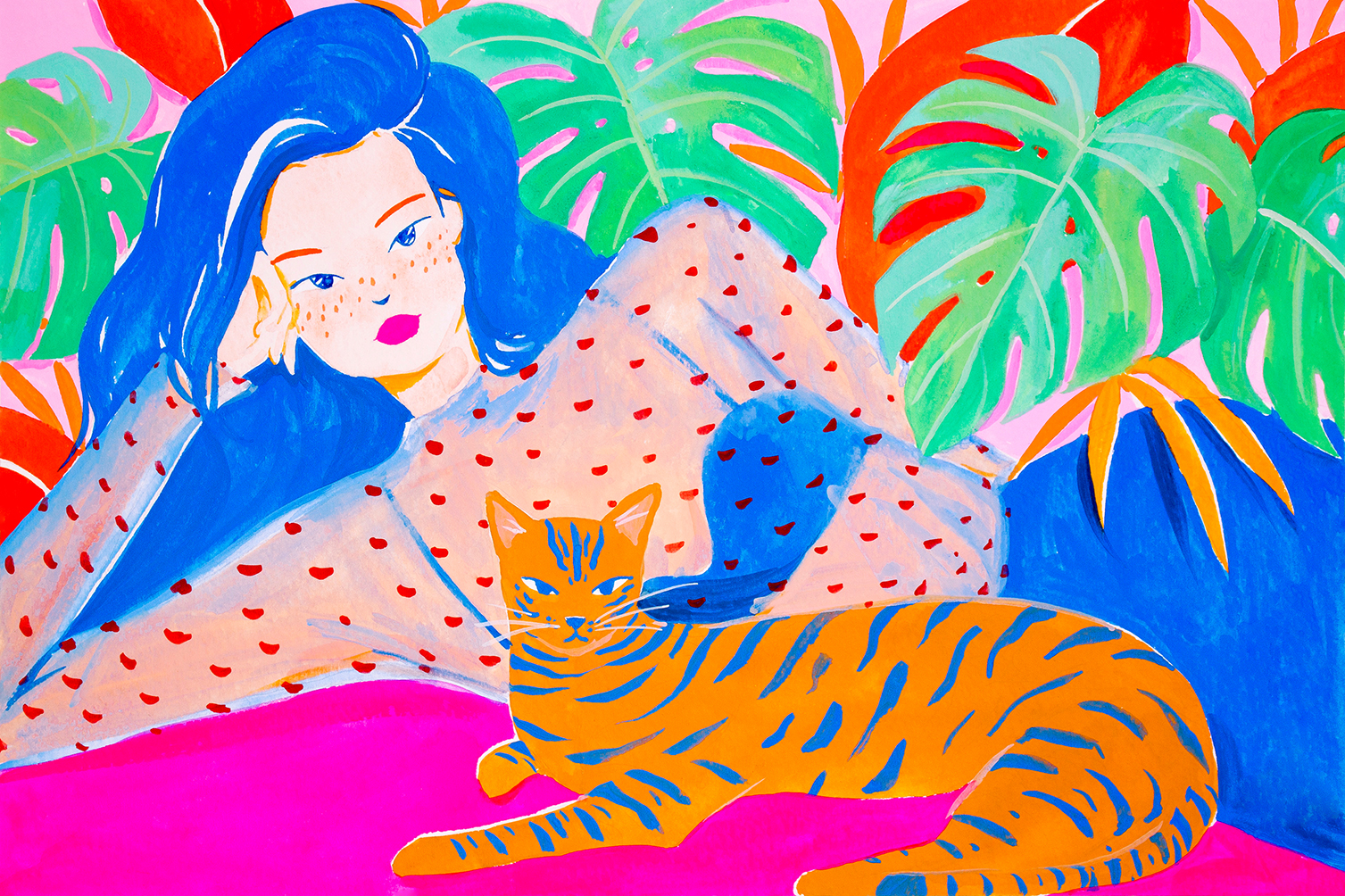 11. Now, tell us a little more about you a person: What is your favorite food?
I love all kinds of food. I also love trying new dishes. But I think I can say my favorite food is Sushi and Asian food. 가리지 않고 다 잘 먹는데 특히 초밥, 아시아 음식을 좋아해요.
12. Favorite book?
I love novels and really enjoyed reading Paulo Coelho novels. 소설을 좋아하는데 특히 파울로 코엘료 소설을 좋아해요.
13. Favorite genre of music?
I love listening to music while I draw. I'm not picky about music. But I always love Adele, Sam Smith, Ed Sheeran, Jason Mraz, and Bruno Mars's songs. I also listen to Jazz these days after watching "La La Land". 작업하면서 노래 듣는 것을 좋아해요. 장르 가리지 않고 듣지만, 팝송을 많이 듣고 Adele, Sam Smith, Ed Sheeran, Jason Mraz, Bruno Mars 노래들은 아주 좋아해요. 라라랜드 이후로 재즈 음악도 많이 듣게 됐어요.
14. What are your hobbies?
Doing yoga, watching movies, going to see cute stores and cafes, organizing my diary and collecting plants. 요가 하기, 영화 보기, 예쁜 가게들과 카페들 구경하기, 다이어리 정리, 식물 키우기
15. If you weren't an artist, what would you be?
I think I would be the owner of a design cafe which you can get coffee, desserts, stationery, clothes, plants, books everything I love. 예쁜 문구, 식물, 옷, 디저트를 파는 디자인 카페를 했을 거 같아요.