Instagram: @tabby.tabbies
1. What's your story? Where are you from?
Hi! I'm Soyeong Park and I'm working as a designer in Seoul. I love all kinds of animals with floppy furs. Amongst them, cats are my favorite (especially tabby cats) so that is why there are many cats that can be seen in my work!
안녕하세요. 저는 박소영(Soyeong)입니다. 한국에서 태어났고, 현재 서울에서 디자이너로 일하고 있습니다. 털이 복슬복슬한 모든 동물들을 좋아하고, 그 중에서도 고양이를 가장 좋아해서 제 작품에는 얼룩고양이가 자주 등장합니다.
2. Tell us about your aesthetic.
I draw animals that make us feel cosy and relax! Like cats and goldfishes. By simplifying the drawing, I intend to let the viewers imagine the situation. To express the stories and relationships clearly, I try hard to make a proper pose on each of my work. Also, I focus on choosing suitable colors because I count the harmony of colors as an important factor in showing the overall mood of my work.
저는 주로 바라보면 평온하고 마음이 몽글몽글 따뜻해지는 고양이와 금붕어를 주제로 그림을 그리고 있습니다. 작품을 단순화하여 표현해 보는 사람들이 상황에 대해 상상할 수 있는 여지를 남겨두는 것을 미학으로 생각하고, 그림에 담긴 이야기들과 관계성이 잘 드러날 수 있는 포즈를 그리기위해 노력합니다. 또한 그림의 분위기를 색감의 조화들로 전달할 수 있다고 생각해 색을 사용하는데 많은 고민을 합니다.
3. What is your favourite medium and why?
I prefer using digital medium. It is easy to fix and it has relatively no burden of time, space, material on trying various of my work. I use "procreate" app on iPad to sketch the blueprint and concrete the shape by photo and illustration program.
주로 디지털 작업을 이용합니다. 아이패드의 procreate를 통해 아이디어 스케치 작업을 하고, 포토샵이나 일러스트 프로그램으로 구체화 작업을 합니다. 디지털 작업은 수정이 편하고, 여러 가지 다양한 시도를 하는데 시간, 공간, 재료의 부담이 없어서 선호합니다.
4. What is your artistic process like?
I carry an iPad and memo the structure, pose, and color whenever inspiration strikes me. I usually sketch my paint on/off the way to go work. After the sketch, I use photoshop and an illustration program to trim my draw. To simplify my work, I focus on the curve of the line and combination of nearby colors.
평상시에 아이패드를 들고 다니며 그림의 구도나 포즈, 색감이 떠오를 때마다 기록합니다. 주로 출퇴근길 지하철 안에서 아이디어 스케치 작업을 많이 하는 편이고, 이후 그림을 다듬을 때는 포토샵 또는 일러스트 프로그램을 이용합니다. 형태를 단순화시켜 작업하기 때문에 테두리의 곡선, 면이 맞닿는 색감의 조화에 많은 공을 들입니다.
5. Who and/or what inspires your work?
I am inspired by daily subjects like street cats, goldfishes raised by my mom, and colors that I found by chance. Recently, I got inspired by animal pictures or videos posted on Youtube and SNS.
길에서 만난 고양이나 어머니가 키우는 물고기들, 주변에서 우연히 찾은 예쁜 색감들 등 일상적인 부분에서 많은 영감을 얻습니다. 최근에는 SNS에 올라오는 고양이 사진들, 유투브의 고양이 영상들에서도 영감을 얻고 있습니다.
6. What role does art play in your life? How does it change the way you view the world?
Art gave me joy and relaxation in my life. It gave me a chance to value the world. By enjoying other artist's work it gave a whole new vision of approaching the world in a variety of perspectives.
저에게 있어 예술은 삶에서 즐거움과 여유를 줍니다. 그림을 그리면서 주변을 좀 더 소중하게 바라볼 수 있게 되었고, 좋아하는 작가님들의 작품들을 감상 할 때면 내가 아닌 다른 사람의 시선에서 세상을 바라볼 수 있게 됩니다.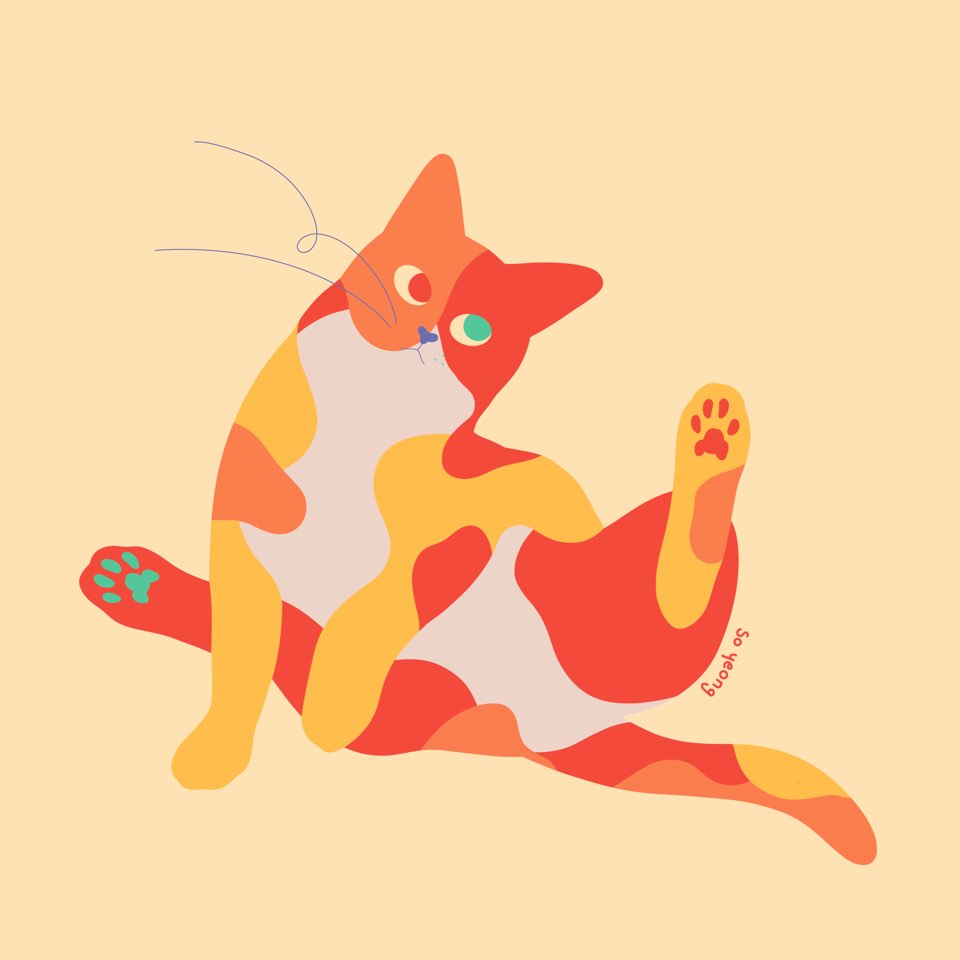 7. Where did you study?
I majored in Housing & Interior design in Chung-Ang university. Even if I'm designing in a different field, I could learn how to send my thought design and persuade through my work.
중앙대학교의 실내환경디자인(Housing & Interior design)을 전공했습니다. 지금은 전공과 다른 분야의 디자인을 하고 있지만, 생각한 것을 실현할 수 있도록 구체적으로 디자인하는 방법이나 작품에 설득력을 담는 과정을 배울 수 있었습니다.
8. Where do you see yourself in five years?
I'm not really sure but I dream I could have my own working space so I can try the things that I haven't done before.
아직 확신할 수 없지만, 5년 후에는 작업 공간이 따로 생겨서 더 다양한 시도를 할 수 있게 되기를 꿈꾸고 있습니다.
9. What about in ten?
Ten year is too far away for me but I wish to launch my own prop shop or cafe named after Tabby. Tabbies so I can communicate with many people.
10년 후는 너무 멀게 느껴지지만, 그쯤에는 tabby.tabbies 이름으로 소품샵이나 카페를 차려 더 많은 사람들과 만나고 이야기 할 수 있었으면 좋겠습니다.
10. What do you hope to achieve with your art?
I want to share how I feel through my art. Through my art I want to make people comfort and relaxation.
제가 그림을 그리면서 느낀 감정들을 그림을 보는 사람들과 공유하고 싶습니다. 그림을 통해 사람들이 즐거움과 재미, 여유로움과 평안함을 느낄 수 있도록 만들고 싶습니다.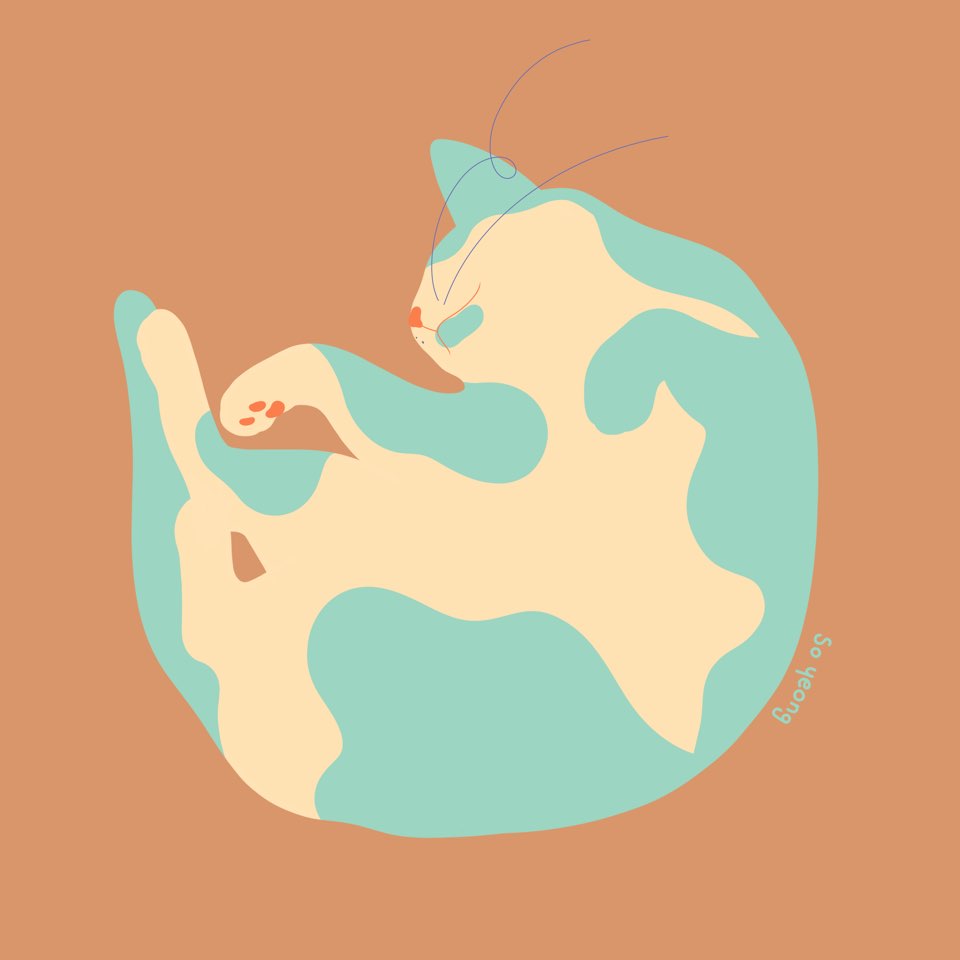 11. Now, tell us a little more about you as a person: what is your favourite food?
My favorite food is non-greasy Korean foods. Among them my favorite is Kimchi stew with pork in it.
저는 담백한 한식을 좋아합니다. 그 중 돼지고기를 넣은 김치찌개를 가장 좋아합니다.
12. Favourite book?
My favorite book is Momo_ Michael Ende, Das parfum_ Patrick Suskind, The Great Gatsby_ F.Scott Fitzgerald.
'모모_Michael Ende', '향수_Patrick Suskind', '위대한 개츠비_F. Scott Fitzgerald'를 좋아합니다.
13. Favourite genre of music?
I usually listen Henry Mancini's movie ost, Bossa Nova, and Jazz. I occasionally listen rock music. The 1975 is my favorite rock band!
기분에 따라 여러 장르의 음악을 듣습니다. 주로 잔잔한 음악이 듣고 싶을 때는, Henry Mancini의 영화음악과 보사노바, 재즈 장르를 틀고, 가끔은 록 음악도 듣습니다. 가장 좋아하는 록 밴드는 The 1975입니다.
14. What are your hobbies?
I love handy activities like making figures with sculpey clay, sewing art,and playing piano.
스컬피점토로 피규어 만들기, 바느질, 피아노연주 등 손을 움직이는 활동을 좋아합니다.
15. If you weren't an artist, what would you be?
I love handy activities like making figures with Sculpey clay, sewing art,and playing piano.
예술가가 되지 않았다면, 다른 작품들을 소개하고 판매하는 일을 하지 않았을까? 생각합니다.