Instagram:
@takiisbranding
1. What's your story? Where are you from?
Hi! I'm Bruno Baraldi, 27, from Brazil. Oi! Me chamo Bruno Baraldi, tenho 27 anos e moro no Brasil.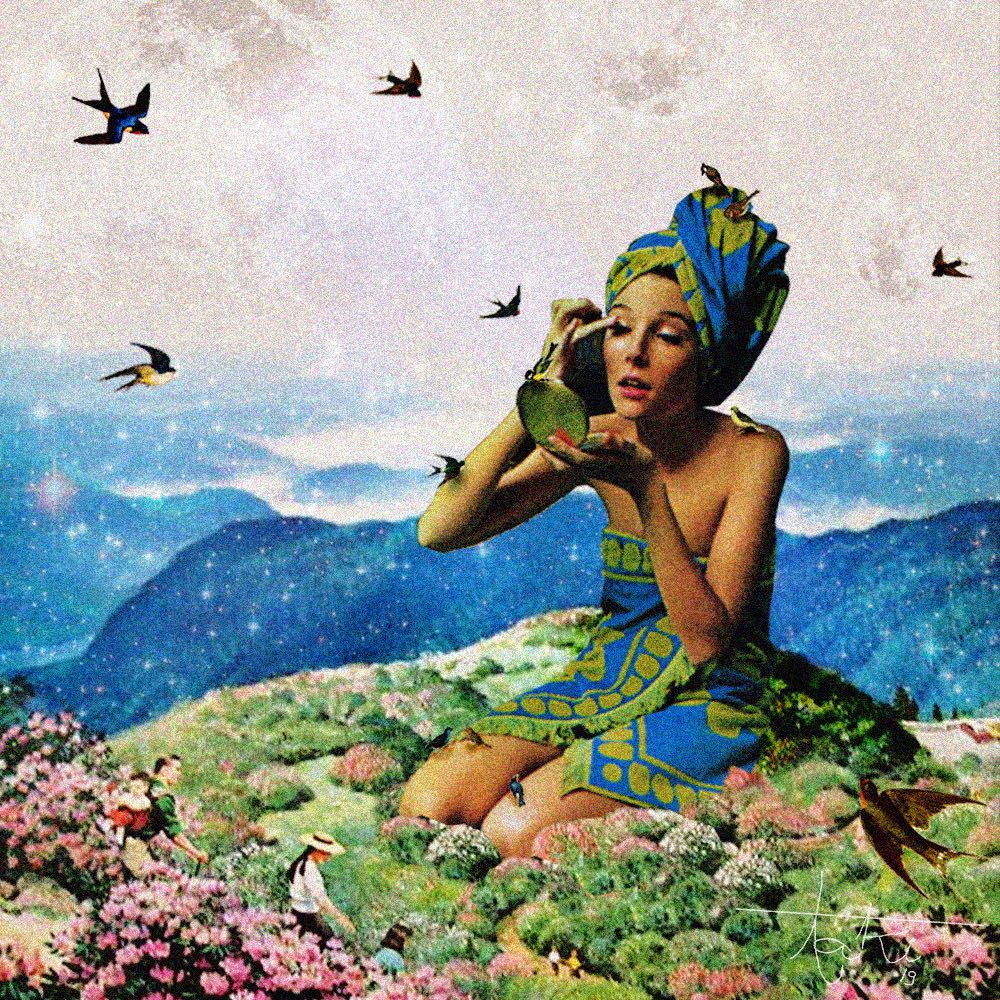 2. Tell us about your aesthetic.
I really love mixing spacey thematics with giant or tiny people. Playing with real proportions is always my go-to aesthetic. Also, I love feminine figures so most of my pieces has a woman in it. Eu amo misturar temáticas espaciais com pessoas gigantes ou minúsculas. Brincar com proporções irreais é sempre minha estética ideal. Também amo figuras femininas então a maioria das minhas peças sempre possuem uma mulher.
3. What is your favourite medium and why?
Photoshop. Digital Art. Photoshop. Arte digital.
4. What is your artistic process like?
It all starts with image hunting. I use vintage magazines and old postcards cuts to create something from scratch. Once I find something really interesting, I look for another one that matches the one I just found or I look onto my cuts collection folder to see if there's anyone that matches it there. I have more than 1500 cuts in that folder! Sometimes it takes 3 or 4 months to find a great composition to a cut that has been sitting in that folder forever! Tudo começa na caça de imagens. Eu uso recortes de revistas e cartões postais antigos pra criar algo do zero. Uma vez que eu encontrei alguma coisa realmente interessante, eu procuro uma outra que combine com ela ou então procuro na minha pasta de coleções de recortes. Eu tenho mais de 1500 recortes nessa pasta! Algumas vezes demoro 3 ou 4 meses pra achar uma composição perfeita pra um recorte que está há muito tempo nessa pasta.
5. Who and/or what inspires your work?
Actually, everything inspires my work. Most of the time I have to express a feeling or a situation that I don't know how to in words, so I do it via art. Also, great collagists like @linearcollages, @_.lunatico._, @phibstuff, @howiewonder (and a lot more) always makes me wanna outdo myself. Their work is amazing! Tudo inspira o meu trabalho, na verdade. Na maioria das vezes eu tenho que expressar um sentimento ou uma situação que eu não consigo em palavras, então eu faço através da arte. Também grandes colagistas como @linearcollages, @_.lunatico._, @phibstuff, @howiewonder (e muito mais) sempre me fazem querer ir além. O trabalho deles é fantástico!
6. What role does art play in your life? How does it change the way you view the world?
Oh, art is everything to me. To be honest I just left my parents home due to it! I've decided to quit everything I was doing and focus only on creating art! Instagram has been a great platform for me to share everything I love doing and I've been doing fine I can say! So I always tell people to follow their guts and do what they love. It will be worth it! I see everything as a collage. Every time I'm outside in the big city or somewhere like a waterfall, my brain automatically sees things that could be a collage: giant people, 4 moons, floating eyes. Everything I see I imagine what could it be if I was sitting in my workspace creating. And I do! As soon as I arrive home, I create what I just imagined in my brain while I was outside. Ah, arte é tudo pra mim. Pra ser sincero, eu acabei de sair da casa dos meus pais por causa disso! Eu decidi parar de fazer tudo o que eu estava fazendo e focar somente em criar arte! O Instagram tem sido uma excelente plataforma pra mim pra compartilhar tudo o que eu amo fazer e tenho me saído bem, posso dizer. Por isso eu sempre digo pras pessoas seguirem suas intuições e fazer o Sempre valerá à pena! Eu vejo tudo como uma colagem. Toda vez que eu estou fora de casa na cidade grande ou em algum lugar como uma cachoeira, o meu cérebro, automaticamente, vê coisas que poderiam ser transformadas em colagens. Pessoas gigantes, 4 luas, olhos flutuantes. Tudo o que eu vejo eu imagino o que poderia ser se eu estivesse sentado no meu escritório criando. E eu faço! Assim que eu chego em casa, eu crio o que eu acabei de imaginar no meu cérebro enquanto eu estava lá fora.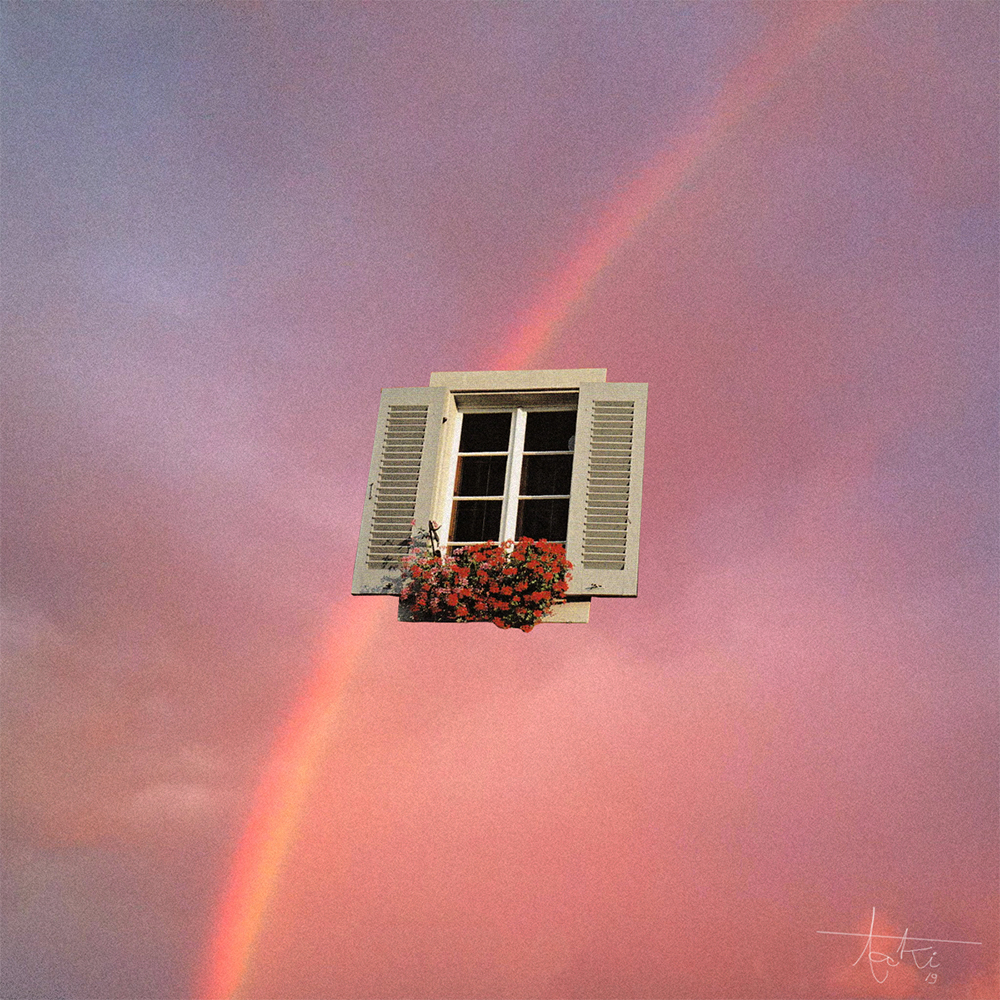 7. Where did you study?
I studied my entire life in a catholic school which I never really liked. I was always a rebel so I always got in trouble there. Lol. Once I left there, I went to an advertising graduation. I've never gone to an art school or something like that. I've learned everything by myself, being curious. I've been using photoshop for more than a decade now and collages were something that popped in my life somewhere in 2014. Eu estudei minha vida inteira numa escola católica que eu nunca realmente gostei. Eu sempre fui um rebelde então eu sempre me metia em encrenca lá. Haha. Assim que eu saí de lá eu fiz uma graduação em Publicidade. Eu nunca fiz uma escola de arte ou alguma coisa do gênero. Eu aprendi tudo por mim mesmo, sendo curioso. Eu uso photoshop há mais de uma década agora e as colagens foram algo que apareceçam na minha vida em algum lugar de 2014.
8. Where do you see yourself in five years?
Oh gosh, what a question! I don't wanna be the person that says "I don't even know if I'm gonna be alive tomorrow" but I don't even know if I'm gonna be alive tomorrow! Lol!! I see myself doing what I love, which is creating art, spreading joy, living on the beach (always has been a dream of mine) and what else can I ask for? I just wanna keep doing what I love, period. And getting dem coins $ to buy me fine beers. Lol! Oh céus, que pergunta! Eu não quero ser a pessoa que diz "Eu nem sei se estarei vivo amanhã" mas eu nem sei se eu estarei vivo amanhã! Hahaha!! Eu me vejo fazendo o que amo, que é criar arte, espalhando alegria, morando na praia (sempre foi um sonho) e o que mais posso querer? Eu apenas quero continuar fazendo o que amo, ponto final. E conseguir meu dinheiro $ pra comprar umas cervejas legais. Haha!
9. What about in ten?
You gotta be kidding meeee! More beers, please!! Você só pode estar brincandooo! Mais cervejas, por favor!!
10. What do you hope to achieve with your art?
I want people to see it and reflect on it. See themselves on it. Bring it to their lives somehow. I wanna make an impact on everyone that sees it, no matter how. Want them to share it, talk about it, have different interpretations of it. I also wanna start creating massive collages on walls and buildings. It's a project that is coming out of the closet soon! Eu quero que as pessoas vejam e reflitam sobre elas. A vejam nelas. As tragam para suas vidas de alguma maneira. Quero causar um impacto em todo mundo que as veja, não importa como. Quero que elas compartilhem, falem sobre, tenham interpretações diferentes sobre. Eu também quero começar a criar grandes colagens em paredes e prédios! É um projeto que está saindo do armário logo logo!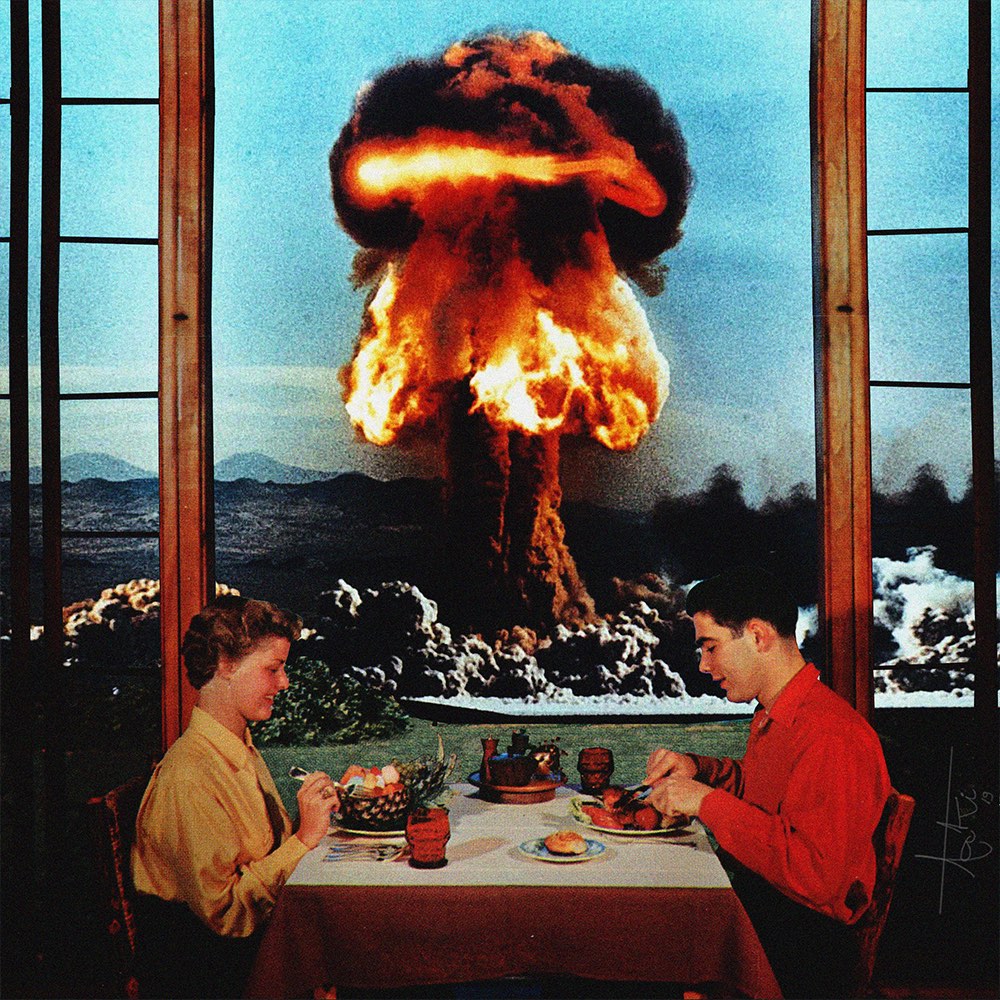 11. Now, tell us a little more about you as a person: what is your favourite food?
Stroganoff for life. Lol. I love it. Especially because it's easy to do, everyone does it in a different way and it's still delicious! (But my mom's the best tho, I won't argue on that, ok?!) Estrogonofe pra sempre. haha. Eu amo! Especialmente porque é facil de fazer, todo mundo faz de uma maneira diferente e ainda assim é delicioso! (Mas o da minha mãe é o melhor, ok? Não vamos discutir isso.)
12. Favourite book?
"The Curious Incident of the Dog in the Night‑Time", by Mark Haddon. I also love "The Picture of Dorian Gray", by Oscar Wilde. O Estranho Caso do Cachorro Morto, de Mark Haddon. Eu também amo "O Retrato de Dorian Gray", de Oscar Wilde.
13. Favourite genre of music?
Electronic music for sure. I also work as a DJ. Nowadays more like a hobby, but it's still a passion. I play house and techno! Música eletrônica, definitivamente. Eu também trabalho como DJ. Hoje em dia mais como hobby, mas ainda é uma paixão! Eu toco house e techno.
14. What are your hobbies?
I DJ as I said, I love playing video games and I reaaaally love to sing. I sing since I was a kid! Most of my family are musicians so I grew up in that universe. Eu discoteco como eu disse, eu amo jogar videogames e eu aaaaamo cantar. Eu canto desde pequeno! A maior parte da minha família são músicos então eu cresci nesse universo.
15. If you weren't an artist, what would you be?
I'd say I would be a singer, dancer, choreographer, professional gamer or a DJ. I don't know! Lol! Singer cause I love to sing, dancer cause I love to dance, choreographer cause it's a mix between dance and creating something, professional gamer because games are a huuuge part of my life (not so huge now but it has been until my early 20s) and a DJ cause I breathe music 24/7. There is not a single minute in my day that I'm not listening to any music. Seria um cantor, dançarino, coreógrafo, gamer profissional ou um DJ. Eu não sei! Haha! Cantor porque eu amo cantar, dançarino porque eu amo dançar, coreógrafo porque é uma mistura de dança com criar alguma coisa, gamer profissional porque games sempre foram uma grande parte da minha vida (não tão grande agora mas foram até o começo dos meus 20) e DJ porque eu respiro música 24 horas do dia, 7 dias da semana. Não tem um minuto do meu dia que eu não esteja ouvindo música.