Instagram:
@tati_illustrations
Website:
www.tvovchek.com
1. What's your story? Where are you from?
Hey hello! I am Tatiana (shortly Tati) Vovchek, an illustrator based in Odessa, Ukraine. I work as a freelance illustrator and designer. I create digital illustrations and specialize in vector illustrations of pets and lifestyle. I also illustrate non-fiction books for children. I have been active as an illustrator/designer for clients worldwide from my studio in Odessa since 2016. Odessa is my native city where I was born and raised. I think it is anyone's dream to move to a bigger city after graduation for career opportunities and to feel that vibe of the big city. Besides there had been constant invasions from Russia to Ukraine and I was not feeling safe. Before becoming a full time illustrator I had a career in IT as a UI/UX designer. I was good at creating mobile apps and websites. Later I was promoted to the art director position with managing the whole team. The salary was great and I enjoyed that period of my life. But I always felt that I wanted to create art by myself. Also the designs and concepts you create in IT take years to be implemented and the design before implemented by developers and after usually looks ugly. I think that is because the developers and testers do not consider design that important and do not pay attention to tiny details which lead to elegant results. Anyway I gave myself a chance to switch to web design after an art direction position and I found a great job opportunity in the heart of Paris! I should have been very lucky! It takes about half a year to create a work visa, and I did not even know at that time how to write "bonjour" and "merci beaucoup" correctly:) And! I was in the 7th month of pregnancy having found that job. Just imagine me arriving in Paris for month internship with a huge belly and then returning to Odessa to have the baby born. And after my work visa was ready, me and my husband and a little daughter relocated to Paris. I worked there for a year, learning French more or less. But still I could not reach the level when I could speak the language freely. And that was a problem for comfortable life in Paris. Everyone hates English and wants you to speak French, even bad french:) But what was special about that year in France was my new desire to paint. I was trying to paint Parisian cityscapes each free hour I had because this is an insanely aesthetic city! I posted all my illustrations through my instagram and put hashtags. One of my urban sketches with a watercolor eiffel tower was reposted in a day many times and 2000+ people subscribed to my art in several days. That moment I thought that maybe I could earn somehow with illustrations? After improving in drawing I started to lose interest in web design. But still I had a lot of interesting stuff to do at that job. Btw the company is called Holidog, it is a pet sitting company, the idea is similar to airbnb but for pets. In the office we had lots of pets - ferrets, dogs. Later my boss brought the huge talking parrot from Thailand and it started to live in the office as well. That parrot destroyed many monitors with his claws lol:))) We used lots of illustrations in design and products, some I created from scratch. I also had to design custom packaging designs, created branding for sub companies around this brand, and I made photoshoots with company products. So all my skills were used in the company. After quitting my office work I continued to work with Holidog as a freelancer and now I only create illustrations for their pet blog. We have been working for almost 7 years successfully as of now! Having lived in Paris I also met the terrorist attack which was all around the news in November 2015. And my work was very close to the place where that attack happened. That episode led me to the thought that you are never safe, even in the safest European city anything could happen without our control, so it is not so bad to live back in Ukraine. I still want to relocate but be more ready for it - learn the language, be more financially stable, work on my client base, choose the country wisely. On my top list is Portugal! Covid also changed my plans with 2 years of uncertainty which led to divorce. I am sure my dream to live in warm Portugal will happen in the future and many career opportunities will come to me!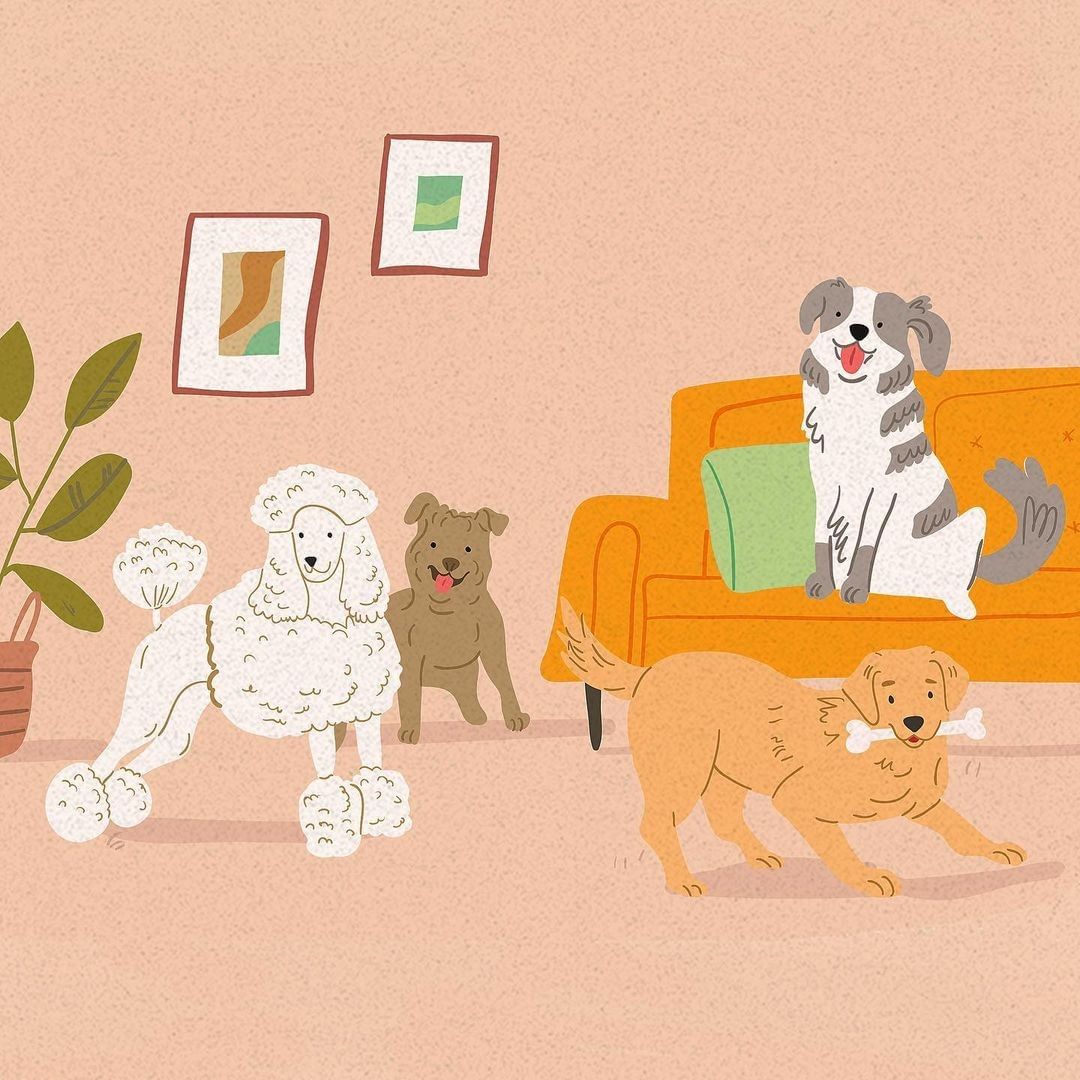 2. Tell us about your aesthetic.
As for illustration style I experimented a lot trying to find the most comfortable style. I like mixing textures, I love a wise minimalistic choice of colors. I feel like my aesthetic is not only in illustrations I make, but in the way I dress and in the way I decorate my home. Illustration style is as personal as the handwriting of each person.
 Home is my most comfortable place and I try to surround myself with beauty there even though I live in a tiny apartment in sleeping quarters. My daughter asked me once why we have so many pillows on our couch and so many tiny frames with direct photos/artworks on the wall:) But I just enjoy mixing different textures together and explore how I feel in different surroundings. And that influences my art a lot!
3. What is your favourite medium and why?
I create all my illustrations with Adobe Photoshop and Illustrator. It is an era of digital illustrations and I love how quick I can create art in it and make changes to the finished pieces. I would not mind working with watercolor more, acrylic and oil. But that is more an area of experiments for me and a hobby for now. I chose one medium and illustration style and developed only it right now. It is more convenient for all - for the client as he/she knows what to expect from me and easier for me as I will do my work quicker. Anyway it does not make sense to spend lots of time on illustration as the user will watch it for a second before scrolling/swiping. Emotion, simplicity - this is what is important for me.
4. What is your artistic process like?
First step - I read the brief for the illustration work from the client and imagine all the scenes in my head. Then I search for photo references of the background elements, characters, color mood into one Pinterest board. After that I take a good old pencil and sketchbook and make sketches of all the illustrations on paper. Then I take photos of them, transfer them to Photoshop and clean up the sketches. After all the sketches are validated by the client I color them. For coloring I use Adobe Illustrator. I might add some textures in Photoshop into the finished jpg.
5. Who and/or what inspires your work?
I think inspiration is what comes when I actually do the work. And I am not at that age when I can afford to sit and wait till inspiration comes:) That is a very similar feeling as the blank canvas feeling of the newbies. And that was long ago for me. When there is no lockdown, anyone from my close ones is healthy, I am feeling ok and no-one disturbs me, I just feel happy to quietly sit and do my work. I love creating illustrations, reading stories, and creating useful projects for kids and society. Drawing is relaxing and meditative work and I am happy I could make that switch from designing mobile apps to illustrating children's stories and just draw cute illustrations for brands. I think my love of nature, animals and comfort lifestyle is the theme which goes throughout all my illustrations. All my experiences throughout life will be used at some point here and there in some illustration project or pattern design.
6. What role does art play in your life? How does it change the way you view the world?
I love surrounding myself with artworks. And yes I am one of those people who hang their own artworks on the wall and enjoy them:) Besides we have a pleasant art community in Odessa and we get together from time to time either to make group exhibitions, draw together or just hang out. 
I would say that those who create art full time are deep and sensitive people. I am the same person and would love to have more time for implementing my own ideas on canvas. Also I believe in theory that we all have on "beautemeter" - it shows the level of beauty you notice all around yourself. The more I observe - people's art, dive into fashion design or fashion illustration, interior design and any other creative field - the higher my beautemeter gets! For some people Van Gogh is still looking weird and Rembrandt is the top level of art. If to compare 25 y.o. Tatyana, web designer, and 34 y.o. Tatyana, illustrator, these are two different people, with deeper culture, sense of beauty. Curious to meet 45 yo Tatyana in 10 years:)
7. Where did you study?
I was not drawing since childhood. At least I did not know I could be good at it. I was more proficient in math and chose it as my first profession, having a thought that the IT field will be in high demand in the future. And I was right! After my lessons in uni I was also visiting art school for 3 years where I learnt the basics of academic drawing and watercolor. Besides, I was learning English to an advanced level as I knew it would be useful for work with foreign markets. I am a constant learner. When online learning was becoming so popular I passed many of my interests. If there was something interesting available offline - I also took a chance to learn from an expert. If to be more formal - below in the list of all my education and art related education. In 2008, I finished Odessa Art School by K. Kostandi. In 2009, I gained my Masters degree in Computer science which I finished with honours at Odessa National University by I.Mechnikov. In 2009, I finished web design course at Odessa Computer Academy 'Step'. In 2012, I finished web design course at Odessa Learning Center 'Design Class'. In 2014-2015, I took private lessons on oil painting and academic drawing from artists Maria Guryanova, Sergey Bozhko, attended group lessons at Odessa art studio "Shtrikh", made lots of paintings en pleinaire. In 2016, I finished online watercolour course and illustration for beginners course at Kalacheva school. In 2017, I took 3 online art classes at SVS Learn Art School. In 2018, I took offline workshop from Victoria Semykina, award winning children's books author and illustrator. I also took offline workshop from Sergiy Maidukov, Kyiv based illustrator working for The New Yorker, The New York Times, The Washington Post, The Guardian etc. In 2021, I took an online illustration course from Anya Kuvarzina, former lecturer at CSVPA , UK and illustrator at Bright Agency.
8. Where do you see yourself in five years?
During the next five years I hope to try to work with an illustration agency and literacy agency from the UK. I will be happy to work with big brands and create illustrations for them. My big dream is to come to "Next", "ZARA" and see clothing selling with my illustrations on them! I love creating kids products design - either clothing, books, stationary. I hope to afford to buy a bigger apartment in the nice area in Odessa during this period. I fully support myself being a full time illustrator and I hope it will be like that in the next 5 years. Also I have a small business of selling my patterns at photo stock websites like Adobe Stock and I hope this income will grow much bigger and it will cover my expenses and will let me relocate to Portugal!
9. What about in ten?
Ten! That's me being almost 45! I remember myself being 20 and thinking that at my 30th I will be that old! So I think everything from 5 years will definitely come true and even better than I plan. Besides, I would love to return back to teaching and launch classes for beginner illustrators, or maybe even own an illustration agency if I have a great base of clients. Would be awesome to win in AOI as an illustrator and participate in the Bologna exhibition with my works.
10. What do you hope to achieve with your art?
I love seeing my art printed and used in real life objects. That brings me much joy! Remember I wrote how unpleasant it was to be a web designer and see how ugly my design was implemented? That is not like that in book design and print design! I prepare my clients files for printing and control the printing process by checking color proofs. So I am sure my design will look as planned if it is a book. I remember one woman tagged me on the collection of swimsuits she made with the patterns she bought from me! And how one Spanish brand launched the production of activity boxes for kids which I designed for them as well as the whole company branding! And seeing the insta videos of happy dogs eating food from the bowl I designed and covered with my illustrations for the food brand. Or how awesome it felt standing at the presentation of the ecology book I made with the local publisher to cover the topic of eco life for all the family. These are the most wonderful feelings of my illustration career! THere are much more stories of how my illustrations were useful around the globe for various brands and that is only 5 years of my illustration career! The more products I could design and use my illustration skill the happier I am. It would also be a dream to work with a Haute Couture brand like Gucci and design a scarf for them and create a pattern for a dress.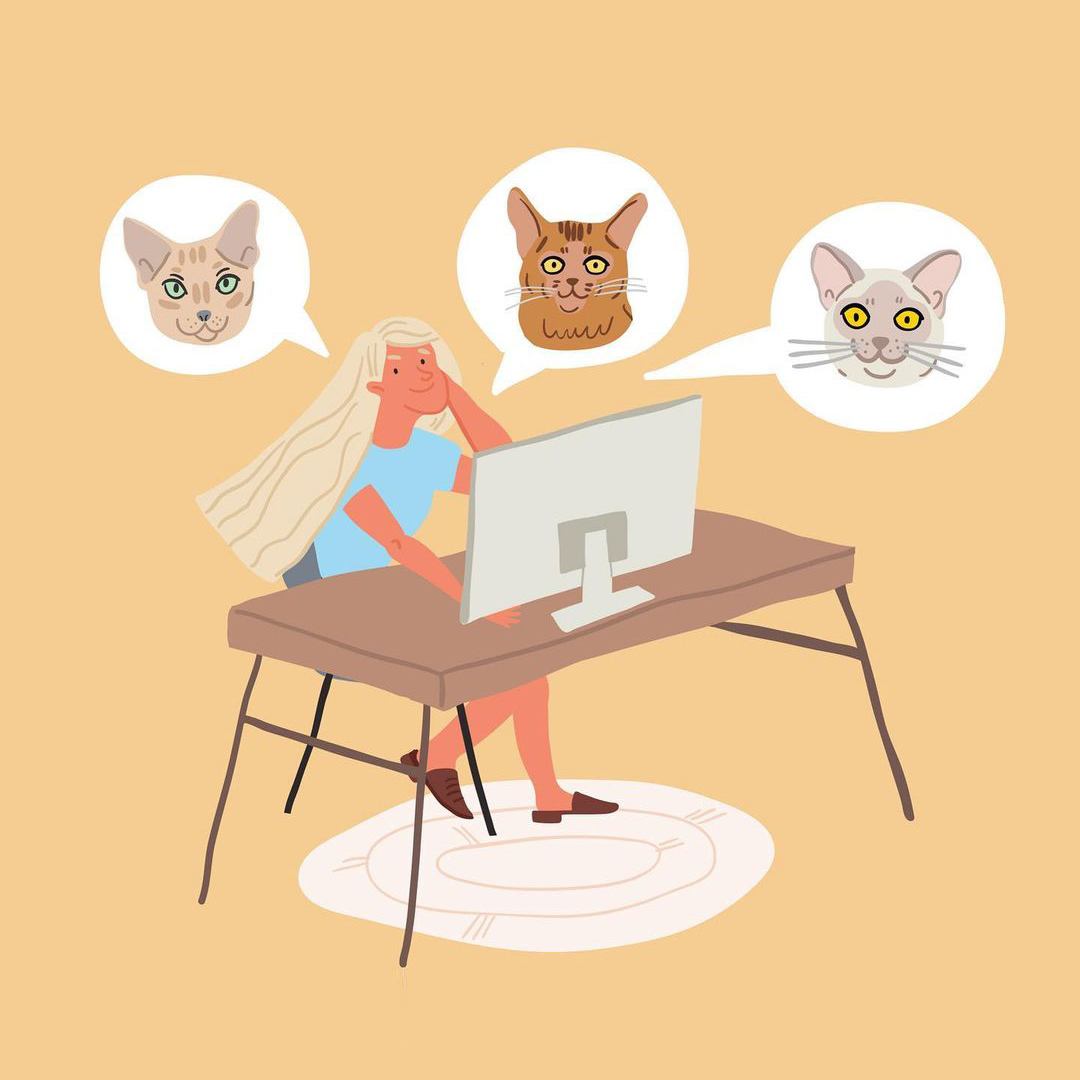 11. Now, tell us a little more about you as a person: what is your favourite food?
If only I could eat sushi and mix them with caesar salad with apple/carrot fresh juice I would be the happiest person ever:) I try to eat healthy so that I do not overeat and do not want to sleep after food. Also the serving is important - how the food looks on the plate and the atmosphere while eating.
12. Favourite book?
Each year 1 million new books are being published. And there are so many I did not read or swipe through for illustrations. How can I pick one? I wish I could read more fiction books in the future. The reality is that I read kids books before bed for my daughter regularly now. I quite enjoy what Julia Donaldson writes and I love reading Paddington. I also have quite a huge space on my bookshelf fit with picture books which I buy because they are beautiful and I take inspiration for my illustrations! For myself I read nonfiction and psychological books occasionally. The latest which was much useful for me was Lindsay Gibson's "Adult children of emotionally immature parents" and Luisa Hey's "Mirror work".
13. Favourite genre of music?
Apple music knows me better here:) I have no idea how my genres I listen are called. I like listening to Weeknd, Billie Eilish, Sam Smith, Adele, Lenny Kravitz, Beyonce and so many more! Golden hits are also perfect! And it can be a day with Radiohead only. Different mood - different genre of music.
14. What are your hobbies?
I love being a model and posing on photoshoots. I even won education from top model Coco Rocha and that was an experience! Besides, I love playing ukulele and singing and I am very bad at it and learning it all with youtube. I love sport - I visit group training sessions in the fitness club and mix what I want depending on my mood. It can be pilates one day or core training with weights the other day or even strip dancing which is so much pleasure! Also I draw noncommercial illustrations with my own ideas and draw abstract art on canvas from time to time.
15. If you weren't an artist, what would you be?
I could continue my career in IT. Probably I would relocate to Poland to some nice software company and make boring interfaces from 9 to 5. I think I could be a great photo model if I start on my 16th but not now. Who knows maybe I could reach the level of Coco Rocha in parallel life. Who knows. So many choices were made to be where I am now. I think I am in the place and career which is perfect for me now. And I have the ability to change that for the better!