Instagram:
@tchangn
1. What's your story? Where are you from?
I'm a graphic designer, currently living in Annecy, France. I've grown in the suburbs of Lyon, a man-sized city, but big enough to let people know the populated solitude of megalopolis. But that's where I peacefully grew up. I spent a good part of my teenage years finding pleasure in getting purposely lost in the small streets, discovering the work of numerous street artists. And a whole other reading some comic books, during hours, at a local store. Je suis une designer graphique et je vis actuellement à Annecy, en France. J'ai grandis dans les alentours de Lyon, une ville à taille humaine mais suffisamment grande pour faire connaître à chacun la solitude peuplée des mégalopoles/métropole. Mais c'est là que ma jeunesse à grandis tranquillement. J'ai passé une bonne partie de mon adolescence à me perdre avec plaisir dans les petites rues, découvrant ainsi le travail de nombreux street-artiste . Et une autre bonne partie à aller lire, pendant des heures, des bandes dessinées à la fnac.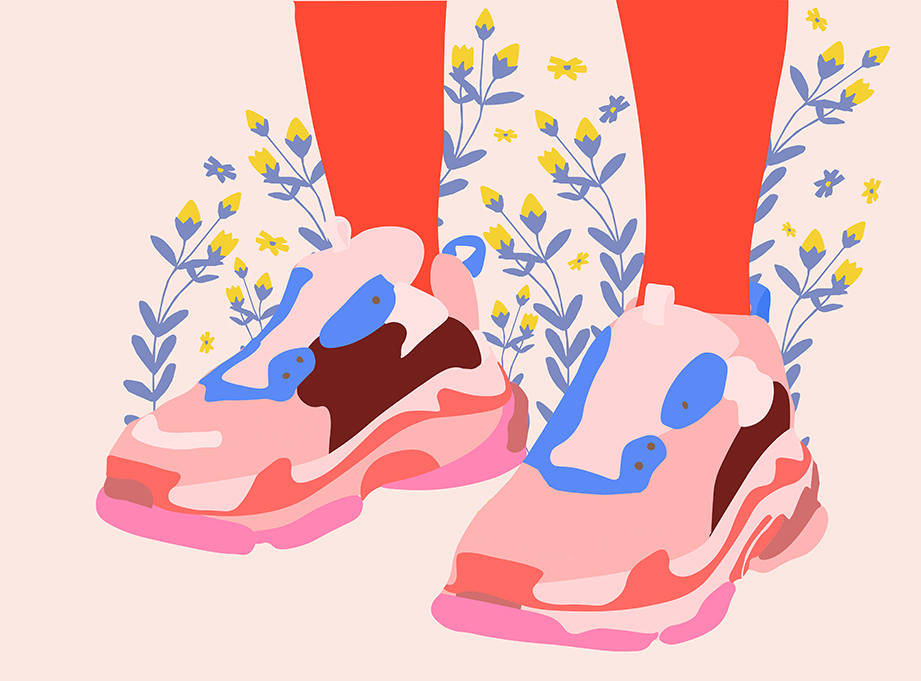 2. Tell us about your aesthetic.
I've went through different phases. I've started with an exclusively black and white work, because at this time, I thought it was an excellent way to transcribe emotions, to make them even more raw, sincere, genuine. Now I try to tend to more colorful, warm aesthetics. I guess that my sense of aesthetics is evolving to the rhythm of my thoughts, my mood, and way of living. Je suis passé par différentes phases. J'ai commencé par un travail exclusivement en noir et blanc, parce-qu'à l'époque je trouvais que c'était un excellent moyen de traduire des émotions, de les rendre plus brutes, plus sincères, plus authentique. Maintenant j'essaie de me tourner vers une esthétique plus coloré, plus chaleureuse. J'imagine que mon esthétique évolue au rythme de mes pensées, de mes humeurs et de mon mode de vie.
3. What is your favourite medium and why?
I use adobe photoshop and illustrator. But I have a preference for photoshop because it does not alter my brush strokes by making it cleaner and smoother. I do have a preference for digital drawing. I'm guessing it's a matter of personality, but the graphic tablet is making my mind free of the fear of making mistakes, it creates a dimension where going back is possible, I can try, fail, and go a stage back. Traditional drawing does not allow that kind of behavior: If you do a mistake, you can correct it, but as it is for life itself, you can never truly go back. That's why digital drawing is way more seductive to my eyes. J'utilise photoshop et illustrator. Mais j'ai une préférence pour photoshop, qui ne corrige pas mon trait en le rendant nette et lisse. J'ai une préférence certaine pour le dessin digital. Je pense que c'est une question de caractère, mais la tablette graphique permet de m'affranchir de l'erreur, ça créer une dimension ou le retour en arrière est possible, je peux tenter, rater et retourner à l'étape précédente. Le dessin traditionnel ne permet pas cela : on fait une erreur on peut la corriger ou la rectifier, mais à l'instar de la vie, on ne peut jamais retourner en arrière. C'est pour ça que le dessin digital m'apparait comme plus séduisant.
4. What is your artistic process like?
I rarely take commissions, so it's very occasional for me to do briefs or sketches. I keep my smartphone at reaching distance, where I take notes of sentences, constatations and words. After that, I try to transcribe all of my notes in digital drawings on photoshop, using essentially my emotions, in order to be as spontaneous and instinctive as possible. Je prends rarement des commandes de client, donc je fais que très occasionnellement des briefs ou des esquisses. J'ai toujours à porté de main mon téléphone, où je note des phrases, des constatations, des mots. J'essaie par la suite de retranscrire tout ça sur photoshop, en me basant essentiellement sur l'affect, afin d'être la plus instinctive et spontanée possible.
5. Who and/or what inspires your work?
I truly appreciate Joann Sfar work, and I admit having a big interest in german expressionism.
In terms of atmosphere and aesthetics, Akira and Amer Beton, two Japanese comics, greatly inspired me. By the way of treating duality, monstrosity of mankind, or the art of, rarely if ever, fall into the trap of dichotomic vision of things. I do also take my inspiration out of slices of life, I observe people in urban environments, in their everyday life, their behaviors, their eyes... J'apprécie énormément le travail de Joann Sfar et j'avoue avoir un très grand intérêt pour l'expressionnisme Allemand. En terme d'ambiance et d'esthétisme, Akira et Amer Beton m'ont beaucoup inspiré. Que se soit la manière de traité la dualité, la monstruosité du genre humain, ou bien l'art de ne (rarement) pas tomber dans une vision dichotomique des choses. Je m'inspire également beaucoup des instants de vie, j'observe les gens dans les milieux urbains, dans leurs quotidien, leurs gestuelles, leurs regards….
6. What role does art play in your life? How does it change the way you view the world?
It carries a significant part of my life. But strangely, more than art in itself, I like art history. I've taken, for four years, a class of art history, and it significantly changed my vision of the world. Being it from a cultural standpoint, as for an anthropological or social one. Cela occupe une place importante dans ma vie. Mais étrangement, plus que l'art en lui même j'apprécie l'histoire de l'art. J'ai eu, pendant 4 ans des cours d'histoire de l'art et ça a totalement changé ma vision du monde, que se soit d'un point de vue culturel, anthropologique ou social.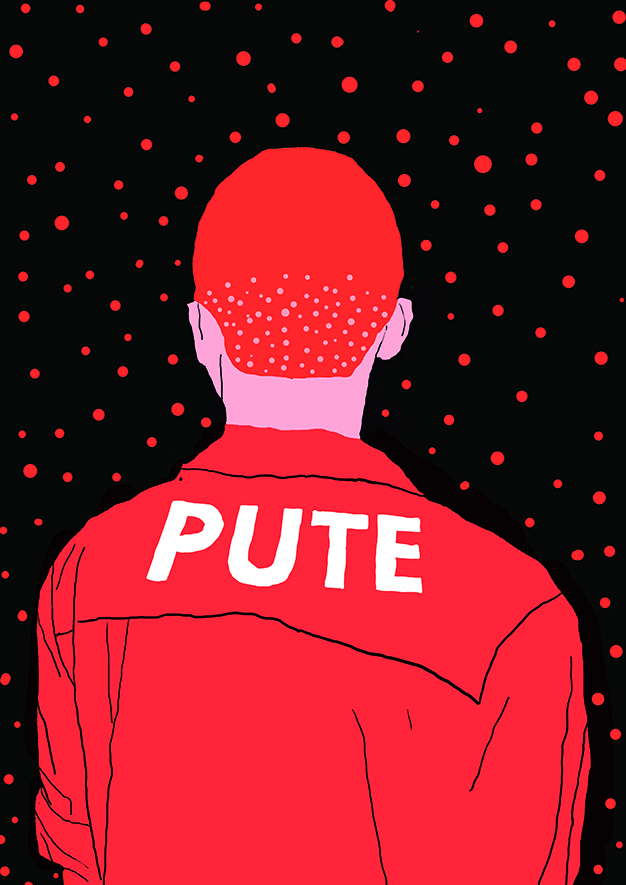 7. Where did you study?
In France. Firstly, I've gone through an apprenticeship of four years in graphic design, at Saint-Etienne. Then after a few months of fine arts, I've gone for a digital graphic design course, where I took advantage of my free time to draw. This year, I'm finishing my interactive design bachelor! En France. J'ai fais un apprentissage en 4 ans en design graphique, à Saint-Étienne. Et après quelques mois dans une école d'art, je me suis dirigé vers le design graphique numérique, où j'ai pu profiter de mon temps libre pour dessiner. Cette année je termine mon bachelor en design interactif !
8. Where do you see yourself in five years?
I'm at home, working as a freelance graphic designer, making collabs and tons of projects in the illustration field. I do not know for sure though, because it is tough to plan, but currently, this is what I'm wishing for. Je me vois chez moi, en train de travailler en tant que designer graphique freelance, et de faire des collaborations et de multiples projets en illustration. Je ne sais pas vraiment, c'est dur de se projeter, mais actuellement c'est ce que je souhaite.
9. What about in ten?
Same as the previous answer, but in a foreign country! Pareil que la question du haut, mais dans un pays étranger
10. What do you hope to achieve with your art?
I want to keep improving and develop my personal projects, I do not have special expectations, other than carrying on doing what I love. Continuer à me perfectionner et développer mes projets personnels, je n'ai pas d'attentes particulières si ce n'est continuer à faire ce que j'aime.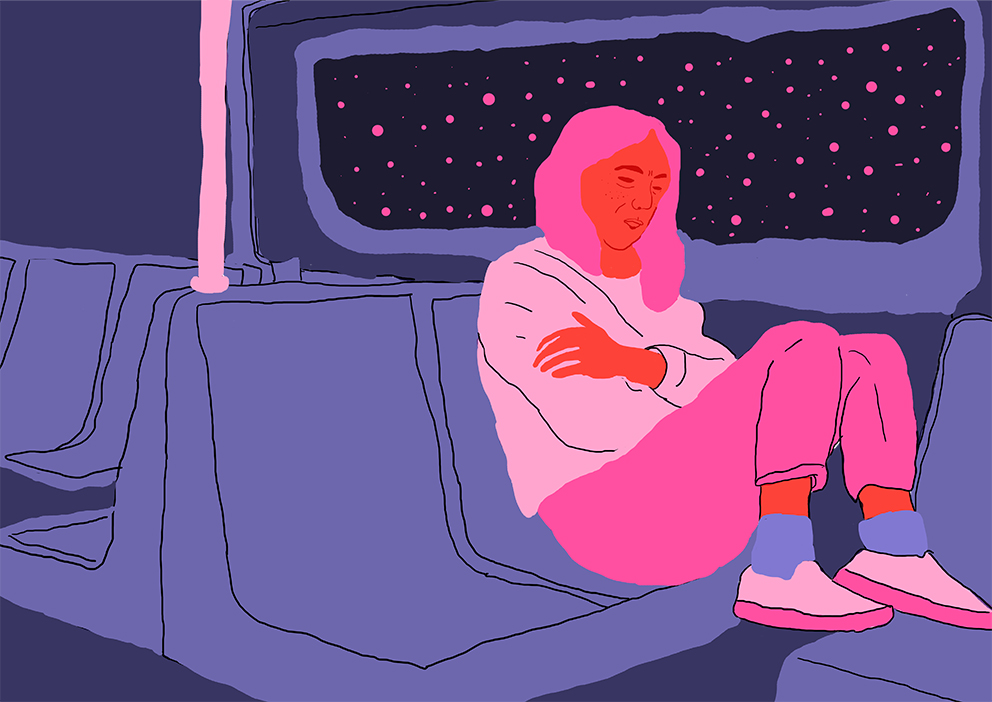 11. Now, tell us a little more about you as a person: what is your favourite food?
My favorite dish is the "Gratin dauphinois", just slightly overcoming burgers and fries of one of my favorite place to be: the 203 café at Lyon. Mon plat favori est le gratin dauphinois, qui dépasse de peu les hamburgers et les frites du café 203 à Lyon
12. Favourite book?
I was about to write "The Sisyphe mythos" ( nom à vérifer) of Camus (one of my favorite author), but it would be a bit dishonest. 
The Harry Potter books are my favorite by far, J.K Rowling created an infinite world, which permits to never (truly) letting go of your child soul. J'allais écrire le « mythe de Sisyphe » de Camus (que j'adore), mais ça serait manquer d'honneteté. Les harry potter restent mes livres préférés, J.K Rowling a créé un monde sans fin qui permet de ne jamais (totalement) perdre son âme d'enfant.
13. Favourite genre of music?
Rap, Hip-hop, and classical music. Le rap, le hip-hop et la musique classique.
14. What are your hobbies?
Definitely writing. I can devote myself to it up to three hours a day, depending on my phases. Je dirais l'écriture. Je peux m'y consacré deux à trois heures par jours selon les périodes.
15. If you weren't an artist, what would you be?
A psychologist. Un psychologue.