Instagram:
@tea_jurisic
1. What's your story? Where are you from?
Croatian born in Germany, lived everywhere around...At this moment, I am moving from the coast to the capital of Croatia, to have a few months of constant work in a private studio. I have a few projects on my mind, for which I need silence, time and space.
2. Tell us about your aesthetic.
I am the early bird, waking and working before the sun gets out. I am inspired and influenced by these mornings, and colors of the mornings, especially if the moon is around. The atmosphere can be very psychedelic. I love bizarre situations, uncommon events and stories. I love to represent nature but I don't use green color at all, that's all, my works look a little bit dreamy.
3. What is your favourite medium and why?
Watercolor, because of the possibility of getting the brightest tones, and also because there is not much room for mistake.
4. What is your artistic process like?
I don't do sketches in my private work because I don't like to repeat the idea. I think the idea has to come once on the paper, to stay fresh. I have completed work in my mind, with all the compositions, color schemes, and topics, and I just transfer it to the paper.
5. Who and/or what inspires your work?
Currently my partner and nature around me. I am lucky to live a few months per year in the breathtaking areas, on the coast of the most beautiful sea, with dramatic mountain scenery. Summer and Spring also influence color scheme I use - it becomes more sensual, fluid, warmer palette, I love to use all specter of blue-orange contrast.
6. What role does art play in your life? How does it change the way you view the world?
Maybe the most important role. I learned to canalize my life events on the paper, and without doing art, I am not sure how I would "storage" everything that happens to me and around me.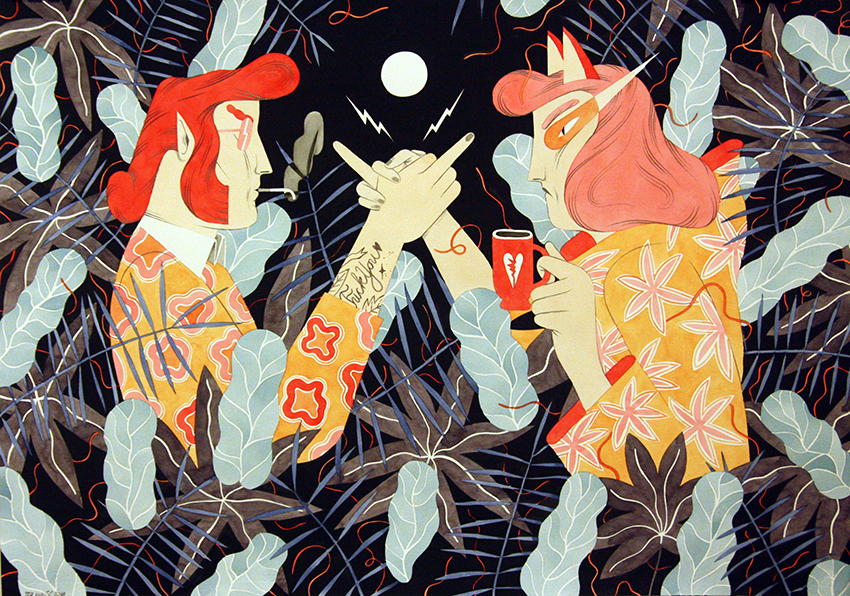 7. Where did you study?
Academy of Fine Arts in Zagreb, Croatia. It was a wonderful time at the Academy, it was a small community of really nice people and a great working space.
8. Where do you see yourself in five years?
In a big, bright studio, maybe somewhere on the coast, in the warm area, with my partner, and cat/dog
9. What about in ten?
Same, but with bigger amount of the art supplies and private chef :)) I love to eat, but I am not the biggest fan of cooking
10. What do you hope to achieve with your art?
Change the perspective of how the people think; to teach them how ordinary life can be full of unexpected and funny details. I want to encourage people to do what they really like and to do it as a job. I think everything you do, you have to do it with passion, otherwise, it is just a waste of time.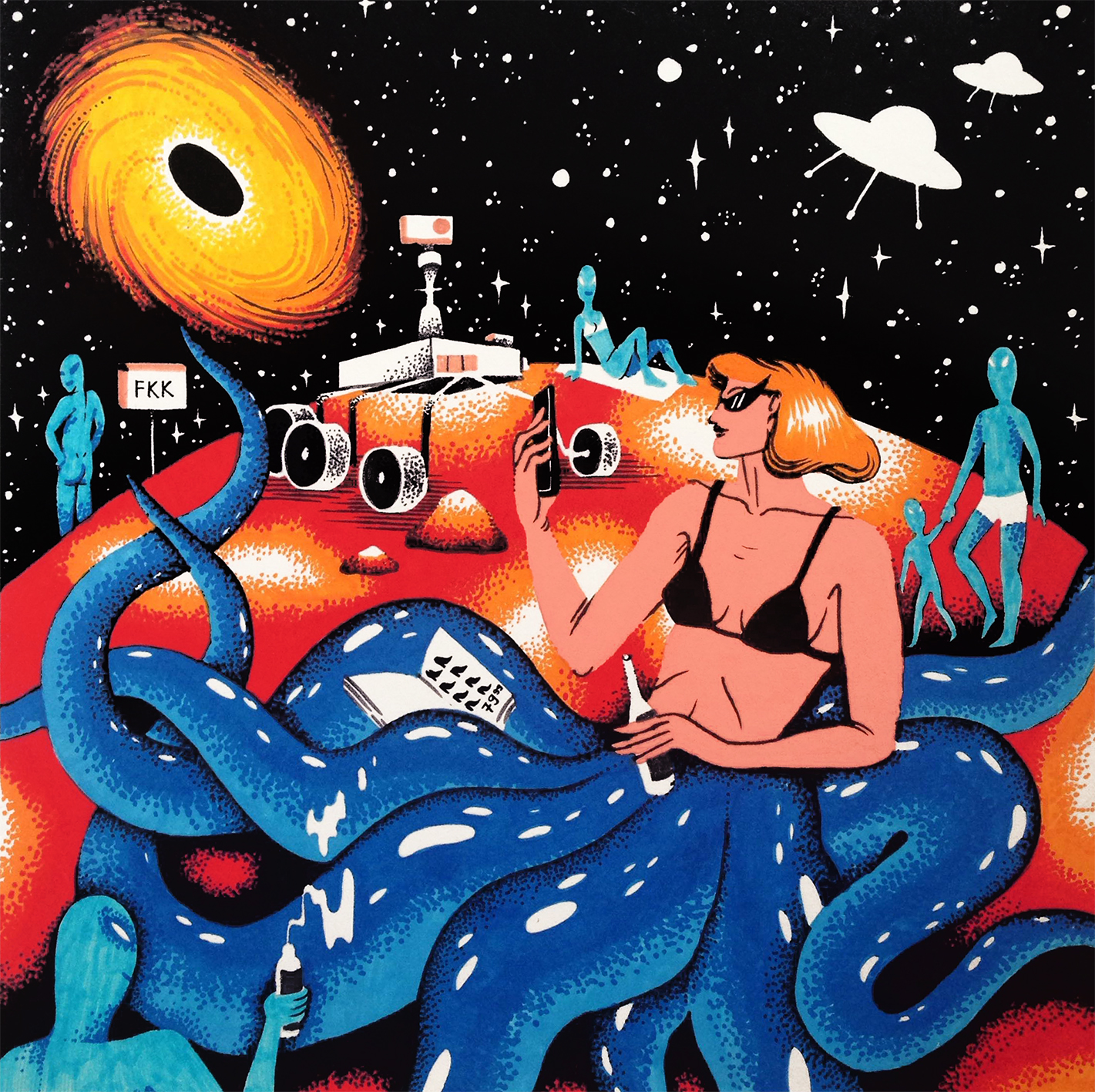 11. Now, tell us a little more about you as a person: what is your favourite food?
Depends on the day, I am a really big foodie. At the moment my favorite food is "Octopus peka", which is traditional food, slowly baked in a brick oven under a cast iron bell covered with hot ashes. The area I stay influence my food wishes.
12. Favourite book?
Hitchhiker's guide to the galaxy, Douglas Adams
13. Favourite genre of music?
Depends, when I paint, I love to listen to some classical compositions, as Bach, Beethoven, Mussorgsky, also Latino, lounge sounds. All other times, I am deep into psychedelic and prog rock, classical rock and sometimes a bit of electronica.
14. What are your hobbies?
Diving, I am a professional divemaster, and soon a NAUI diving instructor, I work during the summertime in my own diving center on the coast of Croatia.
15. If you weren't an artist, what would you be?
Astronomer! I love the thought that the biggest amount of mysterious events in the space will probably never be revealed.