Instagram:
@teeteeheehee
1. What's your story? Where are you from?
I'm Teresa, just a simple girl from Singapore who likes to draw and embroider. Applied to art school because I didn't know what else to do. Hated studying. Was told many times that I can't draw and I was in the wrong profession. Struggled through school but graduated in the end, yay.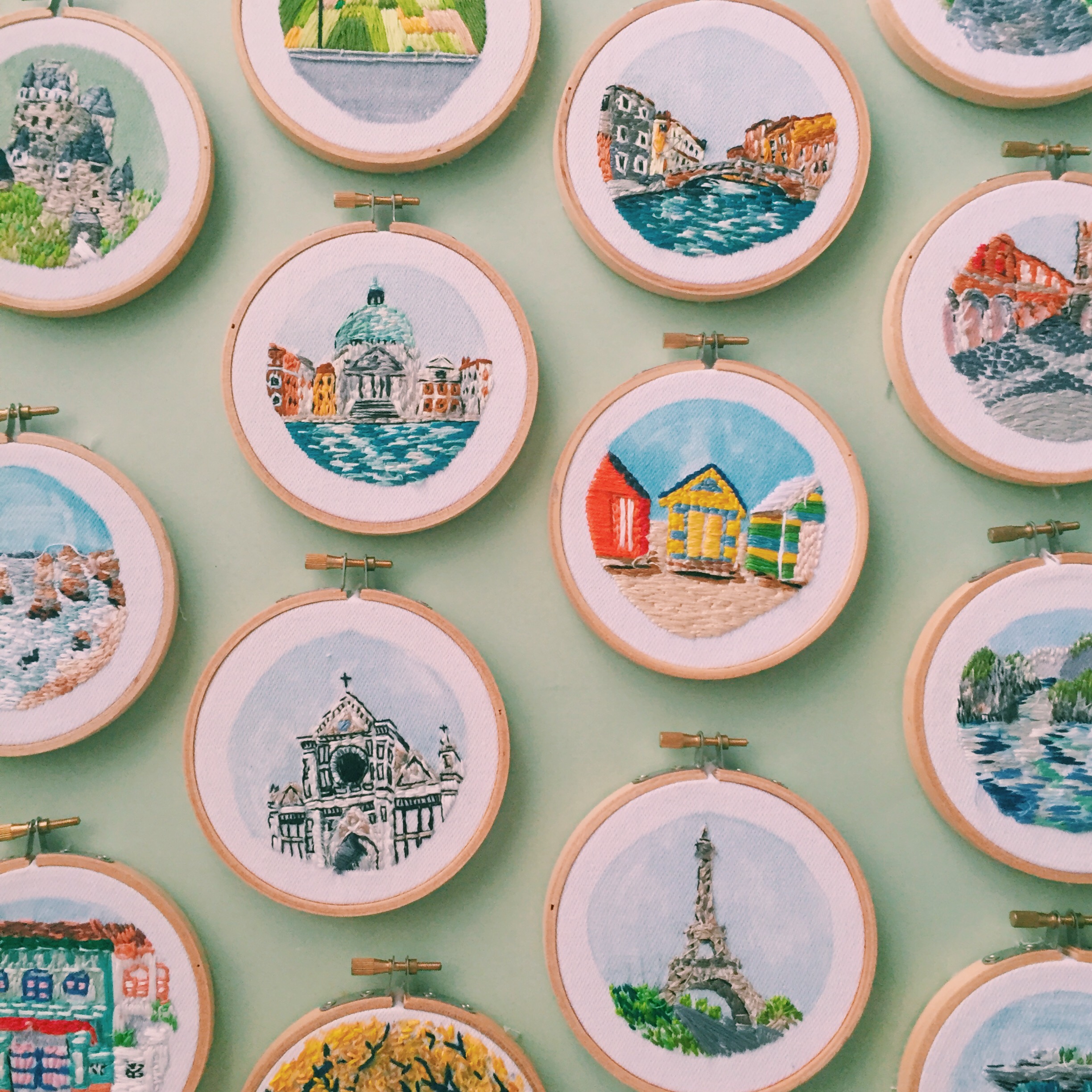 2. Tell us about your aesthetic.
I'm drawn to colors and textures, lines, and patterns. I am also drawn to imperfection.
3. What is your favourite medium and why?
I love embroidery so I draw with a needle and thread. I love the feel of fabric and the way an illustration slowly builds up stitch by stitch. With this medium I am able to play with so many types of textures, different thickness or yarns to create different effects... and the best part of it is that I can watch Netflix whilst working. :D
4. What is your artistic process like?
I get a lot of my inspiration from writing. I carry a notebook with me and spend time on a daily basis writing down my thoughts and observations on the world around me. Most if not all of my works are a reflection and response to that. For example, it is through writing that I realised that I hated the way I was travelling, just doing cliche tourist things like eating and taking photos people to like and get validation from so in response to that, I started a series called Sew Wanderlust to experience travel in a different way.
5. Who and/or what inspires your work?
Everyday life and conversations. Conversations heard whilst eavesdropping on the public transport always turns out the most interesting and I usually get a lot of ideas from those hahaha. I love the works of Marlene Dumas, it made me interested in drawing people.
6. What role does art play in your life? How does it change the way you view the world?
It is my outlet of expression and it helps me to respond to the world around me.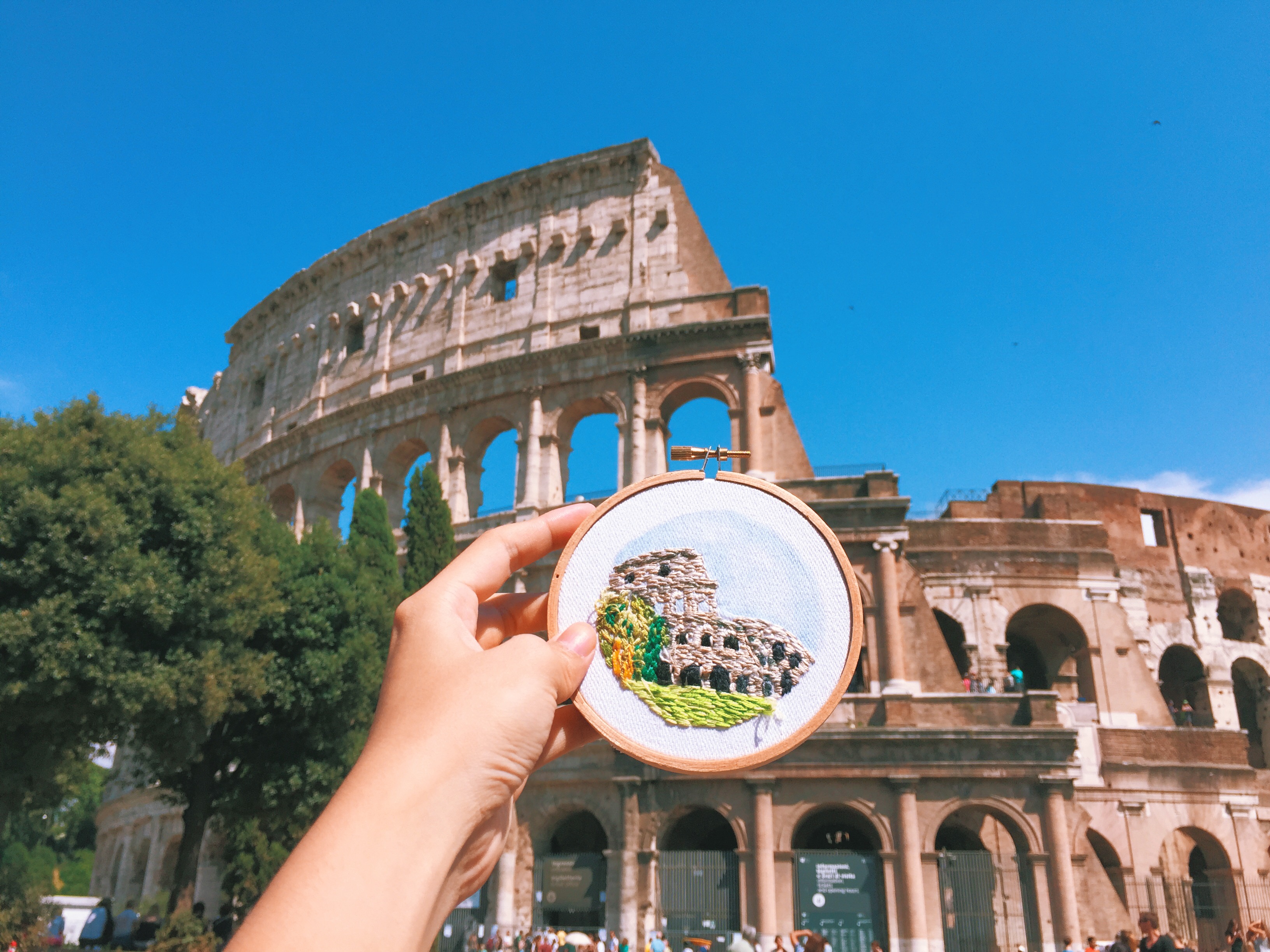 7. Where did you study?
I studied at LaSalle College of the Arts in Singapore.
8. Where do you see yourself in five years?
Still embroidering for a living and as a hobby, but maybe earned enough to buy my own apartment which includes an embroidery room with a nice arm chair and a large screen to stream Netflix videos and a nice pink polka dotted rug underneath my feet.
9. What about in ten?
STILL embroidering, hopefully travelling more for work too and maybe i'll get a cat.
10. What do you hope to achieve with your art?
I hope to tell stories that people can relate to through my work, to encourage thought and/or discussion on subjects like bullying, growing up in a digital age, body positivity, gender etc.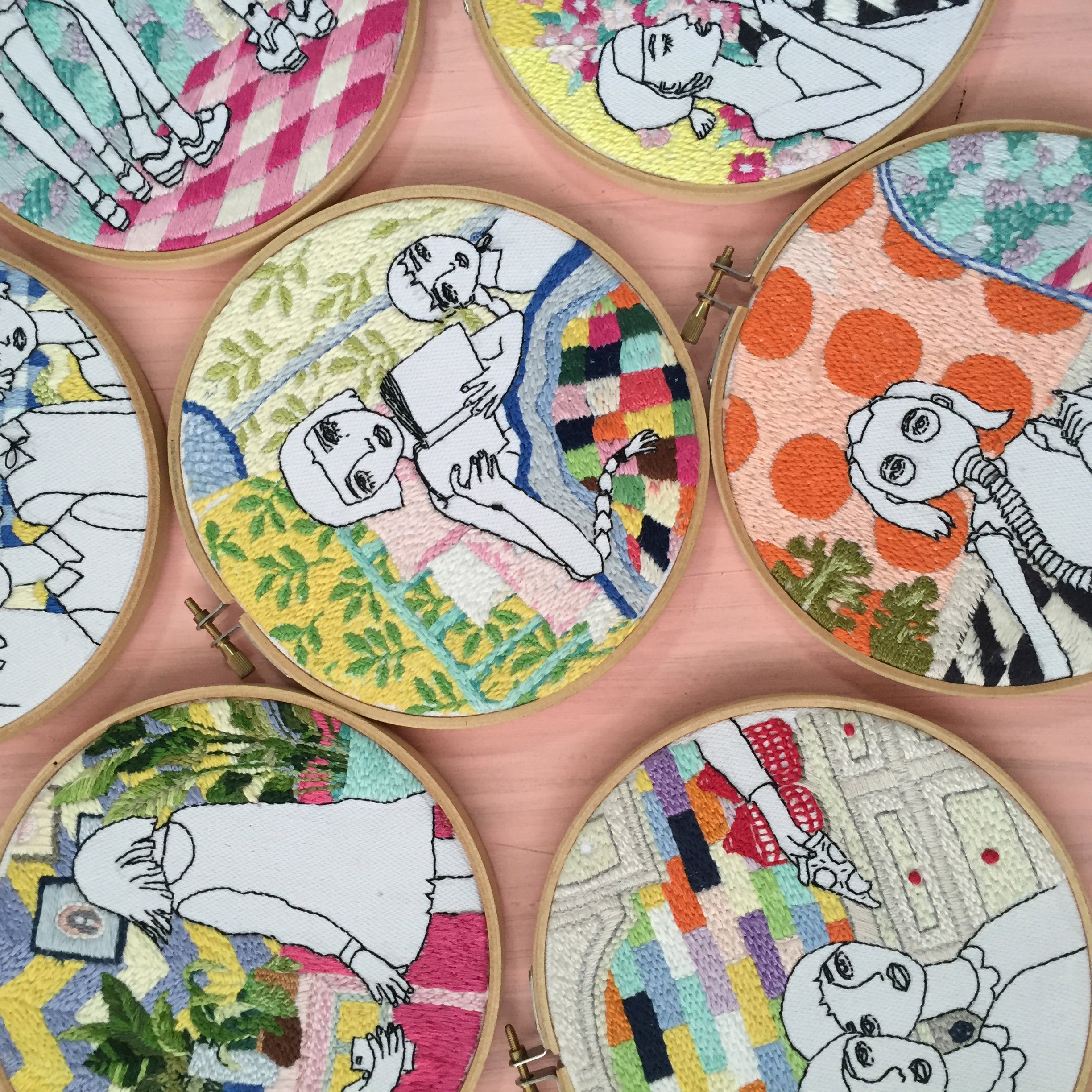 11. Now, tell us a little more about you as a person: what is your favourite food?
I love potatoes, I like them mashed and milky. Also nuggets, fries and steak. I'm not a very healthy eater. Hate vegetables.
12. Favourite book?
Oh I have too many I am just going to name a few: A tale of a time being - Ruth Ozeki Letters from a stoic- Seneca Wild Swans- Jung Chang The Journals of Sylvia Plath
13. Favourite genre of music?
Gypsy Swing , Bluegrass and classical strings.
14. What are your hobbies?
I enjoy playing the violin, I studied classical music since I was a kid so playing the violin still remains a big part of my life. I also absolutely love reading and spending time at book stores, I cannot explain the kind of happiness and euphoria I feel when I step into a place filled with books hahaha.
15. If you weren't a creative, what would you be?
I would be a concert violinist. It's always my dream to be able to play Tchaikovsky (Violin concerto in D Major, op.35) with a full orchestra. Either that, or a baker with my own bakery that makes colorful bread and pastries or work in the airport as part of the cargo team because airports have very nice smells and I want to take good care of luggages.