Instagram:
@tekenmaus
Website:
www.mausbaus.com
1. What's your story? Where are you from?
I'm MausBaus an illustrator that lives in Parijswijk near The Hague. When I was a young child I had lots of LEGO, and I never made a sound while playing. Sometimes it was so quiet that my mother became suspicious and wanted to see what I was doing. Instead of playing with LEGO I was drawing it.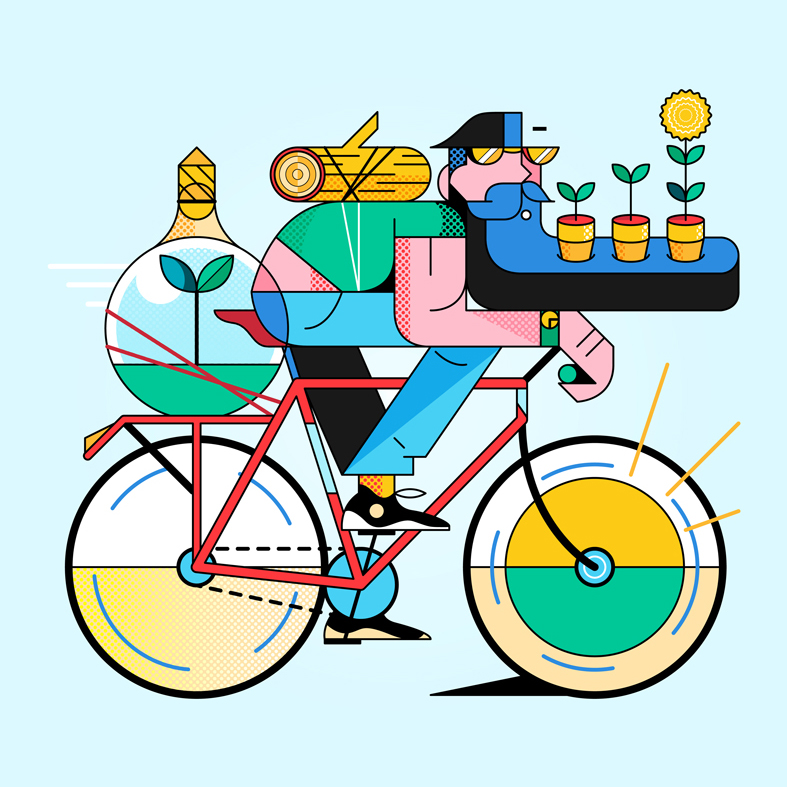 2. Tell us about your aesthetic.
It's colourful and friendly, within the squares.
3. What is your favourite medium and why?
Pencil. Every digital illustration I've ever made has a clean pencil drawing behind it. Maybe I'll exhibit them someday. The reason why I always start with pencil is that it has its own flow even with the geometric shapes I use. This way it will never become a digital trick.
4. What is your artistic process like?
When reading a text, I always start looking for two subjects. Then I Google those subjects, so I have a great view on all the bad ideas that can be transformed into good ideas. Then I try to combine those two subjects. For example: 'evolution' and 'social media'. Then I write down; 'The evolution of Facebook' and start sketching Jesus holding a Facebook cross followed by monkeys.
5. Who and/or what inspires your work?
I don't think it's about inspiration, but more about thinking. Even in an empty room ideas are flying around. In that way everyone can do it, but you must practice a lot. I never think about what to draw, I just draw. Coming up with a great idea is just your way of thinking. If it was inspiration that does the trick, I would have rocked my but off when I was ten, but I wasn't.
6. What role does art play in your life? How does it change the way you view the world?
I think art helps me to distract myself from the world, so I can use art to create my own world.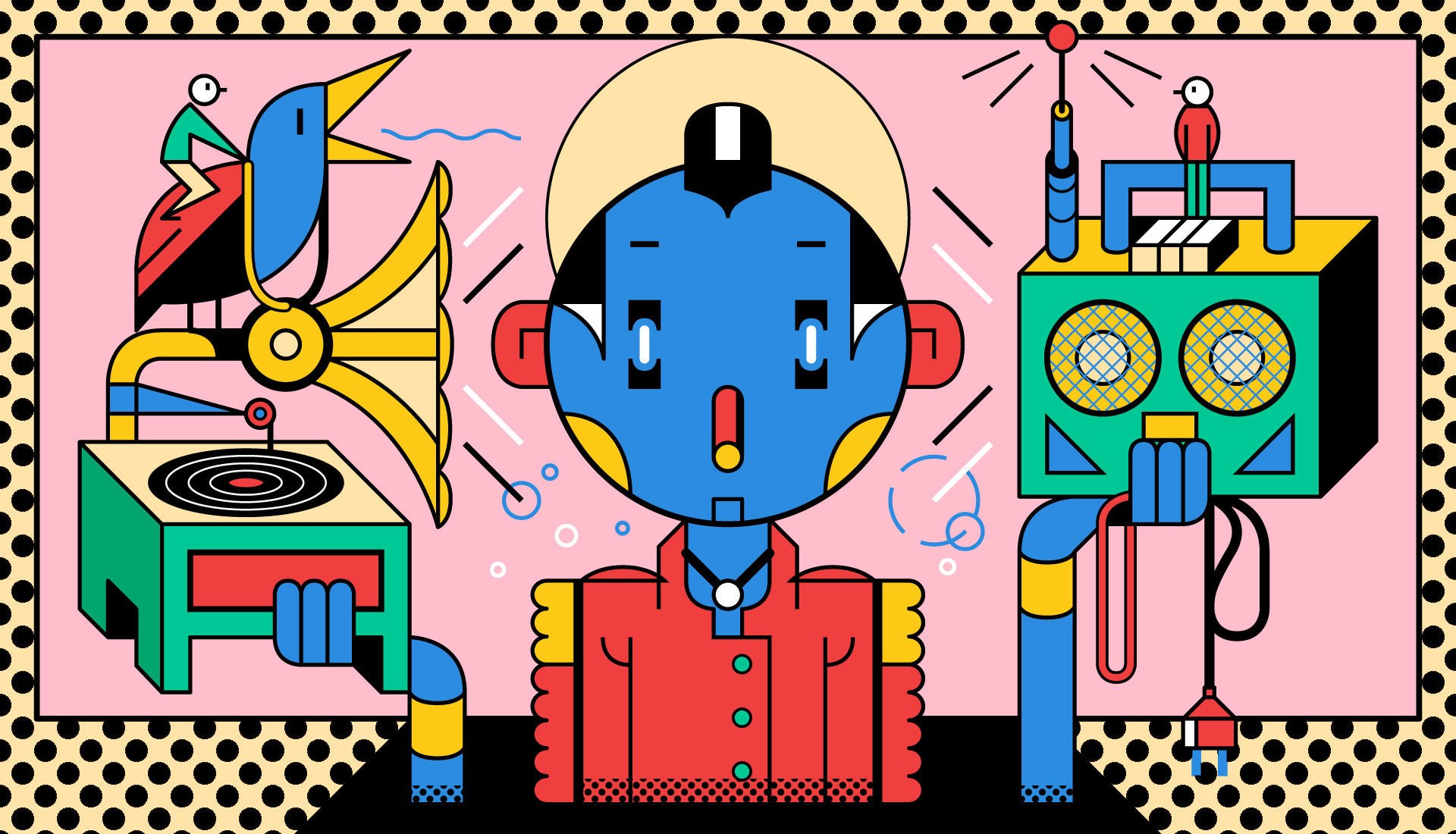 7. Where did you study?
Willem de Kooning Academy in Rotterdam.
8. Where do you see yourself in five years?
I wish there was an agency that only works with companies that are good for the environment. I have no interest in illustrating for coke or running shoes.
9. What about in ten?
Finding out that illustrating wasn't the path to happiness. It was living in the woods, collecting comic books and eating Turkish pizza.
10. What do you hope to achieve with your art?
A smile.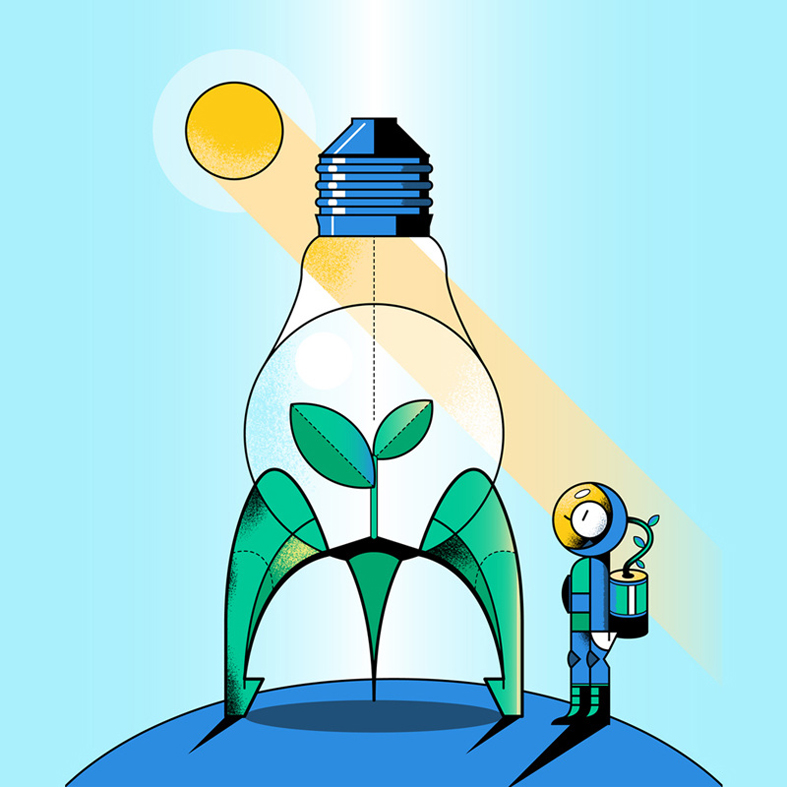 11. Now, tell us a little more about you as a person: what is your favourite food?
I was watching Okja and didn't know what the movie was about. It was around dinner time, so my girlfriend made this delicious Wagyu burger and we pressed play. End of story. Sadly, it was the best burger I ever ate, but the movie made it kinda awkward. It felt like having dinner with a vegan. Don't get me wrong. I love my greens. It's just unhealthy to always think about the things that we can improve, because that makes us think about all the things we do wrong. This way live becomes an assignment while no one knows the right answer. Make art, don't fart.
12. Favourite book?
Fight Club by Chuck Palahniuk. My favourite line: Self-improvement is masturbation. Now self- destruction... For me as a perfectionist this line helps me to let go. The same reason everyone loves a comeback. Falling apart makes you understand that you don't need improvement. Like Louis C.K. says: "Just put food in your mouth". Today as an illustrator you need to update your social media, keeping everybody happy, your clients and their clients and not to forget their followers and your own followers. Being popular has become more important than being artistic. To become the greatest artist in town you should think 'fuck it'.
13. Favourite genre of music?
Radiohead. I even stop listening sometimes, so I can enjoy it more later.
14. What are your hobbies?
Sadly, I don't have hobbies, but drawing could be nice. But drawing?
15. If you weren't an artist, what would you be?
An actor or writer.