Instagram:
@teresacurrea
1. What's your story? Where are you from?
My name is Teresa Currea, and I'm the forth of seven brothers and sisters. I live in Bogotá, Colombia where I'm from. I have a small studio 30 minutes walking from home and I work there since november of 2012, that means 5 years has gone by!! Time flies. I graduate from University 9 years ago and studied Art.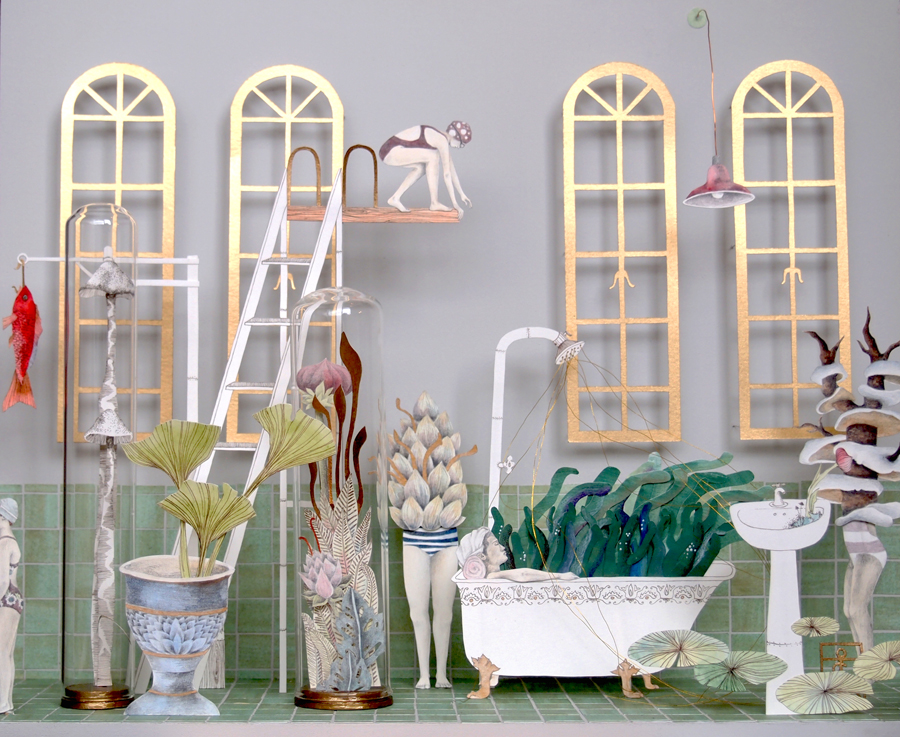 2. Tell us about your aesthetic.
Looking back at my oldest work, I can see an evolution of my drawings and my work in general. However the aesthetic remains closer to my dreams and my imagination. Always looking for seeing beyond simple representation and trying to gravitate to the unreal possibilities, like how the surrealist movement did. Also, I like the idea of putting together two completely different kind of things in the same space, like machines and trees, or modifying beings.
3. What is your favourite medium and why?
Really like to use watercolor, ink and pen, pencil, and acrylic on paper, and last I use my bisturí to cut everything! Like to keep it simple.
4. What is your artistic process like?
At the beginning, it is always a blurry idea in my head and I try to make it visible through different pieces. Is like making a puzzle. Sometimes I start with the bottom, sometimes its a special character or a small garden. Sometimes this puzzle is clearer and pieces comes easily and put together but sometimes there are a lot of changes and the result is completely different than I imagine. It is a process open to changes, always trying to make something visible in my imagination, enriched with a lot of inspirations.
5. Who and/or what inspires your work?
Travel is always an inspiring thing. My last trip to Japan was super inspiring. I also like the work of Hieronymus Bosch, Yayoi Kusama, James Jean, and Gustav Klimt. Literature is also a huge font of inspiration for me, currently I'm Reading Argentinian autor Julio Cortazar and his compilation of short stories.
6. What role does art play in your life? How does it change the way you view the world?
I'm a full time artist, that means it's my life, my work and my passion. That reminds me that it is not only a difficult life full of challenges but also full of beauty. Art has changed my view of the world because despite the fact we are all different there is always something to have in common -the very human necessity to create to challenge reality, and communicate our own ideas.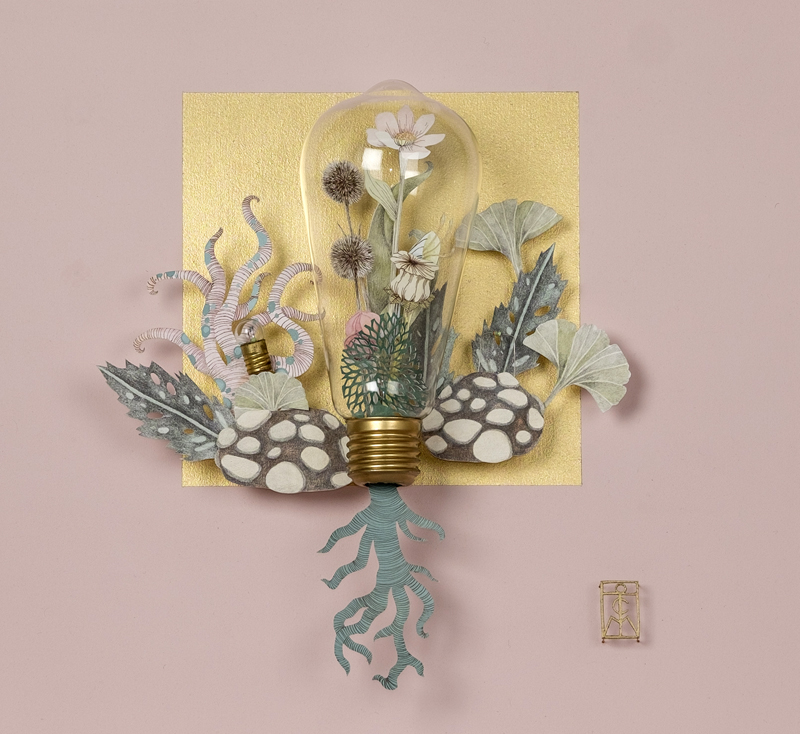 7. Where did you study?
Visual arts in National University of Colombia.
8. Where do you see yourself in five years?
I'm working hard to be able to share my work with people all over the world, so maybe I'll be in a different country, trying to learn and keep growing as an artist as much as possible.
9. What about in ten?
In ten years I would like to look back and see my career in the art world and have the possibility to share that history through a book.
10. What do you hope to achieve with your art?
It's very important to me to be able to share my work with as many people as possible. And I try to change the way people see art as something far away from our daily life, into something common and understandable.
11. Now, tell us a little more about you as a person: what is your favourite food?
I love all kind of fruits. In Colombia, we have a huge range of variety of fruits and I love all of them. When I visited Japan I tried sushi, and ramen, I have to tell that I love Japanese food because it is simple but tasty! Also Italian pasta, my favourite one is Carbonara.
12. Favourite book?
The Aleph, by Jorge Luis Borges, One hundred years of solitude by Gabriel Garcia Marquez, Paprika by Yasutaka tsu tsui, My name is red by Orhan Pamuk.
13. Favourite genre of music?
Rock, reggae, pop, and salsa.
14. What are your hobbies?
I like bookbinding, it's zen activity for me, I love to make new books.
15. If you weren't an artist, what would you be?
Traveler, or Fashion Designer.