Instagram: @thais.cy
1. What's your story? Where are you from?
I am a French student in illustration around Paris. I have been studying arts, design and graphics generally for 6 years. I started studying in Toulouse and have just been taken to continue these studies in Paris. I have always liked drawing, even though I was very bad at it. With time and practice, I achieved better results day by day. I live in my small apartment with my cat and my boyfriend and I am really happy. I participated in an exhibition for the village of Revel with a group of artists. I have also participated in screen printing workshops and I would love to be able to include this technique in my future illustrations, such as risography.
Je suis une étudiante française en illustrations aux alentours de Paris et cela fait déjà 6 ans que je fais des études axées autour des arts, du design et du graphisme plus généralement. J'ai commencé ses études vers Toulouse et vient d'être prise pour poursuivre celles-ci vers Paris. J'ai toujours aimé dessiner même si j'étais très mauvaise pour cela, mais avec du temps et de l'entraînement je parviens de jour en jour à un résultat que j'apprécie davantage. Je vis dans mon petit appartement avec mon chat et mon copain et je suis réellement heureuse. J'ai participé à une exposition pour le village de Revel avec un groupe d'artistes. J'ai aussi participé à des ateliers de sérigraphie et j'aimerais énormément pouvoir inclure cette technique à mes futures illustrations, comme de la risographie.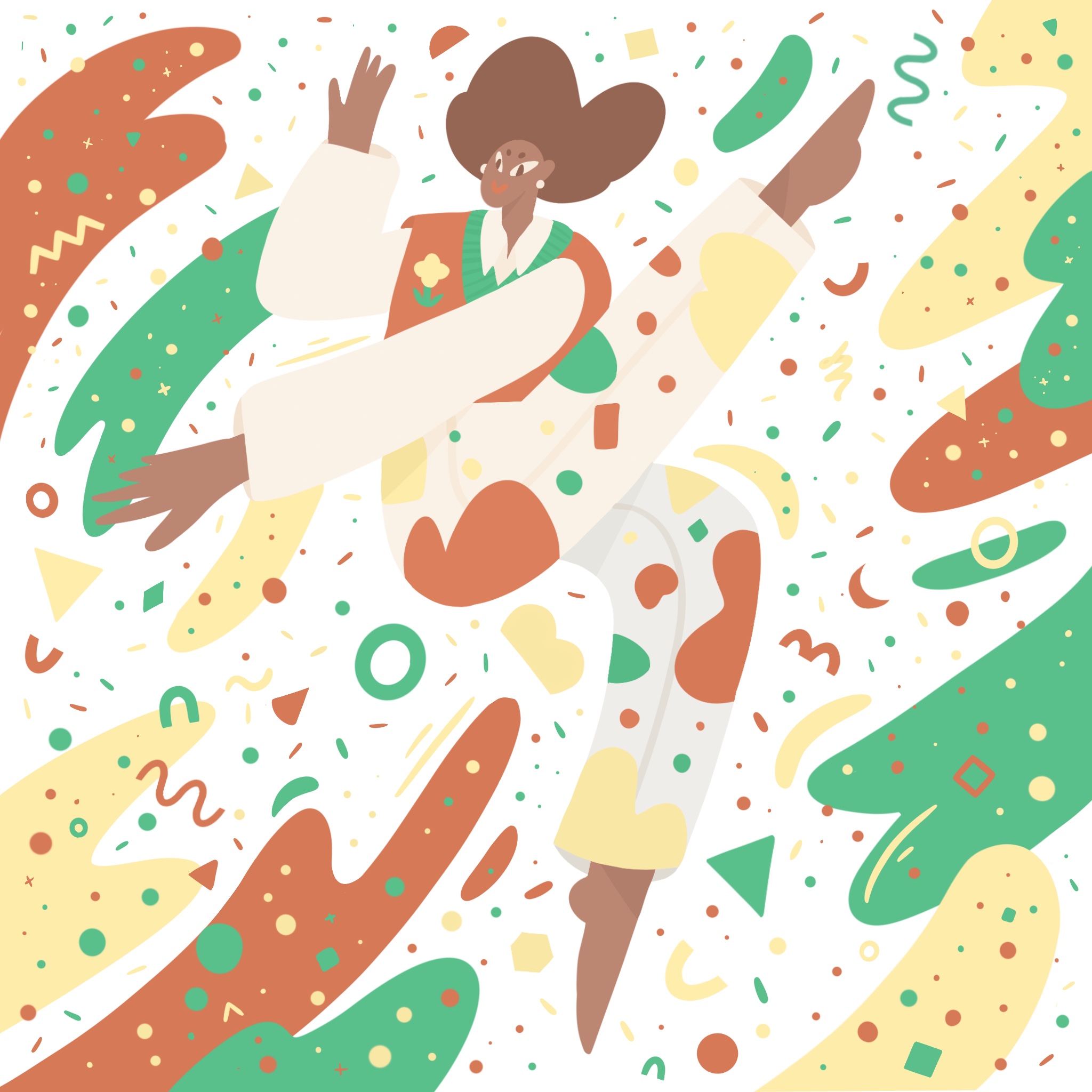 2. Tell us about your aesthetic.
Recently, I started to try to work with more colors, to put more direct forms in my illustrations. I like to work around rather simplified characters, with colorful patterns or what is similar to the sky and flowers as well. I like to look for new color palettes that would match, new shapes for backgrounds loaded with all kinds of details. I wholeheartedly love to have a style for youth illustration and that's what I would like to evolve towards.
Récemment, j'ai commencé à m'efforcer de travailler avec davantage de couleurs, à mettre des formes plus franches dans mes illustrations. J'aime travailler autour de personnages plutôt simplifié, avec des motifs colorés ou ce qui se rapproche du ciel et des fleurs également. J'aime chercher de nouvelles palettes de couleurs qui s'accorderaient, de nouvelles formes pour des fonds chargés de détails en tout genre. J'aime de tout coeur avoir un style pour de l'illustration jeunesse et c'est ce vers quoi j'aimerais évoluer.
3. What is your favourite medium and why?
My favorite medium is probably the Internet, especially with Pinterest or Instagram because that's where I find a lot of inspiration and can discover the work of artists around the world in various fields. I need inspiration on a daily basis, and not just for my art but for my life in general.
Mon média favori est probablement Internet notamment avec Pinterest ou Instagram car c'est là que je trouve beaucoup d'inspiration et peut découvrir le travail d'artistes autour du monde dans des domaines variés. J'ai besoin d'inspiration au quotidien, et pas uniquement pour mon art mais pour ma vie en général.
4. What is your artistic process like?
I like to take the time to make sketches throughout the day, patterns, characters, nothing very complete but that's what I use to define small compositions in my sketchbook. Subsequently, I take these small sketches on my Ipad on which I produce each of my illustrations. A "normal" illustration generally takes me between 2h and 3h without counting the preparation and sketch side.
J'aime prendre le temps de faire des croquis tout au long de la journée, de motifs, de personnages, rien de bien complet mais c'est ce qui me sert pour définir de petites compositions dans mon carnet de croquis. Par la suite, je reprends ces petits croquis sur mon Ipad sur lequel je produis chacune de mes illustrations. Une illustration "normale" me prend généralement entre 2h et 3h sans compter la face de préparation et de croquis.
5. Who and/or what inspires your work?
There are so many artists of which I am a fan and who inspire me on a daily basis. I like the work of Brett Stenson for its colorful universe just like that of Diana Traykov or that more childish of Béatrice Blue. More classic but huge inspiration for me, Matisse and his cut-outs. Charline Gohier, plastic artist using terrazzo, also inspires me greatly. In design more generally, Gustaf Westman and his furniture with singular shapes.
Il y a tant d'artistes dont je suis fan et qui m'inspirent au quotidien. J'aime le travail de Brett Stenson pour son univers coloré tout comme celui de Diana Traykov ou celui plus enfantin de Béatrice Blue. Plus classique mais énorme inspiration pour moi, Matisse et ses papiers découpés. Charline Gohier, plasticienne utilisant la terrazzo, m'inspire aussi grandement. Dans le design plus généralement, Gustaf Westman et son mobilier aux formes singulières.
6. What role does art play in your life? How does it change the way you view the world?
Art has a preponderant place in my life. There isn't a day when I don't discover artists, or I don't draw. I won't be much without art in general, it pushes me every day, that's where I see beauty.
L'art a une place prépondérante dans ma vie. Il n'y a pas un jour où je ne découvre pas d'artistes, ou je ne dessine pas. Je ne serai pas grand chose sans l'art en général, cela me pousse chaque jour, c'est là où je vois la beauté.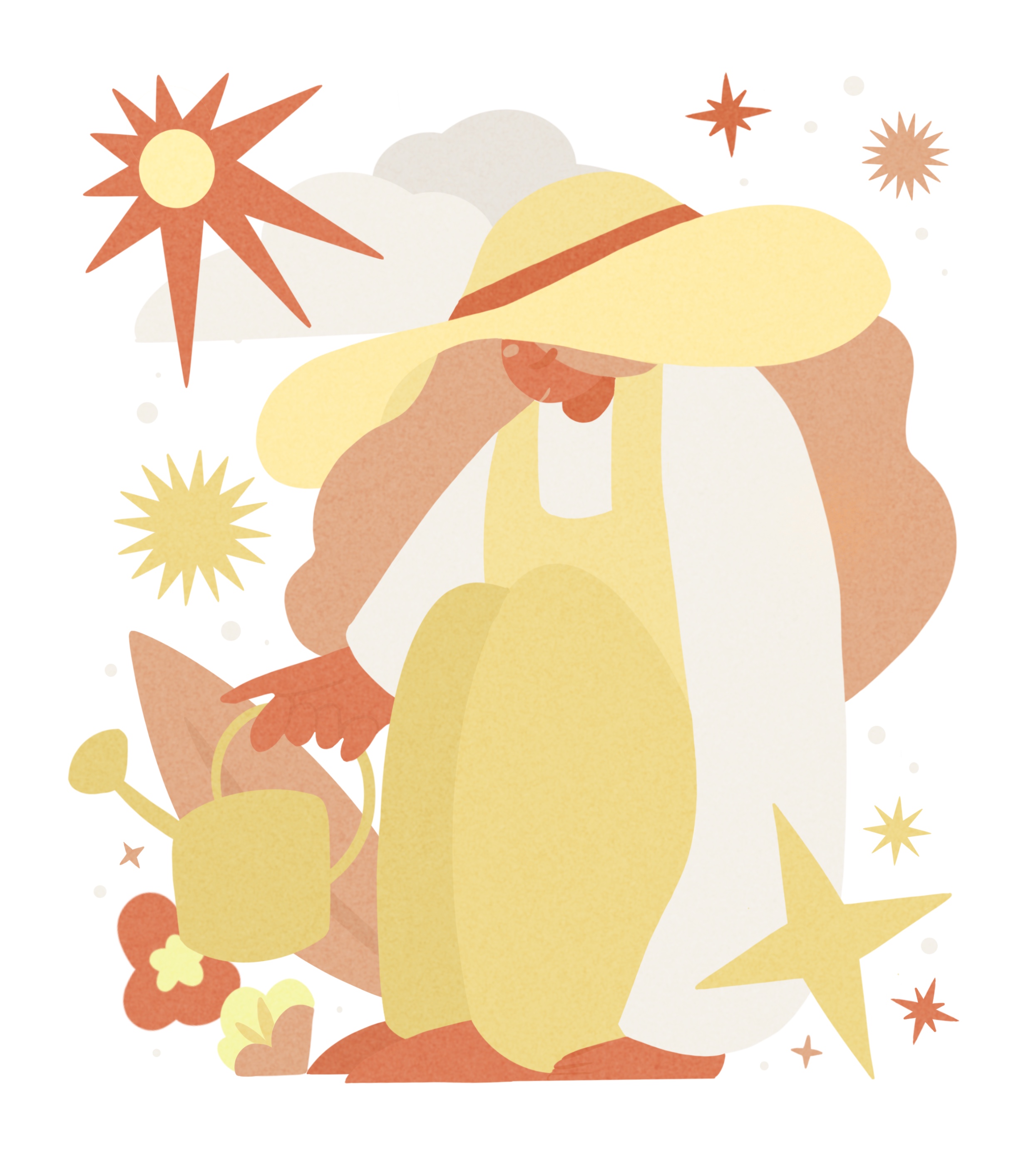 7. Where did you study?
I first studied in Toulouse at the Cité Scolaire Rive Gauche where I took a bachelor's degree specializing in applied arts, then I went to Revel to learn woodworking and now I'm a student in the first year of DN MADE Graphics, Image and Narration on Colombes at the Claude Garamont school.
J'ai d'abord étudié sur Toulouse à la Cité Scolaire Rive Gauche où j'ai passé un baccalauréat spécialisé dans les arts appliqués, par la suite je suis allée sur Revel pour apprendre le travail du bois et maintenant, je suis étudiante en première année de DN MADE Graphisme, Image et Narration sur Colombes à l'école Claude Garamont.
8. Where do you see yourself in five years?
In 5 years, I would like to have finished my studies and be able to start working full time in illustration, and in youth illustration if possible. If necessary, I don't mind having another job on the side first, but I would really like to be able to live solely on my art for the long term.
Dans 5 ans, j'aimerais avoir terminé mes études et pouvoir me lancer à temps plein dans l'illustration, et dans l'illustration jeunesse si cela est possible. Au besoin, avoir un autre travail à côté dans un premier temps ne me dérange pas mais j'aimerais vraiment pouvoir vivre uniquement de mon art sur le long terme.
9. What about in ten?
In ten years, being able to work only with my art would be ideal. Preferably in a city but not in Paris.
Being able to collaborate with brands or other artists would really be a dream for me too. I would love to go paint large city or restaurant walls with my illustrations.
Dans dix ans, pouvoir travailler uniquement de mon art serait l'idéal du coup. De préférence dans une ville mais pas à Paris.
Pouvoir collaborer avec des marques ou d'autres artistes serait vraiment un rêve pour moi également. J'adorerais aller peindre de grands murs de ville ou de restaurant de mes illustrations.
10. What do you hope to achieve with your art?
I hope to amaze children, bring color and joy to those who will love my art. In my opinion, the world is generally lacking in color.
J'espère émerveiller les enfants, apporter de la couleur et de la joie à ceux qui aimeront mon art. A mon sens, le monde manque généralement de couleurs.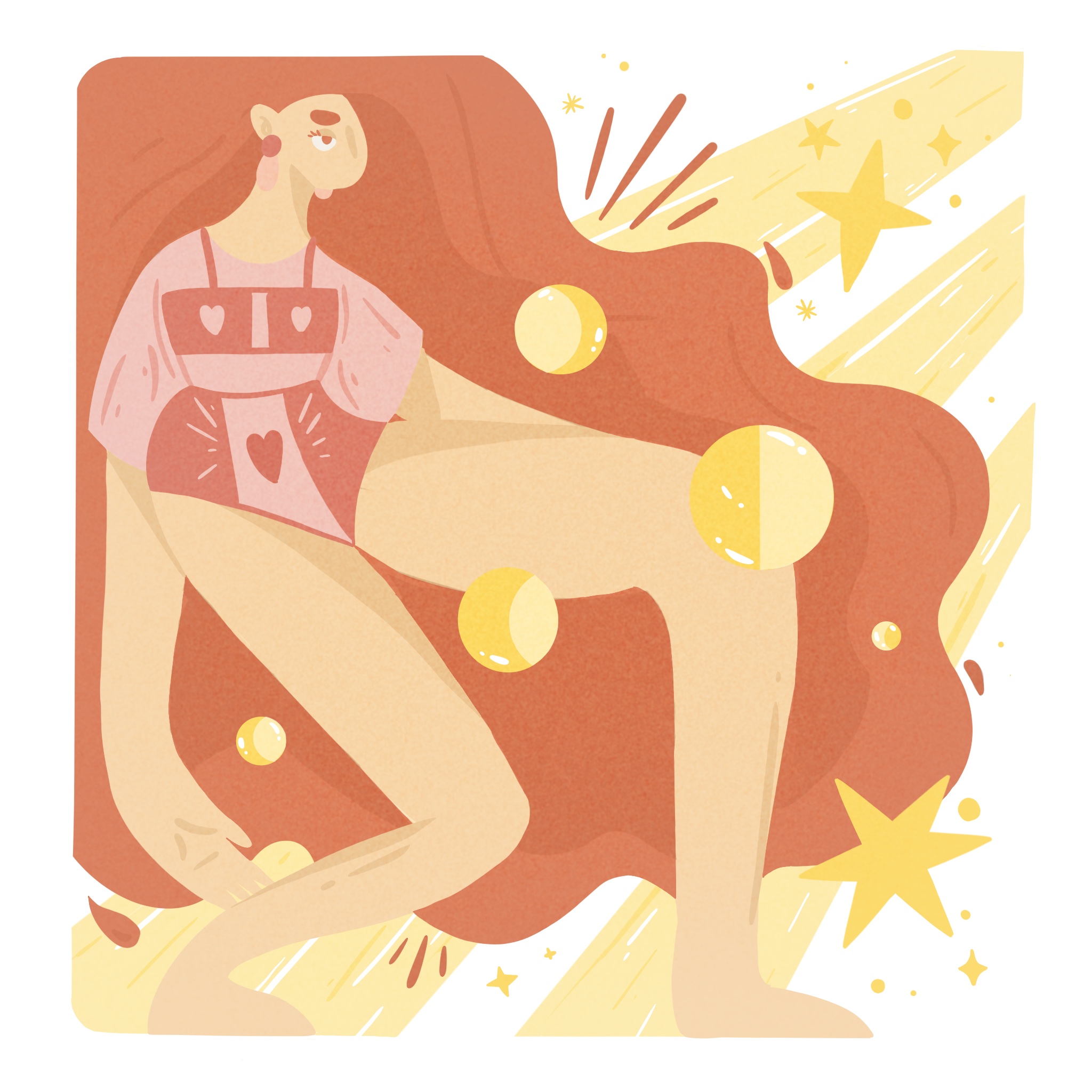 11. Now, tell us a little more about you as a person: what is your favourite food?
I am a vegetarian and my favorite dish for years has been Ratatouille. This summer and fresh dish always pleases me as much!
Je suis végétarienne et mon plat favori depuis des années est la Ratatouille. Ce plat estival et frais me plait toujours autant!
12. Favourite book?
Probably 'Do it or Die' by Claire-Lise Marquier whom I love with all my heart!
Probablement 'Le faire ou Mourir' de Claire-Lise Marquier que j'aime de tout coeur!
13. Favourite genre of music?
I don't have a favorite kind of music, I really listen to everything, but maybe a little more rock.
Je n'ai pas de genre de musique favorite, j'écoute réellement de tout, mais peut-être un peu davantage de rock.
14. What are your hobbies?
Apart from drawing, I really enjoy cooking and I try to learn more about it every day as well. I also like interior decoration, design, animation cinema, ecology, fashion and video games.
En dehors du dessin, j'aime énormément la cuisine et cherche à en apprendre tous les jours davantage à ce sujet également. J'aime aussi la décoration d'intérieur, le design, le cinéma d'animation, l'écologie, la mode et les jeux vidéos.
15. If you weren't an artist, what would you be?
If I hadn't turned to art, I guess I would have turned to cooking over the years. I worked a little in this environment too, and I like the responsibilities that this engenders, the spirit that reigns within a team in the kitchen, having to be quick and organized.
Si je ne m'étais pas dirigé vers l'art, je suppose que je me serais tourné vers la cuisine au fil des années. J'ai un peu travaillé dans ce milieu là également, et j'aime les responsabilités que cela engendre, l'esprit qui règne au sein d'une équipe en cuisine, devoir être rapide et organisé.