Instagram:
@the_vagabond_artist
Website:
www.theillustrationarchive.com
1. What's your story? Where are you from?
My name is Diya Sengupta. I am from the cultural hub of India- Bombay. Like most Artists, I started painting when I was little. In spite of growing up in an environment that only considered Engineering as a profession, I was fortunate enough to have two amazing parents who knew not much about art but definitely about the importance of letting their kids follow their passion and dreams. I have never really known a life without Art and it has helped me tremendously dealing with my social anxiety.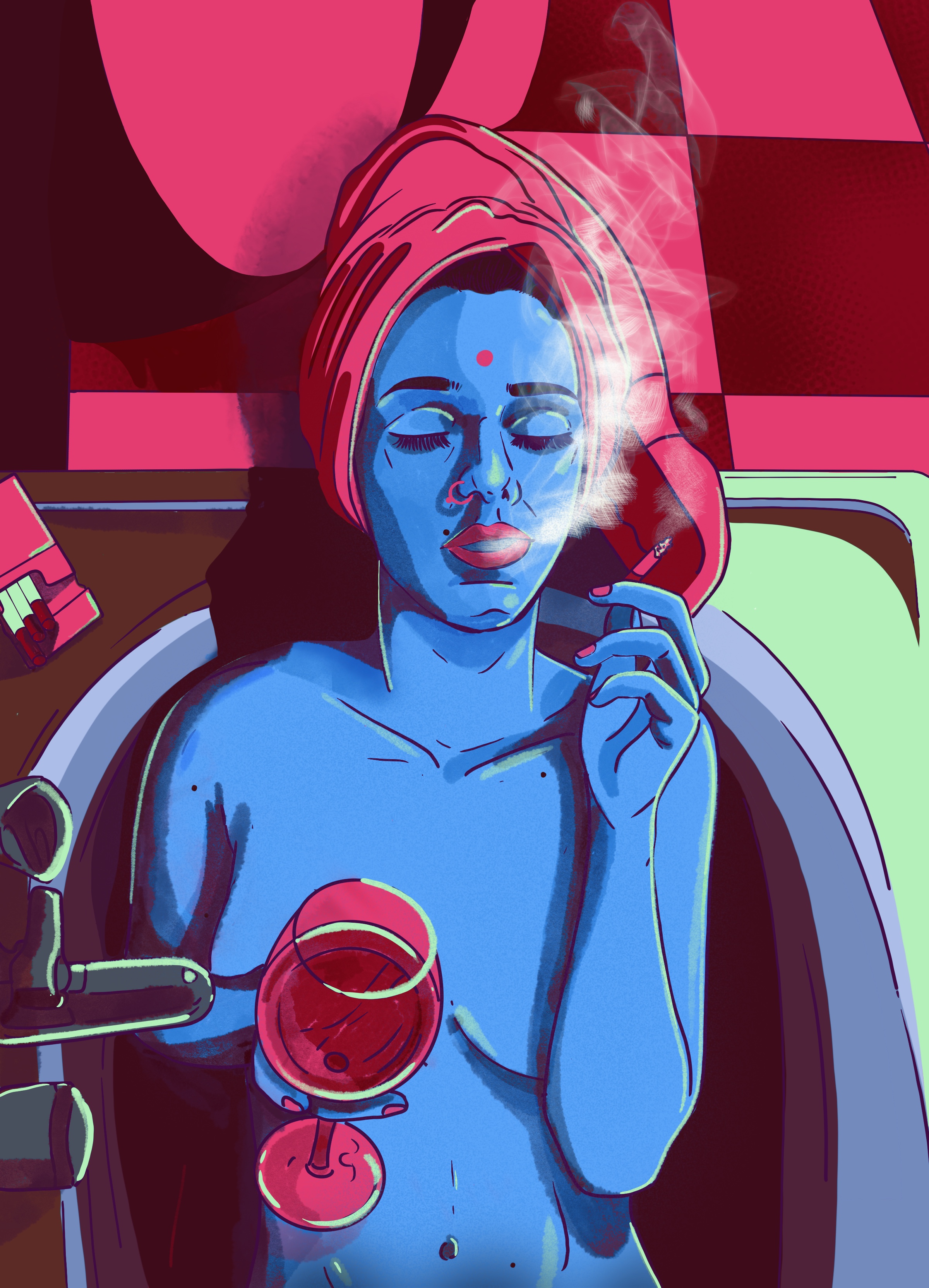 2. Tell us about your aesthetic.
For a long time, I struggled with my design aesthetic and quite frankly, I haven't found it yet. I believe your art keeps evolving as you grow old and sticking to a certain aesthetic at least in your 20s somewhat restricts you from exploring outside your comfort zone. I treat my artworks as pieces of poetry and the interpretation of them is quite subjective.
3. What is your favourite medium and why?
I work extensively with digital medium. The possibilities are endless and you get to explore and experiment with a lot of new stuff. I try to put small elements of animation in my artworks.
4. What is your artistic process like?
It starts with a word or a sentence or a thought. Things I read somewhere or snippets of conversation start painting an image in my head which I sketch on paper and then render it digitally.
5. Who and/or what inspires your work?
I started illustrating because of Pascal Campian. There's something quite beautiful yet complex about his style of work. His understanding of light is phenomenal. There's just a lot of happiness and positivity oozing out of his Illustrations. It leaves a smile on your face. That's something I aspire to do:)
6. What role does art play in your life? How does it change the way you view the world?
In a nutshell, I am just a lanky awkward girl without it. Without even knowing anything personal about me, the viewer can still connect with me through my artwork. It has helped me appreciate and observe the smaller moments of my life, Be it reading a book or the sunlight passing through a broken glass window. Everything looks beautiful now.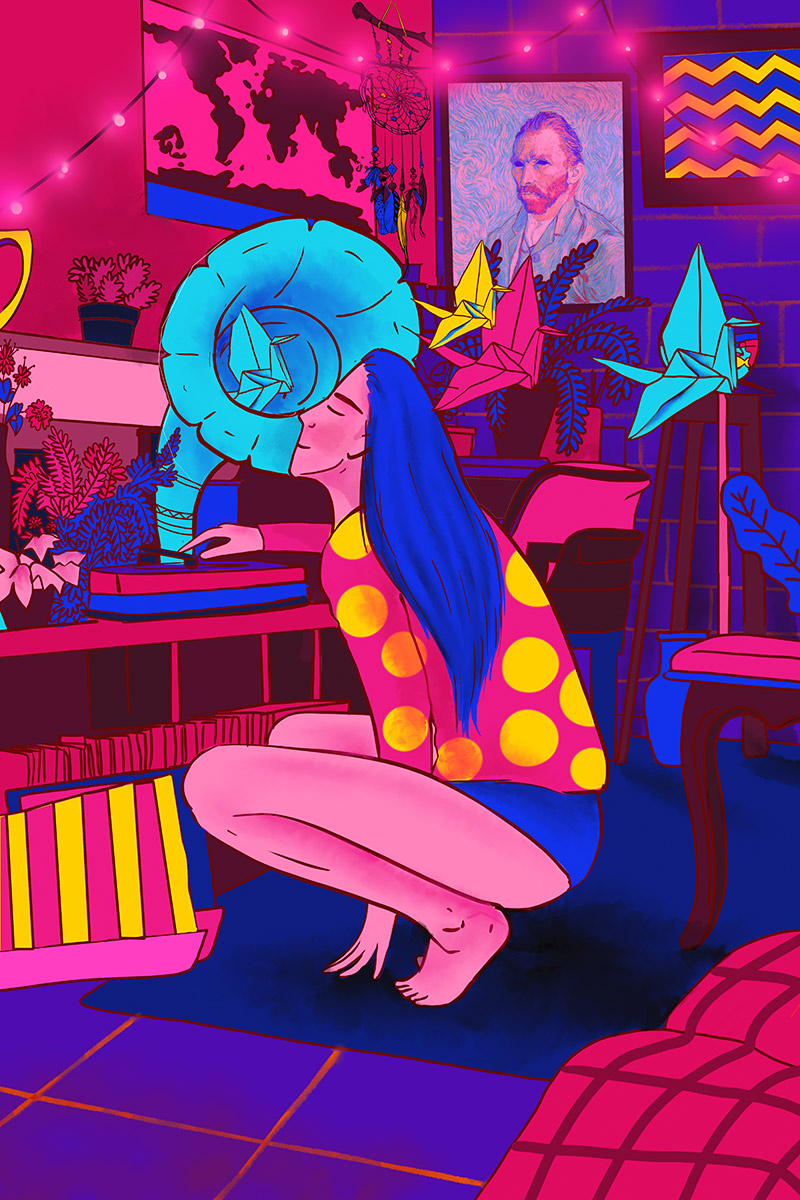 7. Where did you study?
I studied Graphic Designing from Sir J.J Institute of Applied Art in Bombay.
8. Where do you see yourself in five years?
Definitely not tied down to the shackles of a 9 to 5 job. I would love to get some financial stability as a freelance Illustrator. I want to create graphic novels and collaborate with artist's from different countries.
9. What about in ten?
It's very difficult to even think about life in 10 years but I sure do hope that I am still Illustrating.
10. What do you hope to achieve with your art?
I just want to be happy creating. I never want to create for someone else because I tried doing that and it affected me in a very negative way, I was really really unhappy. I love when people get good vibes from my paintings. Especially when someone unknown appreciates your work and sends you love. It inspires me to create more.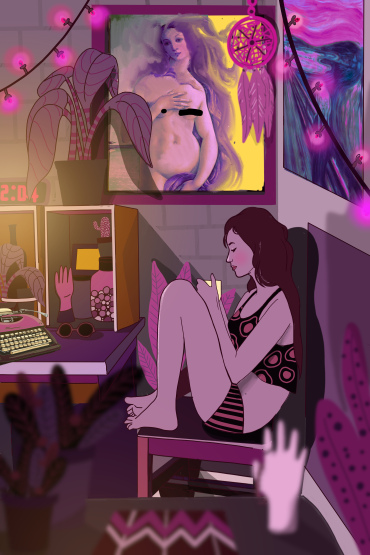 11. Now, tell us a little more about you as a person: what is your favourite food?
Anything that comes with Nutella on it!
12. Favourite book?
I really can't choose one favourite because that would be unfair to the other books.
13. Favourite genre of music?
Keeps changing. Right now it's the Blues.
14. What are your hobbies?
Splurging all my money on kitty treats for my cat :)
15. If you weren't an artist, what would you be?
If not an illustrator, maybe a writer of some sorts?