Instagram:
@thedrawingdoor
Facebook:
www.facebook.com/rozalinaburkovastudio
Website:
www.rozalinaburkova.com
1. What's your story? Where are you from?
I am from Bulgaria. I used to live in London for seven years but recently left it to spend my time between Barcelona and Sofia. I studied fashion design at Central St Martins College but a few years in I realised that illustration was much closer to what I wanted to do. Illustration naturally led me to animation. At first I was just doing small gifts and eventually dad developed into full-blown animations which is what I do now most of the time.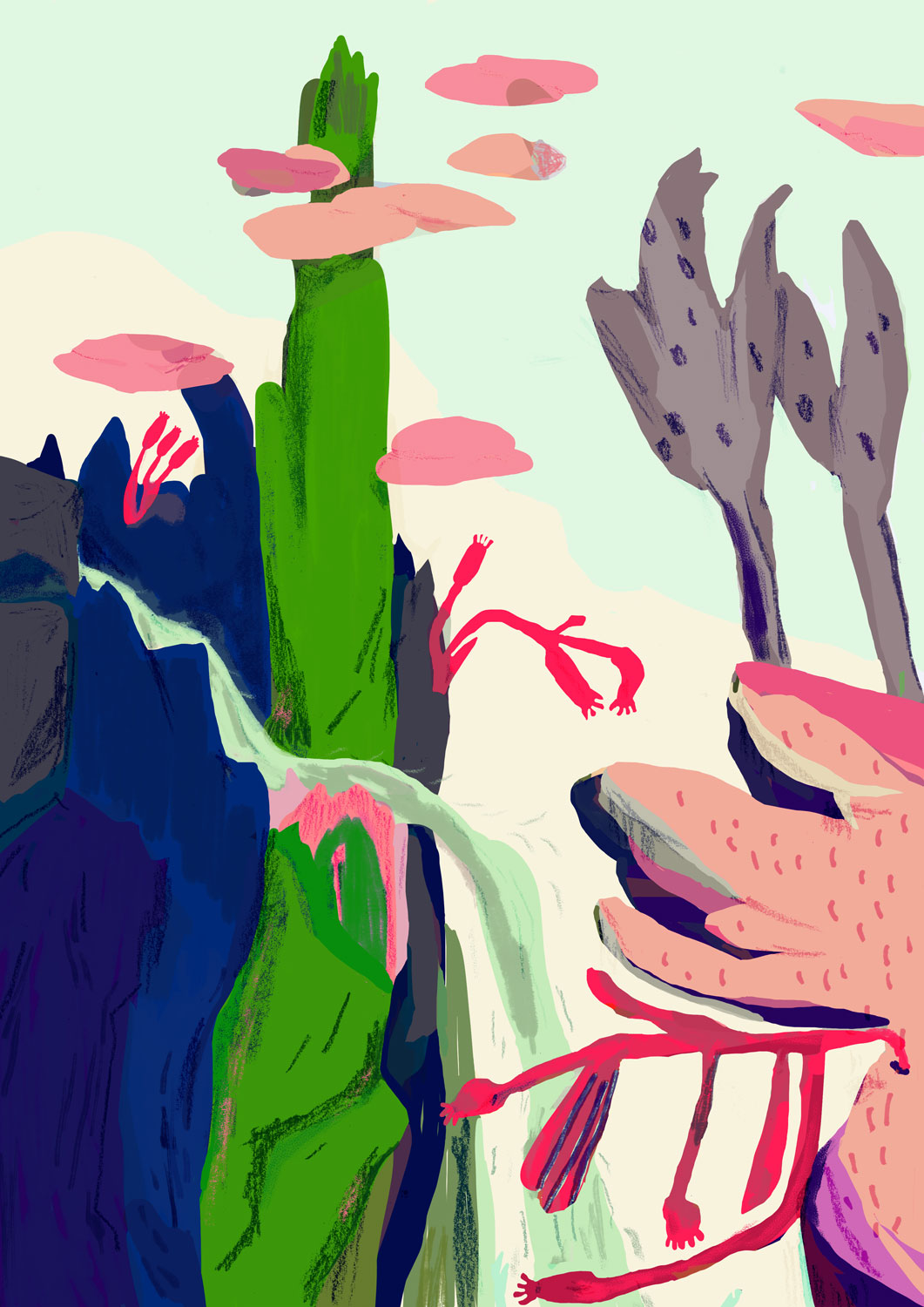 2. Tell us about your aesthetic.
I really find it hard to put that in words. My work is entirely based on intuition, I don't stick to a very specific style but I like to think that my aesthetic comes through anyway. Bright bold colours are usually the only ever-present characteristic. I love drawing plants, landscapes, women but in terms of aesthetics I approach each project individually - sometimes I'd go for a more graphic, geometric, outlined illo, others I just splash colours one over the other and follow the natural shapes. In my latest music video for Bully, I tried to recreate "fake 3D", so no rules.
3. What is your favourite medium and why?
Black ink and white paper. Because the contrast always helps make the image nice and there isn't an undo button.
4. What is your artistic process like?
I start by drawing very tiny sketches. And messy ones. Then because there are so tiny and messy I try to find things in them that I did not intend to draw. Little details that resemble something and if they work with the subject matter I put them in the final image. I always try to include something that surprises even myself in my work. Accidental design, it makes the work more fun for me. Then I redraw neatly on a tablet and finish off with Photoshop. I usually try a million colour combos just to end up with the ones I always use.
5. Who and/or what inspires your work?
Feelings? Is that too vague? What I mean is that in terms of subject matter I approach the idea development stage through whatever feeling I want to evoke. In my personal work my most cheerful stuff is created in the times I feel sad and down and I am trying to escape that by immersing myself in the happy and easy life of the illustration. For music videos, I also go for the feeling of the song and think of ways to recreate it visually.
6. What role does art play in your life? How does it change the way you view the world?
It plays a huge role, is a bit like therapy, here comes again this thing I said above about feelings. Being comfortable with this form of self-expression allows me to have an outlet for my joy, sadness, excitement or passion whenever I need it. Eckhart Tolle says that art comes out of connectedness with stillness and presence as opposed to from the thinking restless mind. Being able to tap into this stillness through creating art is a very lucky thing to have, that I am grateful for. I don't know how it changes the way I view the world, as I don't remember viewing it in any other way. I guess I have always had art.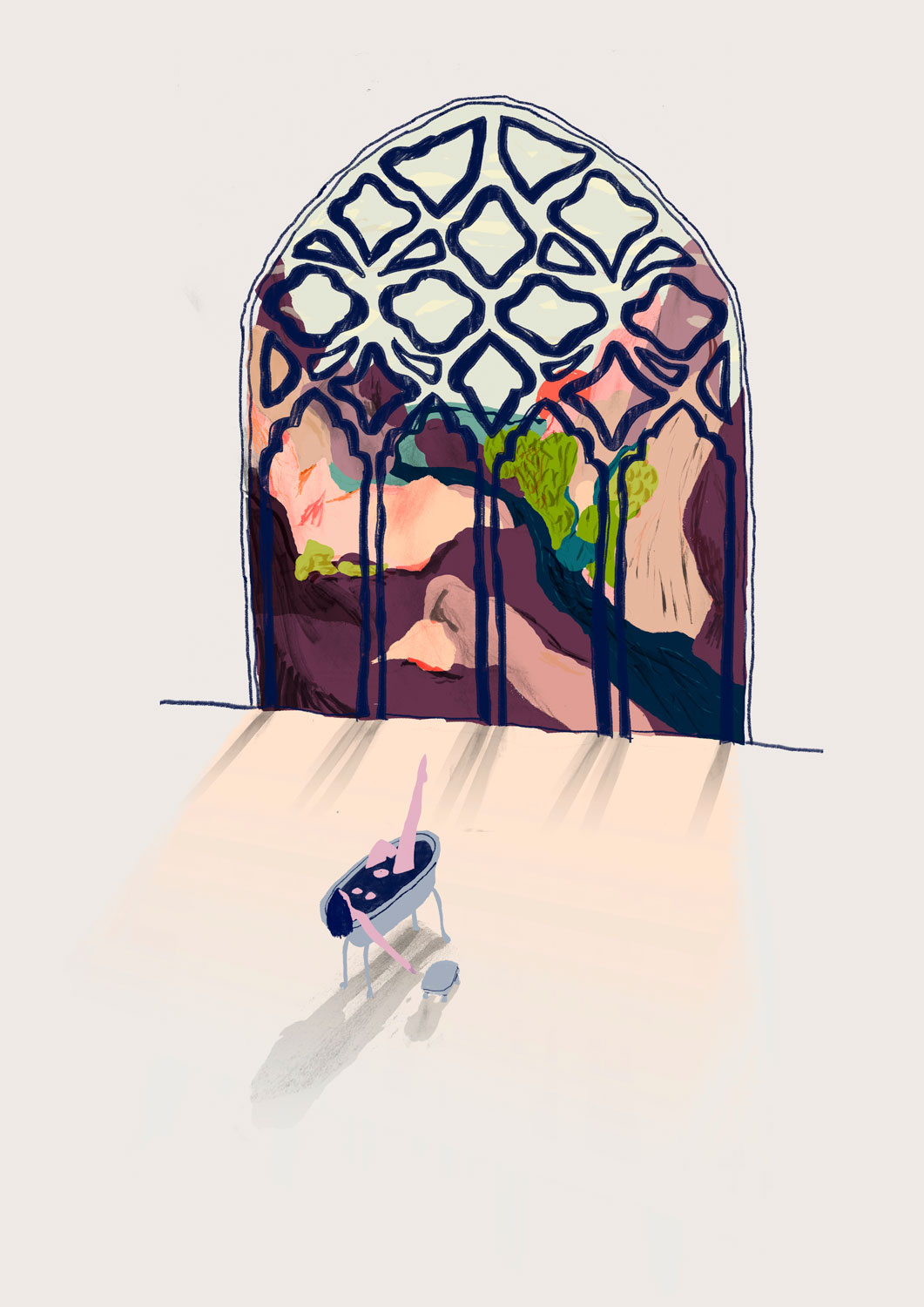 7. Where did you study?
I have a degree in fashion design from Central St Martins College but the technical part of what I do now I mostly learned from Youtube tutorials.
8. Where do you see yourself in five years?
Hopefully, in my own home with my boyfriend and our two cats somewhere by a beach with a big studio for painting. I would like to do more physical painting in the future. I love the facilitation of technology like tablets and Photoshop but I feel like using physical materials like inks and paper is good for the mind and the soul. And sun! I need sun to thrive.
9. What about in ten?
Hahaha, please I'm really trying to teach myself to accept the present and enjoying it rather than make super long-term plans. Doing art comes with enough anxieties about not being able to predict the future as it is.
10. What do you hope to achieve with your art?
I don't set grand goals for my work. I got into it because I enjoy creating rather than trying to achieve a greater goal. I consume a lot of illustration and animation and it just brings me joy to see the fruits of people's imagination and creativity when boundaries are really being pushed. It is exciting! Some original visual storytelling is always a treat. If I can create that treat for people, then great!
11. Now, tell us a little more about you as a person: what is your favourite food?
My favourite food is tarator, it is a Bulgarian starter soup made of yoghurt, cucumber, olive oil and walnuts.
12. Favourite book?
My favourite book is the Power Of Now by Eckhart Tolle.
13. Favourite genre of music?
Psychedelic rock, garage rock. My favourite band is The Growlers.
14. What are your hobbies?
I occasionally do ceramics. My newly developed hobby is going out every Friday night when people in Barcelona dump their unwanted furniture on the street to look for treasures. I am a clothing and furniture scavenger! I like travelling and I am obsessed with learning more about how recycling works.
15. If you weren't an artist, what would you be?
A pro-recycling activist.