Instagram:
@theurbanneedle
Facebook:
www.facebook.com/theurbanneedle
Etsy:
theurbanneedle.etsy.com
1. What's your story? Where are you from?
My name is Olivia and I'm 20 years old. I grew up in a small village in the south of the Netherlands and still live here. It's a very quiet village with not much to explore but I love to visit Maastricht every now and then, a city nearby my home. The city life inspires me to create new things and I used to came here everyday for the last four years for my study and work. I've been a creative person since I was a child, always loved to draw and helping my mom with stuff like knitting and crocheting. About a year and a half ago I've found my true passion embroidery and I'm so excited for the things it has already brought me.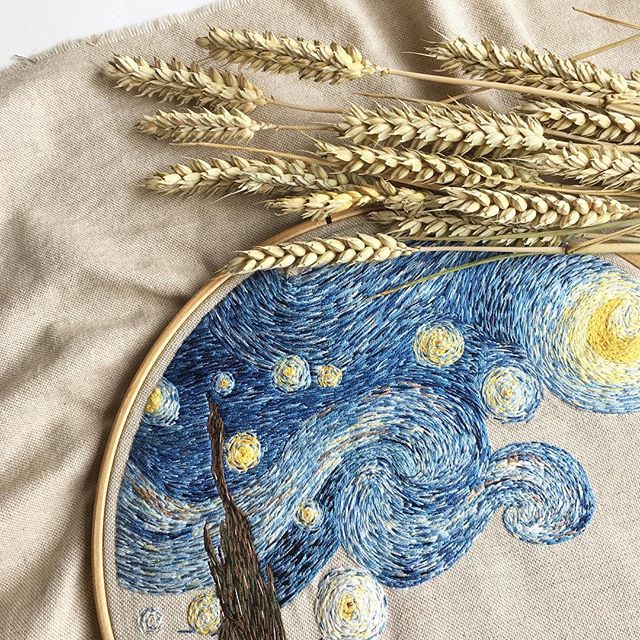 2. Tell us about your aesthetic.
I think my aesthetic can be described as very varying, I love to embroider what pops into my mind, this can be a painting from Vincent Van Gogh or a random illustration, but I also like to create my own 'graphic' patterns in a kind of Native American style. One thing for sure, I'm all about earth tones.
3. What is your favourite medium and why?
Definitely linen. I always embroider on linen and I've tried a couple of different colors through the time, but a natural, not dyed kind of linen is still my favorite to work with. It gives so much texture to an embroidery work and is always a pleasure to work with.
4. What is your artistic process like?
I screenshot a lot of inspiration images and write down ideas that come into my mind. When I start with a new piece I sketch onto the fabric, iron the linen, put it in the hoop and I'm ready to start!
5. Who and/or what inspires your work?
I get inspiration from so many things like illustrators, cities and forests. One of my biggest inspirations is Vincent Van Gogh, I read a lot about his life and that man was so inspiring, I wish I had the time to embroider all of his amazing work!
6. What role does art play in your life? How does it change the way you view the world?
Being artistic makes me want to be different than others, stand out even though I'm an introvert person. Art has a big influence on that, I have an eye for detail so that makes me see beauty in even the smallest things.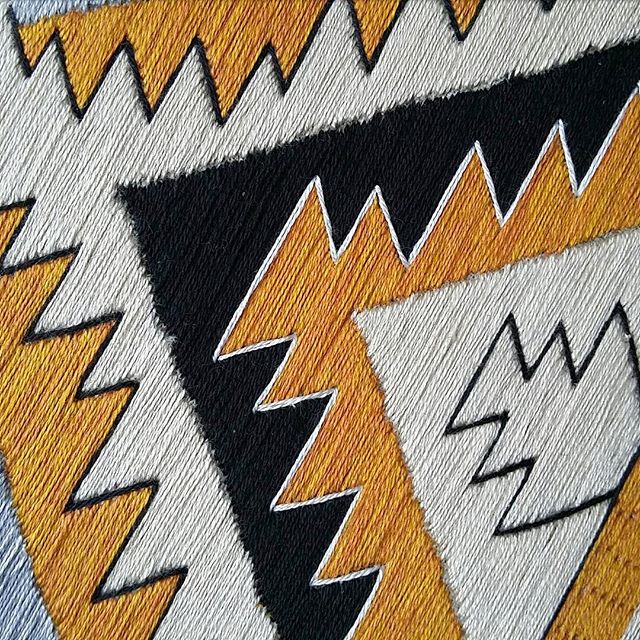 7. Where did you study?
I studied Interior Design at Citaverde College in Maastricht, I graduated in July.
8. Where do you see yourself in five years?
Stitching in my own studio! I would love to be a full time artist and at the moment I'm working very hard to achieve that dream. I'm saving for my own apartment with place for a small studio and I can't wait for that moment to arrive.
9. What about in ten?
Damn, I'll be 30 in 10 years time! Well, I'd say definitely having my own apartment and being a full time artist by now, travel more and having a loving family and dog.
10. What do you hope to achieve with your art?
To be honest, I never thought I could reach 15K followers on Instagram and inspire other people to create. I'm not sure what I want to achieve with my art but I just continue with embroidery and hope to inspire more people in the coming years.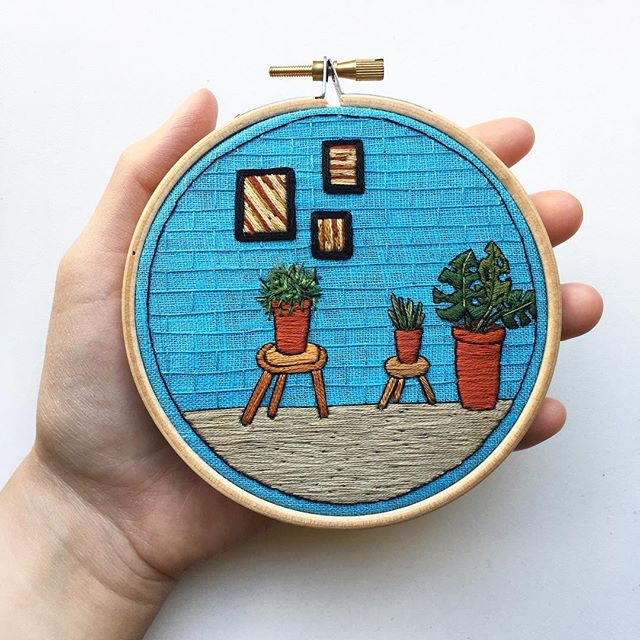 11. Now, tell us a little more about you as a person: what is your favourite food?
Risotto! I've already made so many variations of this dish and I still love it every single time.
12. Favourite book?
The Great Gatsby, Our Endless Numbered Days and the Harry Potter series, can't choose!
13. Favourite genre of music?
I love to listen to Indie music, but I would say I don't have a specific kind of genre I tend to listen to, I just listen to what I feel like listening to. My all time favorite singer is John Mayer and two of my favorite bands are Sons of the East and Kensington.
14. What are your hobbies?
Embroidery, reading, analog photography, baking, cooking and collecting records. I bet you can tell I'm an introvert by now. :-)
15. If you weren't an artist, what would you be?
At the moment I'm not a full time artist, I work in a studio where upholstery, sewing and a shop full of supplies for knitting, embroidery, crocheting etc. go together under one roof. I'm responsible for their social media accounts, webshop, customer service and more.