Instagram: @tinkoutsidethebox
1. What's your story? Where are you from?
My name's Octavia Bromell, better known as Tink, and I'm from a tiny village in the middle of the English countryside. I started drawing a few years ago as therapy, and have since learned to use it as a tool to cope with anxiety and depression, which I've had my whole life. I use my work to find joy, and hopefully to share it with others.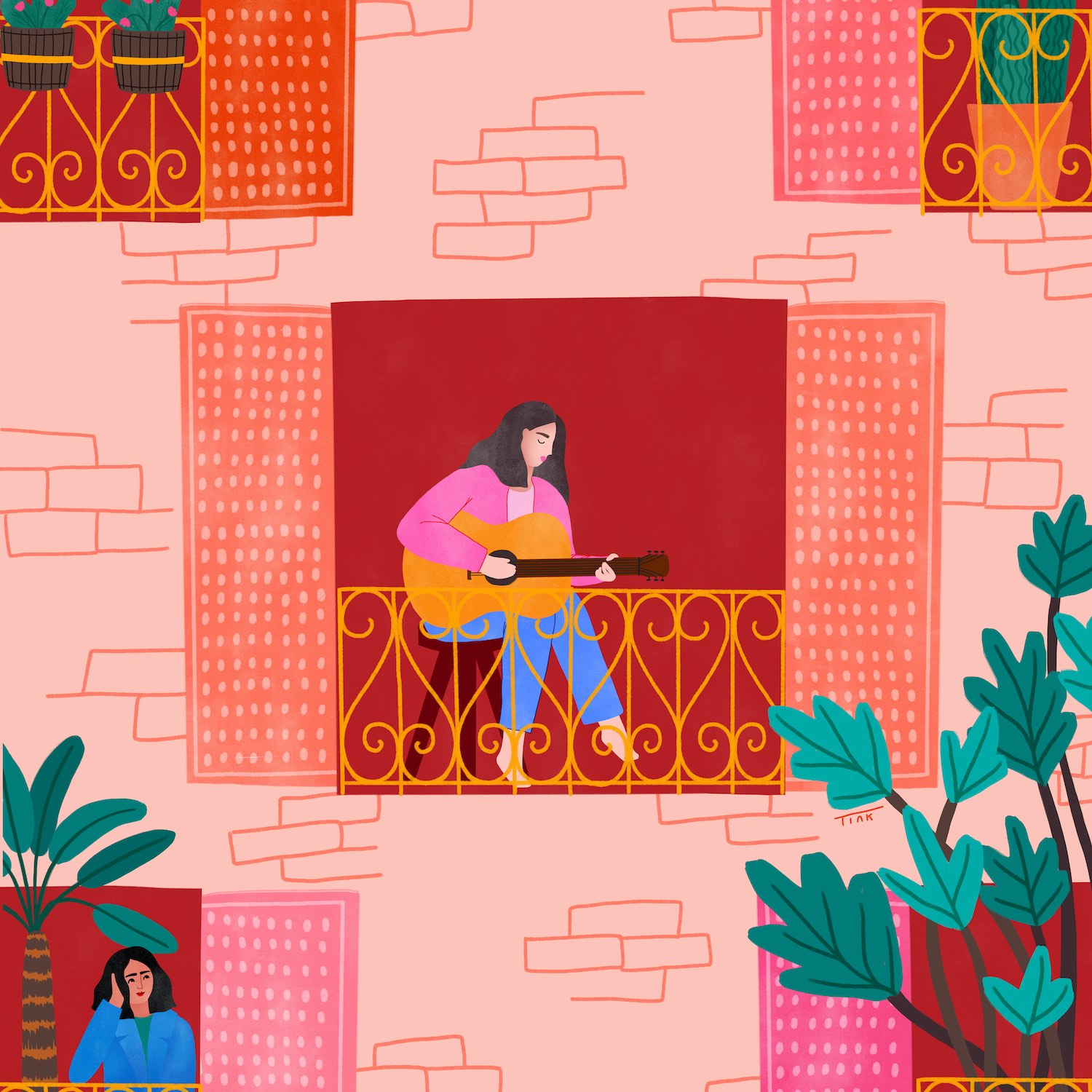 2. Tell us about your aesthetic.
I sometimes use the word maximalism to describe my style - I love using lots of vivid colours and patterns. I'm definitely playful with my work, I enjoy finding humour or naivety in the things I draw. I love drawing plants, people and animals, and try to take a rose tinted look at the world through my illustrations.
3. What is your favourite medium and why?
Acryla gouache is my current favourite, I adore how flat and velvety the colour sits on the page. I like to use a mixed media approach too, layering watercolours, gouache, acryla gouache and coloured pencils to build up texture and depth. Digitally I use Adobe Fresco, I love the range of brushes.
4. What is your artistic process like?
I always start with a sketch. I prefer doing a pen or pencil sketch in my rough sketchbook. Then I find a colour palette and visual inspiration/ reference, I like using vintage books and textbooks but Pinterest is great too! First I block out all the shapes in colour, and then I add details and texture.
5. Who and/or what inspires your work?
I am a total art history nerd, so I get lots of inspiration from people like Matisse, William Morris, Frida Kahlo and Gauguin. Contemporary inspirations include Jacqueline Colley, Lisa Congdon and Melanie Johnson. And so many more that I could never fit into one interview!
6. What role does art play in your life? How does it change the way you view the world?
Art is a fundamental part of my life, and it changes the way I see the world constantly! I am forever finding illustration inspiration in random things - music, films, the world around me. Art really is therapy for me, and I try and draw every day.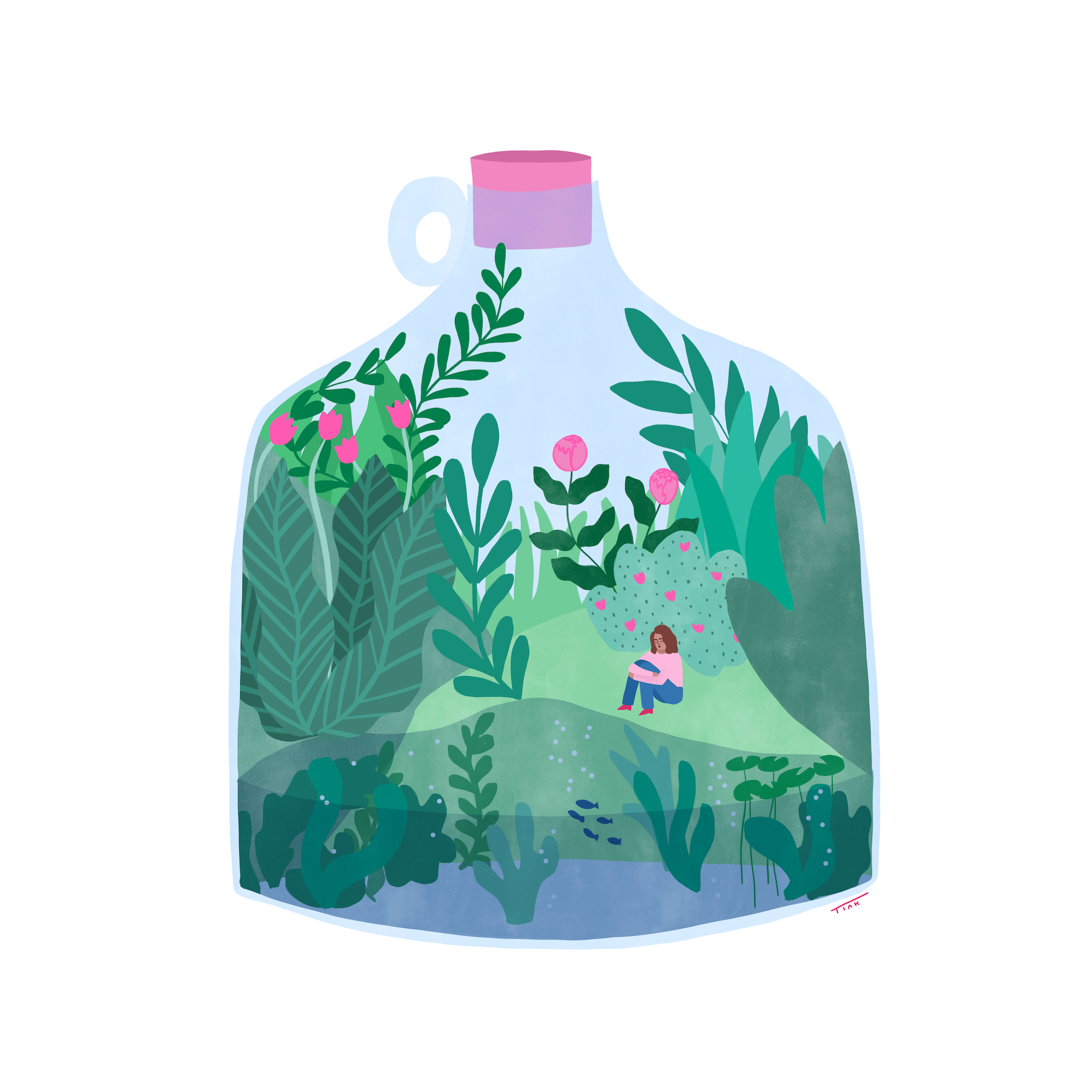 7. Where did you study?
I didn't actually study art and a completely self-taught illustrator. I actually studied music and then journalism at university, and I was studying for a Masters degree, at which point my mental health became too much for me to handle and so I packed up my life in London and moved back to my childhood home in Dorset. It was then that I picked up a paintbrush and a pencil for the first time since school, and when I first started it was really just doodling, and I feel very fortunate that as I have been able to set off on the road to recovery from my mental health my career as an artist has picked up which isn't something that I ever thought would be possible. My parents have always worked for themselves they run an auction house, and I never thought that I would be self-employed but I absolutely love it.
8. Where do you see yourself in five years?
I think especially at the moment the future feels very uncertain to all of us it's a very odd time, but I have Hopes that within five years we may all be able to move on from this crisis, and I definitely have plans to continue growing my business, and my skills, both as a business woman and as an artist. My plans for the immediate future include getting a line of stationery products made from my shop, continuing to give talks all over the world, however virtually, about mental health and creativity and where the overlap is, and to work on and publish some books. I've actually just finished work on my very first book which is a biography of John Lennon as part of the little people big dreams series. I really love the process and look forward to doing more in the future.
9. What about in ten?
To be completely honest I haven't really got that far. I'm very much enjoying developing my sense of identity as an artist, and sharing that with people. In the last year I have grown so much both personally and professionally, I was an Adobe creative resident last year which has led to so many opportunities that I never thought would happen. I'm actually focusing on writing new goals as many of my pre-existing ones have actually come to fruition this year. My general plan for the future Is to meet and get to know more creative people, and hopefully to be able to start travelling again for my work.
10. What do you hope to achieve with your art?
I explore a lot of the themes of mental health and what it means to me to be a human in the present day, but more than anything else I try to create a place in my work where people can recognise a part of themselves. Especially when I'm dealing with my own feelings on anxiety or depression or insecurities, I'm just trying to draw something that I feel like I need to tell myself, and so my hope is that someone might see my work and hear something that they might need to hear in that moment. I try to see the world through rose tinted lenses, and my work is the simplest way for me to do this. I can turn up the saturation on my life and find joy in places where it can be hard to see it.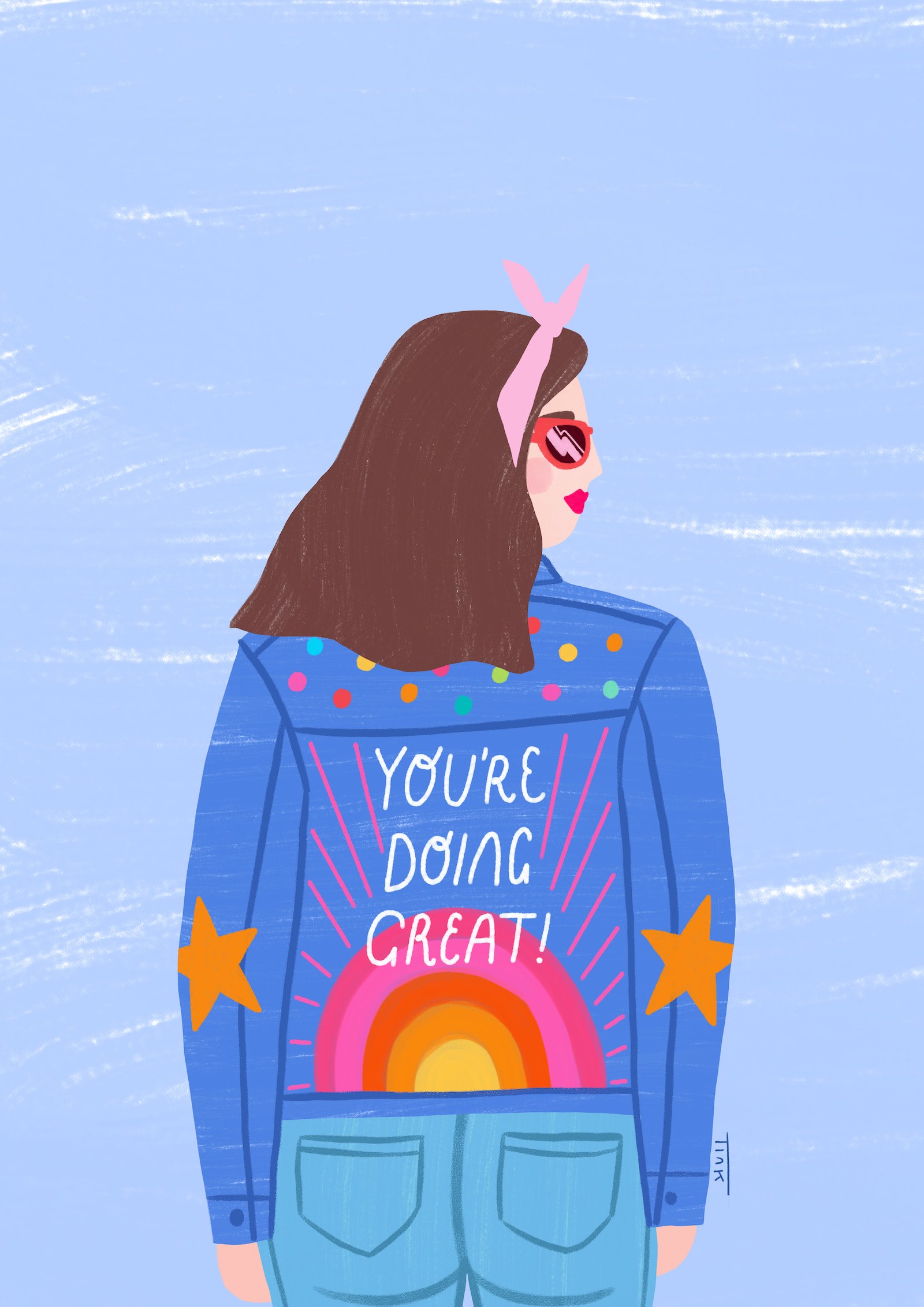 11. Now, tell us a little more about you as a person: what is your favourite food?
I'd have to say poached eggs on toast. It probably sounds dull, but they just make me think of sunny Sunday mornings!
12. Favourite book?
I'd have to say pride and prejudice, I go back and reread it every couple of years and I love finding new things every time I do.
13. Favourite genre of music?
I enjoy a really wide variety of genres so I don't think I'd be able to pick just one, but I love listening to ABBA, Disney soundtracks, Nick Mulvey, Dolly Parton and many more besides! Disco is something I regularly listen to while I'm working. I find it endlessly joyful and uplifting, and is a really great mood lifter.
14. What are your hobbies?
Honestly I don't really have very many hobbies outside of art. I feel very lucky to have a job that I am completely obsessed with, and I have spoken before about how I don't necessarily feel like I have a work life balance, but it's because all I really want to do is my work. I don't often get burnt out creatively, and I feel like I have so many ideas to do with my work. So if I'm not working on a client project or commissions, I always have many many personal projects on the go in the background. Something new that I'm really enjoying at the moment as working on my YouTube channel. I'm making studio vlogs of my process and actually filming and editing them myself is something that's very fulfilling.
15. If you weren't an artist, what would you be?
I think the only scenario in which I would not be an artist would be if I had never had my nervous breakdown. In which case I would probably have carried on with my Masters degree in journalism, and so I would probably be working as a journalist currently. However, I feel like over the last few years I've got to know myself as a person, and I really don't think that that would make me happy. I think it's a very cutthroat industry, and I love the side of the art community where you can find not just solace but support, and be inspired by so many other wonderful working creatives around the world. Honestly, it's hard for me to picture a version of my life where I'm not an artist, because it's incredibly absorbing. I absolutely love working as an illustrator, and it's nothing short of a privilege to be able to call it my career.