Instagram:
@tomtheeggeglington
1. What's your story? Where are you from?
I'm Tom Eglington. By day I write comics, by night I create strange illustrations and beguiling paper art. I'm from Edinburgh originally and wandered to the South Coast of Britain on a whim. I want to remind you how strange the world is by drawing fantastical visions of strange worlds.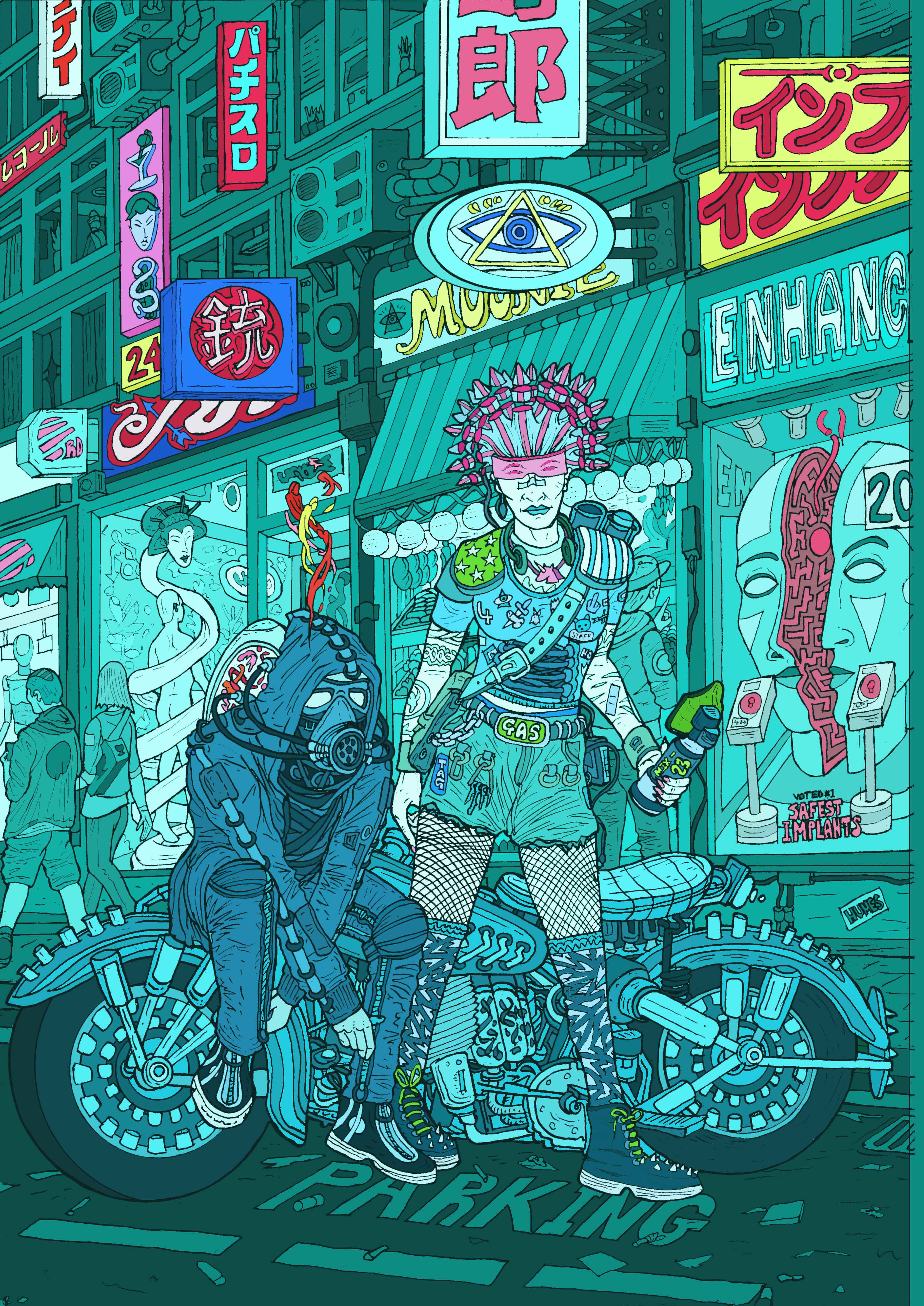 2. Tell us about your aesthetic.
I aim for the sweet spot between the familiar and the very weird. If done right, this creates something novel and uncanny. It feels recognizable but clearly isn't. Or it does the opposite, and tempers the strangest parts of my illustrations to make them more approachable. I include a lot of pop culture material, playing with traditional genres, and hopefully warping them into something different. There is also a large part of my work that is narrative, so there is a story with each piece, but the viewer is left to decide for themselves what that might be. In part, I want to make the viewer complicit in the creativity, so that they are forced to imagine what the image is telling them. I want them to become part of the art.
3. What is your favourite medium and why?
A blank piece of paper and an urge to create. And boredom. I think boredom is the most neglected and undervalued part of creativity.
4. What is your artistic process like?
I tend to be a binger, like a lot of things I do in my life. I used to store up ideas and purge them all at once. However, I'm a bit more regular in output nowadays, so I tend to chip away every day, then go manic when I'm in a productive phase. Everything initially revolves around sketchbooks. A lot of the best illustrations I do will generate from a mixture of source material – an obscure photo, for example – mixed with improvisation during the drawing process. More formal work involves working pieces up from sketches, so slogging away at the drawing board. But it all comes back to a state of play, where I'm chasing an idea without a reason, just for the sake of trying to catch something that might not have been caught before. Some of the best stuff comes from doodles or weird, indecipherable notes I left myself, or mistakes. I draw in pen, then colour in photoshop.
5. Who and/or what inspires your work?
Like a deep-sea trawler, I dredge Instagram and social media for every image possible. But mostly, a lot of inspiration comes from the compost of images I've obsessively built up over the years. I've been through phases, from outsider art like Henry Darger, to the psychedelic comic art of Mobius and Brendan McCarthy, to Japanese prints of Kuniyoshi, to fine artists like Francis Bacon, then a stack of photos cut out of magazines – I bought a great second-hand book recently with photos of weather damage in Surrey that has proved invaluable. On top of that, I keep my brain busy with writers like William Burroughs, Angela Carter and Yuval Noah Harari. Comics range from everything 2000AD and Image, to Farel Dalrymple, Brecht Evens, Charles Burns, Simon Roy - too many to mention.
6. What role does art play in your life? How does it change the way you view the world?
The world is a peculiar place. All it takes is a look around to see how strange we are as a species. We're an animal that made plastic cutlery, nuclear bombs, and ready-packed cheese slices. Wars are waged over arguments about things we completely made up. We've already stepped into an age where our tools are now merging with us in some weird technological symbiosis and may surpass us. As an artist, you always want the world to inspire you, but the 21st century might be a case of being careful what you wish for.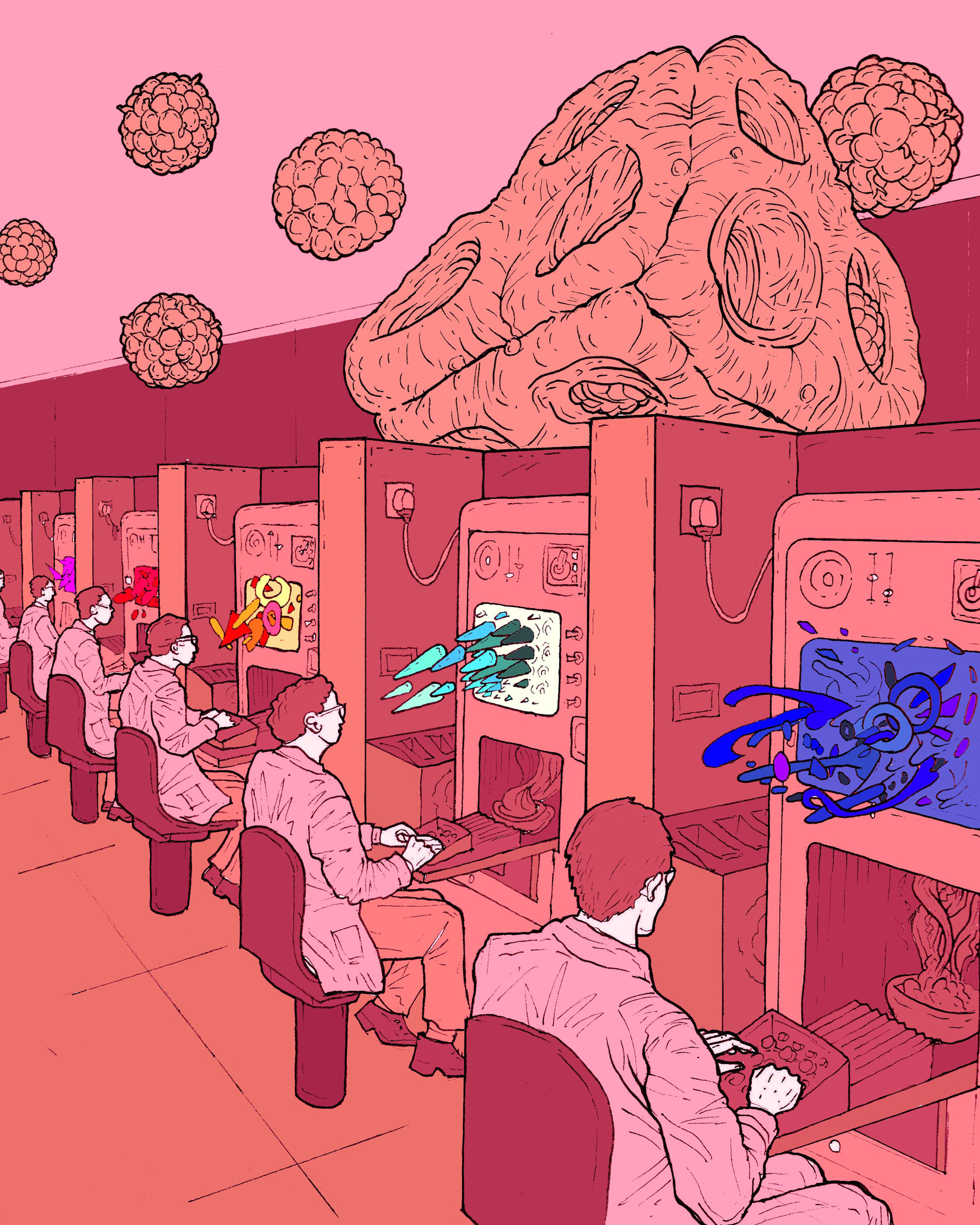 7. Where did you study?
I never went to university or art college, so I'm self-taught. That's just another way of saying I learned in my own way and at my own pace. I've always been around a group of artists, so I've picked up things from friends along the way whenever it is necessary.
8. Where do you see yourself in five years?
In five years time, I want to be more established. I have a graphic novel I want to complete, and some collaborations I want to fully develop. I've been doing some great comic work with Boo Cook, and Simon Davis. I want to see where that goes. I also have several art projects that I want to bring to fruition so that I reach more people with my work.
9. What about in ten?
After a solar flare wipes out the internet in nine years' time, prompting societal collapse on a scale unimaginable in these halcyon times, we will be fighting over barbequed dog legs just to survive the grim realities of the future wastelands. I will be known as the Picasso of barbequed dog legs.
10. What do you hope to achieve with your art?
I hope to achieve unintended consequences. At the moment I make up part of the background noise of art, but one day I hope to have influenced someone in a way that leads to a completely unpredictable chain of events. It is the one true marker that you have succeeded in life.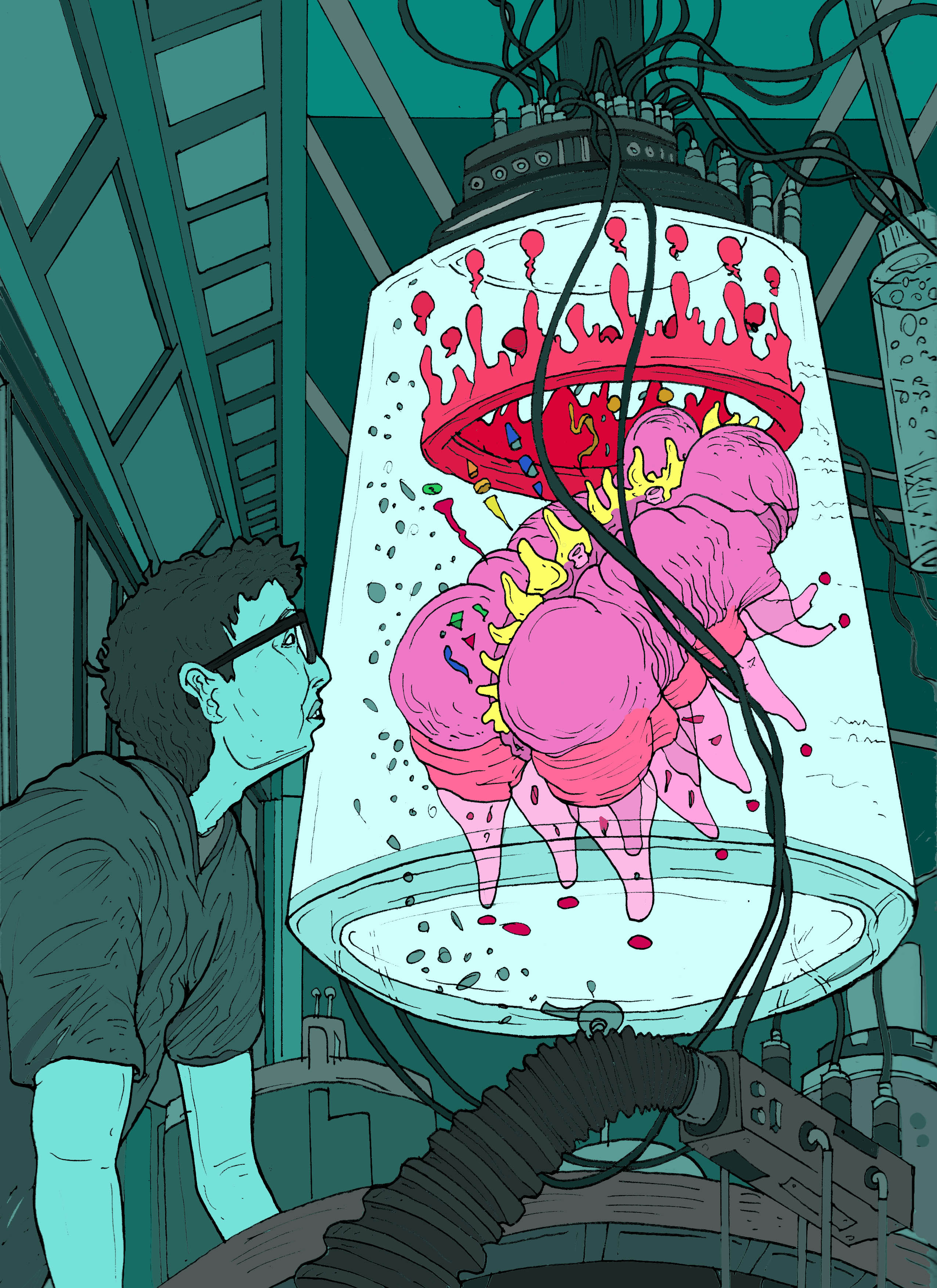 11. Now, tell us a little more about you as a person: what is your favourite food?
My wife's veggie lasagne, for two reasons. Firstly, it is the best meal there is. Secondly, it means I'm having dinner with my wife.
12. Favourite book?
Breakfast of Champions, Kurt Vonnegut
13. Favourite genre of music?
Indie.
14. What are your hobbies?
I spent some time last week watching a wasp caught in a spider's web. The ensuing fight was frenzied. Each opponent fought with passion. Against the odds, the half-cocooned wasp managed to break free and avoid the fate of becoming a spider's mid-morning smoothie. I felt I had been on an emotional journey, and that I probably needed to get better hobbies to fill my time with.
15. If you weren't an artist, what would you be?
A cult leader, frolicking naked in my Money Room while my second in command plots my demise.