Instagram:
@tutsukimyonutursusu
1. What's your story? Where are you from?
Hi, I'm Funda. I've been living in Ankara, Turkey since I was born. Though I travel a lot, I have never lived in another city. When you live in the same city and the city is large in scale, you witness a lot of changes over the years. It is a great experience for observation of your environment. On the other side, I confess that I wonder what it like would be to live out of my comfort zone. I hope someday I try that experience as well.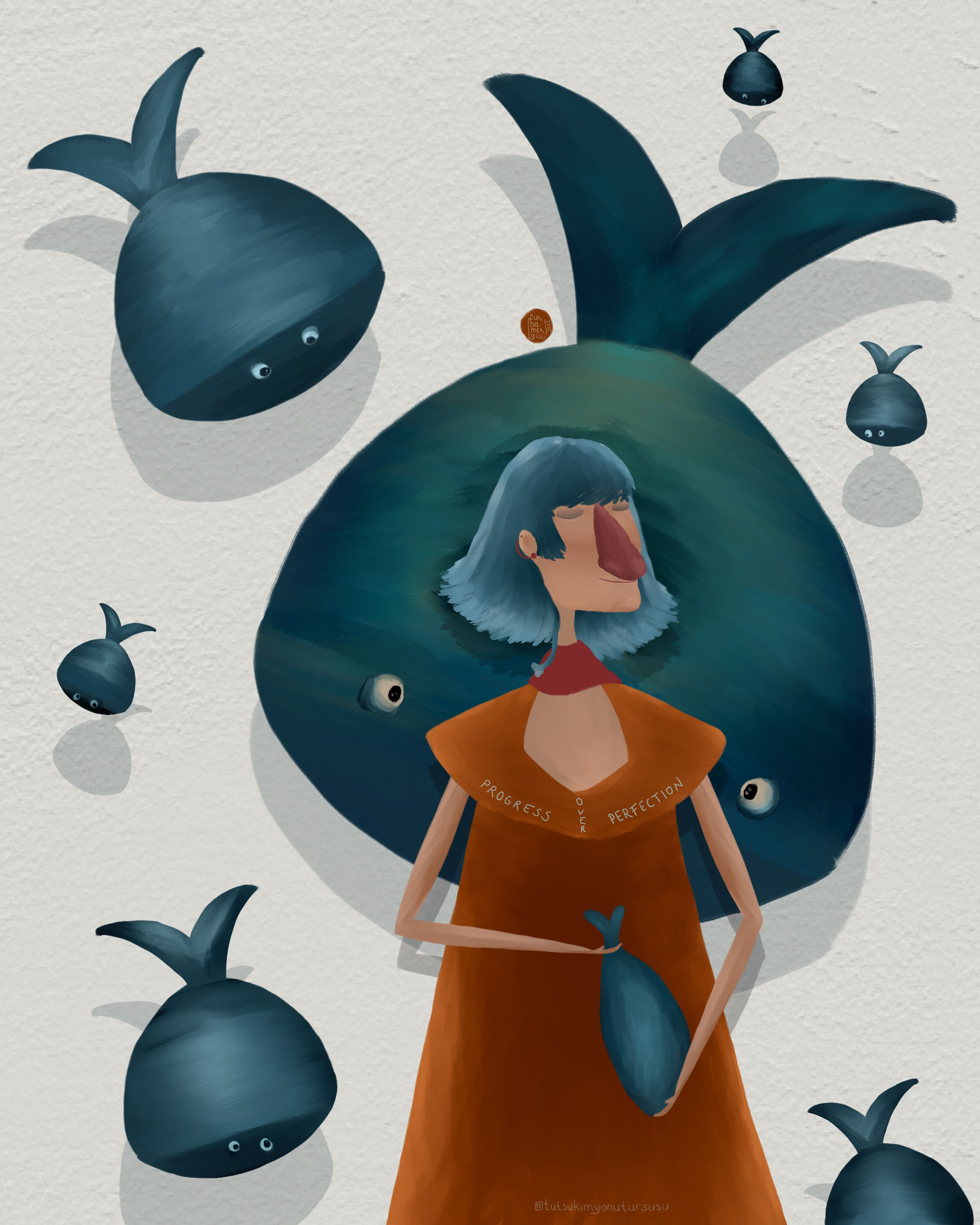 2. Tell us about your aesthetic.
I like curved lines and distorted scales above all. It's no secret that I enjoy mostly painting colorful but a kind of dark atmosphere in composition. Of course, that means not I don't like to use light pastel colors. I guess what attracts me is that -consciously or not- the solid-void proportion and the holistic design of an art piece. That is the good feeling that gives me at first look.
3. What is your favourite medium and why?
I started drawing and painting ever since I first gotten a pencil in my hands, when I was about 3 years old. In my childhood, I liked to play with markers and colorful pencils. Through my school years, I fell in love with crayons and gouache. After university, I tried watercolor. Now, I mostly use digital painting, but traditional mediums are always with me at least with my personal drawings. You see, I still love all about drawing and painting no matter what the measure is. Yet nowadays, I prefer digital painting for my work, if not for mostly my personal artworks, for its various opportunities. It's magical that I can draw and paint like all the traditional styles from a colorful pencil to oil paint by digitally and I love that.
4. What is your artistic process like?
The process starts simply by a feeling. The feeling triggered by the subject -or sometimes by an object- is immediately followed by imagining its various ways of expressions in my mind. Either abstract or not -it depends on the artwork- I try different ways to express my feelings and select among them. I select a style which I feel most happy about. Of course, to find it, I sketch a lot until it feels ok for me. Only then, it is presentable enough for the public space. I can say that this is a personal travel from my initial private space to public space and I enjoy this process so much.
5. Who and/or what inspires your work?
Wow, there are too many great artists that I really don't know where to start about them. I guess I find one or two things in different art styles for painting. It varies from Netherlandish artist Hieronymus Bosch to Pablo Picasso. But for illustrations, I can say that I mostly find those drawings that are distorted and away from ideal form, attractive.
6. What role does art play in your life? How does it change the way you view the world?
Art is not just a part of life, it is life itself, I think. Living is already an art. What I mean is that I can't define the role of art in my life other than breathing because it provides me a space for myself in a chaotic and crowded mental and physical environment. It's like a fresh air, I need to breathe every day.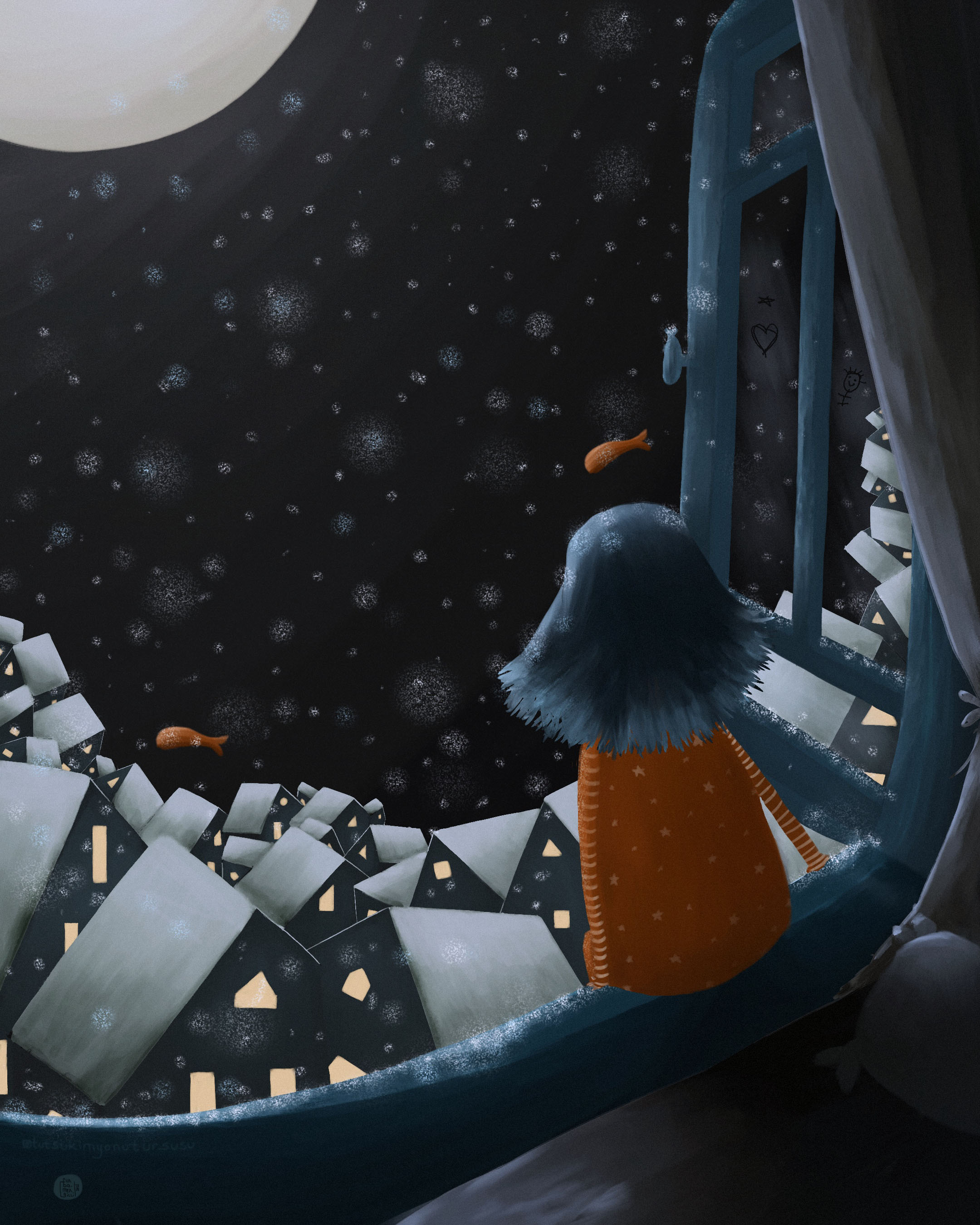 7. Where did you study?
Ha-ha this is a tricky question! I didn't study art in my formal education. I'm an urban planner who holds a master's degree and left her doctoral candidacy at the end of her way, that is while writing my dissertation. I altered my career for the love of illustration. The years I spent in basic design and urban design, the years I spent understanding the policies of urbanization plays a critical role in my illustrations because I like to include distorted houses, rooftops, windows and urban environment in my compositions.
8. Where do you see yourself in five years?
In my mind, I'm an illustrator and writer of children's books/ picture books in five years. I already write stories, draw illustrations for picture books. My children's book reviews, which I enjoy a lot, are being published in magazines. My own book, which I write and illustrate has not been published yet. I hope this is only 'for yet' now.
9. What about in ten?
Oh, if my dream about being a writer and illustrator of picture books of my own didn't come true in five years, I'll be working on ways to realize this aim in ten years too. Never give up dreams which makes you happy as it's hard to find one. This is my motto.
10. What do you hope to achieve with your art?
I wish to reach out to more and more people with my illustrations. I wish to touch emotions, bond with people's life and experiences, joys and other feelings which they want and want to see when they see my drawings.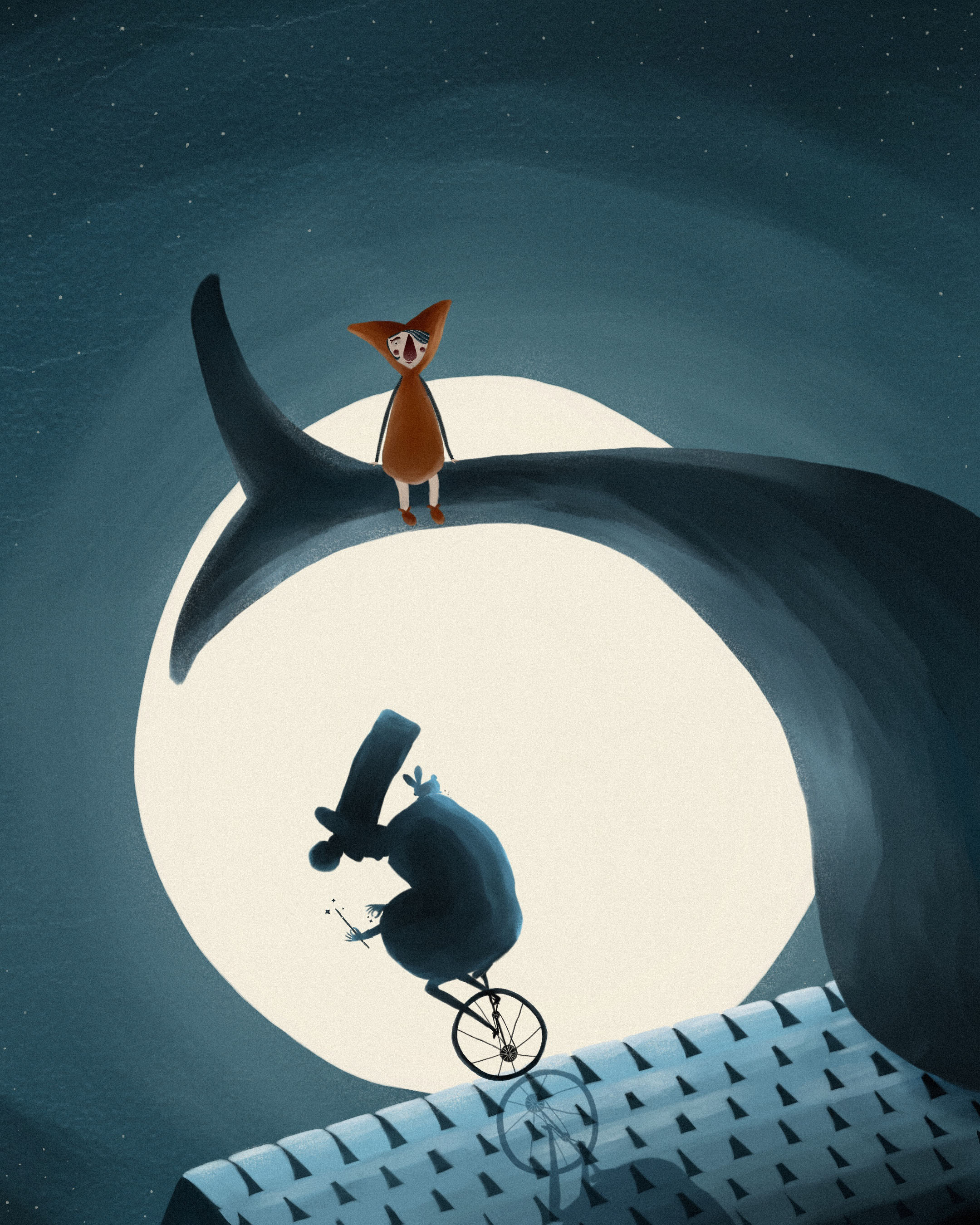 11. Now, tell us a little more about you as a person: what is your favourite food?
I'm afraid this is not an applicable answer for a wide range of my life, but I can't think of anything other than chocolate cakes, hot chocolate and chocolate bars for now. I think you'd understand that I need a lot of sweet chocolates at the present.
12. Favourite book?
The book series of Robert Jordan's 'The Wheel of Time' is my absolute favorite. Most people may get to know of it through the film series, but I want to say that if you like the films, you should read the 14-book series to get a taste of it. If you don't like the films (like me, sorry), you should definitely read the books to see a well-built fiction, to taste of imagination and to reach the joy of reading a brilliant story.
13. Favourite genre of music?
This also varies in time but, I can say that power metal and symphonic metal always rocks!
14. What are your hobbies?
I'm one of the lucky persons that whose hobby is her passion and profession as well. Drawing and painting yeah! Other than reading books and writing stories of course.
15. If you weren't an artist, what would you be?
I would be a person who wants to be an artist and working hard to become a one.